Last Updated on
When it comes to grooming a Labradoodle, it can feel like participating in an Olympic event and those of us who brush them daily should be awarded gold medals for our efforts.
A Labradoodle's nonshedding coat needs a collection of grooming tools to maintain its appearance and comfort.
However, not all brushes are worth it. With two Doodles (a Labradoodle and a Sheepadoodle) I've tested and tried more brushes than I care to admit. And I have a good handle on which ones are worth spluring on.
Today, I want to go over the best brushes for Labradoodles so you can keep your Dood looking their best!
Types Of Brushes For Labradoodles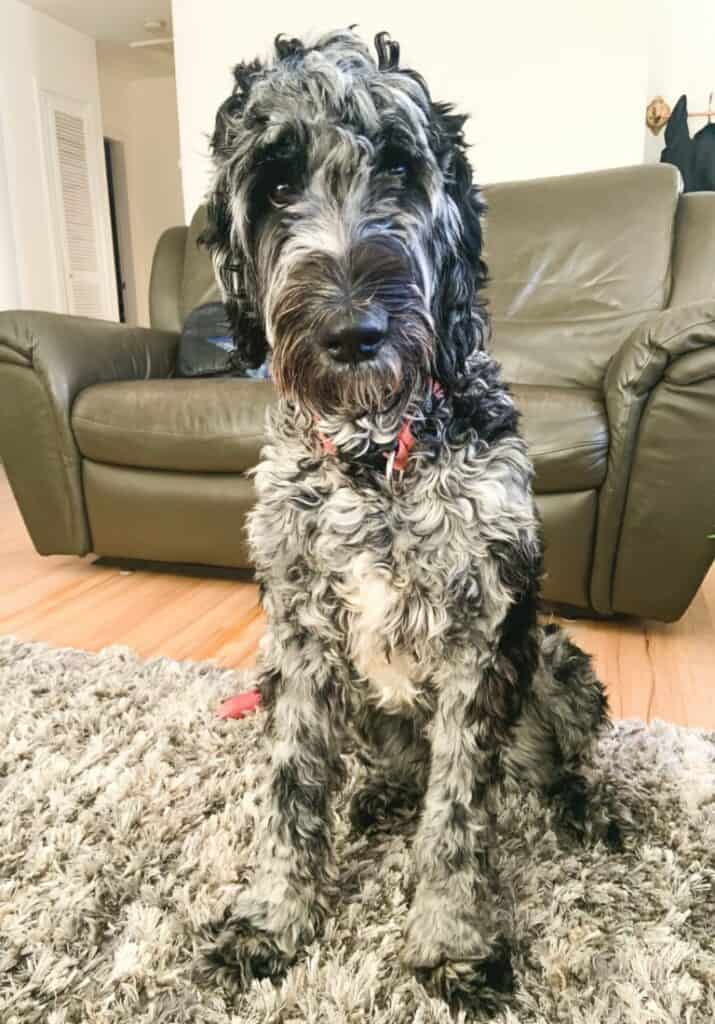 Labradoodles require special care when and the right brush for them is essential.
The four types of brushes you need for a Labradoodle are:
A pin brush to get rid of knots and tangles
A double-sided comb to get to comb out the hair near the skin
A slicker brush to fluff out the hair
A de-matting rake for stubborn tangles
1. Pin Brush
Sale
Pin Brush
GROOM LIKE A PROFESSIONAL - A high quality brush for those who demand quality and perfection. Ideal for delicate and fragile coats!
QUALITY MATERIALS - Made of lightweight, durable Beech wood body, Made in Germany.
PINS - High quality stainless steel pins with ground and polished tips are the smoothest available, has 30% more pins than traditional pin brushes.
If you've owned your Labradoodle (or any Doodle) for a while, you'll know of Chris Christensen brushes. These brushes are sought out by dog owners everywhere and have a great reputation for a good reason.
This particular brush is designed for the best brushing experience possible. It features ground and polished tips that make the brushing experience smooth and comfortable, as well as a lightweight handle that's easy to grip.
The durable cushion also helps provide effective brushing, making it suitable for dogs with long and curly hair, which is needed for Labradoodles as each one can have slightly different coat types.
The brush does an excellent job of removing tough knots without causing any discomfort to your pup. And you're sure to love the results: after brushing your Labradoodle with this brush, their coat will be soft, fluffy, and free of tangles.
Plus, if your dog doesn't usually enjoy grooming sessions, they might find this brush less intimidating due to its gentle yet effective performance.
Unfortunately, this tool comes at a higher price than other brushes on the market, but customers who have used it on Shetland sheepdogs, Papillons, Labradoodles, Westies (and more!) agree that it's worth every penny!
Product Specs:
Brand: Chris Christensen
Model: 13083
Brush type: Oval Pin Brush
Pin size: 27mm
Material: High-quality stainless steel pins & solid beech wood body
Body length: 8 1/2 inches
Made in Germany
Pros:
Ground & polished tips for a smooth brushing experience
Lightweight & easy to grip handle
Durable & firm cushion for effective brushing
Suitable for dogs with long & curly hair
Cons:
Expensive compared to other brushes
2. Double-Sided Comb
Double-Sided Comb
The JW GripSoft Double Sided Comb features a Coarse Comb on one side to loosen dense matted fur and a Fine Comb on the other side to comb through hair to give a shiny silky tangle free finished coat.
JW combs are specially designed with the teeth turned 90 degrees away from the skin to keep the teeth parallel to the skin while combing. This prevents "raking" the skin while combing and is more comfortable for your pet.
The non-slip ergonomically built handle is designed to be more comfortable on the hand making grooming a more pleasurable experience for you.
You and your Labradoodle will love this JW Pet Double-Sided Comb. It loosens matted fur with its coarse side and gives a silky, tangle-free finish with the fine side.
The non-slip handle makes it easy to hold while brushing, and the teeth are turned 90 degrees away from the skin so you don't have to worry about causing your pup any discomfort.
It's a strong a sturdy comb that can handle the thick hair of a Labradoodle.
The double-sided comb is perfect for Labradoodles as the coarse side helps loosen hair that is beginning to tangle and mat, while the fine side provides a super shiny look without tangling up their hair in the process.
Just be careful not to brush too hard with the Fine Comb if there are mats present, as it may pull on the skin.
Product Specs:
Coarse comb on one side and fine comb on the other side
Non-slip handle
Teeth turned 90 degrees away from your dog's skin
Pros:
Loosens dense matted fur
Gives a shiny, silky, tangle-free finished coat
Suitable for all dog breeds
Cons:
May pull on the skin if mats are present when brushing with the fine comb side
3. Slicker Brush
Sale
Slicker Brush
Self-Cleaning Dog Brush: Remove hair from the retractable wire brush pins with a push of a button
Dog Brush for Shedding: Stainless steel pins reduce dog shedding to keep your dog and house clean
Gentle Cleaning: Stainless steel pins ensure that your dog grooming kit doesn't irritate the skin
Bring out the best in your pup with Coastal Safari's Self-Cleaning Large Slicker Brush. Its stainless steel pins gently removes dead hair, mats, and tangles, while its comfort grip handle lets you groom with minimal effort!
This brush is designed for use on large dogs like Labradoodles and provides an easy way to keep hair manageable. The retractable pins make clean-up a breeze, so you don't have to worry about all that excess hair getting stuck in the brush.
Plus, it's suitable for sensitive skin and provides relief for those pups who are prone to itching. It also works well with other grooming tools like combs and de-matting tools.
If you're looking for a reliable slicker brush that will help keep your Labradoodle's coat looking its best, the Coastal Safari large slicker brush is worth a try!
Product Specs:
Ergonomic handle
Stainless steel pins
Pros:
Removes hair that would otherwise cause mats
Designed for large dog breeds like the Labradoodle
Self-cleaning
Gives your Labradoodle that "fluffy" and gorgeous coat appearance
No-slip handle to make brushing easy for you
Cons:
Labradoodles with thick hair might not enjoy the slicker brush as it tends to pull the hair (I can't use slicker brushes on my Sheepadoodle as her hair is too thick)
4. De-matting Rake
Sale
De-matting Rake
Serrated Stainless Steel Blades: This dog brush for matted hair removes stubborn mats and tangles
Long Hair Dog Brush: This dematting dog comb can be used on both medium- and long-haired dog coats
Dog Combs for Matted Hair: The perfect grooming comb for dogs with coarse or long, matted coats
Even if you're using the above brushes on your Labradoodle, they can still get mats. I like this de-matting tool to have on hand for those instances. Even though I try my best to keep my dogs mat-free, sometimes when their hair is long I notice a small mat starting and I reach for this rake to get rid of it.
This rake features high-quality stainless steel serrated blades and a comfort grip handle. This comb is designed to make it easier to remove mats and tangles from most medium to longhaired dogs, especially those with coarse or long fur. Its serrated blades are gentle but effective in detangling even the most stubborn knots. Plus, its comfort grip handle ensures even pressure distribution while brushing your pup's coat.
Product Specs:
Name: Safari De-Matting Comb for Dogs
Material: High-quality stainless steel with serrated blades
Handle: Comfort grip handle
Suitable for: Most medium to longhaired dogs
Pros:
Makes removing mats easy and efficient
Gentle yet effective on tough knots
Comfort grip handle ensures even pressure distribution while brushing your Labradoodle's coat
Cons:
No smaller version available for small dogs
How to Brush a Labradoodle
Ok, now you know which brushes you need, let's talk about how to use them. Like all Doodles, Labradoodles are prone to matting and tangles if you don't brush them properly.
1. Remove any mats with the de-matting rake
If your Labradoodle has mats, use the de-matting rake to gently get them out. If they don't come out easily, you may need to book an appointment with the groomer. Some mats are incredibly close to the skin and if you try too hard to remove them you risk hurting your dog by giving them lesions which could lead to infections.
2. Once the mats are gone, use a pin brush
After mats are removed, start with the pin brush and brush over their entire body, head to tail.
The pin brush will get rid of most tangles and knots. I find I spent 80% of my time brushing using the pin brush.
3. Next, use the comb
After the pin brush, use the comb to comb the hair from the base (skin) to the tip. Since you use the pin brush earlier, most tangles and knots will be gone and the comb should glide the hair like butter. This step shouldn't take too long as you've already gotten rid of most tangles.
But be gentle—there still could be knots near the skin that the pin brush missed. My biggest mistake when I first got my Sheepadoodle was using only a pin brush and not a comb. I missed all the tangles near her skin and she had quite a few mats that I wasn't aware of. I now make sure to always use a comb on both my Labradoodle and Sheepadoodle!
4. Finish off with a slicker brush
Once you're confident your Labradoodle is tangle and knot-free, use a slicker brush to fluff out their hair!
Which Areas to Brush on Your Labradoodle
When brushing my Labradoodle, I like to brush areas prone to mats first to ensure I get them out of the way. These areas are:
Belly/stomach
Armpits
Behind the ears
Chest
Sides/rib cage area
Tail
After that, I continue with the rest of the body.
The whole process usually takes 30 minutes and should be done every two days at a minimum.
Finding The Right Size Brush
The perfect brush for a Labradoodle is like striking gold—it will make your life and grooming routine much easier! Picking the right size is key to finding that golden ticket. To help you out, here are some tips:
Consider the coat type – Is it curly or wavy? This helps determine which bristle length and shape are best suited for the job.
Measure the body of the dog – Longer brushes can be cumbersome on smaller dogs, while shorter ones may not work as well in thicker coats.
Think about ergonomics – Make sure you pick a brush that fits comfortably in your hand and one that's easy to maneuver.
When all these factors come together, you'll know when you have found the right fit for your Labradoodle's needs.
Understanding Bristle Types And Their Benefits
Now that you've determined the size of brush your Labradoodle needs, it's time to look into the different types of bristles and their benefits. Knowing which type of bristle is best for your pup can help make brushing easier and more effective.
Firm-bristled brushes are ideal for short-haired dogs like a Labradoodle as they remove loose hair from its coat quickly and efficiently. They also work well at distributing natural oils throughout the fur, leaving it shiny and soft.
Soft-bristled brushes may be gentle on sensitive skin but don't do much when it comes to removing dead or shedding hairs—so if your Labradoodle has longer hair, opt for a medium or firm bristle brush instead.
Finally, slicker brushes have very thin metal wires with rounded tips—these will help de-tangle any knots in long coats without causing discomfort due to tugging or pulling. Be sure not to press too hard though; use light strokes to break up mats, then switch back to a regular brush afterwards.
With just the right combination of these four types of bristles, brushing your Labradoodle should be an enjoyable experience for both you and them!
Deciding Between Natural And Synthetic Bristles
When it comes to finding the best brush for your labradoodle, one of the first decisions you must make is between natural and synthetic bristles. Do you go with a boar bristle brush that's gentle on the coat? Or do you opt for a nylon or polyester brush that offers more control?
Both have their advantages and disadvantages, so let's take a closer look at each type of bristle to help determine which will work best for your pup.
Natural Bristles
Natural bristles are typically made from animal hair, such as boar or horsehair. These brushes are great for spreading oil over the entire coat, creating an even softer and shinier sheen than regular brushing can provide. However, they don't always remove knots or tangles very well—especially if the dog has thick fur—and may be too soft for some dogs needing extra scrubbing power to get clean.
Synthetic Bristles
Synthetic bristles come in various shapes and lengths and can offer both firmness and flexibility depending on the type of material used. Nylon brushes tend to be stiffer yet still flexible enough to reach through long coats without causing discomfort. Polyester brushes, conversely, are usually softer but less durable because they're prone to breaking down quickly when exposed to water or heat.
Synthetic brushes provide better control over grooming sessions since there's usually less slippage than natural bristles; however, many owners find these brushes aren't as effective at removing dirt and particles deep within the coat.
When choosing between natural and synthetic bristles for your labradoodle, consider how much cleaning power your pup needs versus how often you plan on providing baths and grooming sessions. If frequent bathing is part of your routine, then opting for a synthetic brush might make sense since repeated use won't break down as easily. But if all-natural products are important to you then going with a sturdy boar bristle brush could be just what your four-legged friend needs!
Comparing Different Handle Styles
Now that you've decided between natural and synthetic bristles, it's time to compare different handle styles. The right handle can make all the difference in your brushing experience. Comfort is key when grooming a Labradoodle, so consider what works best for you and your pup.
There are two main types of brush handles to choose from: long and short. Long-handled brushes provide greater reach than shorter ones, making them great for larger dogs or those with longer coats who require extra attention on their backs and tails.
Short-handled brushes fit comfortably in your hand and offer better control over strokes, which makes them ideal for smaller breeds or those with dense fur that need more precise coverage.
No matter which type you opt for, there are some additional features to look out for:
Material: Plastic handles tend to be lightweight but may not last as long as wooden or metal options.
Ergonomics: Look for rubberized grips that feel comfortable against your skin during extended use.
Flexibility: Some models come with adjustable heads so you can customize the angle of the bristles for specific areas like underbellies or around legs.
Whichever style you select, remember that the most important factor is how well the tool works for both you and your pet!
Evaluating Quality And Durability
When evaluating quality and durability of a brush for a Labradoodle, it is important to understand the breed's unique coat. A Labradoodle has both wiry and curly hair that can be difficult to groom without the right tool. It is essential to find a brush that will effectively detangle their fur while minimizing discomfort for your dog.
The best brushes for this purpose are those with flexible pins or bristles designed specifically for breeds like Labradoodles. This type of brush should have long enough pins so they can reach through each layer of fur down to the skin.
It is so beneficial to invest in a good quality product that will withstand regular use over time.
Conclusion
Finding the right brush for your Labradoodle isn't always easy. With so many types, sizes, bristles, and handle styles to choose from, it can be overwhelming. However, understanding the features of each type of brush will help you make an informed decision about which is best for your pup.
Now that you know more about brushes specifically designed for Labradoodles, you're ready to find one that's just right!
---
Amazon Associates Program
This article may include affiliate links. www.travellingwithadog.com is a participant of Amazon.com Services LLC Associates Program. As an Amazon Associate, I earn a commission from qualifying purchase. www.travellingwithadog.com participates in other affiliate programs, and recieves commissions when purchases are made through the links. The cost is not inflated to account for the commission earned.
---
Veterinary Disclaimer: travellingwithadog.com is not a substitute for veterinary advice and does not intend to provide any type of veterinary advice for your animals. Please consult your vet for any questions you have regarding your pets health.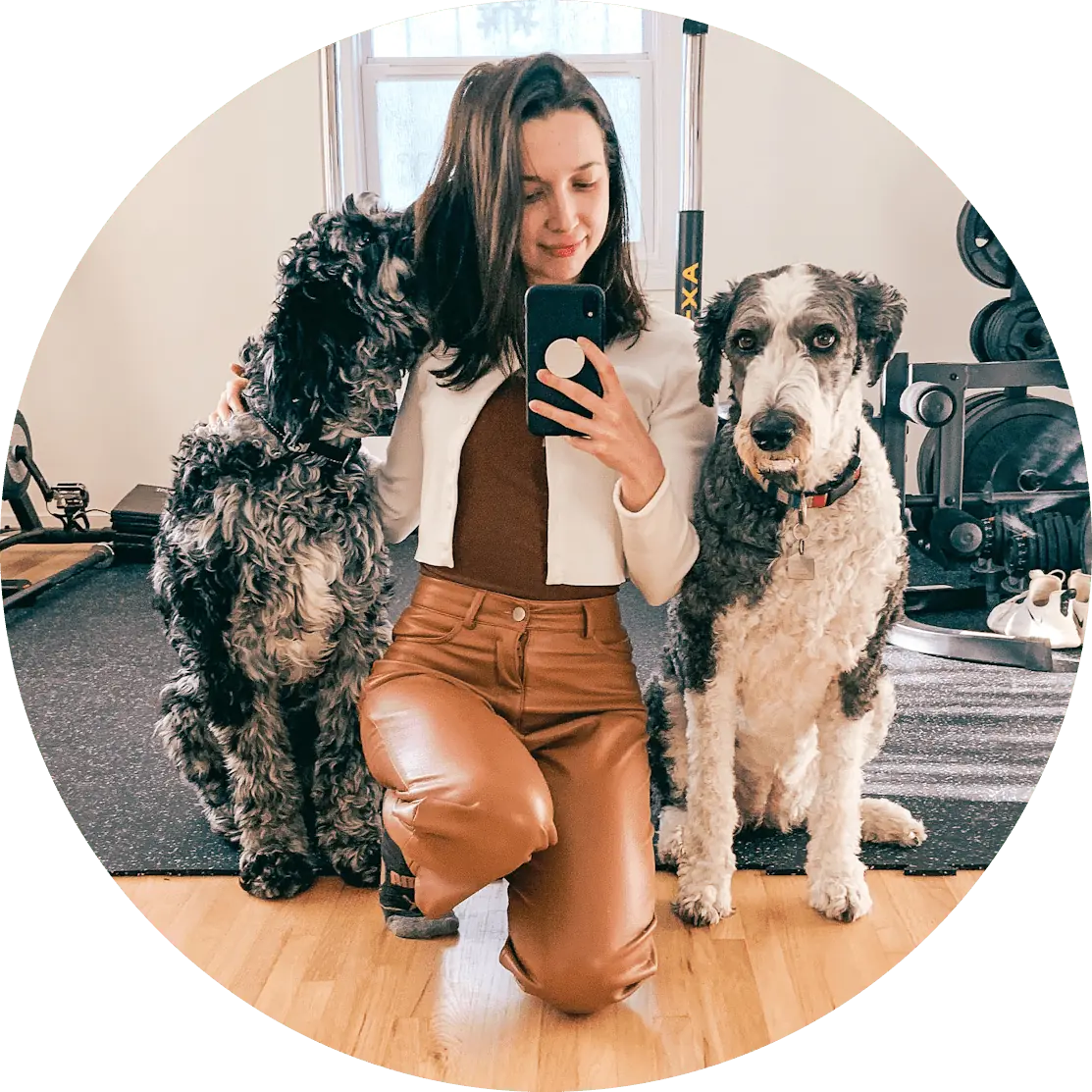 About the Author:
Dana owns a Sheepadoodle and a rescue merle Labradoodle. Her first dog growing up was a white Toy Poodle and she's loved dogs ever since. She has years of experience fostering dogs and has helped find homes for a variety of different breeds, both large and small! After seeing so many dogs end up unwanted and in shelters, she began blogging about different dog breeds (specifically Doodle dogs, since that's what she knows best) to help people make informed choices when adding a new member to their family.
When Dana's not brushing her Doodles' hair (it takes a lot of time for two!) you can find her playing nose work games and fetch with her two amazing pups.
Learn more about her here.