Last Updated on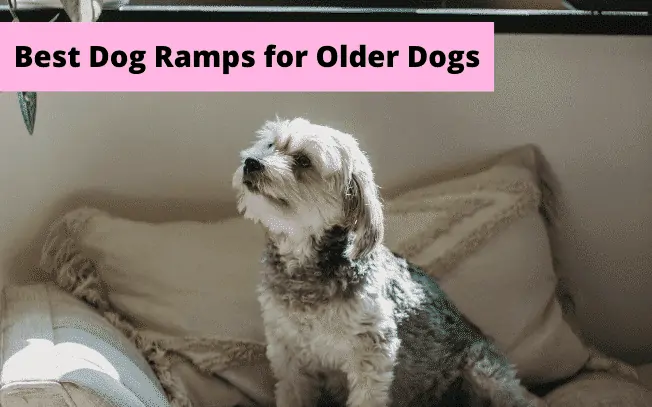 One thing in your arsenal of pet gear you need to have is a dog ramp.
As your dog gets older, they may find it difficult to get up to their favorite places, like snuggling you on the couch!
Ramps help your dog get up to places where they might need a little extra help as they age, like your couch, bed, and vehicle.
Today, we're discussing the best dog ramps for older dogs to help you find the perfect ramp for your pooch.
Best dog ramps for older dogs
This article contains affiliate links. If you purchase a product listed in this article, we will make a small commission at no extra cost to you!
Overall best dog ramps for older dogs
We have two picks for the best overall dog ramps for older dogs.
1. Chasing Tails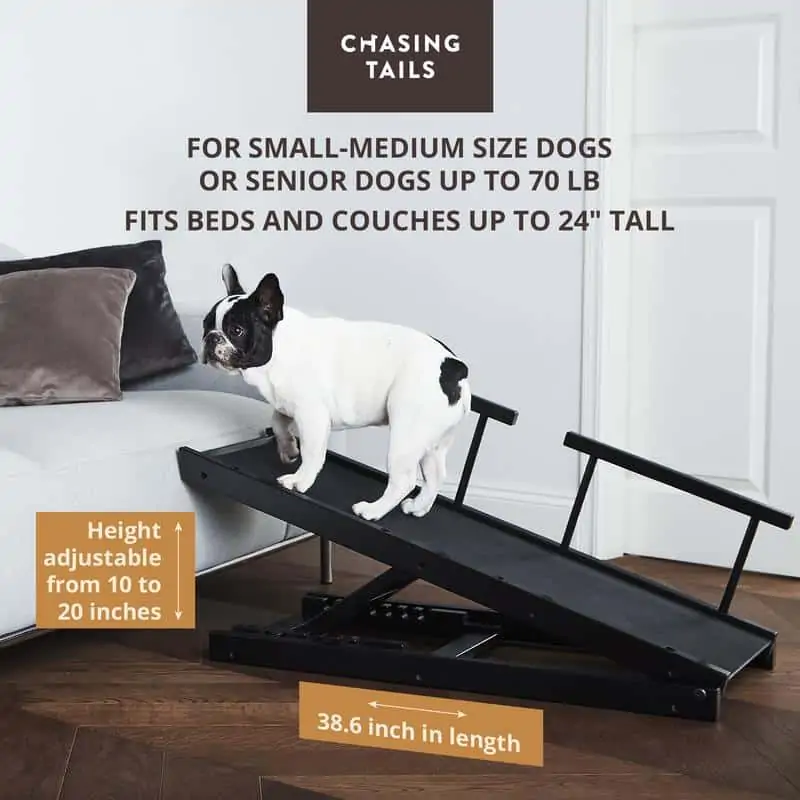 The Chasing Tails pet ramp is one of the best dog ramps for older dogs, and it's the only dog ramp we found with side rails (which is a major bonus). This sleek wooden ramp has six different adjustable positions making it easy to fit to your couch or bed, regardless of the height.
With a rubber walking surface, it's very easy to clean. Simply wipe down the surface with warm soapy water.
As a bonus, Travelling With a Dog readers get an additional 5% off with the code: with_a_dog_5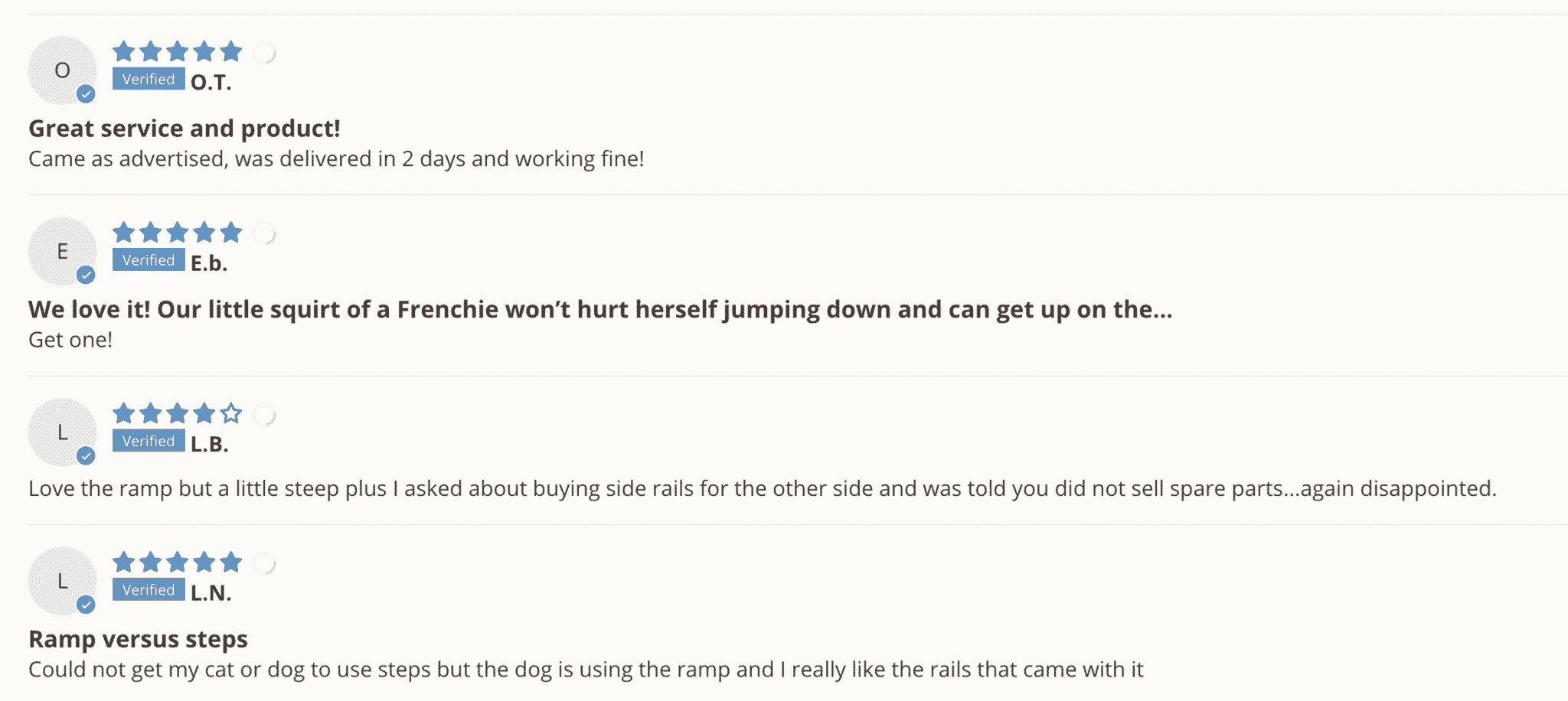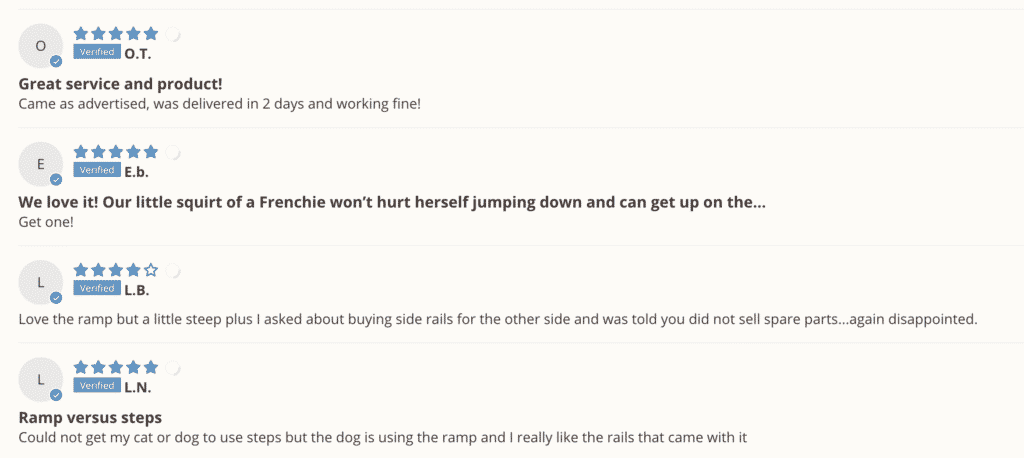 Save 5% off with code with_a_dog_5
Pros
The Chasing Tails dog ramp is one of our favorite pet ramps for four reasons:
Adjustable height: There are 6 different positions you can adjust to, giving this pet ramp a universal fit.
No-slip rubber walking surface: The non-slip rubber walking surface helps dog get up the ramp safely. The rubber is gentle on their paws and is easy to clean.
Side rails: Side rails are great for two reasons. First, they can protect dogs who might lose their balance walking up and down the ramp. Secondly, they prevent dogs from jumping from the top of the ramp straight to the floor, which in older dogs, can hurt their joints.
Compact and light: It's compact and light, which makes storing it incredibly easy.
Cons
Not suitable for giant dog breeds: This ramp is not for dogs over 70 pounds
2. SASRL Adjustable Pet Ramp
SASRL Adjustable Pet Ramp
Height Adjustable : This pet ramp can be adjusted to 4 different heights, making it work for most of your furniture in your house. Adjustable stages 9.3", 15.3", 19.6" and 24", This pet ramp can helps your pets easily reach the couch, bed or car. The pet ramp is self-supporting and does not need to be placed on the vehicle or furniture.
Safe Sturdy And Durable : Sturdy solid wood construction offers very strong support. Stainless steel fastening screws. All Dog Approved - Each of the ramps passed the safety tested independently and able to support pets up to 100 pounds.Use as a ramp to access furniture, or as a scratcher only, helps to prevent furniture scratching.
Non-Slipping & Comfortable: This pet ramp is made of scratch-resistant material and contains a layer of environmentally friendly plastic,The high traction fabric carpet surface features grooves to prevent your pet friend from slipping when walking on the ramp.
Another great dog ramp is the SASRL Adjustable Pet Ramp. This pet ramp has a weight capacity of 100 pounds, making it a good choice for those with large and giant dog breeds. The ridged carpet surface lets dogs get a good grip as they walk up and down this dog ramp.
This folding dog ramp folds flat for easy storage!
Pros
Ridged ramp: The ridges on the ramp will help your senior dog get a better grip.
Suitable for dogs of all sizes: Heavy dogs weighing up to 100 pounds can use this ramp.
Adjustable height: This ramp has four adjustable heights you can use to fit different pieces of furniture and even vehicles.
Cons
No rails: There are no rails to prevent your dog from jumping or losing their balance.
Hard to clean: The carpet might be hard to keep clean over time, but as it's dark, any stains won't be super noticeable.
Click to check prices on Amazon
Best stylish dog ramp for older dogs
Stylish dog ramps are good for those who want
3. Petsafe Cozyup Bed Ramp
Sale
PetSafe CozyUp Bed Ramp for Dogs
CONTINUE CUDDLE TIME: Use the ramp to help your best friend get up on the sofa all by themselves to improve quality time together
SAFETY TESTED & DURABLE: This strong ramp is independently tested and rated to support pets up to 120 pounds
DECORATIVE: Cherry, wood finish adds a decorative element to any home
The Petsafe Cozyup Bed Ramp can be used for couches and beds. It comes in two different colors (cherry or white) so you can match your ramp to the rest of your décor!
Giant dog breeds can use this ramp as it supports dogs up to 120 pounds. While this ramp isn't foldable, it's quite beautiful and you might not want to put it away!
Pros
Ribbed walking surface: Helps your dog grip the ramp so they don't slip on their way up or down.
Great for large dogs too: Good for dogs up to 120 pounds.
Cons
Carpet surface: The carpet ramp might be hard to keep clean as you can't wipe it down like you could with a rubber surface. The cherry color in particular has a cream-colored carpet where stains will be more visible as opposed to a darker carpet.
Not adjustable: There is only one height for this dog ramp.
Not foldable: Because you can't fold this ramp, it's tough to store.
Click to check prices on Amazon
4. DoggoRamps Couch Ramp for Dogs
Sale
DoggoRamps - Couch Ramp for Dogs
🗺️ MADE IN NORTH AMERICA of SOLID MAPLE HARDWOOD - The standard in true furniture quality, our dog ramps are strong, sturdy, & long-lasting with beautiful natural wood grain and 5 finish options to complement your home.
🐾 GRIPPY PAWGRIP SURFACE - Featuring our unrivaled PAWGRIP anti-slip surface which gives incredible traction to your dog for zero slipping (and outperforms all the carpet alternatives).
🐕 PLATFORM TOP: A mini landing platform makes it easier for medium and small dogs to step on and off the ramp.
DoggoRamps is another sleek dog ramp that comes in four different colors: walnut, natural wood, grey, and jet black.
This ramp is more expensive than some of the others on our list, but it's made within North America using solid hardwood; the higher price is worth the high quality!
Pros
Variety of colors: Comes in a variety of colors making it easy to find a ramp that matches the rest of your house
Adjustable height: You can adjust this dog ramp to four different heights.
Great for large dogs: Holds up to 150 pounds.
Anti-slip surface: DoggoRamps ramp surface is made using PAWGRIP anti-slip; a better alternative to carpet.
Folds down: These dog ramps fold down for easy storage.
Cons
Price: DoggoRamps dog ramp is more expensive than others on our list, however, it is hand crafted in North America.
Click to check prices on Amazon
Best small dog ramp for older dogs
Many of the dog ramps we mentioned are on the larger side. That doesn't mean you can't find a smaller dog ramp, however.
5. Pet Gear Stramp Stair and Ramp Combination
Sale
Pet Gear Stramp Stair and Ramp Combination
supertraX mat is soft, protecting pets' paws and removes for easy cleaning
Rubber grippers on bottom keep step secure and in place
Easily snaps together; no tools required ; For pets up to 150 lbs
This small dog ramp is ideal for those who want something simple.
The Pet Gear Stramp is both dog stairs and a ramp combined and can hold up to 150 pounds. It's much smaller than the other ramps we've listed and comes at a cheaper price point as well.
However, it's worth noting that it's not adjustable and doesn't fold up for storage.
It comes in two different colors: tan and chocolate. You can also get it in an extra-wide landing area with a less steep slope. This acts more of a "standing ramp" to help your dog jump off surfaces (but isn't as much as a ramp).
Pros
Cheaper price point: This dog ramp/steps combo is one of the cheaper options on the list.
Rubber grips on the bottom: The rubber grips on the bottom of this ramp help stabilize it.
Lightweight: This dog ramp is lightweight and easy to move around.
Cons
Not adjustable: You can't adjust this to the height of your furniture or vehicle.
Not foldable: Storing this dog ramp isn't as easy as the others that are foldable.
Click to check price on Amazon
Best car dog ramps for older dogs
If you're on the road lots and want to find the best dog ramp for your car, we recommend these two!
6. PetSafe Happy Ride Telescoping Pet Ramp
Sale
PetSafe Happy Ride Telescoping Pet Ramp
CONTINUE ADVENTURES TOGETHER: Use the telescoping ramp to help your best friend get in and out of your tallest truck, car, minivan or SUV all by themselves
EXTRA LONG ADJUSTABLE SIZING: Longer length and extra wide telescoping ramp allows you to help your pet get in and out of vehicles with steeper inclines; ramp measures 47-87 in L X 20 in W X 4 in H
SAFETY TESTED and DURABLE: This strong ramp is independently tested and rated to support pets up to 300 lb
The PetSafe Happy Ride dog ramp is durable and supports giant dog breeds up to 300 pounds. It only weighs 18 pounds making it incredibly lightweight and easy to haul around. This dog ramp is adjustable in length depending on how high your vehicle is. It also compacts so you can store it easily in your vehicle without it taking up too much room.
Pros
Adjustable: You can adjust the length of this ramp for a less steep incline.
Side rails: This dog ramp has small guard rails to keep your dog comfortable while walking on it.
Lightweight: Although sturdy, this dog ramp is an incredibly lightweight product.
Cons
Surface: A rubber surface would be better for grip, especially for older dogs.
Click to check price on Amazon
7. Pet Gear Travel Lite Bi-Fold Ramp
Sale
Pet Gear Travel Lite Bi-Fold Ramp
SupertraX tread is soft, protecting pets paws and also provides sure-footing and is removable for easy cleaning.
Easy fold for compact storage. Built in handle for portability
Rubber grippers on bottom help keep ramp steady
The Pet Gear Travel Lite dog ramp is another foldable dog ramp specifically made for your car. It's light and has a handle so you can easily carry it.
It uses SupertraX for the walking surface, which is a pressure-activated grip to help your dog. SupertraX is also easier to clean, and if you're using your ramp outdoors, you'll want something that cleans easily!
Click to check price on Amazon
Pros
SupertraX surface: Easy to clean and easy for your pet to grip.
Lightweight with a handle: This dog ramp is easy to carry.
Foldable: Folds down so you can easily store it in your vehicle.
Cons
Unattractive design: This ramp is best for your car rather than using in your home as it's not aesthetically pleasing compared to the other ramps on this list.
Doesn't universally fit all vehicles: Make sure you measure the space you have when you open your vehicle door to ensure you have enough room for this ramp.
Which ramp should you not get?
Sale
Foldable Wooden Ramp for Pets
DOG BED RAMP - The ramp for dogs can assist pets up onto high beds, couches, or other furniture as well as help them into or out of vehicles, ideal for puppies, small dogs, senior dogs, or cats, and injured or arthritic pets.
PORTABLE AND LIGHTWEIGHT - The dog ramp for bed conveniently folds up between uses, making it perfect for travel and stores easily in a trunk, closet, or under furniture. It is also light enough to carry, but durable enough to support pets up to 80lbs.
NONSLIP - The foam padded surface of the dog ramp for couch is a safe way to provide your furry pal with optimal traction and secure footing to prevent slipping or falling when walking up or down the ramp.
Although we love the sleek look of this foldable wooden ramp, the suede makes it hard to grip. For younger, agile dogs, this doesn't pose a big problem, however, older dogs benefit from the additional grip that rubberized walking surfaces provide.
This ramp is good, but we don't recommend it if your older dog needs some grip.
Benefits of using a dog ramp
Constant jumping can be hard on your dog's joints and can lead to diseases like hip dysplasia and arthritis. Using a dog ramp can help prevent these diseases and keep your dog feeling good if they already suffer from any such diseases.
Not only that, dog ramps are easier on you—rather than have to lift your dog into the car they'll have a way to easily get in with your assistance.
What should you look for in a dog ramp?
Purpose
There are so many ramps for dogs out there, so which one should you choose? First, you need to determine where you'd like your ramp to go. Is it for your bed or couch? If so, you'd likely want something that looks nice and is functional, like the Chasing Tails dog ramp!
However, if you want something for your car, you might not care about looks as much (afterall, it will spend most of its time in your trunk). Therefore, you might prefer the PetSafe Happy Ride ramp.
Here are some other things to keep in mind.
Foldable
If you don't want your dog ramp to always be out, you'll want to find one that is compact, foldable, and easy to store.
High-traction walking surface
A high-traction walking surface is important, especially for senior dogs. It will make them feel more comfortable as they learn to use their new ramp.
Easy to clean
If you plan to keep your ramp indoors, you'll likely want one you can easily clean.
Ramp length
Make sure you get the right ramp length for the size of your dog and the height of your furniture.
---
Amazon Associates Program
This article may include affiliate links. www.travellingwithadog.com is a participant of Amazon.com Services LLC Associates Program. As an Amazon Associate, I earn a commission from qualifying purchase. www.travellingwithadog.com participates in other affiliate programs, and recieves commissions when purchases are made through the links. The cost is not inflated to account for the commission earned.
---
Veterinary Disclaimer: travellingwithadog.com is not a substitute for veterinary advice and does not intend to provide any type of veterinary advice for your animals. Please consult your vet for any questions you have regarding your pets health.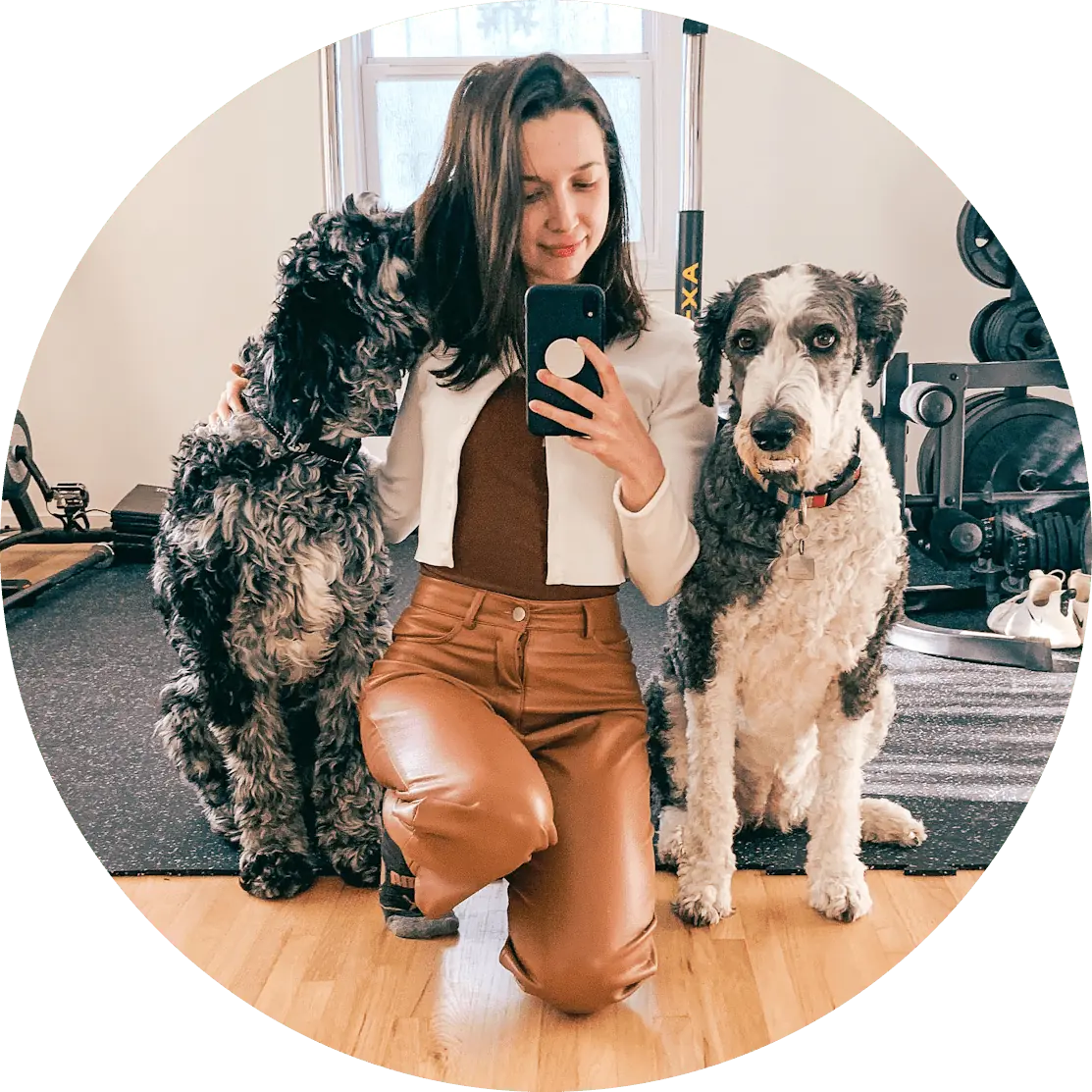 About the Author:
Dana owns a Sheepadoodle and a rescue merle Labradoodle. Her first dog growing up was a white Toy Poodle and she's loved dogs ever since. She has years of experience fostering dogs and has helped find homes for a variety of different breeds, both large and small! After seeing so many dogs end up unwanted and in shelters, she began blogging about different dog breeds (specifically Doodle dogs, since that's what she knows best) to help people make informed choices when adding a new member to their family.
When Dana's not brushing her Doodles' hair (it takes a lot of time for two!) you can find her playing nose work games and fetch with her two amazing pups.
Learn more about her here.