Last Updated on
Offering both sunny beaches and towering mountains, North Carolina is a dog's dream playground. They can go from rolling in the warm sand of the Outer Banks to climbing peaks of the Blue Ridge Mountains in only 6 hours. It's no wonder North Carolina is home to numerous dog-friendly road trip destinations.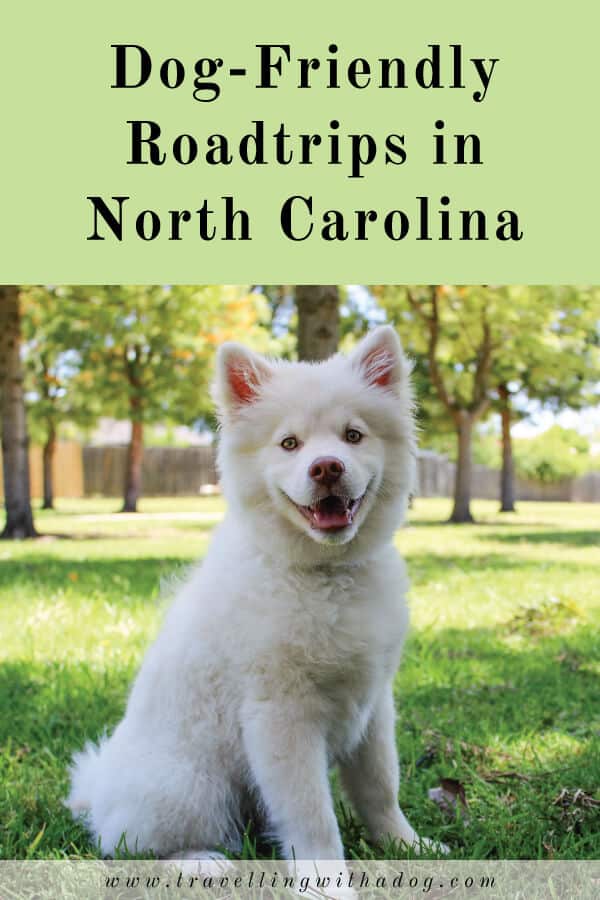 The next time you and your pup are hankering to get out of town for a little while, leash them up and hop in the car for one of these four dog-friendly road trips in North Carolina.
Outer Banks
The Outer Banks spans 200 miles of the North Carolina Coast and encompasses coastal towns like Rodanthe, Corolla, Kitty Hawk, and Ocracoke, to name a few. Only a 3-4 hour drive from Raleigh, the state capital, the Outer Banks is home to numerous fun activities for a day trip with your pup.
For starters, a walk on the beach with your dog is a must. With over 200 miles, there are plenty of sights and beachy smells for your dog to enjoy. Join hundreds of other pooches accompanying their owners on a morning run, seashell hunt, or refreshing swim.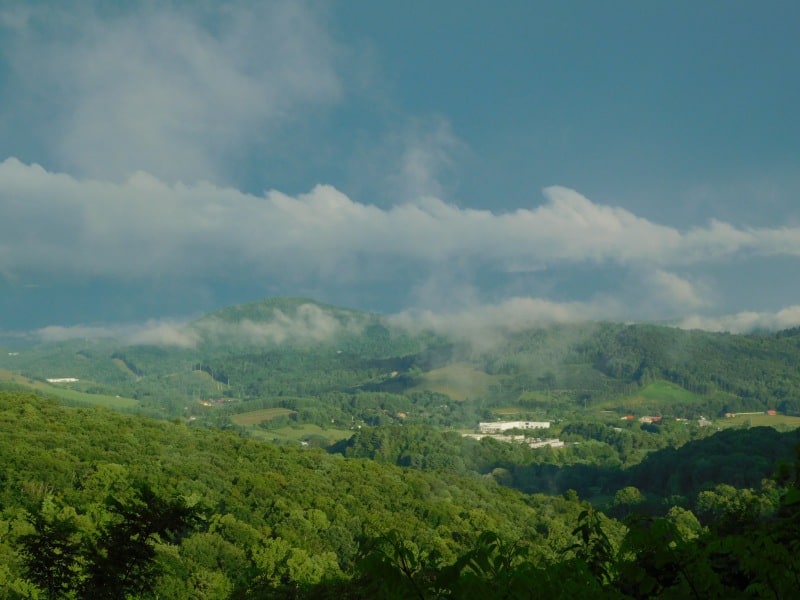 There are also several large parks for you and your pup to explore including Jockey's Ridge, home to the largest natural sand dune on the east coast, the Wright Brother's National Monument commemorating where the first flight occurred (You heard me, Ohio!), Roanoke Island Festival Park where you can explore the area where the Lost Colony went missing and learn about their lives, and Springer's Point on Ocracoke Island where you can gaze out at the exact spot Blackbeard's ship sunk.
Make sure to stop at one of the numerous restaurant serving fresh seafood with dog-friendly patios including Ten O Six Beach Road Bistro and Waterman's Bar and Grill.
Raleigh
A little further inland, Raleigh has just as many fun, dog-friendly activities. If you love art and walking your dog, you have to visit the North Carolina Art Museum Park. The park includes a series of nature trails that features various works of modern art throughout.
If shopping is more your style, visit the Raleigh Flea Market on Saturdays and Sundays. Leashed dogs are more than welcome at this giant flea market. People come from all over the state to sell furniture, clothes, and even antiques. You never know what treasure you and your pup might come across!
When you and your dog inevitably get hungry and thirsty, there are several dog-friendly dining options, one of the most fun being the Boxcar Bar + Arcade. At the Boxcar, your dog can come along as you chow down and play arcade games. The best part? You can redeem your game tickets for free drinks!
If a more relaxed atmosphere is more you and your pup's vibe, check out Chatham Hill Winery in Cary. Cary is right outside of Raleigh and only takes a 15-20 minute drive. Chatham Hill Winery offers plenty of tours, tastings, and live jazz music that your dog can gladly accompany you on!
Asheville
Asheville might honestly be the coolest, dog-friendliest city in the state. Downtown Asheville is hip- full of breweries, coffee shops, artisan crafts, and indie bookstores. If a laidback mountain town is more you and your pup's vibe, then Asheville is for you.
Nearly everywhere you go in Asheville is dog-friendly, especially the Mast General Store. The Mast General Store is a quaint, old-fashioned shopping destination. You can get anything here from candies and fudge and canned jellies and jams to Asheville t-shirts, potholders, and hand towels, all with a vintage theme of course. Other pet-friendly shops in Asheville include:
Battery Park Book Exchange and Champagne Bar
Bryant Antiques
River Arts District
As you'd expect, there is no lack of pet-friendly food options in Asheville either. The restaurant Posana is a place you must stop with your dog since they have a special dog menu for your pup to order off of. And the Asheville Brewing & Pizza Co is the perfect spot to take your dog for a cold beer and gooey slice of pizza.
Blue Ridge Parkway
If you leave Asheville and go north, you'll take the most scenic drive you'll ever take with your pup on the Blue Ridge Parkway.
While the Parkway itself is the attraction, with numerous overlooks and hiking trails showcasing the gorgeous countryside, there are several stops off of the parkway that are great for taking your dog. Grandfather Vineyard & Winery offers a scenic view of Grandfather Mountain for you and your dog to enjoy while sipping on a glass of local wine.
A little further north, in the quaint town of West Jefferson, you can visit Boondocks Brewing for a nice, cold glass of freshly brewed beer. Your dog is more than welcome on the patio of the brewery located in this small mountain town. While you're here, make sure you take a stroll with your dog down the street and check out all of the cute little shops and markets West Jefferson has to offer.
---
These four dog-friendly road trips in North Carolina are sure to make a day full of memories for you and your dog. No matter which destination you choose, as long as you have your four-legged sidekick, your road trip will be the best you've ever had.
---
Amazon Associates Program
This article may include affiliate links. www.travellingwithadog.com is a participant of Amazon.com Services LLC Associates Program. As an Amazon Associate, I earn a commission from qualifying purchase. www.travellingwithadog.com participates in other affiliate programs, and recieves commissions when purchases are made through the links. The cost is not inflated to account for the commission earned.
---
Veterinary Disclaimer: travellingwithadog.com is not a substitute for veterinary advice and does not intend to provide any type of veterinary advice for your animals. Please consult your vet for any questions you have regarding your pets health.
About the Author:
Jennifer from Beanies & Weenies is a DIY and lifestyle blogger from North Carolina. She is a proud fur-mama to two cats, Jim and Luna, and one rambunctious puppy named Jasper. When Jennifer isn't blogging or playing with her fur-babies, you can find her running her content marketing business, crocheting blankets and scarves, or writing her paranormal mystery novel. Check out her blog post on Homemade Coconut Oil Dog Treats.