Last Updated on
This post contains affiliate links. When you click on a link within this post and make a purchase, I will earn a commission. This is at no additional cost to you.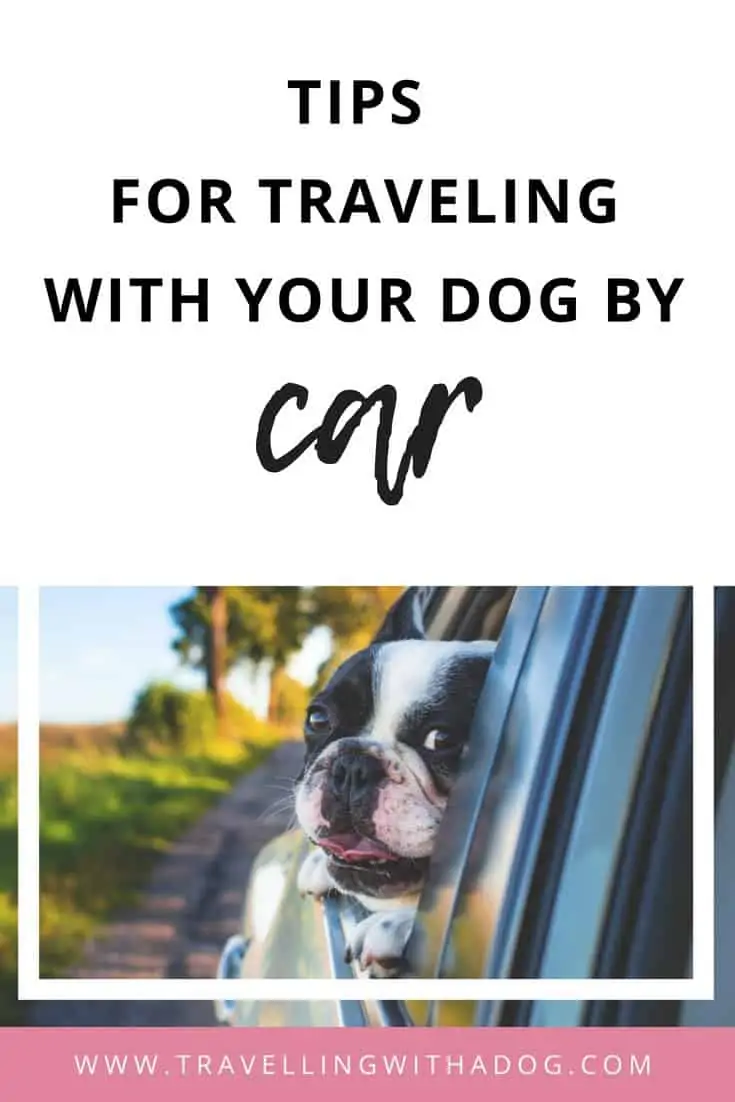 Travelling with a dog in the car can be quite a challenge for some. Not all dogs sit quietly and calmly! Some of our four-legged friends get car sick and some are nervous and will try to hide or climb onto the driver's lap (talk about dangerous)
If any of these situations remind you of your furry best friend, here are three approaches you can take to help make dog car travel easier: dog training, natural remedies, and/or dog travel supplies such as a dog car harness.
Dоg Trаіnіng For Car Travel
This first approach of making dog car travel easier is the most difficult and time-consuming, but it offers the best long-term results!
Commit yourself to taking your pet for a ride in the car at least once a day. To start, make it a short trip, as short as just around the blog if you'd like. How does this approach help? It desensitizes your pet to the car ride as follows:
A pet that tends to get car sick gets used to the movements of the car
A pet that gets nervous learns there is nothing to be frightened of
A pet that gets excitable in the car soon comes to understand that it is just another car ride
For dogs that get nervous, take short car rides to somewhere fun! Go to the pet store to look around at the toys (and maybe even buy one) or go to the park. Doing this will associate dog car travel with something fun. Your best friend not only learns the car is nothing to be scared of, but also that car rides can be enjoyable!
For those dogs who get easily excitable by car rides, take a short trip but do not go somewhere fun. Instead of going to the dog park, drive past it and go straight home. This turns car rides into something that doesn't always have an exciting outcome at the end.
Nаturаl Rеmеdіеѕ For Car Sickness in Dogs
Ask your veterinarian about a medication or natural remedy that your pet can use. Depending on how severe your pet's behavior is in the car, the vet can prescribe a medication or advise you if certain natural remedies can be used.
One such natural remedy is a topical spray with lavender in it. Lavender is a plant made into aromatherapy oil and is often used to help people relax. Lavender can work on dogs too and is safe to use. Before using sprays with scents, be sure to check if they are safe for dogs as many essential oils and scents can cause serious hard (but lavender is ok)! Some topical sprays or medications can help with car sickness as well.
If you're wary of using such things (perhaps your dog has allergies), consider some wearable dog travel supplies. It is believed that certain types of pet clothing wraps have a calming effect similar to wrapping a baby in a swaddling, such as this vest. Natural remedies may not always work, so use them in conjunction with dog training!
Dоg Car Travel Gear
Other dog travel supplies besides dog clothing wraps are available to help for travelling with a dog in the car. A dog car harness, for example, can not only help secure your pet for his safety but also keep your nervous dog from distracting the driver!
A dog car harness is not the only option. Consider putting him in a pet crate, then securing the pet crate in the car. Also, consider a dog car barrier that helps to keep your pet in the back seat. As with natural remedies, for best results, use dog travel supplies in conjunction with dog training!
In Conclusion
Using a canine car harness, dog car barrier or natural calming remedies can be a great solution for those travelling with their furry friend in the car.
But remember, those methods may only work for as long as you use them. Proper dog training, on the other hand, can last you pet their lifetime.
---
Amazon Associates Program
This article may include affiliate links. www.travellingwithadog.com is a participant of Amazon.com Services LLC Associates Program. As an Amazon Associate, I earn a commission from qualifying purchase. www.travellingwithadog.com participates in other affiliate programs, and recieves commissions when purchases are made through the links. The cost is not inflated to account for the commission earned.
---
Veterinary Disclaimer: travellingwithadog.com is not a substitute for veterinary advice and does not intend to provide any type of veterinary advice for your animals. Please consult your vet for any questions you have regarding your pets health.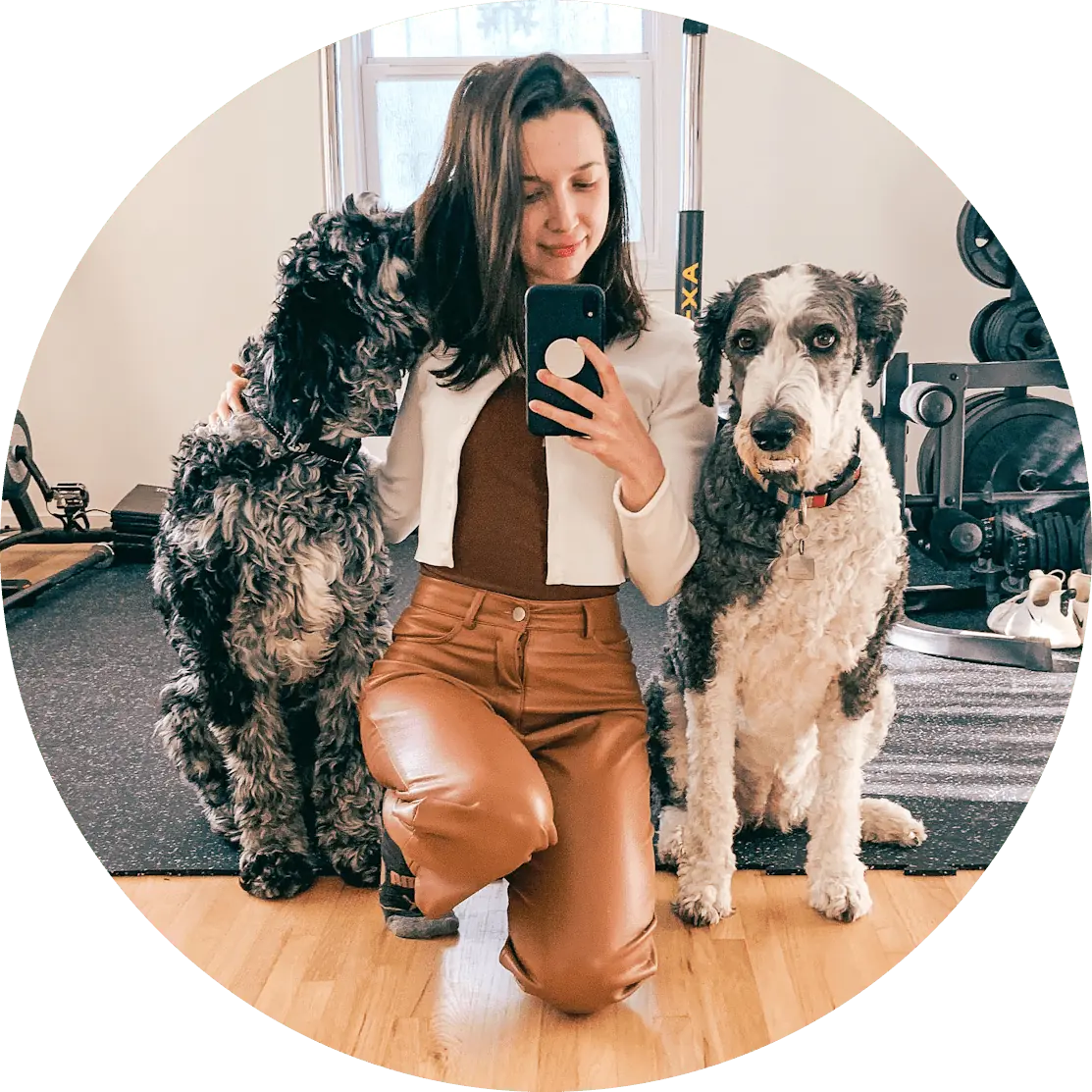 About the Author:
Dana owns a Sheepadoodle and a rescue merle Labradoodle. Her first dog growing up was a white Toy Poodle and she's loved dogs ever since. She has years of experience fostering dogs and has helped find homes for a variety of different breeds, both large and small! After seeing so many dogs end up unwanted and in shelters, she began blogging about different dog breeds (specifically Doodle dogs, since that's what she knows best) to help people make informed choices when adding a new member to their family.
When Dana's not brushing her Doodles' hair (it takes a lot of time for two!) you can find her playing nose work games and fetch with her two amazing pups.
Learn more about her here.