Last Updated on
Are you in the market for a new dog dryer? Standing dryers are an excellent substitute to a regular dog dryer. A stand dryer for dog grooming is a hair drying device that is very similar to human dryers, albeit a bit larger. Warm air is sent out by the motor at a set temperature or chosen speed to ensure that the pet's coat is dried efficiently and fast.
These devices are also known as blasters and are quite effective in eliminating bits of dirt from the dog's body. The powerful wind gust produced by the dryer can be used to blow off all sorts of debris that may be lodged in between the individual fur strands on your pet.
This post contains affiliate links. When you click on a link within this post and make a purchase, I will earn a commission. This is at no additional cost to you.
The 6 Best Stand Dryers for Dog Grooming
If you are looking to find the best stand dryer for grooming your dog, consider the following models.
1. Flying Pig High-Velocity Pet Stand Grooming Dryer (Top Pick)
Flying Pig High-Velocity Pet Stand Grooming Dryer
Constructed with steel shell and the motor is designed for hard use for years.
Variable Air Speeds & Heats. Stand adjusts from 33 inch to 51 inch and rolls on four lockable casters.
Powerful Flying Pig high velocity motor cuts drying time up to 50%.
The best stand dryer for dog grooming is the Flying Pig High-Velocity Pet Stand Grooming Dryer.
We love this dryer because it's perfect for dogs and other animals who are sensitive loud noises. Compared to other dryers, this high-velocity dog grooming dryer is quieter, which can help keep your dog calm during the drying process.
It's also incredibly affordable compared to heavy-duty stand dryers.
Pros
Adjustable height up to 51 inches
Control panel to adjust the temperature and pressure
Affordable compared to other stand dryers
Long hose that moves around to reach any area of the dog
Cons
The swivel stand is a bit wobbly
Suitable for home groomers but might not be powerful enough to use all day, everyday at a grooming business
2. XPOWER B-16 "Pro Finisher"
XPOWER B-16 Pro Finish Stand Dryer
HIGHEST QUALITY FINISH – The only dryer capable of achieving the best results on challenging breeds such as the Standard Poodle, Afghan Hound, Scottish Terrier, Pomeranian, and many more with difficult-to-dry coats.
INNOVATIVE – DC brushless motor does not produce harmful carbon dust, requires no maintenance, and offers the most air volume and speed of all dryers in its class.
POWERFUL AND VERSATILE – Variable speed and heat control knobs for precise adjustments in airflow and temperature, allowing you a wide range of airflow and temperatures to dry any coat type with ease.
If you are looking for stand dryers for dog grooming that can withstand the pressures of a busy pet grooming business, the XPOWER B-16 "Pro Finisher" Stand Dryer is a great choice. The end result after using this dryer is a stylish finish which everybody notices as "show quality.
This result is courtesy of an adjustable speed control, adjustable heat setting and anti-static/frizz capabilities. Even challenging breeds to groom like the standard poodle obtain a "show quality" appearance after drying. Due to the high air volume produced by the B-16, it is a favorite among professional pet groomers who regularly have to deal with pets whose coats require fluffing. It is not by chance that that manufacturer provides a whole years warranty on this dryer – they are sure that this piece of equipment has been engineered to withstand long service.
The XPOWER B-16 Pro Finisher Professional Finishing Stand Dryer is extremely quiet yet works with powerful flow of air to give clients a look they would not mind paying highly for. Featuring a hydraulic lift that can go up to 5 feet, and a foldable base of 5 legs, the dryer is highly stable yet portable.
The dryer is made out of lightweight but durable plastic for quality thermal protection. When you are grooming a pet that is sensitive to sound, the XPOWER B-16 "Pro Finisher" Stand Dryer is the best option. The ¼ horsepower is capable of drying all coat types regardless of the amount of fur or thickness of the animal's coat.
Pros
Negligible noise motor
Durable
Easy to put together
Replaceable filters for air intake
Portable
Cons
Requires regular maintenance
3. Shernbao Brushless Stand Dryer
Shernbao Brushless Stand Dryer
【Innovation and revolution】Constant, precise and controllable wind speed & temperature are more conducive to the styling of dog and other pet's coat (especially for Professional Grooming salons).
【Negative ion function】Advanced tourmaline brushes generate anions, up to 6million/cm3, which aids in containing the internal cuticle moisture, minimize damaging the hair scales and helps tame the unruly hair and straighten the curly coats, making it softer and brighter.
【Hands free】 ① Height adjustable: The stand is 42.12"- 59.84" height-adjustable, providing you a perfect height saving you from bending. ② Angle adjustable: Bracket rotates 360° horizontally and also can be adjusted to 90° elevation to 90° depression. ③ You can move the stand to where it needs to be and lock it where you want.
Another contender for the best stand dryer is Shernbao's brushless dryer. This hands-free stand dryer goes down to a heigh of 107 cm and goes as high as 152 cm. It swivels up, down, left, and right so you can position it perfectly while brushing out the dog.
Both heat and wind speed are adjustable.
It uses unique negative ion technology which protects the dogs fur, leaves it shiny, and straightens it as it's drying!
This dryer has lots of power but is still quiet. It's also on the smaller side so it can be stored easily and doesn't take up very much space.
Pros
Hands-free
Quiet
Negative ion function for healthier and shinier fur
Cons
Heat doesn't get super warm
4. Free Paws Pet Dryer 4.0 HP Dog Cat Hair Blower with Stand Set Combo
Free Paws Pet Dryer 4.0 HP
Stand is 35.5"- 51.2" height adjustable, providing you a perfect height saving you from bending
Bracket rotates 360°horizontally and also can be adjusted to 120°elevation to 120°depression
Stand comes with a hands-free drying arm that is compatible with our 4 HP pet dryer
What are the odds that you can be brushing your pet while drying their fur at the same time? Well, it is possible with this dryer that comes with a hands-free dryer arm!
Suitable for both home and professional use, the dryer set also includes a height-adjustable stand that can be conveniently matched to the height of the person doing the grooming
The stand sits on a cross-shaped base for stability and because it is made of anti-corrosion resistant metal, moisture will not destroy it over time. If you have just brought home a pet and are keen on grooming it, this is the best dryer for you.
When used across large floor spaces, PVC wheels enable these stand dryers for dog grooming to move easily and be locked at a particular working spot. An extremely powerful pet dryer, the Free Paws Pet Dryer has a power range of 400W-3000W which the user can easily adjust according to the desired results.
The dryer also has a two-step airflow adjustment setting to control the amount of air that blows over the pet's fur.
Pros
Lightweight in design
Simple to use
Easy to maintain
Cons
Lifespan is significantly shortened when used in a professional setting
5. Master Equipment Flash Dry Stand Dryer for Pets
Master Equipment Flash Dry Stand Dryer for Pets
Designed to offer adjustable air volume and control, FlashDry Stand Dryers are the functional and economical choice for professional groomers!
Custom airflow and temperature control lets you comfortably dry pets of all coat types
Rolling stand adjusts from 35"H to 60"H
This stand dryer is slightly cheaper than some of the others on this list. While at-home groomers enjoy this drying, professional groomers who do lots of grooming on a daily basis note that this drier did not last long enough for them.
This stand dryer comes with a hand-free and a swivel nozzle for those who enjoy both drying methods. It has three heat settings and gets warm enough to dry all types of fur quickly. It also comes it three different colors: purple, white and blue.
Pros
Affordable
Comes in different colors
Cons
Motor doesn't last as long, especially in a professional grooming setting
6. Edemco F3002 Finishing Stand Dryer
This stand dryer on wheels is ideal for all groomers, professionals and amateurs alike. It is easy-to-use and can be used at home or in a startup dog grooming business.
It's sturdy and incredibly easy to put together, and with a two year warranty, you can feel confident investing in this 5-star rated dryer!
If your dog is skittish with loud noises, this dryer is quieter compared to some of the others on the market.
Pros
Quiet
Two year warranty
Easy to assemble
Nozzle rates 360 degrees
Cons
Can take two to four week to arrive
Compare price on Pet Pro Supply
Why Choose a Stand Dryer for Dog Grooming
Stand dryers are easy to move around and cover a wide drying area. When it comes to dog grooming, it's nice to have both hands free to do things like brushing the dog or give treats to a nervous dog. Using a stand dryer allows you to quickly and efficiently dry your dog's hair or fur while allowing you to have both hands free.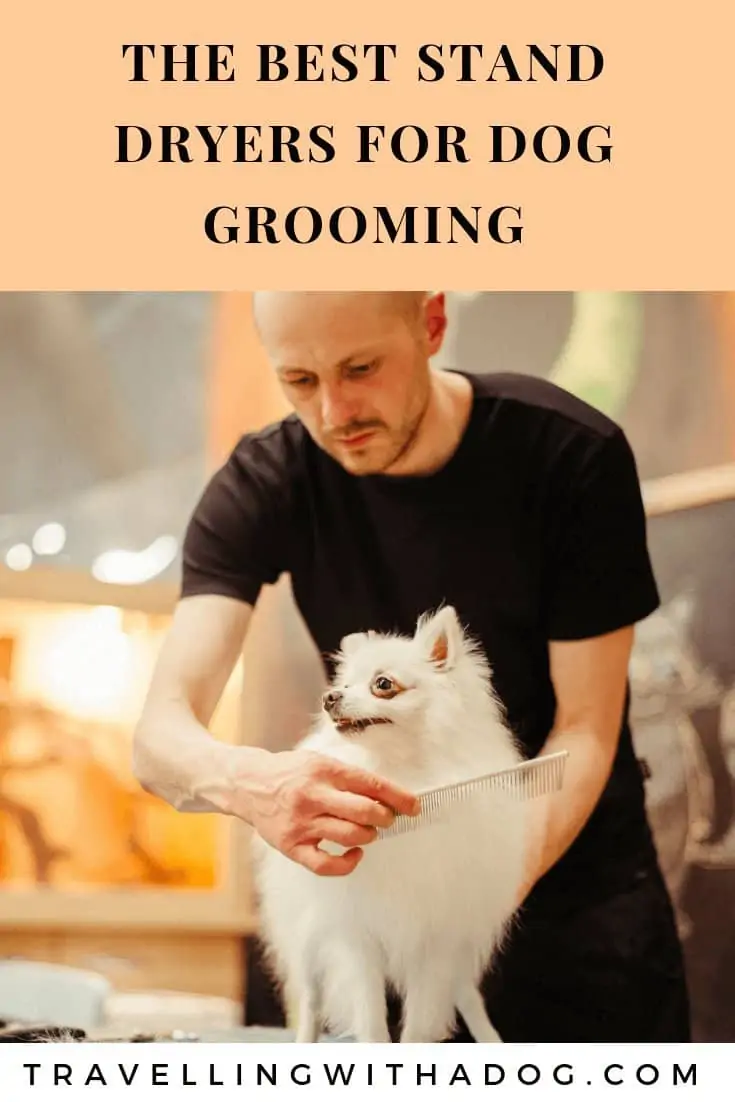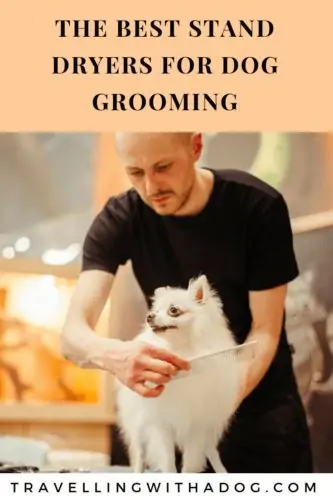 ---
Amazon Associates Program
This article may include affiliate links. www.travellingwithadog.com is a participant of Amazon.com Services LLC Associates Program. As an Amazon Associate, I earn a commission from qualifying purchase. www.travellingwithadog.com participates in other affiliate programs, and recieves commissions when purchases are made through the links. The cost is not inflated to account for the commission earned.
---
Veterinary Disclaimer: travellingwithadog.com is not a substitute for veterinary advice and does not intend to provide any type of veterinary advice for your animals. Please consult your vet for any questions you have regarding your pets health.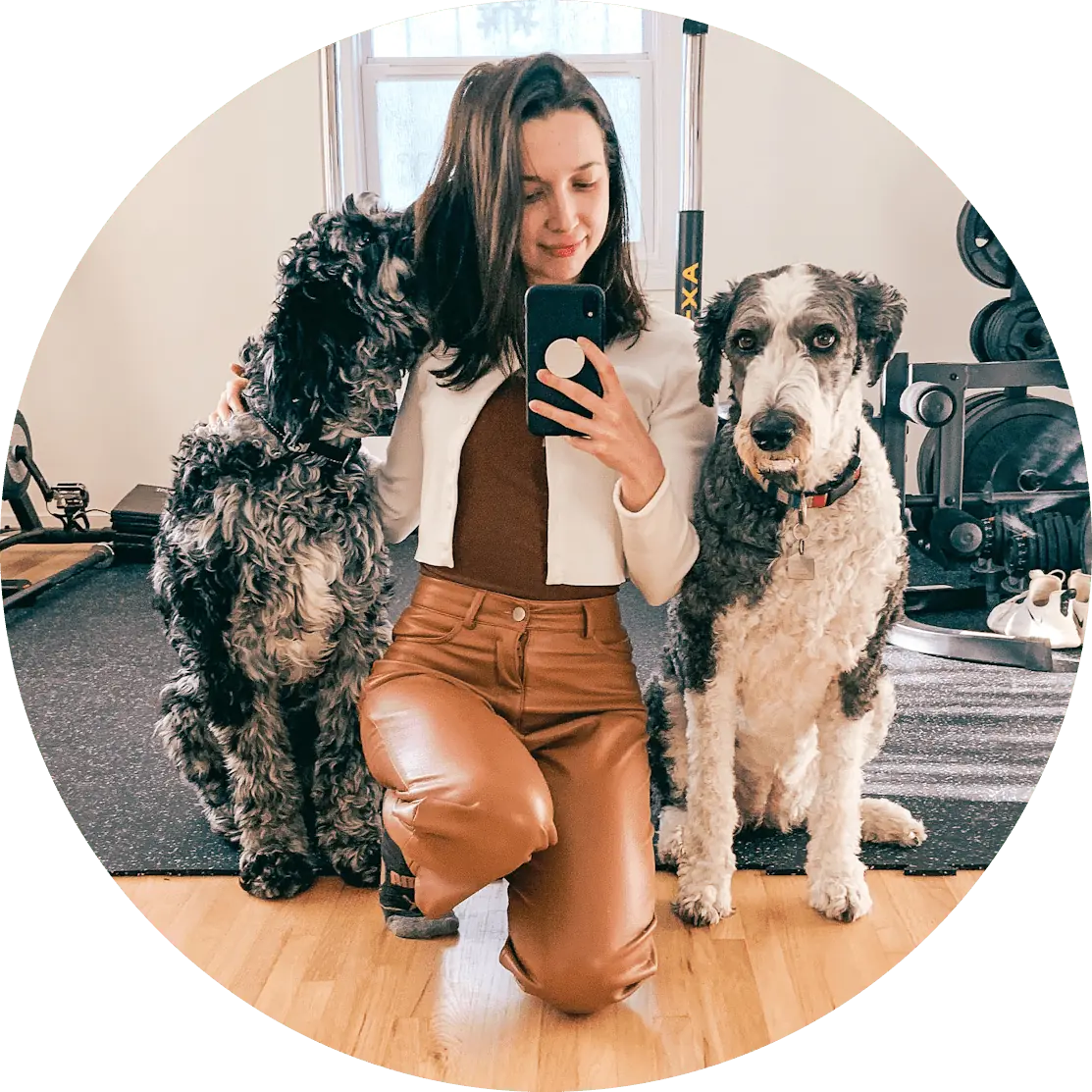 About the Author:
Dana owns a Sheepadoodle and a rescue merle Labradoodle. Her first dog growing up was a white Toy Poodle and she's loved dogs ever since. She has years of experience fostering dogs and has helped find homes for a variety of different breeds, both large and small! After seeing so many dogs end up unwanted and in shelters, she began blogging about different dog breeds (specifically Doodle dogs, since that's what she knows best) to help people make informed choices when adding a new member to their family.
When Dana's not brushing her Doodles' hair (it takes a lot of time for two!) you can find her playing nose work games and fetch with her two amazing pups.
Learn more about her here.