Are you in the market for a new dog dryer? Standing dryers are an excellent substitute to a regular dog dryer. A stand dryer for dog grooming is a hair drying device that is very similar to human dryers, albeit a bit larger. Warm air is sent out by the motor at a set temperature or chosen speed to ensure that the pet's coat is dried efficiently and fast.
These devices are also known as blasters and are quite effective in eliminating bits of dirt from the dog's body. The powerful wind gust produced by the dryer can be used to blow off all sorts of debris that may be lodged in between the individual fur strands on your pet.
This post contains affiliate links. When you click on a link within this post and make a purchase, I will earn a commission. This is at no additional cost to you.
Why Choose a Stand Dryer for Dog Grooming
Stand dryers are easy to move around and cover a wide drying area. When it comes to dog grooming, it's nice to have both hands free to do things like brushing the dog or give treats to a nervous dog. Using a stand dryer allows you to quickly and efficiently dry your dog's hair or fur while allowing you to have both hands free.
The Best Stand Dryers for Dog Grooming
If you are looking to find the best stand dryer for grooming your dog, consider the following models.
Pedigroom Professional Dog Grooming Dryer
This dog groomer on stand wheels is ideal for all groomers, professionals and amateurs alike. It is easy-to-use and can be used at home or in a startup dog grooming business.
This certified dog priming dryer provides more than 2,000W and has two settings for wind volume and heat. It has a lightweight design which makes it ideal for people who are constantly on the move.
This means that it can also be easily perched on a stand, while the wheels mean that the user can move around with it without any hassle. The dryer comes with a total of three interchangeable nozzles used to direct airflow in the direction that you desire. It is also possible to adjust the stand height to meet the users' height or preferences.
Users should note that this particular model is not quiet, which means that it can prove unnerving to some pets. But this does not affect its efficiency in any way as it is still one of the eco-friendliest devices available in the market today.
Pros
Eco-friendly
Professional and powerful
2 wind and heat settings
Mobile with wheels Adjustable stand
Cons
Loud
Not recommended for busy salons or pet grooming services with a high volume of clients
Flying Pig High-Velocity Pet Stand Grooming Dryer
This high-velocity dog grooming dryer is considered ideal for dogs that are sensitive to heat or sound. It will also work well for pets that tend to become edgy when they hear unusual sounds.
It is a device featuring a large blower capable of producing large air streams at low pressures. The dryer comes with an overload switch that is meant to prevent it from overheating, which can easily injure your dog. Pros Special overload switch to protect the groomer and the pet Stand style dryer Sturdy and highly durable Variable heat settings Cons May not work very well for pets with a thick coat Whether you are a personal pet owner, aspiring salon owner, or a professional groomer, the reality is that you will benefit from using the aforementioned stand dryers for dog grooming.
Be sure to keep an eye out for the device that will best suit your pets' grooming needs. Factors to consider during the selection process will include mobility, type, settings, and power.
Free Paws Pet Dryer 4.0 HP Dog Cat Hair Blower with Stand Set Combo

What are the odds that you can be grooming your pet while drying their fur at the same time? Well, it is possible with this dryer that comes with a hands-free dryer arm. Suitable for both domestic and light professional use, the dryer set also includes a height adjustable stand that can be conveniently matched to the height of the person doing the grooming.
The stand sits on a cross-shaped base for stability and because it is made of anti-corrosion resistant metal, moisture will not destroy it over time. If you have just brought home a pet and are keen on grooming it, this is the best dryer for you. When used across large floor spaces, PVC wheels enable these stand dryers for dog grooming to move easily and be locked at a particular working spot. An extremely powerful pet dryer, the Free Paws Pet Dryer has a power range of 400W-3000W which the user can easily adjust according to the desired results. The dryer also has a two-step airflow adjustment setting to control the amount of air that blows over the pet's fur.
Pros
Lightweight in design
Simple to use
Easy to maintain
Cons
Lifespan is significantly shortened when used in a professional setting
XPOWER B-16 "Pro Finisher"

If you are looking for stand dryers for dog grooming that can withstand the pressures of a busy pet grooming business, the XPOWER B-16 "Pro Finisher" Stand Dryer is the best choice there is in the market. The end result after using this dryer is stylish finish which everybody notices as "show quality."
This result is courtesy of an adjustable speed control, adjustable heat setting and anti-static/frizz capabilities. Even challenging breeds to groom like the standard poodle obtain a "show quality" appearance after drying. Due to the high air volume produced by the B-16, it is a favorite among professional pet groomers who regularly have to deal with pets whose coats require fluffing. It is not by chance that that manufacturer provides a whole years warranty on this dryer – they are sure that this piece of equipment has been engineered to withstand long service.
The XPOWER B-16 Pro Finisher Professional Finishing Stand Dryer is extremely quiet yet works with powerful flow of air to give clients a look they would not mind paying highly for. Featuring a hydraulic lift that can go up to 5 feet, and a foldable base of 5 legs, the dryer is highly stable yet portable.
The dryer is made out of lightweight but durable plastic for quality thermal protection. When you are grooming a pet that is sensitive to sound, the XPOWER B-16 "Pro Finisher" Stand Dryer is the best option. The ¼ horsepower is capable of drying all coat types regardless of the amount of fur or thickness of the animal's coat.
Pros
Negligible noise motor
Durable
Easy to put together
Replaceable filters for air intake
Portable
Cons
Requires regular maintenance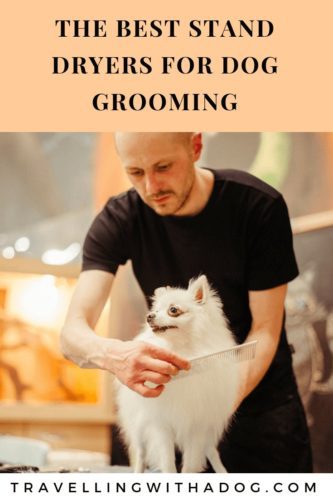 ---
Amazon Associates Program
This article may include affiliate links. www.travellingwithadog.com is a participant of Amazon.com Services LLC Associates Program. As an Amazon Associate, I earn a commission from qualifying purchase. www.travellingwithadog.com participates in other affiliate programs, and recieves commissions when purchases are made through the links. The cost is not inflated to account for the commission earned.
---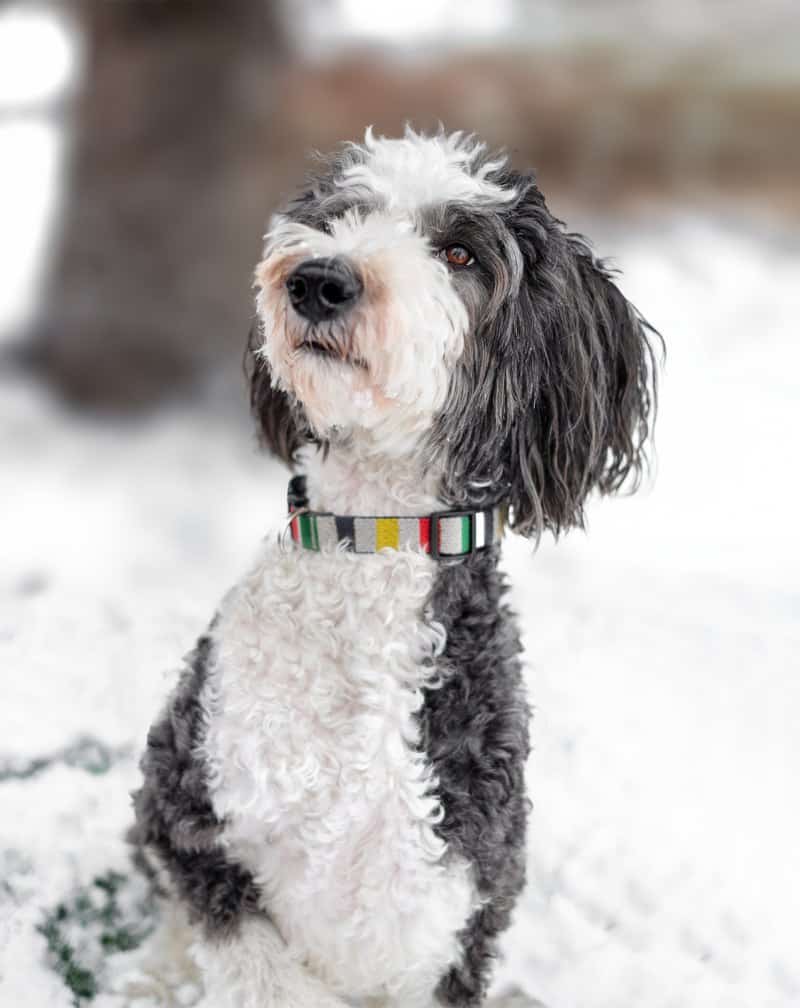 About the Author:
Dana is a Sheepadoodle owner and expat in Germany. While living in Europe, Dana and her husband always make sure that when they go on road trips, their pup Kaya gets to come along. Dana loves to highlight dog-friendly places you can travel to with your pooch so that your entire family can have fun together!