Last Updated on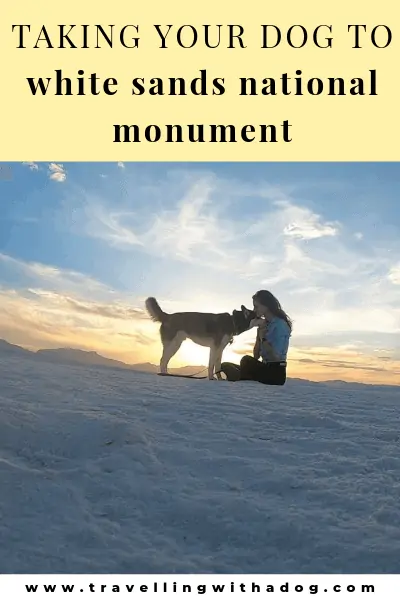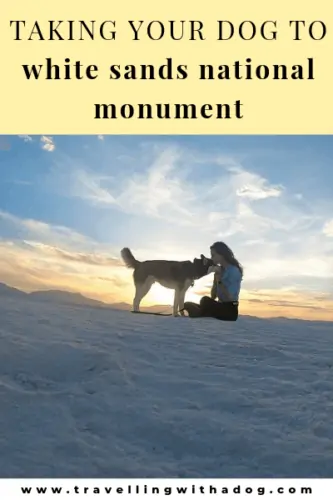 Seated within the Tularosa Basin in the Chihuahuan Desert located in New Mexico, the White Sand National Monument enraptures visitors – two-legged and four – into a paradoxical warm, winter wonderland as this natural sandbox distinctively features a vast, striking landscape flooded with pure white gypsum crystals.
The white, soft sand befuddled a snow-loving, mountain-obsessed husky into trying to eat all the sand which he confused for snow as soon as possible.
He quickly learned the difference!
After a sudden dazed and confused look, Drake, the husky, endeavored off to explore every inch of the dunes from top to bottom and he could! Don't leave your pups at home while you enjoy and explore the world's largest gypsum dune field.
About the White Sands National Monument
As one of the most dog-friendly national monuments, dogs are allowed EVERYWHERE outdoors while at the White Sands National Monument (which includes all five hiking trails) as long as they are attached to a six-foot or less lead for the entire trip.
Please obey all leash laws, so this monument can stay pet-friendly and stay on the trails as to not to disturb wildlife.
There is plenty of free-roaming space near the back of the monument. Dogs are not allowed indoors, which includes the visitor's center and a small shop.
In addition to the monument welcoming paws of all sizes, the gypsum crystals do not hurt paw pads so you can leave the doggie booties at home!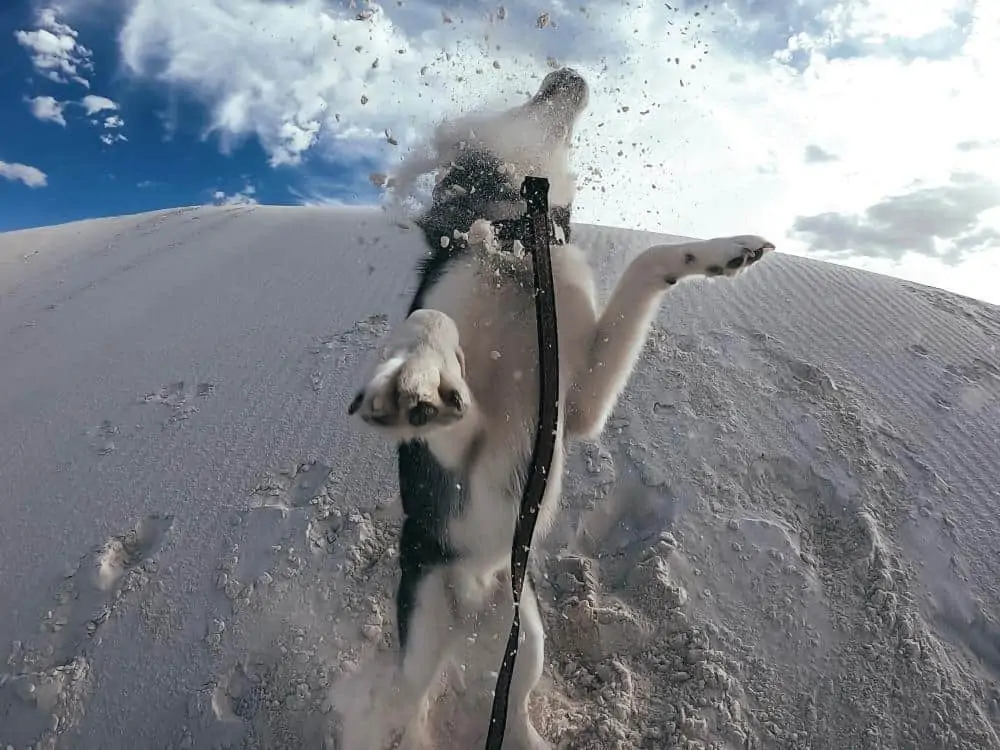 Unlike silica sand, gypsum sand does not absorb heat from the sun, so the dunes are cool and comfortable to walk on even on the hottest day of the year, making the White Sands National Monument a dog-friendly trip even in the summer.
Just remember to bring plenty of water for yourself and your furry companion. If you do forget or you need a little extra, there is a vending machine outside of the small shop that sells water bottles for $1.50. Bring at least 2 liters per person and 3 liters for your dog.
The White Sands National Monument opens at 7:00 am local time every day and closes one hour after sunset; however, always check with the monument to see if they are open as their neighbors include an air force base whose tests occasionally shut down the monument.
The calendar of closures can be found here, so be sure to plan your trip around these dates. It is also important to note that the windy season, which can sometimes haze the beauty of the natural phenomenon and cause sand storms, begins in February and ends in May.
The White Sands National Monument also endures a monsoon season, July through September, but you can call the monument or check their Facebook for daily weather updates.
If you are visiting during the windy season, it might be nice to have some doggie goggles on hand like the RexSpecs to protect your pups' sensitive eyes from the sand – plus they look super cute for photos!
Wandering Around White Sands National Monument
Google or Apple Maps will bring you directly to the beginning of Dunes Drive, a looped road from the White Sands Visitor Center to the back of the dune-fields, which are free-roaming areas.
On the left of the start of Dunes Drive, you will find the visitors center, and on the right, a small shop that sells snacks, drinks, and dune sleds – so fun! You will need to drive down Dunes Drive, through a gate, to pay for entrance. Dogs are free! Entrance fees are $10 per person or $20 per vehicle.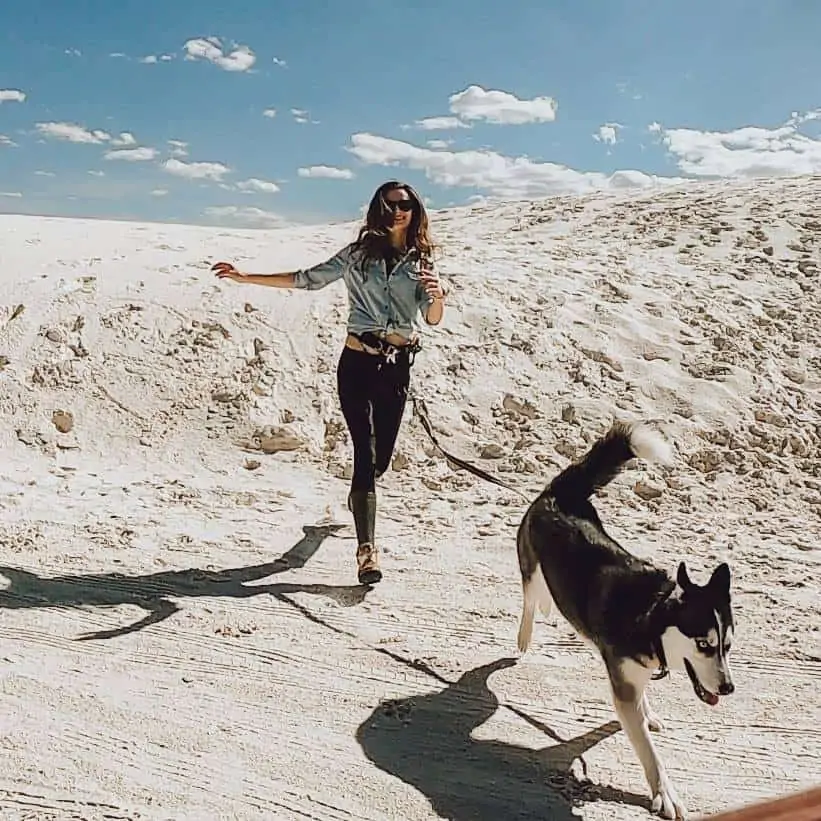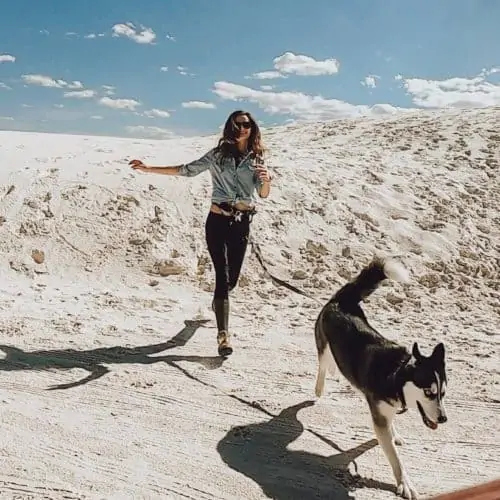 All of the five trails within the monument begin near Dunes Drive so you won't get lost and there are plenty of spaces to pull off of the road and park near all the trailheads.
Each trail is near the front of the monument (you will get a map when you pay for entrance) and varies in length and difficulty. With inclusion in the forefront of the monument's mind, Interdune Boardwalk, a 0.3 mile out and back trail, can be accessed by everyone including wheelchairs and strollers.
The trail even has a shade structure with seating about halfway through so that people of all ages and physical levels can enjoy the views of the dune fields and the Sacramento mountains.
You can follow your fluffy-butt down all five trails so long as your dog is leashed and well-behaved. Remember to leave only paw prints and pick up after your dog! So bring plenty of doggie bags as there are none available at the monument. The trails range from 0.3 miles to 5 miles and fluctuate from easy to moderate difficulty.
For more information on each trail, checkout AllTrails post covering all five trails with reviews and photos! You and your dogs will love them all, Drake did!
Continuing down Dunes Drive, after you pass all the trailheads, you will find the free-roaming and sled areas! Here, you and your dogs can run up and down all the dunes insight to your heart's content or sled down them! Just remember to take water breaks.
Near the back is where you will find shaded picnic tables – free to use – and the largest dunes. Like all the parking throughout the monument, you will find plenty of parking spaces randomly placed all through the free-roaming areas.
Do a Sunset Stroll While at White Sands National Monument
Living up to the dog-friendly precedence already set, the White Sand National Monument hosts 45 minutes to one hour ranger-guided hike for you and Fido that ends right at the golden hour in a spot that offers panoramic views of the sun setting over the dune-fields and the Sacramento mountains.
The colors are breathtaking as the gypsum is actually in essence clear. The information filled hike allows visitors to ask questions and get more information about the monument than by exploring on your own. This sunset stroll occurs everyday one hour before sunset. You can find the 2019 schedule here.
Where to Stay While Visiting the White Sands National Monument
With so much to do within the monument, I recommend you stay the night as you can easily spend all day there! A couple of pet-friendly hotels include the Magnuson Hotel Alamogordo Suites, Motel 6 Alamogordo, and a Super 8.
The Magnuson Hotel Alamogordo Suites has a free breakfast and even a doggie washing station to clean all the sand off of fido – and there will be a ton!
Keep in mind that hotel policies change so it is best to call ahead and make sure your pup will be allowed to stay as there are some weight and breed restrictions.
There are also many pet-friendly Airbnbs nearby such as the Cloudcroft Hostel. This is where Drake and I stayed in a private room. There is a $10 non-refundable dog fee and the host, Stephanie, has her own pooches on the premises.
Although it is not a fenced-in area, she allows any well-trained dog to run free on her property and to hang out on the front porch that your room will open to. All dogs are also allowed to roam free in communal areas.
Stephanie's hotel provided free tea and coffee as well as ramen noodles. Keep in mind though that this is a hotel and you will be sharing a bathroom.
In Conclusion: The White Sands National Monument
Exploring, running, sledding, and hiking this extremely rare, pure panorama with Fido enhances the adventure tremendously.
You'll notice their eyes go wide with wonder at the new landscape around them and enjoy their smiles as they cascade down the dunes in the world's largest gypsum dune field. The background creates breathtaking photos and memories for you and Fido.
Happy exploring!
Is White Sands dog-friendly?
Yes! White Sands is dog friendly provided they are on a leash and well-behaved.
---
Amazon Associates Program
This article may include affiliate links. www.travellingwithadog.com is a participant of Amazon.com Services LLC Associates Program. As an Amazon Associate, I earn a commission from qualifying purchase. www.travellingwithadog.com participates in other affiliate programs, and recieves commissions when purchases are made through the links. The cost is not inflated to account for the commission earned.
---
Veterinary Disclaimer: travellingwithadog.com is not a substitute for veterinary advice and does not intend to provide any type of veterinary advice for your animals. Please consult your vet for any questions you have regarding your pets health.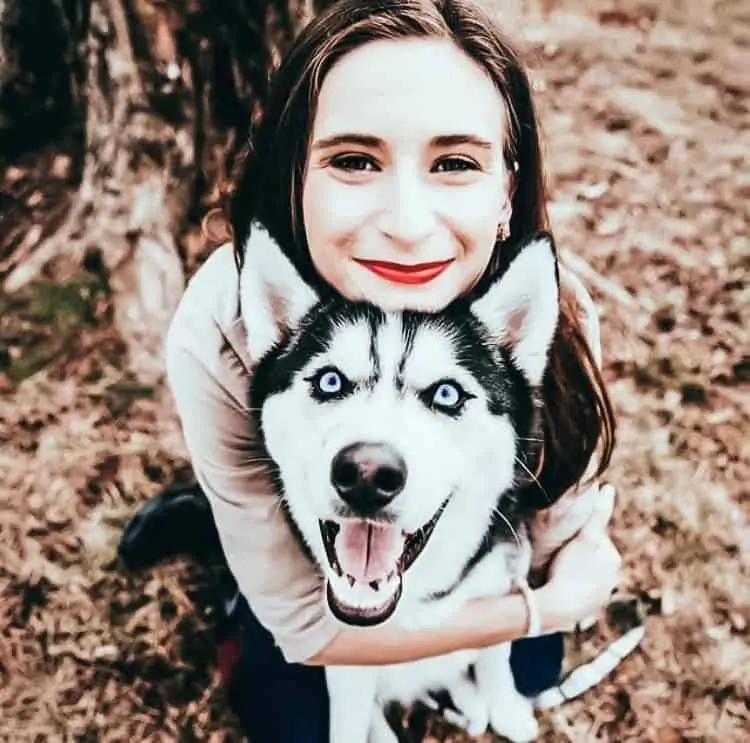 About the Author:
Ashley, a first-time dog mom, fell hard for an energetic, devilish husky named Drake whom she refuses to part with. Together, they have travelled through many states within the United States visiting pet-friendly towns and hiking through deserts and mountains. Soon, they will be trekking all over Europe as they move to England in the summer of 2019. Follow their journey and get pet traveling tips through the cities and the wild at Adventures with a Husky or on Instagram @adventureswithahusky where Ashley is the momanger and Drake is the star!