Last Updated on
Dogs are not just our furry companions; they are also incredible athletes. If you're a dog owner looking for a fun and engaging way to bond with your pet, dog agility training might be just what you need.
Agility training involves a variety of obstacles, dog jumps, and challenges that test a dog's speed, agility, and obedience.
You'll need to invest in some equipment to get started with agility training. Many different types of agility equipment are available on the market, each designed to challenge your dog in another way.
Here, we'll look at some of the best dog agility equipment your dog will love and also discuss the benefits of each one!
No matter how experienced or inexperienced you are, this guide will help you identify the right tools to take your dog's training to the next level.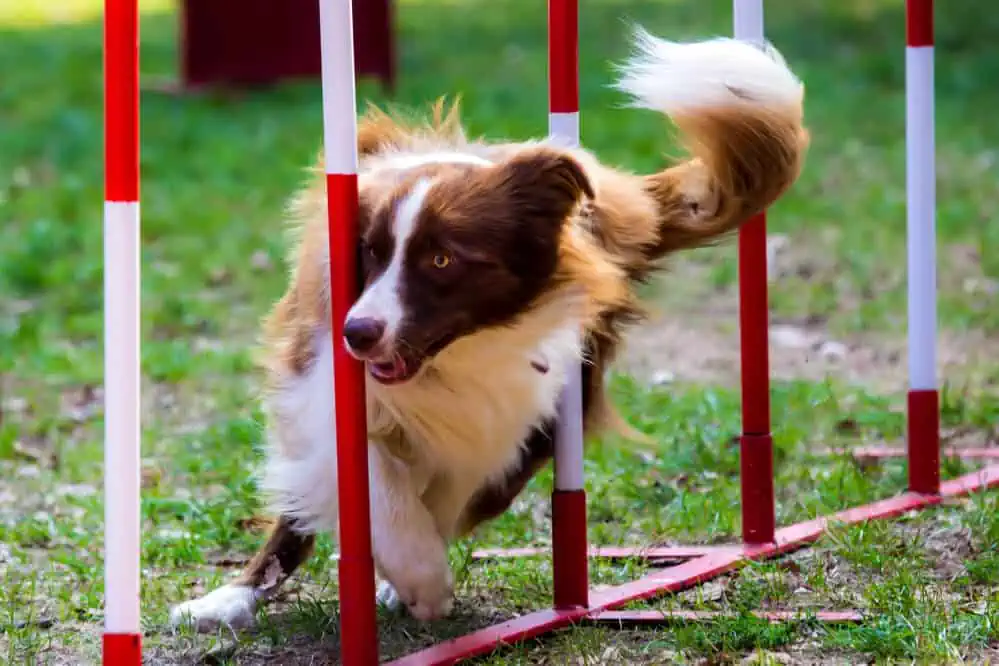 Best agility kits
Here are the five different types of agility kits popular among dog owners and trainers. Each kit offers unique equipment and features catering to different skill levels and training goals.
1. SparklyPets Dog Agility kit
The SparklyPets Dog Agility Training kit is an excellent investment for pet owners trying to bond with their furry friends and keep them healthy.
This agility equipment for dogs is suitable for indoor and outdoor use, with a unique clip-on system allowing quick and easy setup and dismantling.
The 2in1 frame offers versatility with a tire jump or hurdle jump feature. The set includes two carrying bags, a dog agility tube measuring 6.5 feet, six weave poles, a pause box, and a 24-inch rubber jump or adjustable hurdle frame.
Pros:
Versatile for indoor/outdoor use
Easy clip-on system setup
Superb Customer Service
Cons:
May require additional anchoring support
2. PAWISE Dog Agility Course
The PAWISE Dog Agility Course is another highly effective tool that enhances the bond between dog owners and their furry companions. This training equipment is tailored to teach dogs new skills while burning off their excess energy through activities such as fetch, hide-and-seek, and other fun activities.
The agility equipment offers a sturdy, collapsible dog tunnel made of tear-resistant polyester material and durable metal stakes for securing it to the ground.
The set also includes 12 weave poles, an adjustable agility hurdle, jumping rings, a pause box, and a carrying case, making it an ideal gift for dog enthusiasts of all ages.
The set is crafted from top-quality materials to ensure longevity, while its simple setup and storage make it convenient for dog owners.
Pros:
Easy to set up and use
Durable and lightweight
Easy customization
Cons:
Longer tunnel would be better
3. XiaZ Dog Agility Equipment
This affordable agility set is perfect for backyards. It sharpens a dog's obedience, speed, dexterity, and quality of life. The collapsible dog tunnel, made of 190T polyester material, resists tearing and ripping during exercise and training.
This package includes a wide range of equipment, such as a pause box, tunnel, hurdle, tire jump, weave poles, carrying bags, and an instruction sheet for easy setup.
The material used for this equipment is ABS, which is safe, non-toxic, lightweight, and durable.
Pros
Material is non-toxic
Suitable for beginners
Flexible and well-constructed
Cons
Instruction is difficult to understand
4. Outward Hound Zip & Zoom (Specialized for outdoor use)
The Outward Hound Zip & Zoom agility tool set provides an excellent opportunity for your furry friend to engage in outdoor physical exercise. This set is an exciting way to keep your dog stimulated and healthy.
It is perfect for dogs that are newcomers to agility training obstacle courses. The set comes with a training tips guide to help you train your pup to learn new commands and strengthen your bond. 
Featuring a collapsible round tunnel, six weave poles, as well as a flexible jump with hoop, the Zip & Zoom agility kit provides multiple ways to play. 
The set is lightweight and comes with an easy-to-use storage bag for hassle-free storage that is perfect for any adventure.
Pros
Comes with replacement toys
Lovely tunnel
Entertainment-worthy
Cons
Need extra care for durability
5. Outward Hound Zip & Zoom (Specialized for indoor use)
Here is another Outward Hound product specially made for indoor activity.
It's an excellent agility training kit that keeps your pup physically healthy and active inside—perfect for people in cold climates.
The kit includes one square foldable tunnel, four weave poles, plus an extendable jump which functions in two separate ways.
Similar to the previous model, the kit is also suitable for dogs new to agility obstacle courses; it strengthens the bond between dog and owner, and the product is easy to handle.
Pros
Ideal for indoor use
A stronger build
Ideal for puppy
Cons
Large dogs may feel uncomfortable in the tunnel
Best weave poles
When it comes to weave poles for dogs, several great options are available on the market. Here are two top picks:
6. Cool Runners Agility Weave Poles
Dog owners who want to train their pets in agility will love Cool Runner Agility Weave Poles. These poles are fully adjustable, allowing for different configurations, such as straight or offset, and they meet competition guidelines.
The set includes six poles, which can be configured as two by 2's and have 2-foot centers with flat-to-the-ground bases.
One of the best things about these poles is that they assemble in seconds, making it easy to set up and take down. The weave poles are measured from center to center, not from the inside of the poles, which ensures that they meet competition standards.
The blue and yellow color scheme makes them easy to see and adds a fun touch to training sessions.
Pros
Fully adjustable
Easy for frequent assembling
Appropriate measurement
Cons
Dogs with faster speeds may wreck these poles
7. Trademark Innovations weave poles
The trademark Innovations weave poles come with six poles, each 3 feet tall and spaced 2 feet apart, and provide ample room for your dog to weave as well as improve their agility.
The durable PVC plastic material ensures safety for your pet without any sharp edges.
The set can be used on any surface, whether indoors or outdoors. It is also lightweight and easy to assemble and disassemble, making it convenient to carry and put in the included carry bag.
One downside of this set is that it's designed to be fixed and cannot be adjusted. This limits the set's versatility for those who want to change up their training courses regularly.
But, it is an excellent choice for improving your pet's agility and a great value for the price.
Pros
Suitable for dogs of any size
Both sides are stabilized
Easily assembled and portable
Cons
Designed as a fixed set and not adjustable
Best seesaw
The best seesaw for dogs should be designed with their safety and comfort in mind while also providing a durable and sturdy structure. Here are some of them:
8. Trixie Agility seesaw
The Trixie Agility seesaw is an advanced obstacle designed to help build your dog's confidence, balance, and agility. It's perfect for all breeds and can be used as an individual training tool or combined with other Trixie Dog Agility Sets to create larger obstacle courses. 
It is an excellent fit for small backyards, and its portability makes it easy to take on the go.
This seesaw is made of weather-resistant pine and coated with a non-slip rubber coating for secure footing.
It has a plank length of 10 feet, a plank width of 13 inches, and a plank pivot height of 13 inches. Almost any dog can use this see-saw, as it has a weight capacity of 175 pounds.
This is an excellent investment if you want to improve your dog's agility skills. Its durable construction, non-slip surface, and portability make it a great addition to any training routine.
Pros
Improves dog's confidence & agility
Can be paired with other agility sets
Non-slip rubber coating for secure footing
Con
Seesaw needs sandbags (not included) to stabilize it for dogs who are running up and down quickly.
Best pipe tunnels
When it comes to agility training for dogs, pipe tunnels are an essential piece of equipment. They provide a fun and challenging obstacle for dogs to navigate while improving their speed and agility. To choose the best pipe tunnels for your furry friend, here are some great pipe tunnels to consider
9. Houseables dog tunnel
The Houseables dog tunnel is a high-quality agility tunnel that complies with the standards of the AKC and NADAC. Designed to fit dogs of up to 80-90 pounds, and regulation-sized tunnel offers a great way to sharpen your dog's skills while promoting a healthy lifestyle.
The tunnel's lightweight yet hardy 600D woven Oxford Dacron covering ensures long-lasting use, as well as the included anti-rust zinc-plated stakes keep the tunnel stable and safe for your dogs to play in.
The tunnel's round carrying bag with double nylon black handles makes it easy to transport and set up wherever you go.
It is an excellent tool for dogs that provides a fun and practical way to burn off some energy and have a good time.
Pros
AKC and NADAC compliant
Lightweight yet durable
Portable and easy to transport
Con
Not suitable for dogs over 90 pounds
10. Topmart dog tunnel
The Topmart dog tunnel is an exceptional product that will provide endless exercise opportunities for your pets. It is the perfect resource for improving your dog's obedience, quickness, dexterity, and overall quality of life.
Made from 210 D Oxford polyester with steel wire, this tunnel is extremely strong and can resist tearing and ripping during various training drills.
It is suitable for dogs of all sizes with dimensions of 505 cm/16.5ft long and an open diameter of 60 cm/24 inches. The frame is easily collapsible, making it convenient to store in the included carrying bag.
The extra eight pcs ground nail ensures better stability and the additional frisbees offer even more value.
Ultimately, the Topmart dog tunnel is an excellent investment for pet owners who want to give their furry friends a fun-filled environment to stay active and healthy.
Pros
Endless exercise opportunities
Strong and tear-resistant
Perfect for indoor
Con
The tabs to attach the tunnel to the ground tend to rip after lots of us, making it hard to stabilize the tunnel
11. Yon.Sou training tunnel
The Yon.Sou Training Tunnel is a sturdy dog agility tunnel that meets regulation standards, making it a suitable choice for small, medium, and large dog breeds.
Its 10-foot length allows for flexibility in creating different shapes, such as 'S', 'L', and 'U', which provides a more challenging experience for dogs during agility training.
The tunnel's safe fixing method, with a low-profile and large-capacity sandbag design, ensures the safety of dogs during training.
The tunnel is versatile and can be used indoors or outdoors on any surface, including matting, grass, and artificial sand.
Pros
Regulation size (24 Inches)
Stable sandbag design
Waterproof and easy to carry
Con
Length may not fit all spaces
Best jumping equipment
There are many different types of jumping equipment for dogs, each with its own advantages and disadvantages. Here are a few popular options.
12. Midlee cone and pole set
The Midlee cone and pole set consists of three adjustable cone and pole hurdle jumps that cater to dogs of all sizes, making it an ideal choice for both beginners and advanced users. The lightweight design of this product makes it perfect for practicing agility skills in your backyard with your furry friend. 
The set also comes with a convenient carry-on bag for easy transportation. Pair it with other obstacles and agility gear to create your own agility course setup.
These cones and poles are versatile and useful, serving as jumps, guides, and patterns for your dog's training.
Pros
Versatile and adjustable
Lightweight and portable
Suitable for various training exercises
Con
13. Midlee agility hoop
The Midlee Agility Hoop is an excellent choice for pet owners looking to keep their furry friends active and engaged. The product comes with a flexible frame and round shaped hoop that is 22″ in dimension, making it suitable for dogs of different sizes and abilities.
The adjustable frame and bars allow for easy customization, making it possible to start low and gradually increase the height over time. This hoop can create an obstacle course in your backyard, giving your dog an excellent opportunity to exercise and have fun.
Removing the ring can convert it into a bar jump, giving pet owners more options to mix up the course. And it's very easy to set up, transport, and store in the provided blue carrying case.
Pros
Can be hoop or bar
Height & frame customization
Make a perfect jump
Con
14. Better Sporting adjustable jumps
The Better Sporting Adjustable Jumps are a great tool to train your dog for agility. With four fully adjustable jumps, this product allows for various practice scenarios to help improve your pet's agility skills.
The sturdy, fixed base makes it ideal for training indoors or outdoors. The product also comes with sturdy carrying bags for easy transport and storage out of sight when you're finished practicing.
The assembly process of this product is simple and straightforward, with no tools required. Each jump is 26″ wide and fully adjustable from 2″ to 34″ high, accommodating most sizes of dogs.
Pros
Easily assembled
Low-weight
Easy movement of poles
Con
Bars are fixed in place and don't knock off easily if your dog hits them while jumping
Benefits of agility training for dogs
Agility training for dogs can provide numerous benefits, including mental enrichment, physical exercise, and confidence-building. View each of these benefits in more detail.
Mental enrichment
Agility training involves teaching dogs to navigate obstacle courses that require them to use their minds as well as their bodies. This type of training can provide mental stimulation and help reduce boredom, which can lead to destructive behavior in dogs. By challenging a dog's mind and encouraging them to problem-solve, agility training can help dogs develop better cognitive skills and increase their overall intelligence.
Physical exercise
Agility training is also a great form of physical exercise for dogs. It involves running, jumping, climbing, and other activities requiring much energy and movement. Regular agility training can help dogs build strength, endurance, and flexibility, improving their overall health and well-being.
Builds confidence
Agility training can also help dogs build confidence. As dogs learn to navigate obstacle courses, they become more self-assured and confident. This can translate into other areas of their lives, making them more outgoing and sociable with people and other dogs.
Ultimately, agility training can be a fun and rewarding for dogs and their owners. It can provide mental and physical stimulation, improve a dog's health and well-being, and help dogs develop confidence and self-assurance.
Conclusion
Choosing the best dog agility equipment can significantly impact the success of your dog's agility training. Many different types of equipment are available, including jumps, tunnels, weave poles, and more. It is important to choose high-quality, durable equipment that is safe for your dog to use.
With the right tool, you can provide your dog with a fun and challenging activity that promotes mental and physical enrichment, builds confidence, and strengthens your bond with your furry friend.
Have you ever done agility with your dog? Drop a comment and let us know!