Last Updated on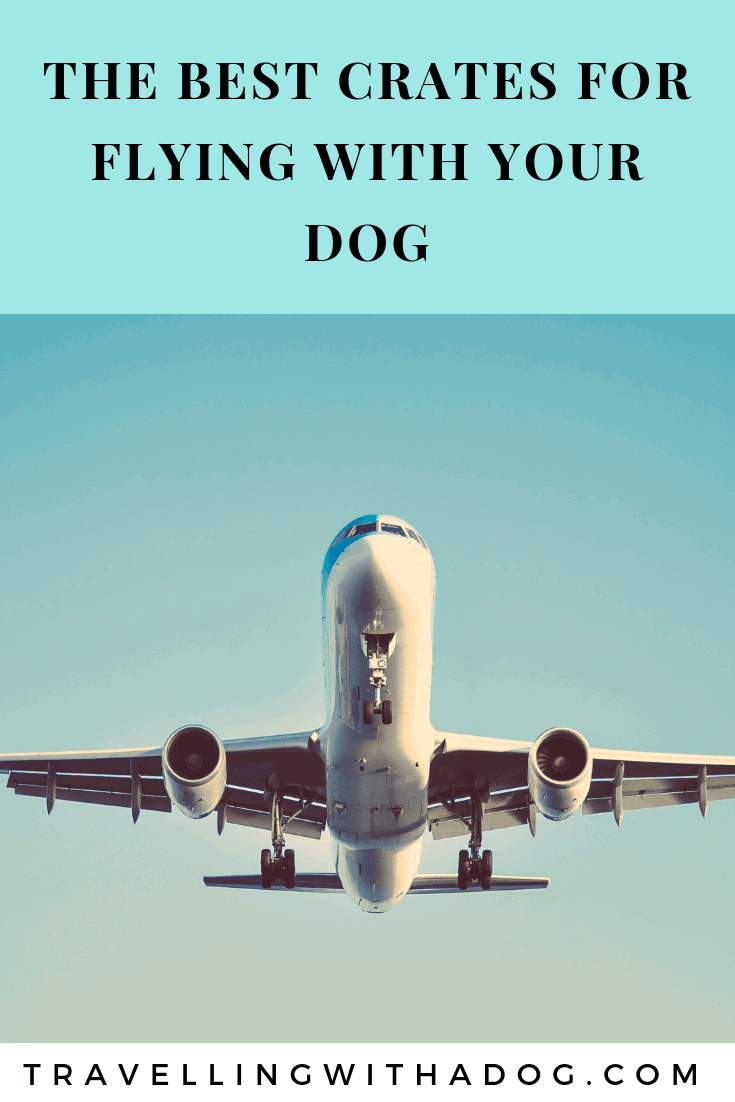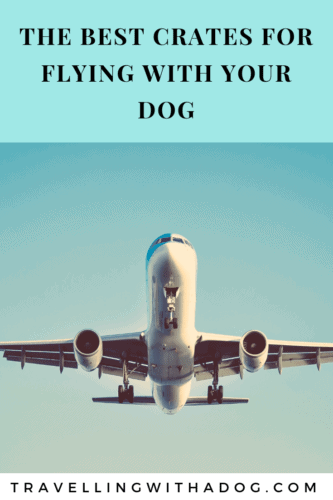 If you have to fly with your dog, you will want to make sure you buy a dog crate that is specifically made for airline travel. You can fly with your pet either in the cargo or bring him in the cabin, as long as your dog is in an airline-approved crate or kennel.
An IATA-approved dog crate is designed to remain stable during landing and takeoff, as well as provide adequate visibility and make sure your pet is always comfortable.
This post contains affiliate links. When you click on a link within this post and make a purchase, I will earn a commission. This is at no additional cost to you.
What to Consider when Choosing Airline-Approved Dog Crates
We've flown many times with our large Sheepadoodle and know a thing or two about shopping for the right airline-approved dog crate.
Here are a few things to consider when searching for the best dog crates for air travel.
Small Dog Crates and Bags for Traveling
Small dogs under a certain weight are allowed to travel with you on the plane, as long as their carrier can fit under the seat. There are at least three factors that you need to keep in mind when shopping for a crate or travel bag for your small dog.
1. Comfort and Convenience
You will want a crate that's easy to carry around. After all, you'll be trying to beat security lines and get to the gate before it's closed. Your dog carrier should be lightweight and perhaps fitted with rollers. Backpack-style crates are also super travel-friendly.
2. Ventilation
It's a no-brainer that the dog crate should be well-ventilated to prevent your dog from suffocating under the seat in the cabin during flights. So, you must find one with breathable features like a meshed side.
3. Durability
Consider the construction quality and materials, too. Your kennel should be built to last, so pick something engineered from high-quality and durable materials. Not something that'll fall apart after a couple of uses. Check the integrity of straps, zippers, hinges and other parts that are susceptible to wear & tear.
Large Dog Crates for Travel
If you are flying with a large dog, your dog will be flying in the cargo area of the plane.
If this is the case, you will not be able to have a crate with wheels. Most airlines require that your dog crate be made of durable plastic or fiberglass. Metal kennels are not allowed (although, the front door can be metal).
The Best Dog Crates for Travel
Now, dog crates for travel are a dime a dozen on the market, and they come in all shapes and sizes. Which is right for you? Here are 5 best airline-approved dog crates that'll deliver the most value for your top dollar.
Sherpa Travel Deluxe Pet Carrier
Sherpa Travel Deluxe Pet Carrier
Perfect for traveling in style and comfort by plane or car, for an adventure or just a trip to the vet
Patented spring wire frame allows the rear end of the carrier to be pushed down several inches to conform to under-seat requirements
Mesh windows for ventilation, top and side entry with locking zippers for safety, padded adjustable, no-slip carrying strap, seat belt/luggage strap, machine-washable faux lambskin liner
Traveling with your dog can be comfortable and stylish with this airline-approved carrier by Sherpa. It boasts a large rear pocket for tucking away your dog's poop bags, leash, treats, and whatnot.
Inside the carrier is lined with ultra comfy faux lambskin, the mesh sides allow for optimal ventilation and users are raving about its lightweight. The fasteners and straps are sturdy yet offer a comfortable grip.
All up, Sherpa Travel Original Deluxe is ideal for dogs that weigh up to 22 pounds.
Petmate Sky Kennel
Petmade Sky Kennel
Extra Security: 4 way vault door provides extra security for the travel dog crate by preventing sliding and shifting (available on 36 inch size and up)
Durable, Heavy Duty Construction: Durable plastic shell, non corrodible wing nuts, extra strong steel wire, and interlocking door provide heavy duty protection
360 Degree Ventilation: Ventilation openings surrounding the travel kennel give pets fresh air and visibility from all sides
Eco-friendly, well-designed, and well-ventilated, Petmate Sky Kennel is the ultimate option for a pet lover who wants to travel with their dog in the cargo. It has been green-lighted by both the IATA and USDA.
Favorite Portable Dog Crate
With a sub-$60 price tag, this is one of the most affordable airline approved pet carriers. It's designed for small to medium-sized dog breeds that weigh less than 35 pounds. It comes with 4-sided ventilation, long-lasting design, metal-screw construction.
IRIS Medium Deluxe Pet Travel Carrier
IRIS Pet Travel Carrier
One-handed latch operation, Access door opens from either side
Includes 1 removable food and water tray
Ample ventilation for pet and folding carry handle for easy transportation and travel
This is another quality dog crate that offers value for your money. It's available in 3 affordable sizes, but we recommend the medium one. You can choose from red or navy. No matter your choice, this crate is perfect for long haul flights because it's amply ventilated, and provide great visibility.
It is approved by IATA for a Toy Poodle, Yorkshire Terrier, and Chihuahua.
Suncast PCS2417 Deluxe Dog Crate
Suncast PCS2417 Deluxe Dog Crate
PORTABLE DOG CARRIER: Perfect for travel and is designed to fit small to medium sized dogs and cats up to 17.5" tall
KEEPS PETS SECURE AND COMFORTABLE: Hard-sided design with ventilation keeps pets secure and comfortable, and the included bowls for food and water ensure they have everything they need while in transit
FUNCTIONAL: Comfortable carrying handle and easy access top storage compartments for treats, toys, and other pet necessities make this crate more convenient to use while traveling
This airline-compliant carrier is portable, durable, and built for super strength and ventilation. The price is also not too shabby. It is designed for dogs that are not taller than 17.5 inches.
FAQs for Flying With Your Dog
Here are some FAQs to help you be informed and confident to fly with your dog.
What can I put in my dog's crate for flying?
Most airlines have specific recommendations as to what they approve or require in your crate.
We've flown with several airlines and here is what was always required:
Two dog dishes attached to the dog so the dog can have water or food if necessary (we freeze the water in her water dish so it doesn't all splash out at once, rather melts over the course of the flight so she has a constant supply of water available. Her food dish remains empty as per the airlines request, but see the next point about food).
Dog food in a bag (Ziplock works) taped to the top of the crate. This helps in case something happens there is an unexpected delay. The airline staff may use this food to then feed your dog.
An absorbent material of some sort at the bottom of the crate in case of accidents. We have never been allowed beds. Instead, we took pee pads and sewed them into fleece blankets so our dog had a comfy and absorbent lining in her crate.
Leash taped to the top. In case of delays, your dog may be let out of their crate in a controlled area so they can stretch their legs and roam around.
A note taped to the top of the crate. We always included a little note for the airline workers to let them know that Kaya was a happy dog and we thank them for taking good care of her! (Honestly, I just think this adds a nice touch).
Do airlines provide crates for dogs?
No. You need to provide your own crate. But see my next question for an exception.
What happens if the airline disapproves my crate?
Usually, airports have extra crates on hand to sell you (at an incredibly inflated cost).
Otherwise, you don't have much leverage. If the airline tells you your crate is unsuitable, your options are to buy a new crate from them (if they have any available) or to forgo your flight.
Crates are generally double the price at the airport. If you are worried about your crate, I recommend calling your airport and asking if you can come down with your dog and your crate to confirm if the size is right.
If you end up needing to purchase a crate from the airport, they will usually ship your old crate to your designation free of charge.
Finding the Best Dog Crate for Air Travel
To ensure you've got the right dog crate for your dog make sure it is:
fitted and measured to your dog
IATA approved
comfortable enough for your dog to stand and turn around in
Happy travels!
---
Amazon Associates Program
This article may include affiliate links. www.travellingwithadog.com is a participant of Amazon.com Services LLC Associates Program. As an Amazon Associate, I earn a commission from qualifying purchase. www.travellingwithadog.com participates in other affiliate programs, and recieves commissions when purchases are made through the links. The cost is not inflated to account for the commission earned.
---
About the Author:
Mira is a dog-lover and writer. She and her two dogs (Bren and Nala) can be found hiking during all four seasons, camping and exploring new places together.