Last Updated on
All Photo credits: ally of abeckcaptures
Planning a wedding is hard. The fact that anyone can do it without losing their minds is astonishing! Now that dogs are our children, after all, we call them our babies all the time, and they must go everywhere, everyone's beginning to include their fur-children in weddings — which requires even more planning, but it's so worth it!
They're family too and can easily be included on your big day even at something as small as a courthouse wedding!
Drake, being the big personality and drama queen that he is, refused to be left out of any matrimony ceremonies between his paw-rents. With a little googling and a lot of phone calls along with some help from professional services, Drake was the star of the show at a small, little outdoor courthouse wedding in Denver, Colorado on July 21st, the first day of summer and a day no attendee will forget!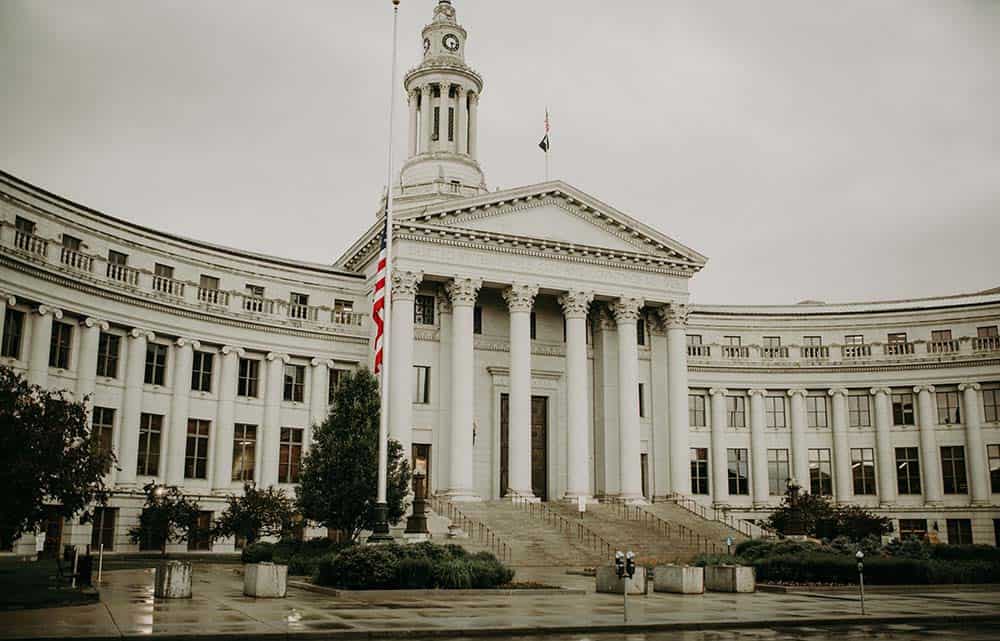 The Courthouse
Contrary to popular belief, a courthouse wedding is not an affair that you may decide to do on a whim at least in Colorado. It is something that needs to be planned in advance as you need to hire your own officiant and these
Denver judges are always busy!
Unfortunately, and as to be expected, pups are not allowed in the Denver courthouse nor any actual courthouse across the United States (hours and hours of research drew to this conclusion); however, there is a great alternative: courthouse steps! Yes, if you want your pup to attend your wedding, but you're not looking to do something big: elope or get married on the courthouse steps.
The breathtaking Denver courthouse offers beautiful flowers, Roman pillars, and towering doors with golden fixtures perfect for wedding photos and plenty of spaces for guests and your pups to stand while watching the ceremony.
Plus, right across the street is a small park with an amphitheater that can be rented for a reception or just used for some more photos to commemorate the day – all Fido-friendly!
If you are interested in hiring any of the Denver judges to officiate your wedding, you can find their contact information here. Magistrate Kate Boland is a great choice and super dog-friendly! She will send you home with a paper copy of her gorgeous prewritten vows or allow you to say your own if you contact her ahead of time.
The Photographer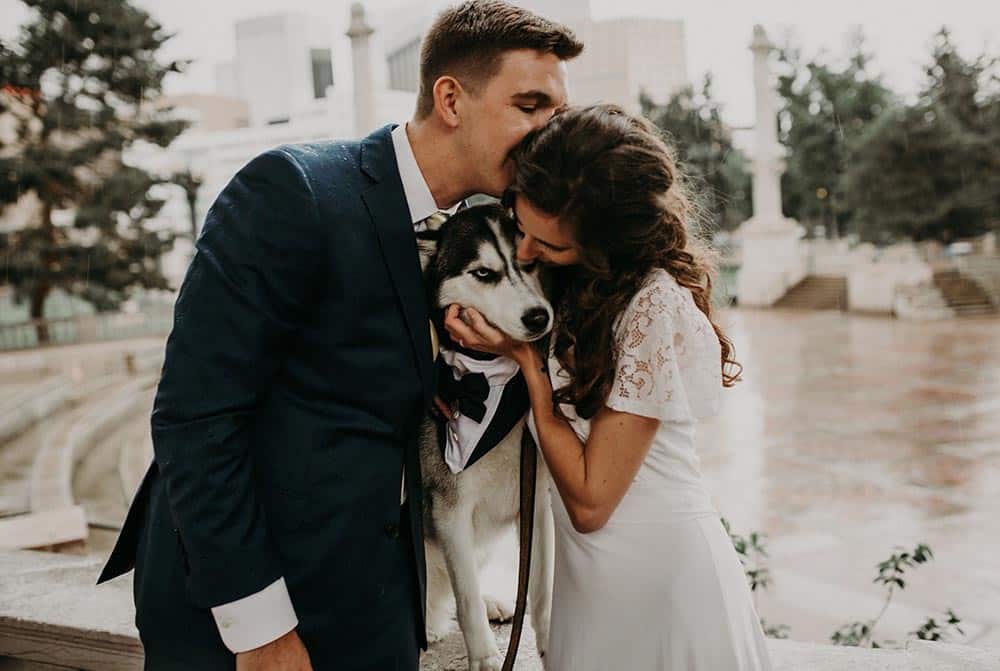 The best piece of advice for a courthouse wedding, no matter how big or small, would be to invest in a photographer that you love!
These moments occur once! You need someone who will capture it in photos that you will love for the rest of your life! Adding a pup or pups to the photo mix can cause a bit of a challenge so be sure to hire a photographer who has photographed animals and knows how to get their attention.
One such photographer — and she travels — is Ally of abeckcaptures! Her remarkable skills with Drake allowed her to capture his smiles, RBF, and every expression in between, because Drake wouldn't be Drake without expressions from one end of the emotional spectrum to the other with his dramatic self.
Being an absolute joy to work with, Ally makes everyone being photographed feel conformable and giddy including your pup! Within one week of the actual ceremony, she had an online gallery of over 100 beautifully edited photos ready for download with a release to print or use on social media accounts. As the go-to wedding photographer, Ally will capture all of your memories in photos you will cherish forever alongside your furry friend!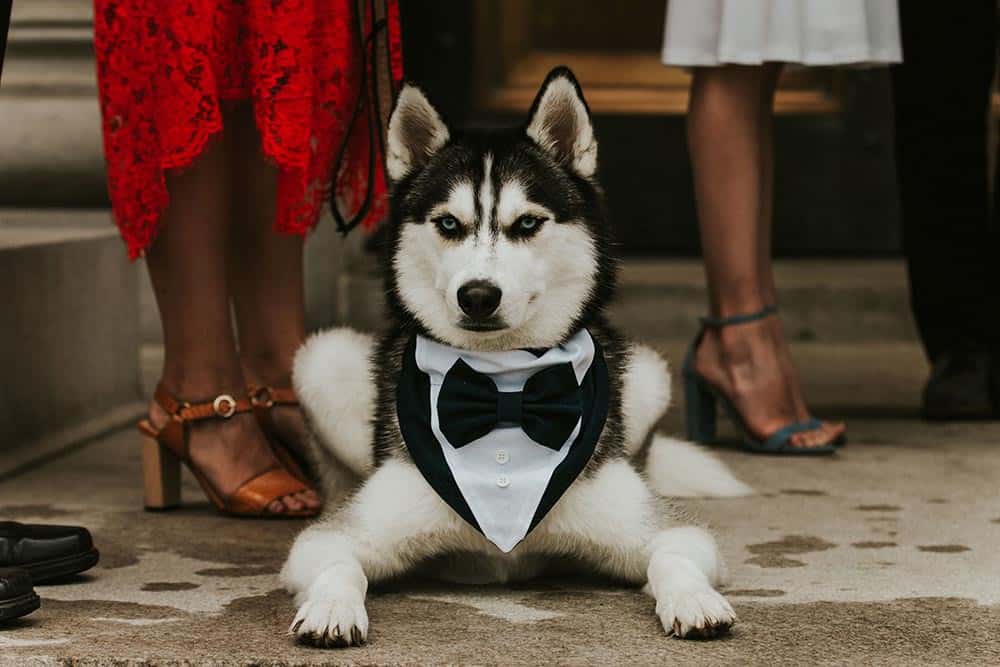 Black Tie Required
With everyone dressed in their best, it's only fair that Fido partakes in that fun as well! On the ever-growing dog market today, you're faced with so many options to dress up your pup for your big day: flower crowns, ivy leashes, bandana tuxedos and so much more! Sarah of Etsy shop Sarahssimplekreation crafts stunning Tuxedo dog bandana with a cute, little bowtie and some adorable buttons that simply slide over your pup's collar for optimum comfort and ease.
Drake wouldn't do well with flowers as he often considers them an afternoon snack. Sarah creates custom orders to match the tux color of dog dad and future husband-to-be. Like Drake did!
Her sizes range from extra small to large. Drake wore a size large — fitting perfectly! Being a very fluffy pup, Sarah advised to size up so and she was 100 percent right about that! He didn't grumble at all with wearing his tux, but instead stayed put in handsome poses for photos. The bandana remained in place all day and was just so cute that we couldn't bear to take it off him even after the ceremony came to an end!
The Ceremony
The most Googled question about including your furry family member at your wedding and probably the biggest fear most have is what to do with your pup during the ceremony.
Drake sat in the spot of Dog of Honor right by my bridal side during the actual ceremony. His leash, held by a wedding party member, did not actually impede any of the ceremony photos nor did he cause any disruption or distraction (lots of treats and training!).
Just practice, practice, practice beforehand so Fido knows what to expect or give him a job! Drake would have made an adorable ring bearer except he might have tried to eat the rings! You know your dog and your dog's limits!
Include them in what you can.
Or you can hire a service to attend to your dog during the wedding. Wedpets, of St. Louis, Missouri will attend to your pup during the entire ceremony and even assist you in getting your dog to and from the venue. Nicole and her team happily construct a unique plan that fits both your pup and your wedding. Check them out at Wed Pets Stl or on Instagram @wedpets!
At the end of the day, you can include your fur-child in your matrimony in so many ways! They can be your Best Dog, Dog of Honor, Ring Bearer or such an audience member. They're family too!
---
Amazon Associates Program
This article may include affiliate links. www.travellingwithadog.com is a participant of Amazon.com Services LLC Associates Program. As an Amazon Associate, I earn a commission from qualifying purchase. www.travellingwithadog.com participates in other affiliate programs, and recieves commissions when purchases are made through the links. The cost is not inflated to account for the commission earned.
---
Veterinary Disclaimer: travellingwithadog.com is not a substitute for veterinary advice and does not intend to provide any type of veterinary advice for your animals. Please consult your vet for any questions you have regarding your pets health.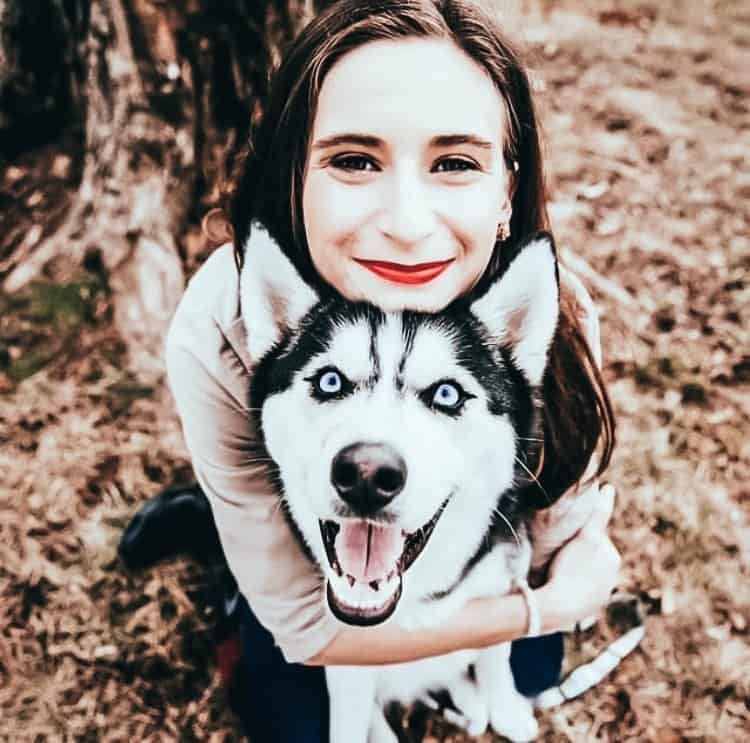 About the Author:
Ashley, a first-time dog mom, fell hard for an energetic, devilish husky named Drake whom she refuses to part with. Together, they have travelled through many states within the United States visiting pet-friendly towns and hiking through deserts and mountains. Soon, they will be trekking all over Europe as they move to England in the summer of 2019. Follow their journey and get pet traveling tips through the cities and the wild at Adventures with a Husky or on Instagram @adventureswithahusky where Ashley is the momanger and Drake is the star!