Last Updated on
An elevated dog bed is just what you need if you are looking to give your dog a comfortable night's sleep!
What is an elevated dog bed?
An elevated dog bed is basically a cot. It's a comfortable raised bed for your pup to snooze on.
We've narrowed down your search to help you find the best elevated dog bed for your dog.
This article contains affiliate links. If you purchase a product listed in this article, we will make a small commission at no extra cost to you!
Best Elevated Dog Beds
Sale
Coolaroo Elevated Pet Bed
COOLING DOG BED – Coolaroo's signature breathable fabric promotes air circulation on all sides of the bed, keeping your dog cool and comfortable all year long
RELIEVES JOINT PRESSURE POINTS - Raised dog bed design helps to eliminate hot spots and fabric flexibility creates low-impact areas to relieve joint pressure points
EASY TO CLEAN - washable pet bed with removable cover makes it easy to clean, simply hose off with water or wash with a damp towel - use mild cleanser for deep cleaning
The best elevated dog bed is Coolaroo's Elevated Pet Bed. It's comfortable, cool, and bacteria-resistant. Let's learn more about it.
The design of this elevated dog bed helps promote positive airflow around the bed itself, hence helping to keep the dog cool at all times.
When you couple this with the breathable high-density polyethylene (HDPE) fabric, you can be assured that your dog will stay on the bed for long periods of time while enjoying the cool air on their skin.
This is something that most dogs will really enjoy!
The material of the Coolaroo Elevated Pet Bed helps prevent fleas, mites and is completely resistant to mold.
Cleaning this elevated pet bed is also very simple. You can opt to wipe it clean with a cloth or hose it down and wipe it clean.
One feature that we really love is how this elevated pet bed alleviates stress points on the dog, hence doubling up as an orthopedic dog bed.
If you have an old dog, or if your dog is suffering from muscle or joint pain, then the Coolaroo elevated pet bed is the best elevated dog bed for them!
Pros: Lightweight, portable, provides a cooling effect onto your dog. Suitable for both indoor and outdoor conditions.
Cons: Material is not chew-resistant.
K&H Elevated Pet Bed
ELEVATED DOG COT: Raised dog bed helps pets stay cool in warm spring and summer months by allowing air to circulate and keeps pets off wet/cold ground with 7" ground clearance; keeping your dog off the ground away from dirt, bugs, ticks, ants, etc
INDOOR & OUTDOOR USE: Lifted pet bed with breathable mesh center is great for indoor and outdoor use. Slip resistant rubber feet provide protection for indoor flooring and water resistant mesh center repels moisture
STRONG & STURDY: Dog cots lightweight metal frame and heavy denier cover holds over 200 pounds, durable and tested for strength
We love dog beds designed by K&H, and their very own elevated dog bed does not fail to impress us!
The entire bed is raised off the floor so as to allow cool air to envelop the entire dog bed and hence providing a cooling effect onto your dog.
The choice of material is a 600-denier fabric that can withstand most chewers but is not recommended for heavy chewers.
It is pretty easy to assemble this elevated dog bed, so you do not have to be a handyman in order to fix it up.
Being light in weight, you can simply bring the elevated dog bed even when you head outdoors with your dog.
Since the pet bed is off the ground, the elevated dog bed is able to provide some relief to dogs who are suffering from joint pain.
Pros: Lightweight, portable, good cooling effect onto your dog. Does not take up much space. Relatively chew-resistant.
Cons: Not suitable for heavy chewers.
Bedsure Original Elevated Dog Bed
Cooling Comfort: This dog bed's elevated design increases airflow for all season comfort, keeping your pet cool even on hot days. The height is just right for dogs of all ages, from puppies to seniors.
Indoor & Outdoor Use: Weather resistant, the 8" raised breathable mesh cot works great indoors and outside. Keep your pup dry and comfortable in the backyard, on the patio or porch, next to the pool, or while camping.
Strong & Durable: Heavy-duty Teslin mesh holds up against scratching and chewing, providing excellent support and even pressure distribution to reduce joint and muscle pain. The strength-tested lightweight metal frame supports dogs up to 40 lbs.
The Bedsure Original Elevated Dog Cot Bed is the top choice on Amazon for elevated dog beds for large breeds, and upon looking at the features, it is actually not that surprising after all.
When it comes to elevating your dog off the ground, this elevated dog bed is raised 8 inches off the ground.
This extended height is useful in helping to keep your dog cool as well to prevent mud or water from dirtying your dog, especially when the elevated dog bed is placed on the wet ground.
The choice of material is a durable mesh Teslin which really helps to cool down the dog more effectively than most other dog beds.
The material is also durable and hence resistant to rips or chews too. Note that though the material is mesh, it does not impede the cleaning process.
And to clean, all you need to do is to hose the surface to clean this elevated dog bed.
Pros: Portable. Best in cooling your dog. Bed is 8 inches off the floor. Chew resistant. Comes in many sizes.
Cons: Only one choice of color.
Veehoo Elevated Dog Bed
Material: Textilene Mesh and Powder-Coated Steel. Size: 49"x33"x9" (125x83x22.5 cm). Can hold a maximum weight of 150 pounds (68kg); Suitable for a normal adult German Shepherd, Golden Retriever, Akita etc.
Stay Cool Ever! Crafted of mesh fabric in the center, our bed allows air to flow, keeping them cool while they relax in the heat. Textilene fabric features heat-resistance, sturdy, and breathability.
Floor No More! Sleeping with an elevated dog bed is more comfortable, cleaner, dryer, and healthier compared to the ground. Stay cool in peak summer or cozy in the wintertime!
The Veehoo Elevated Dog Bed is the choice of many when it comes to selecting the best elevated dog bed.
The support frame is made from steel and the entire structure can hold up to 150 pounds.
The mesh fabric is carefully chosen so that it can withstand chews as well as preventing dirt from accumulating.
Of course, since the entire bed is elevated off the ground and when coupled with the mesh fabric, you can expect a very good cooling experience for your dog when it lay on this elevated dog bed.
One interesting feature about this elevated dog bed is the textilene fabric.
This fabric is able to withstand UV rays, heat as well as being totally waterproof.
Last but not least, the Veehoo Elevated Dog Bed has non-skid rubber feet that provide stability to your dog as they rest.
Pros: Portable. Good choice of fabric. Many colors and sizes available.
Cons: Only suitable for dogs weighing 150 pounds and below.
Kuranda Elevated Dog Bed
ORIGINAL CHEWPROOF BED AND STILL THE BEST - Designed in Maryland in 1995. Patent #US5992348. Still the best. Best design. Best materials. Best workmanship. Best customer service.
BEST DESIGN - Oversize rails (larger than all competitors) protect fabric in frame. Orthopedic design provides long lasting even support to your dog's joints.
BEST MATERIALS - Aircraft grade aluminum and high strength PVC won't rust. Premium fabric are abrasion resistant, treated against UV and clean easily. Stainless steel fasteners.
Kuranda dog beds come in at a higher price point but for good reason.
They are known for their durability, quality, design and are widely touted as an indestructible elevated dog bed.
If you are finding yourself having to constantly replace dog beds for getting chewed to pieces, then the Kuranda Dog Bed is the best choice for your dog.
The furniture-grade poly-resin dog bed fits into contemporary homes and its enhanced durability means that even the strongest of chewers will not be able to chew its way into the dog bed.
The fabric is deliberately designed to slide into the frame itself, hence preventing dogs from chewing at the material.
Of course, like most of the elevated dog beds that we have chosen, the Kuranda dog bed is easy to clean too.
The bed is light in weight and its portability means you can use the dog bed in both indoor and outdoor conditions.
This is our editor's choice for the best elevated dog bed!
Pros: Best elevated dog bed. Chewproof, water resistant. Enhanced durability. Good for dogs with sensitive skin or allergies.
Sale
Love's Cabin Outdoor Elevated Dog Bed
COMFORTABLE PET BED:Elevated Dog Bed lifts your doggy pal off wet, muddy grass to keep him clean and cool, especially on rainy or hot days as it can elevate pets more than 8 inches off the ground. which lets air circulate underneath and provides a cooling environment for your pets. Durable Teslin (recyclable and non-toxic) mesh allows air to flow right through the fabric and he/she will be feeling the breeze in summer and warm in the winter - Can ease the stress/pain on your pet's joints.
PERFECT SIZE & CARE: Large Raised Dog Cot: 49"L x 35.5"W x 8"H (Frame), 43"L x 35"W (Mesh), up to 85 lbs. With its strong stability and high-load bearing capacity, the dog cot is ideal for all breeds and ages of dogs and cats (easier for older pets to hop on or off) - Easy to clean: Pet hair, dirt and grime don't cling to the tight mesh, you can hose the surface (tap water only) or hand wash with mild soap and let air dry.
DURABLE: Well-built frame helps the pet bed stable and safely elevated for your dog to rest easy on - Durable sleeping surface supports your pets comfortably and resists rips from claws - Equipped with skid-resistant feet, our elevated dog bed protects your floors from scratches and keeps the bed from sliding when your dog jumps on or off.This resilience makes it the perfect bed for year-round, all-season use for indoors and outdoors.
The Love's Cabin Outdoor Elevated Dog Bed is a choice of elevated dog beds for owners who frequently bring their dog out for camping trips, especially if the areas are usually wet.
The elevated dog bed is lifted 8 inches off the ground, hence providing your dog with shelter from the wet ground yet at the same time being able to provide a cooling effect onto their skin due to the positive airflow.
The Teslin mesh fabric helps to provide additional cooling for your dog as well as ensure the bed is easy to clean.
Assembling and dismantling of the dog bed is easy too.
Last but not least, the entire structure is durable and your dog will not slip off the dog bed at any point in time.
However, this dog bed is only suitable for dogs that weigh 85 pounds and below as it is meant for mid to smaller sized dogs.
Pros: Best elevated dog bed for small dogs. Enhanced portability. 8 inches off the ground. Suitable for both indoor and outdoor uses.
Cons: Not meant for heavy dogs.
Superjar Outdoor Dog Bed
A LUXURIOUS ACCESSORY FOR FURRY KINGS & QUEENS! What kitten or doggy doesn't just love to relax and enjoy the outside activities? That's why we designed and crafted this gorgeous, elevated, outdoor pet bed with ideal dimensions - 36" x 48" x 9.1"; and it comes with a canopy for full shade and protection
STURDY & DURABLE DESIGN! Made of sturdy, durable 1680D Oxford fabric and steel frame, which mean that, this exquisite pet bed can hold up to 100 lbs, and endure the playful scratching and playing of your beloved furry companions
HAVE A FUN AND COZY SUMMER! Made of breathable fabric, keeping your pet away from the sultry! Elevated design brings your pet a refreshing summer! it comes with a canopy for full shade and protection! Tips: The canopy is not protected from water, we recommend that you move the pet bed indoors, or in a covered area in rainy days or in stormy weather. So your furry friends won't get wet
The Superjare outdoor dog bed caught our eye due to its innovative design. It serves as an elevated dog bed with a canopy, and the latter does help to shield the dog from the elements, making it the perfect elevated outdoor dog bed ever.
The bed is made with Oxford fabric, which is known to be able to provide comfort to the dog as well as being resistant to their chews. We say it is comfortable as Oxford fabric is breathable, hence it does not create hot spots on your dog's skin at all. With the elevation of the dog bed, your furry companion can have an extremely comfortable time resting on the dog bed while being outdoors with you.
As for the canopy, it does help to shield the dog from the sun, which is important given that there might be a lack of shade when outdoors. However, the canopy does not provide adequate protection against rain, so you will need to be mindful of this.
Pros: Best elevated dog bed with canopy. Easy to assemble and dismantle. Comfortable fabric. Sturdy design.
Cons: Canopy is not water-resistant. Meant for dogs weighing less than 120 pounds.
Paws & Pals Elevated Dog Bed
DIMENSIONS: 28"L x 28"W x 9.5"H & holds up to 90 lbs. – Bed: 1.5"H.
VERSATILE & DURABLE: The camping pet bed's structure provides added comfort and support by creating low-impact areas for pressure points and joints. Plus, its elevated design allows for increased air flow. It will keep your pet off of damp, cold, hot, and uneven surfaces. The bed is made from heavy duty, light weight, and breathable water proof oxford cloth, while the folding frame is constructed from sturdy metal with high quality plastic feet.
FOLD & GO: The pet bed features a portable design which is ideal for both indoor and outdoor use. Just remove it from the carrying bag, unfold the frame and slip the bed on. Use the Velcro on the corners of the bed to secure it to the support straps which are attached to the frame. The frame can then be folded (with the bed still attached) and placed back in the carrying pouch for easy travel or storage.
The Paws & Pals Elevated Dog Bed is another innovative dog bed that is carefully designed to meet the needs of a selective group of owners who love to bring their pets outdoors.
It is also widely touted as an awesome camping pet bed for dogs.
The choice of material for the fabric is oxford cloth. It is breathable, and hence it adds an added cooling dimension when your dog rests on it.
When you couple this with the elevated design, your dog will never feel hot when on this elevated dog bed. The entire dog bed folds up quite nicely too, so keeping it nicely in your campervan is easy.
We love the design of this elevated dog bed as it uses a cross hinge design to ensure that the bed is not straight but has a slight contour to it. This means the comfort level far exceeds a regular straight elevated dog bed!
Pros: Elevated dog bed with a slight contour. Extreme comfort. Easy to assemble and dismantle.
Cons: Not meant for heavy dogs.
Millie Mats Elevated Dog Bed
Millie Mats Elevated Dog Bed is designed to offer the best indoor/outdoor lounging lifestyle for your furry companion. Use this raised dog bed as a permanent bed, crate bed or pet chair.
BUY WITH CONFIDENCE: 100% GUARANTEE We stand by our product and value user satisfaction. Reach out if the product has let you down. We promise to always fix it no questions asked.
CONVENIENCE: The dog cot is foldable (U legs fold up flat against the bed). Lightweight and easy to travel with (camping, to the beach, place in trunk of the car to give your dog more height to see out the window, for hotel stays)
The Millie Mats Elevated Dog Bed is a fully assembled dog bed with an affordable price.
The choice of fabric is the 600D Oxford canvas that is commonly used in camping gears. As such, you can be guaranteed of its quality as well as its resistance towards water and dirt, hence cleaning this elevated dog bed is a breeze!
To help enhance the dog's comfort level, there is the metal tubing frame with adjustable rings that allows you to adjust the firmness of the canvass to suit the dog's comfort level.
This is an innovative design as most elevated dog beds are either taut or slack without any customization at all.
Pros: Comes fully assembled. Rings to adjust the tautness of the canvas. Portable and can be used for various placements.
Cons: Not meant for heavy dogs as the largest design can withstand weights up to 80 pounds.
Best Elevated Dog Bed With Stairs
Sale
Penn Plax Buddy Bunk
KEEP YOUR PET CLOSE, BUT NOT TOO CLOSE: The Buddy Bunk allows your pet to sleep next to you without taking up the whole bed, giving you some space to enjoy. The removable, carpeted steps are perfect for older, smaller, or infirm dogs, such as those with hip dysplasia, making it easier for them to climb up onto standard sized beds.
MULTIPULE LEVELS FOR CONVENIENCE: The Buddy Bunk features 2 resting spaces: one on top and the other on bottom. In addition to giving your pet a choice where they'd like to rest, having 2 spaces grants more freedom for 2 pets who may wish to sleep separately. Furthermore, you can even use the bottom space as extra storage space.
YOU CHOOSE THE SIDE THAT FACES YOUR BED: The safety bolsters can be positioned on either side of the Buddy Bunk. This feature prevents your pet from falling off the top bunk, along with allowing you the option of placing the Buddy Bunk to the right, left, or front side of any bed.
If you are looking for an innovative piece of furniture that doubles up as a dog bed, then the Penn Plax Buddy Bunk will be the best choice.
It actually serves two purposes.
First of all, it doubles up as an elevated dog bed. Secondly, it serves as an extension to your current bed so that your dog can sleep beside you without actually sleeping on your bed.
There are steps present in this dog bed so that older dogs or even younger ones can have an easier time climbing up this dog bed.
The stairs on the dog bed does have its own compartments, which is ideal in space starved houses. This means you can keep their favourite toys or accessories in the storage areas, granting you a new level of accessibility. The bottom of the dog bed does serve as a secondary bed should you have a second pet.
We love the choice of material as the design does fit into most modern homes. It you are into the aesthetic, then the Penn Plax Buddy Bunk is the choice of elevated dog bed for you and your dog.
Pros: Contemporary design. Serves as double bed. Storage spaces available.
Cons: Does not help to keep the dog cool. Only suitable for indoor.
DIY Elevated Dog Beds
If you consider yourself handy, you can also make your own elevated dog bed with PVC pipe.
You will need:
PVC pipe
3 way fittings
Flat caps
1/2" round screws
Outdoor fabric
Power drill
You can follow along with this DIY elevated dog bed tutorial if you'd prefer making your own.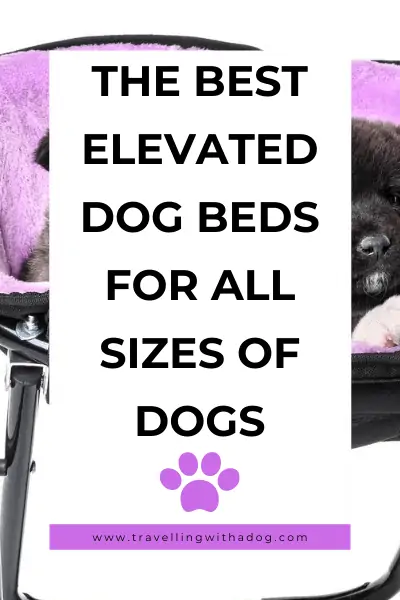 ---
Amazon Associates Program
This article may include affiliate links. www.travellingwithadog.com is a participant of Amazon.com Services LLC Associates Program. As an Amazon Associate, I earn a commission from qualifying purchase. www.travellingwithadog.com participates in other affiliate programs, and recieves commissions when purchases are made through the links. The cost is not inflated to account for the commission earned.
---
Veterinary Disclaimer: travellingwithadog.com is not a substitute for veterinary advice and does not intend to provide any type of veterinary advice for your animals. Please consult your vet for any questions you have regarding your pets health.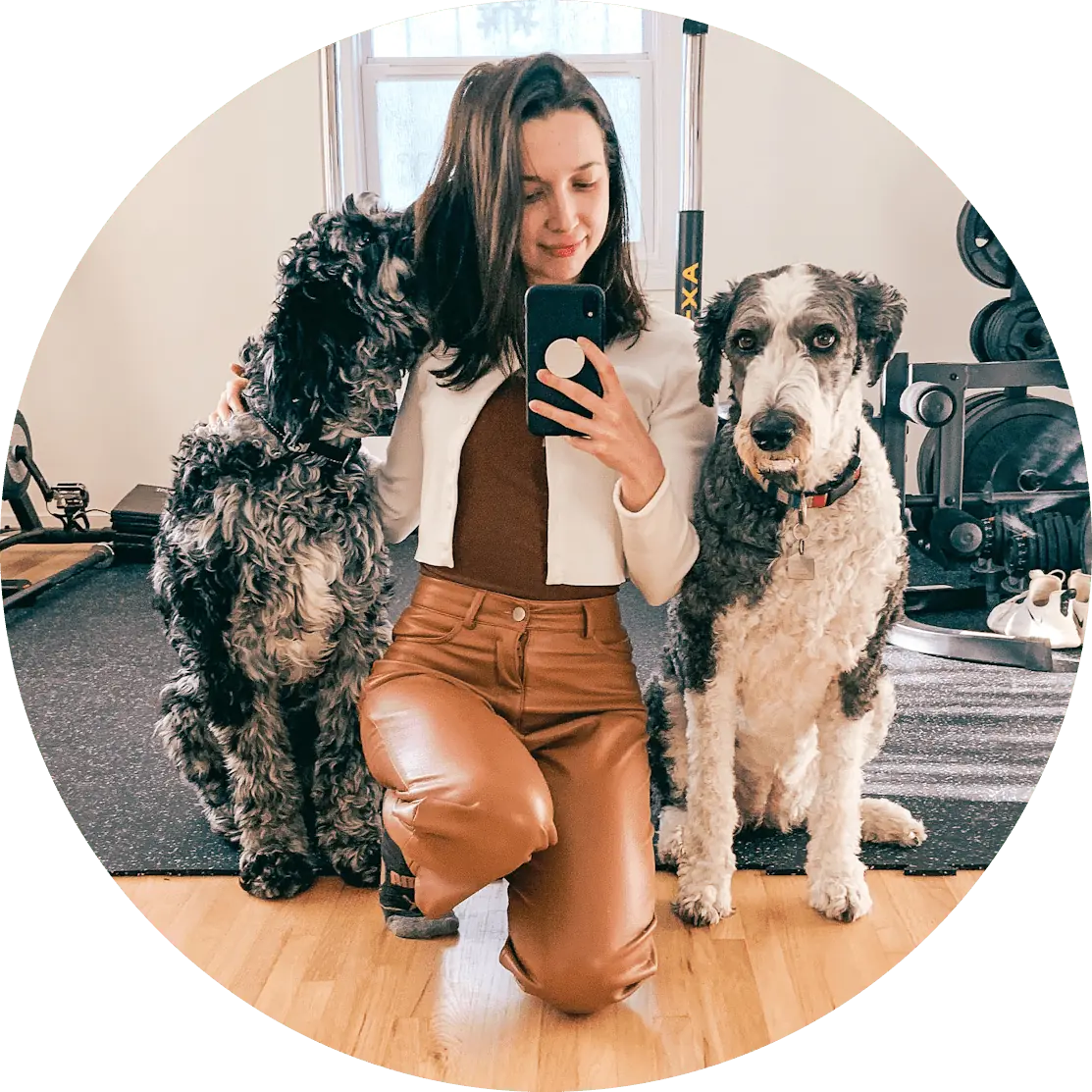 About the Author:
Dana owns a Sheepadoodle and a rescue merle Labradoodle. Her first dog growing up was a white Toy Poodle and she's loved dogs ever since. She has years of experience fostering dogs and has helped find homes for a variety of different breeds, both large and small! After seeing so many dogs end up unwanted and in shelters, she began blogging about different dog breeds (specifically Doodle dogs, since that's what she knows best) to help people make informed choices when adding a new member to their family.
When Dana's not brushing her Doodles' hair (it takes a lot of time for two!) you can find her playing nose work games and fetch with her two amazing pups.
Learn more about her here.