Last Updated on
The only thing better than a family camping trip is a family camping trip with your pet dog! (Or dogs if you are lucky enough to have more than one).
Taking your dog into the great outdoors for a wilderness adventure can be great fun for both you and your dog… But you are not at home and so you need to be prepared.
You need to make sure your dog is safe at all times and also under tight control so that they can't disturb any wildlife or people in the area.
If your dog is not used to seeing wildlife or being out in rugged country it is essential you have the right kit to keep them happy and safe.
So here is a list of five items that you should always take when going camping with your dog.
A Portable Outdoor Dog Bed
A Hiking Harness for Dogs
A Portable Bottle and Water Bowl
A Leash Stake
Disposable Compostable Poop Bags
This article contains affiliate links. If you purchase a product listed in this article, we will make a small commission at no extra cost to you!
A Portable Outdoor Dog Bed
The chances are that your dog will be much more excited and active when you take them camping than they normally would be.
They will be walking and running around all day long, chasing squirrels and soaking up all the intense new sights and smells.
This is great but you also need to make sure they get some good quality sleep.
So a portable, collapsible, waterproof bed should definitely be on the list of essential dog camping items, which is why elevated dog beds are the perfect option when camping.
This elevated dog bed from SuperJare is a great option. The elevated, collapsible, steel tubing frame will keep your dog's body off the cold, damp ground.
The sleeping area of the cot is made from breathable, easy to clean Oxford fabric.
It is waterproof and comes with built in shade to keep the hot sun off your dog during the day.
SuperJare Elevated Pet Bed
A LUXURIOUS ACCESSORY FOR FURRY KINGS & QUEENS! What kitten or doggy doesn't just love to relax and enjoy the outside activities? That's why we designed and crafted this gorgeous, elevated, outdoor pet bed with ideal dimensions - 36" x 48" x 9.1"; and it comes with a canopy for full shade and protection
STURDY & DURABLE DESIGN! Made of sturdy, durable 1680D Oxford fabric and steel frame, which mean that, this exquisite pet bed can hold up to 100 lbs, and endure the playful scratching and playing of your beloved furry companions
HAVE A FUN AND COZY SUMMER! Made of breathable fabric, keeping your pet away from the sultry! Elevated design brings your pet a refreshing summer! it comes with a canopy for full shade and protection! Tips: The canopy is not water resistant, we recommend that you move the pet bed indoors, or in a covered area in rainy days or in stormy weather. So your furry friends won't get wet
A Hiking Harness for Dogs
Using a normal leash and collar is fine in towns and cities but if you are heading out into the wild, a harness gives you much better control over your dog.
This Kurgo dog harness is really well designed. It is made for active dogs and has some features that are really useful for hiking.
It comes with two leash points giving you much more control over your dog than a collar, this is really useful if they get excited and start to pull on the leash.
It also comes with a handle on the back, this is great for lifting your dog up over an obstacle, or for pulling them back should the need arise.
(Your dog might be well behaved at home but could still go unexpectedly crazy if they see some wildlife!)
Sale
Kurgo Reflective Harness
Perfect for active dogs: Great harness for dogs that are very active and love being outdoors whether it's on a run in the neighborhood, A hike on a trail, camping in the woods, or a walk in the park Large dog Harness also features front leash ring to train dogs not to pull also has back leash ring
Easy on and off with comfort: Made with lightweight, easy on/off nifco plastic quick release buckles that will not rust dog Harness has a v-neck design for better movement and padded chest to reduce strain on chest and neck
Back handle and reflective harness: Adventure harness features reflective trim for easy visibility at night Also features back handle to assist your dog over obstacles or to have better control over him
A Portable Bottle and Water Bowl
Your dog will most probably be doing a lot of walking and a lot of running, so you need to make sure that you always have a supply of clean fresh water for them to drink.
Just because you are in the great outdoors you can't be totally sure you will stumble across safe water to let them drink from.
The Lesotc water bowl has a built in bowl, just fill it up before you go on your hike or trail run.
You can rest assured knowing that at any time you can stop to give your dog a drink of fresh clean water.
Portable Bottle and Water Bowl
【TRAVEL EASILY WITH YOUR PET】 With 1 Portable Bottle and 2 Collapsible Bowls make it much easier and more convenient for travel, walking, hiking with your dogs. Exclusive patented design, according to other brands improvement, Upgraded design dog water bottle and water bowl two in one.
【EASY TO USE】 The fold cap acts as a water bowl, and you don't need any external bowl to give your hairy buddy water to drink anymore. Press the water bottle with one hand, and the water will flow into the bowl. It is highly suitable for small and medium dog, convenient for pets to use.
【LARGE CAPACITY & PORTABLE】 About the bottle, 18 oz volume can offer safe, fresh, and healthy water for your fur baby at any time especially during travel, trekking and other outdoor actions. About the bowls: 5 inches max diameter, 2 inches height, each bowl can hold up to 12 fluid ounces of water or 1.5 cups of dog food. Easy to clean, storage and bring-along on dog walks, simply Pop-Up and fold away. Only 0.3 lb and with a carrying rope make it very convenient for carrying out.
A Leash Stake
A stake driven securely into the ground that you can then fix your dog's leash to is a great thing to have around the campsite area.
Your dog still has the freedom to walk around but without disappearing off into the woods and getting into all sorts of trouble!
Petest make a really easy to use and effective leash stake that comes with a 15-30ft cable so your pooch can roam about without being able to run off.
Sale
Petest Reflective Tie-Out Cable for Dogs
25 ft, lightweight and ultra strong tie-out cable for dogs up to 35 lbs.
Steel cable and swivel clips for superior strength and durability.
Snaps, which is durable and anti-rust, on both ends can be easily attached to a post or stake for a protection of dog's neck.
Disposable Compostable Poop Bags
This one might sound surprising but actually they can be really useful, especially if you are camping near places that other people visit.
You do not want to leave your dog's poop on a camping ground or in a natural beauty spot.
Simply scoop up the poop using the disposable bag and then put it somewhere out of sight so it can decompose without leaving an unsightly mess.
Made by Earth Rated, these poop bags are guaranteed to not split, they are easy to tie and fully biodegradable (which means they are very eco-friendly).
Earth Rated Poop Bags
A SNAP TO OPEN (AND TIE): Tug on the handles to open. Loop and knot the handles to tie. It's that easy. No snags, all wags.
FOR BIG POOPS AND CAT SCOOPS: Extra strong bags with extra wide openings–perfect for cat litter scoops as well as dog poops.
NO DISPENSER NEEDED: Bags dispense one at a time from the box. Ideal for tying to your leash or stashing in your pockets.
Conclusion
Ok, so that's it for this blog post. Hopefully some of the items on this list will help you to be much better prepared for your next adventure.
If you have a small dog, make sure to check out this post on how to hike with small dogs!
Thanks for reading and have a great camping trip with your canine companion!
Pin me: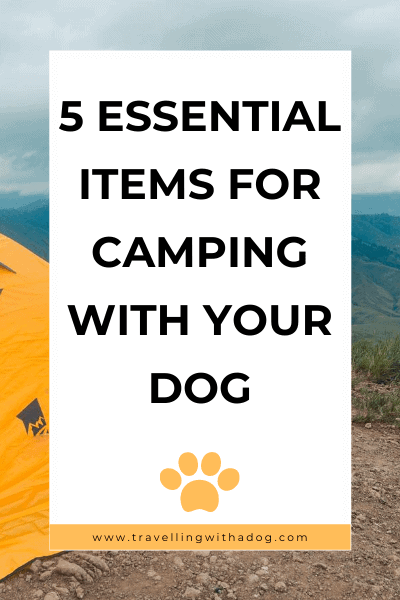 ---
Amazon Associates Program
This article may include affiliate links. www.travellingwithadog.com is a participant of Amazon.com Services LLC Associates Program. As an Amazon Associate, I earn a commission from qualifying purchase. www.travellingwithadog.com participates in other affiliate programs, and recieves commissions when purchases are made through the links. The cost is not inflated to account for the commission earned.
---
Veterinary Disclaimer: travellingwithadog.com is not a substitute for veterinary advice and does not intend to provide any type of veterinary advice for your animals. Please consult your vet for any questions you have regarding your pets health.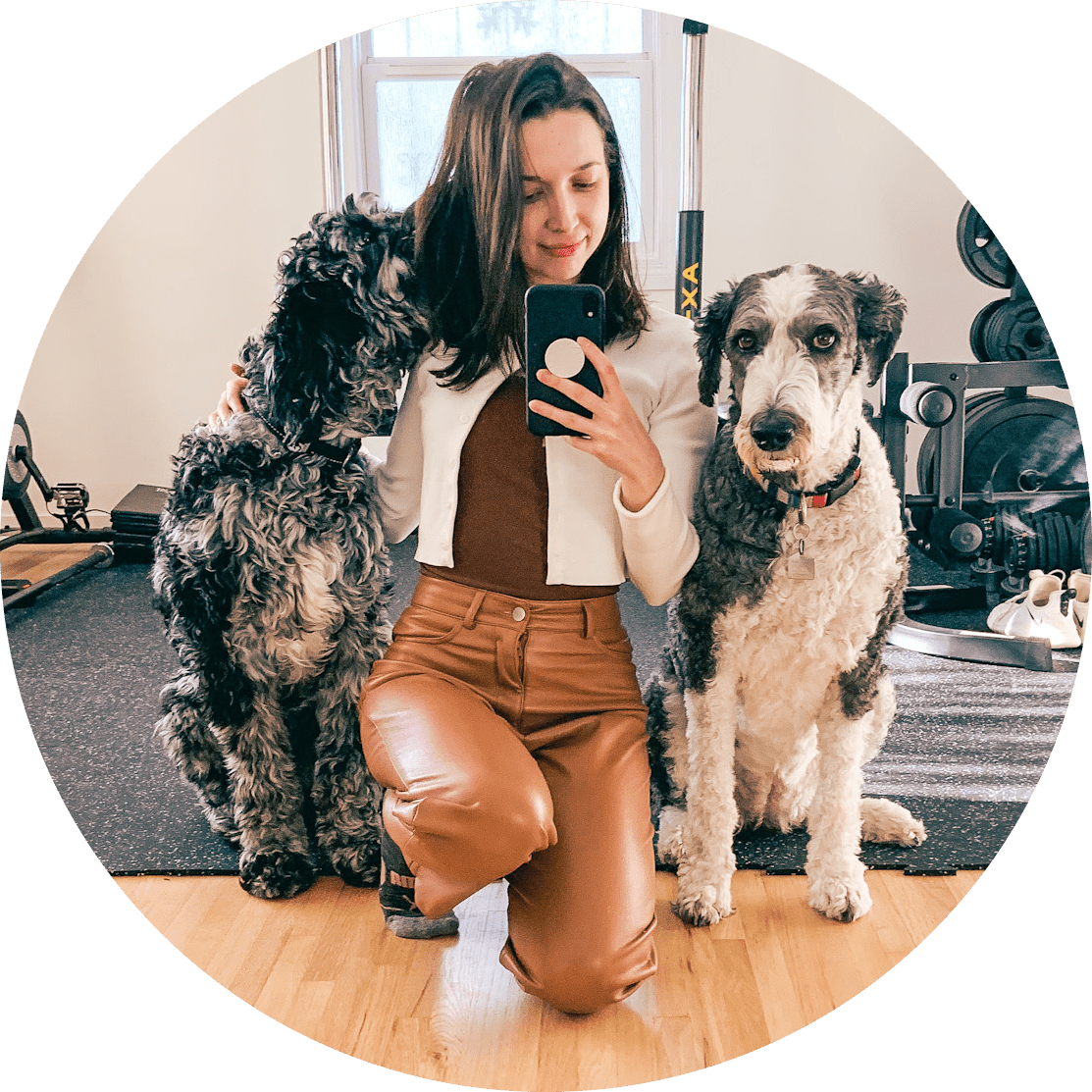 About the Author:
Dana owns a Sheepadoodle and a rescue merle Labradoodle. Her first dog growing up was a white Toy Poodle and she's loved dogs ever since. She has years of experience fostering dogs and has helped find homes for a variety of different breeds, both large and small! After seeing so many dogs end up unwanted and in shelters, she began blogging about different dog breeds (specifically Doodle dogs, since that's what she knows best) to help people make informed choices when adding a new member to their family.
When Dana's not brushing her Doodles' hair (it takes a lot of time for two!) you can find her playing nose work games and fetch with her two amazing pups.
Learn more about her here.