Last Updated on
Dog pool ramps are an inexpensive way to add an extra layer of pet safety to your ground pool or boat without the need for any extra construction. Keep reading to find the best dog pool ramp so you can keep your dog safe and happy this summer!
It can be a struggle for your dog to get in and out of the pool. It's often slippery, and if your dog isn't strong, they may find it impossible to hoist their bodies out of the water. Not only that, their safety is compromised if they aren't able to get out of the water when they'd like. Dogs can get very tried quickly while swimming and can drown if they don't have an easy way to get out.
On top of supervising your dog while they swim, you should also invest in a dog pool ramp so you pooch can easily get in and out of the pool.
Dog pool ramps are stair-like or inclined-flat surfaces that attach swimming pools and boats. They help keep your dog safe and help them enter and exit the pool as they please!
Dog pool ramps eliminate the need for you dog to try and pull themselves out.
There are many dog pool stairs on the market, but the one for your doggo will depend on two factors:
do you want to use this dog pool water ramp for swimming pools only?
do you want this dog water ramp for your boat as well?
You can even buy many multi-functional, two-in-one dog water ramps if you are looking for an all-in-one ramp that suits your boat, car, and pool as well.
This article contains affiliate links. If you purchase a product listed in this article, we will make a small commission at no extra cost to you!
Top Rated Dog Pool Ramps
To help you find the best pool ramp for dogs, we've put together a list of our favorite pet products to help your dog while in the water!
Dog Ramps for Pools
Stair-like (with steps) and flat dog ramps both work great in ground pools. While step ramps are more sturdy having a flat inclines can be good for dogs who have difficulties with the stairs.
We have listed 5 stairs and ramps for dogs, along with their pros and cons so you can find the one that works best for your ground pool!
1. Above Ground Swimming Pool Step To Deck
Above Ground Swimming Pool Step To Deck
STABLE AND STURDY - Much easier than using a standard pool ladder, this in-pool step features double handrails and extra-wide, slip-resistant steps for sturdy support when swimmers are entering or exiting your pool. Two deck mounting brackets offer even greater stability and safety. 350-lb weight capacity.
ANTI-ENTRAPMENT BARRIER - Side panels with spindles were designed to prevent entrapment underwater, meeting all NSPI standards for safety. They also reduce algae build-up by allowing water and chemicals to circulate freely.
FITS MOST POOLS - Created to fit above-ground pools up to 54-in deep with flat bottoms. Mounts easily to any deck with included brackets (hardware not included). Please note: this step should not be used with inflatable or soft-sided pools.
Our top pool ramp for dogs is the Above Ground Swimming Pool Step. The top-rated stair-like water ramp 'step to deck' has hundreds of five-star reviews for its excellent services and safety it provides to dogs and kids.
This 'above ground pool deck' has four steps and long handrails on both sides to support its traditional structure. The material is plastic and has holes for the easy clutch.
Pros
Its dimensions – 81" Height, 32" Depth, 32.5" Width.
Easy to assemble.
Taking out doesn't require much effort either.
It can hold a lot of weight without being damaged.
The stairs are filled with sand to avoid floating.
These come with side-heavy bags to keep the stairs down.
Non-slip material
Cons
Algae may grow in the steps. One reviewer noted they drilled more holes into the steps for better water circulation–something you may need to do if your pool tends to attract algae. However, it's an easy fix!
2. Waterdog Adventure Gears Pool Stairs
Another fine addition to your ground pool would be 'Waterdog Adventure Gears'. While the yellow and black coloring might not be for everyone, it will definitely stand out! The structure, handrails, and its backbone are made of stainless steel, making it quite sturdy.
The stairs are non-slippery so your dog's wet paws won't be an issue. You can use these in the pool and cars as well. The ladder is easy to assemble and doesn't float up on the surface because of the steel side bars. 
Pros
They are tall, allowing more space.
Their size is compatible with bigger pools.
It's easy to assemble and disassemble this ramp.
Dogs can find the ramp easily for its bright yellow color!
The stainless body supports human weight and heavy dogs.
It doesn't float and neither does it need side-weights to weigh down.
Non-slippery Material.
Cons
The instructions are a bit hard to follow.
The stairs might not fit small pools and decks.
3. PetSTEP Folding Pet Ramp
Sale
PetSTEP Folding Pet Ramp
Unique soft non-slip rubberized walking surface feels natural on paws and provides Superior Traction in all weather conditions.
No rough sandpaper or dirt-harboring carpet. Will not rust or corrode and can be cleaned with soap and water, Environment: Indoors and Outdoors
Universal non-slip grip fits all vehicles and edges while folding in half for easy storage and portability.
If you prefer a dog pool ramp rather than pool stairs, the PetSTEP Folding Pet Ramp is the best choice. I personally appreciate the elegance of this pet ramp.
You don't need to spend hours on its manual set-up. Simply unfold it and attach it to your ground pool. This PetSTEP original folding ramp is 70 inches long with rubber coating on the top surface.
Many manufacturers don't understand the harm sandpaper/carpet material can do to your dog's paws but, PetSTEP has it covered for you. The rubberized walking surface won't hurt the dog and its paws, which is a major reason it's at the top of our list as our favorite dog ramp. It's also easy to claw rubber for a better grip, so your dog won't be as likely to slip with their wet paws as they try to exit the pool.
It has a strong plastic construction that can hold up to 200lbs (animals).
Pros
The flat surface allows your dog to enjoy the swimming pool without getting wet. Your dog can get sun-kissed, too with this flat ramp.
You can easily fold it.
This dog water ramp is built with quality products and doesn't corrode.
It's long-lasting.
PetSTEP is easy to wash and clean.
These can also be used with tall beds and couches that your little pup can't reach.
Cons
The pool ramp is too big to store anywhere.
Folding the ramp is difficult because it lacks handles. One might hurt their fingers.
It's hard to manage the weight alone, especially in the rain.
4. Skamper Ramp Super
Skamper Ramp Super
SCAMPER RAMP: This pet ramp for small dogs (under 20 lbs) helps pups enter exit the pool, especially if they fall in Simply attach to the side of the pool with included rope hardware so the ramp stays atop of the water
RAMP FOR THE POOL: The UV-resistant pet ramp for dogs include ramp, nylon rope, nuts, bolts, wing strips easy-to-follow installing instructions Not recommended for soft vinyl non-permanent structures
PET SAFETY: Keep pets safe while enjoying the outdoors with a variety of steel braided tie-out cables stakes for leashes Best for homes without a fence We also provide pet stairs for small senior animals, ramps for swimming pools more
Skamper Ramp Super is a small yet sturdy model. You don't need to invest too much time setting it up and everything you need to get it set up is included in your purchase (except for a hammer).
This Skamper supports almost all animals weighing under 200lbs. Its surface has small holes; these holes initiate grip for dogs. 
Although Skamper Ramp Super supports 200lbs of weight, it's still a small structure so I don't recommend this one for giant dog breeds.
Pros
Easy to store because of the small size.
You can flip it in and out of the dog pool in a couple of seconds.
The sturdy backbone keeps your pool ramp out.
The pet ramp is UV-resistant.
Cons
The top surface is made of plastic that might get slippery for the dog.
Its small structure may make it challenging for larger dogs to use.
5. COZIWOW 62" L Heavy Duty Portable Folding Water Ramp
COZIWOW 62" L Heavy Duty Portable Folding Water Ramp
🎁【Festival Dog Ramps Gift】This dog ramps for large dogs suv to help your four-legged friend to enjoy getting in and out of the car, steps and high bed safely.
🐶【High Traction】Dog ramp for car with the high traction surface helps your furry friends from slipping or falling when walking on the ramp. Also four rubber feet keep the ramp stable while in use.
🐶【Pet Use Reference】Leonbergers、Labradoodle、Chihuahua、English bulldog、Basset Hound、Australian Cattle Dog、Golden Retriever、Yellow Lab、Rottweiler who、Chow Chow、Goats、Cat、and other younger/older pet
If you want a ramp to support a big dog, this dog ramp is for you. Its heavy-built structure is meant for many different purposes, including the pool, your car, and the boat.
COZIWOW is a sleek, black dog ramp model made of heavy plastic to support 200lbs of weight.
It also comes with 4 rubber feet to help it stay connected with the ground. This is a three-in-one ramp as you can attach it to your vehicle, pool or boat.
CZIWOW also comes with a security lock to prevent opening while travelling and the pool ramp also has handles making it easy to travel with. 
Pros
COZIWOW is easy to assemble and doesn't require hardware. 
 It's lightweight.
Non-slip surface.
Cons
The incline is steep, and dogs might take time while adjusting to it.
The sandpaper material can hurt your dog's paws.
Best Dog Ramps For Boats
If you love to boat, you shouldn't have to leave your dog behind. Most dogs are great swimmers, but getting back on the boat is another challenge for our four-legged friends.
To help your dogs get back on the boat after a nice swim, we are sharing some of the best dog boat ramps. You can simply attach it to the boat and let your dog enjoy the water.
1. Great Day Load A Pup
Great Day Load A Pup
With The Load-A-Pup, You And Your Dog Can Enjoy All The Fun Associated With Recreational Boating
'Load A Pup' is a small but sturdy dog boat ramp. Its aluminum body covered with white enamel will be an aesthetic addition to your boat.
Great Day Dog Ramp fits every boat that has a boarding ladder. Its lightweight body sits perfectly on the surface and provides safety to your dog. You don't need to pull/tuck your pup out of the water anymore; 'Load a Pup' will do it for you with zero effort. 
The set-up is straight-forward; open the boarding ladder and attach your dog pool ramp to it. It comes with safety straps and a strong backbone to provide stability. The manual will easily guide you with the set-up. 
Pros
Its compact size allows easy storage and durability.
The aluminium body can carry heavyweight.
It's protected with white enamel.
Durable.
Weighs on 7lbs.
Sits just beneath the surface.
Cons
No back steps for dogs while climbing up.
It's hard to install the pool ramp in the sea with no straps to hold them in place.
2. Beavertail Folding Dog Ladder
Beavertail Folding Dog Ladder
This ultra strong two-way adjustable ladder provides your four-legged hunting companion with an easy, convenient way to enter and exit your duck boat
Floods up for easy storage
Olive drab color
This aluminum ladder is not your average dog ramp. The stair-like structure allows your puppy to walk without struggling to hop on. This dog ramp has an aluminum body with small holes to provide a firm grip.
With Beavertail's folding dog ladder, you don't need a boarding ladder; it can easily adjust to the dock, you need to hook it up properly as advised in the manual. 
Beavertail goes deep in the water. With its underwater body, your big-fur baby doesn't need to hop or climb the pool ramp; they can simply walk on it and reach the surface in no time.
Pros
Beavertail is foldable.
It goes underwater that helps bigger dogs.
You can hook it without the need of a boarding ladder.
Cons
The size is steep and can confuse dogs sometimes.
The instructions are lousy on the website, and it can be hard to understand the product while buying online.
Sloppy knob adjusters
The holes can discomfort their claws. To avoid getting stuck, you have to glue a carpet.
Benefits of Using Dog Pool Ramps
First, dog pool ramps and boat ladders aren't there to replace supervision. To prevent any accidents, you must always watch your dog when they are in the water. Dogs can get tired of swimming very fast and drown unexpectedly.
By using dog pool ramps and boat ladders, you're giving your dog a safe way to exit and enter your ground pool or boat, without you needing to lift them in and out each and every time.
Dog Not Fearing Water Bodies Anymore
Dogs are often scared of jumping out of the water, and this makes them resist enjoying water bodies or even getting near one.
A dog water ramp helps your dog to enjoy the water and not be scared of it. With this product, your dog will gain confidence with water and don't mind the hassle.
Prevents Injuries And Drowning
It's hard enough to get your dog out of pools, imagine getting them out the water bodies on a boat. Boats are comparatively higher from the water surface, and a jump can result in many injuries.
Dog water ramps prevent such injuries by avoiding falls on the slippery surfaces and rough pulling/pull out.
Just make sure you don't use a dog water ramp as an excuse to not watch your dog–they are there to help your dog but your supervision will keep them safest.
You Enjoy The Sea And Get Sun-Kissed
With dog ramps helping your dog get out of the water, you don't have to get up every time your dog wants to enjoy the water or come back in the boat.
(Please note: Don't lose sight of your dog. Keep checking on them to be sure that they are safe.)
How to Choose the Best Dog Water Ramp
There are a few things that will help you find the perfect dog water ramp.
What is the material used to manufacture it?
While most of the dog pool stairs are made of polyethylene/sturdy plastic, some manufacturers use steel/aluminum metals as well.
If your dog pool ramp has steel parts, make sure you get a dog water ramp that's equipped with stainless steel. If your dog ramp is not stainless, it will start to corrode and soon will be transformed into junk.
Plastic is not necessarily bad either. Just make sure it is sturdy and well-coated.
The size and length of the ramp
Before you buy a product, read the manual, and ask the manufacturer if it can fit your pet pool perfectly. Don't forget to measure your pool's height and discuss the mechanics of the ramp.
Top surface material
The top surface material should be slip-resistant. There are many different types of material for you to choose from. If your dog's paws are delicate, try to avoid sandpaper/carpet material, they can scratch your baby's paws and hinder pet safety.
I personally recommend a rubber top surface because dogs can easily hold on to it compared to steel/plastic polished surfaces.
Can you fold and store it?
Almost all the pet pool ramps are foldable, but your stair-like pet pool ramp might take more than the efforts you can afford. Many of these need dismantling and careful packaging unless you are buying a foldable stair.
So, if you are short on time and cannot afford the mess, look for foldable stairs or flat dog pool liners.
How much weight can the pet pool ramp carry?
You must be sure the dog water ramp you choose can carry the weight of your pooch! Some ramps aren't meant for large dogs, so before you buy, make sure to check the weight limitations.
Conclusion
Pet safety in your pool and on your boat is crucial.
These sturdy slopes will make pool days and boat rides more enjoyable for your dog! If you are someone who often shares water bodies with your dog, it's time that you invest in their safety right now!
---
Amazon Associates Program
This article may include affiliate links. www.travellingwithadog.com is a participant of Amazon.com Services LLC Associates Program. As an Amazon Associate, I earn a commission from qualifying purchase. www.travellingwithadog.com participates in other affiliate programs, and recieves commissions when purchases are made through the links. The cost is not inflated to account for the commission earned.
---
Veterinary Disclaimer: travellingwithadog.com is not a substitute for veterinary advice and does not intend to provide any type of veterinary advice for your animals. Please consult your vet for any questions you have regarding your pets health.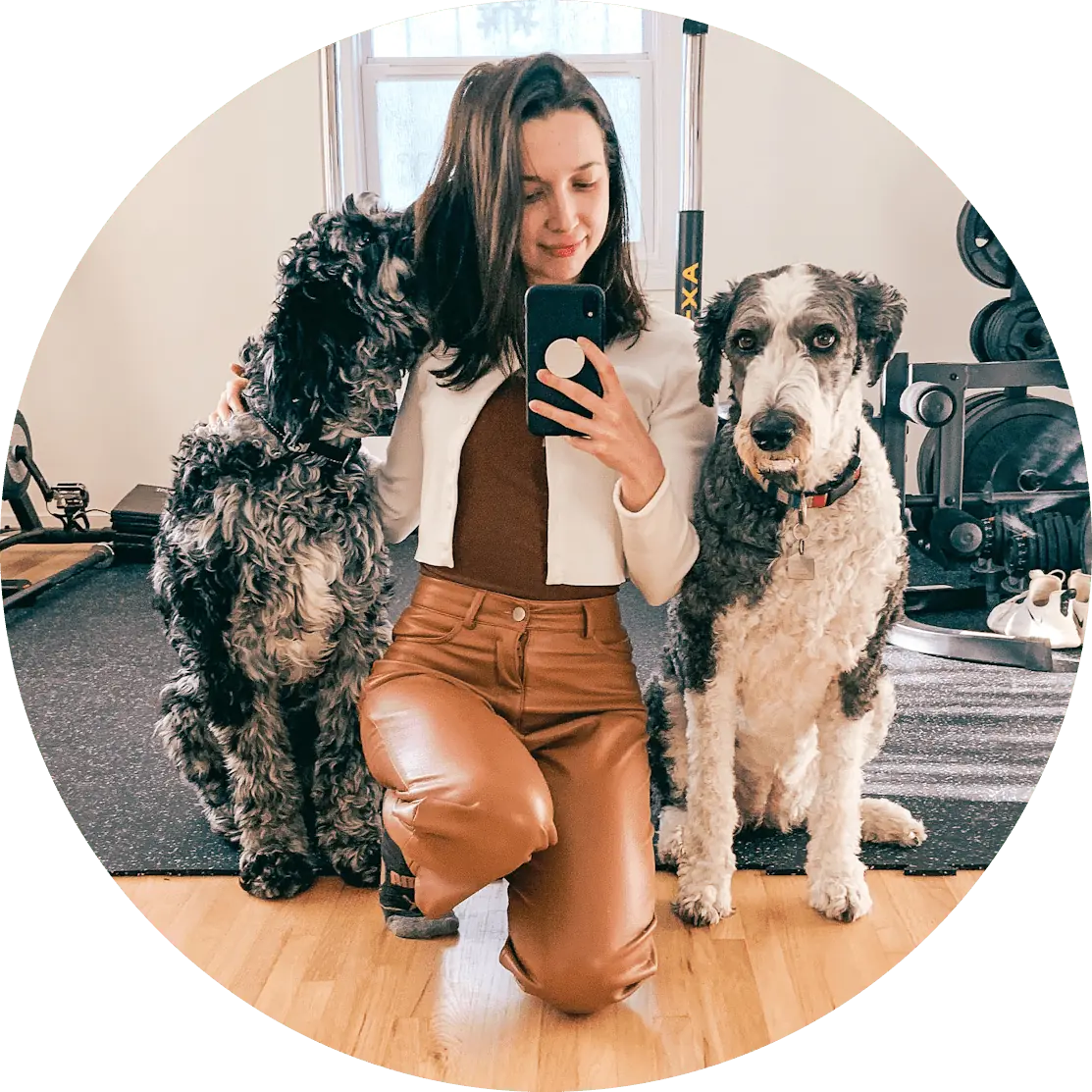 About the Author:
Dana owns a Sheepadoodle and a rescue merle Labradoodle. Her first dog growing up was a white Toy Poodle and she's loved dogs ever since. She has years of experience fostering dogs and has helped find homes for a variety of different breeds, both large and small! After seeing so many dogs end up unwanted and in shelters, she began blogging about different dog breeds (specifically Doodle dogs, since that's what she knows best) to help people make informed choices when adding a new member to their family.
When Dana's not brushing her Doodles' hair (it takes a lot of time for two!) you can find her playing nose work games and fetch with her two amazing pups.
Learn more about her here.