Last Updated on
It's no secret that our readers love their dogs over here at Travelling With a Dog. This gift guide for dog owners was put together from suggestions of products our readers (and ourselves) use and love!
If you're in search of something to get for a dog-lover, you're bound to find something useful on this list.
This article contains affiliate links. If you purchase a product listed in this article, we will make a small commission at no extra cost to you!
1. Dog Brain Training


It's no surprise that the number one gift on this list is Brain Training 4 Dogs. It's an incredible training at a fraction of the cost of what it would cost to hire a private trainer.
This online dog training provided by Adrienne Farricelli (one of the top dog trainers in the United States) helps you uncover your dog's hidden intelligence through different guided trainings and techniques. You'll go through training that will not only make your dog smarter, your bond will strengthen and your dog will gain more confidence.
This training is the perfect gift for someone who needs help training their dog or wants to elevate their dog's intelligence!
2. Roomba
iRobot Roomba i3+ (3550)
CLEANS UP AFTER YOU, AND ITSELF - Forget about vacuuming for months at a time with the CLEAN BASE Automatic Dirt Disposal that allows the i3+ to empty itself for up to 60 days. AllergenLock Bags capture and trap 99% of pollen and mold.
POWERFUL PERFORMANCE & POWERFUL PICK-UP - Pulls in stubborn dirt & messes with a Premium 3-Stage Cleaning System & 10X the Power-Lifting Suction. Control how you clean with the iRobot HOME app or your voice assistant.
SMART NAVIGATION GETS THE JOB DONE - The i3+ navigates & maps your home in neat rows using state-of-the-art floor tracking sensors to vacuum hardwood & carpet.
Honestly, the Roomba is probably the best invention since sliced bread. This Roomba is designed for pet owners to clean up any dog hair, dirt, and debris. It has voice control, works with Alexa, maps your home to get every inch AND it empties itself.
I really can't think of anything better!
3. Furbo Dog Camera
Furbo Dog Camera
FULL HD CAMERA & NIGHT VISION - The Furbo Dog Camera gives you HD video quality day & night. Stunning 1080p live view lets you easily check on your home, livestream video to monitor your pet, speak to family, and toss treats to pets.
2-WAY AUDIO - Know what's going on at home and talk to calm them down via the app.
FUN TREAT TOSSING - Toss a treat to your dog through your Furbo dog treat dispenser camera via the free Furbo iOS/Android app. Fill your Furbo dog camera with your dogs' favorite treats & play a game of catch or use it to help alleviate separation anxiety.
Dog lovers all around the world love the Furbo. This HD pet camera gives you the ability to see and hear your dog, talk to your dog, and give them treats, all from your phone!
4. Luxury Dog Bed Frame
Furhaven Pet Dog Bed Frame
MEASURE TO FIT: It is highly recommended to take measurements of your existing dog bed to ensure a proper fit with the bed frame; for additional sizing information, please see the product details below
MODERN DESIGN: The bed frame's contemporary mid-century modern design complements all home interior styles; featuring clean lines and a wood finish, the bed frame is made to look good in any room of the house
EASY SETUP: The bed frame comes with pre-drilled partitions that make assembly a breeze; no special tools needed
It's no surprise that this item is a best seller. This stylish dog bed frame is a great way to add a bit of luxury to your dog's bed. There are several different beds you can buy to fit within this frame, or you can measure your dog's current bed to see if it will fit.
5. Dog Grooming Gear
We started grooming our dog ourselves a few years ago to save in between grooming visits. For us, it's a great time to bond with our dog and she loves when we groom her.
To stretch your visit between grooming sessions, try your hand at grooming your dog at home. These professional dog grooming clippers will help you keep your dog's hair manageable until your next grooming appointment!
Want something fancier? Grab this grooming table to assist you. Finally, finish off with this pet drier.
Here are some other grooming items you might find helpful:
6. Backpack
Outward Hound Backpack
HIGH-QUALITY HIKING GEAR: The Outward Hound DayPak is one of our bestselling and most popular dog backpacks. Lightweight and convenient, this pack can comfortably fit extra essentials you may need while exploring the great outdoors.
FOUR EXPANDABLE STORAGE COMPARTMENTS: This saddleback dog backpack is designed with two storage compartments on each side for even weight distribution and plenty of room for food, water, training accessories and more.
BREATHABLE MESH & ADJUSTABLE STRAPS: The DayPak doggy backpack is thoughtfully constructed to keep your pet comfortable with breathable mesh fabric, adjustable straps, and bright colors for high visibility so you can stay worry-free day or night.
If you like to travel lots, go on hikes or long walks, a backpack can be a great way to give your dog a job and sense of purpose. You can fill their backup up with the water, food, dog dishes, and/or poop bag.
7. Dog Brain Games
Sale
Interactive Puzzle Game
MENTALLY-STIMULATING DOG PUZZLE GAME: The MultiPuzzle by Nina Ottosson is our most challenging dog puzzle yet! This level 4 puzzle requires your dog to complete a series of steps in the correct order to keep discovering more hidden treats! Dog treat puzzles are a great way to reduce boredom and provide mental enrichment for your pup. The MultiPuzzle is perfect for ultra smart dogs that have already mastered levels 1-3.
SPIN, SLIDE, HIDE, & SEEK: Place your dog's favorite treats or kibble under the sliders in the outer tray and in the center treat compartments. Slide the center covers and outer tiles over the compartments to hide the treats. For an extra challenge, put the ridged orange locks in place to secure the green square tiles. Encourage your dog to seek the treats and let the games begin!
4 CHALLENGES, 1 PUZZLE: The level of difficulty of the MultiPuzzle can be adjusted as your dog learns! Between the moveable green tiles, spinning wheel, orange locks, and center sliders, your pup will stay busy working for those treat for a good while!
Dog puzzles are a great way to tire your dog out (with supervision) as they work to find their treats and food.
Dog puzzles come in a variety of different levels, so it's a good idea to get two puzzles (one easy and one a bit more challenging) so your dog can work their way up.
You can order this puzzle in a variety of different levels, whereas this one is the most challenging puzzle I came across.
8. Matching Dog Collars, Leash and Harness
I absolutely love the collars and leashes from iDoggos. They come in a variety of different colors and patterns (my favorite is the marble with gold clasp) and you can usually order matching leashes and harnesses with the collar!
9. Gourmet Dog Treats
Both you and your pup can enjoy holiday cookies this season! These dog treats for Woofables Bakery would make the perfect stocking stuffer for your pooch. You can also buy gift baskets that come with an assortment of beautiful dog treats.
10. Bark Box Subscription
Subscription boxes are one of my favorite gifts because they are the gift that keeps on giving. Bark Box is a pet subscription box and each month, you'll get an assortment of treats, products and experiences for your dog!
---
Amazon Associates Program
This article may include affiliate links. www.travellingwithadog.com is a participant of Amazon.com Services LLC Associates Program. As an Amazon Associate, I earn a commission from qualifying purchase. www.travellingwithadog.com participates in other affiliate programs, and recieves commissions when purchases are made through the links. The cost is not inflated to account for the commission earned.
---
Veterinary Disclaimer: travellingwithadog.com is not a substitute for veterinary advice and does not intend to provide any type of veterinary advice for your animals. Please consult your vet for any questions you have regarding your pets health.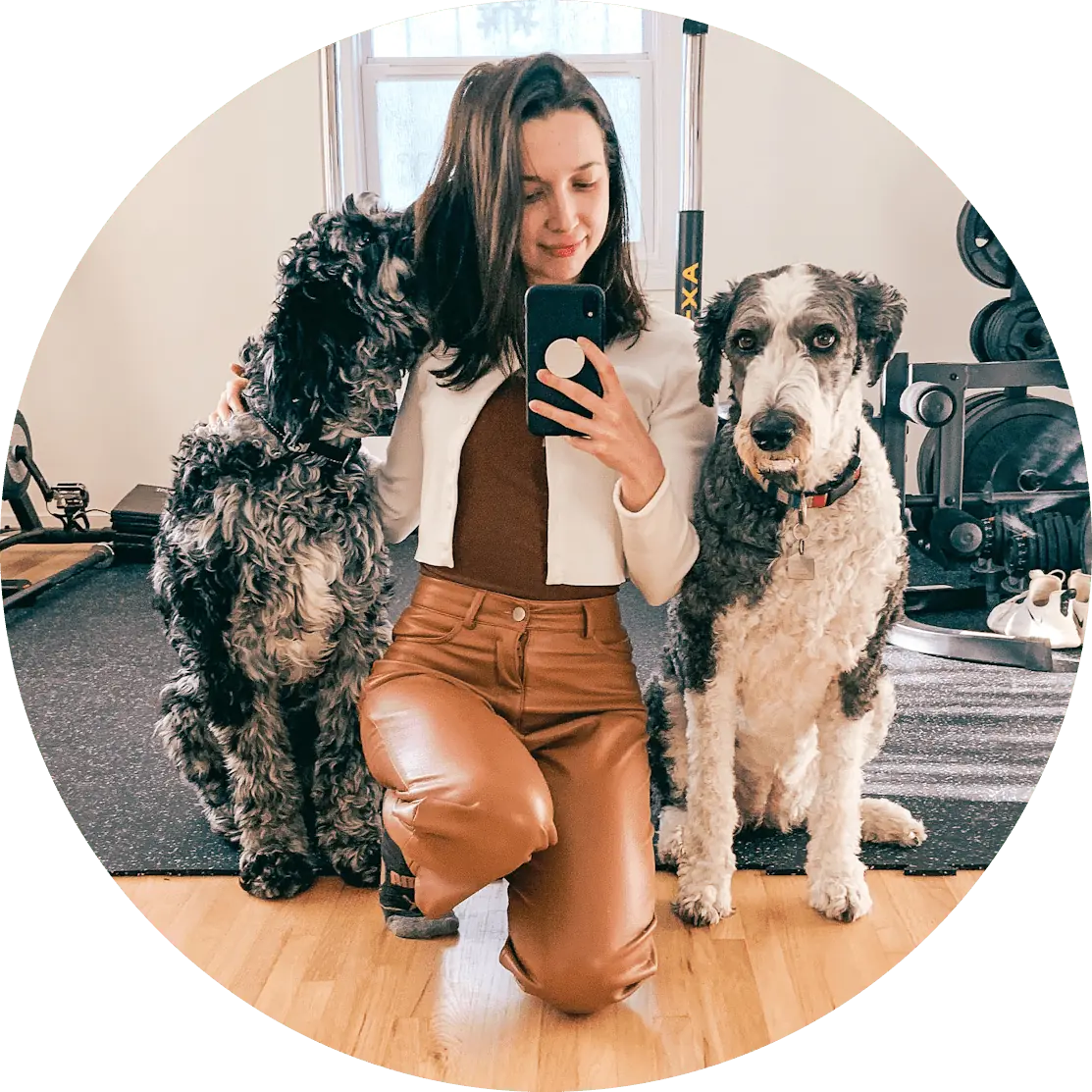 About the Author:
Dana owns a Sheepadoodle and a rescue merle Labradoodle. Her first dog growing up was a white Toy Poodle and she's loved dogs ever since. She has years of experience fostering dogs and has helped find homes for a variety of different breeds, both large and small! After seeing so many dogs end up unwanted and in shelters, she began blogging about different dog breeds (specifically Doodle dogs, since that's what she knows best) to help people make informed choices when adding a new member to their family.
When Dana's not brushing her Doodles' hair (it takes a lot of time for two!) you can find her playing nose work games and fetch with her two amazing pups.
Learn more about her here.