Last Updated on
Are you in search of the perfect toys to captivate your Labradoodle?
As a Labradoodle owner, I've gone through my fair share of toys and have found which are best for this unique breed.
Labradoodles are brilliant and lively dogs that revel in discovering new experiences. By choosing the best toys for your Labradoodle, you're ensuring their days are full of enrichment and excitement!
Today, we're going over the best:
Interactive toys
Chew toys
Puzzle toys
Fetch toys
Tug toys
Feeding toys
Plush toys
I'd recommend getting a few different toys from each section of the list to start!
1. Interactive Toys for Labradoodles
Let's start with interactive toys.
Labradoodles are very intelligent and naturally curious, which makes them eager to learn.
Providing them with interactive toys is an excellent way to keep these delightful pets entertained and mentally sharp.
These pets need activities that keep them interested and mentally stimulated, similar to exercising their brains.
As a bonus, incorporating interactive toys into your Labradoodle's playtime helps channel their energy and doubles up as a motivational tool during training. It benefits you and your pet equally!
Here are some interactive toys that Labradoodles will love:
KONG Wobbler
The KONG Wobbler offers a unique and interactive treat-dispensing experience to keep Labradoodles entertained for hours!
This versatile toy combines a treat dispenser and a toy, so your pup can have hours of fun playing and snacking.
It's sturdy enough for large adult breeds, and the good size makes it suitable for both Labradoodles and Mini Labradoodles. The Wobbler can be filled with tasty liver treats and is more challenging than a toy dispensing ball.
This interactive toy keeps Labradoodles engaged and mentally stimulated and can help with boredom and destructive behavior.
Nina Ottosson Dog Brick
The Nina Ottosson Dog Brick offers mental stimulation and positive play habits for your pup. This treat-hiding puzzle toy is perfect for Labradoodles, as it's designed to keep them mentally stimulated and focused.
It's made with food-safe materials that are BPA, PVC, and phthalate-free, making it safe for your pup and easy to clean. The Dog Brick also encourages positive play habits by reducing anxious and destructive behaviors.
With three types of treat-hiding compartments, your pup must work to get the treats. But if it's too difficult, you can make it easier by removing the flaps to expose the sliding pieces.
Trixie Flip Board
This Trixie Flip Board is perfect for Labradoodles who love a mental challenge. They'll have to flip lids, slide disks, and lift cones to get their reward!
This well-made and durable toy provides a mental exercise that will keep your Labradoodle's mind engaged and help them build problem-solving skills.
It's important to remember that some dogs may need patience and encouragement to get used to the game. High-value treats can help motivate them.
Chew Toys for Labradoodles
Labradoodles are typically strong chewers, and need durable toys that can handle rigorous chewing.
When looking for a chew toy for your Labradoodle, it's important to find the right size and shape for your pet among the available variety. Smaller Labradoodles usually need smaller chew toys, while larger dogs enjoy playing with bigger toys.
Even more, chew tones can help keep your Labradoodle's teeth clean, which is important for Poodle-mix dogs since they tend to be prone to plaque and other dental issues.
Just make sure to replace your pet's chew toys when worn out to avoid potential risks.
Here are some of my favorites:
Nylabone Dura
If you're looking for a chew toy that's made for hard-core chewers and provides dental stimulation, then the Nylabone Dura Chew Textured Ring is the perfect choice!
These bones are long-lasting (one bone last a couple of months in our house) and tough enough to stand up to your Labradoodle's enthusiastic chewing.
Benebone Wishbone
The Benebone Wishbone is tough, durable, and made in the USA with real peanuts for a paw-friendly grip!
The Wishbone chew toy is designed specifically for aggressive chewers, and its material is made to be tougher than real bones, so your pup won't be able to break it easily.
As an added bonus, it's curved to make it easier for your pup to grip and chew on.
Fairwin Ultra Durable Chew Toy
Your Labradoodle will love the Fairwin Ultra-Durable Pineapple toy, an interactive treat puzzle designed to keep them entertained and engaged for hours! This toy is sturdy, making it a great choice for even the most aggressive chewers.
Not only is the Fairwin Ultra-Durable Pineapple toy tough and durable, but it also provides a fun challenge for your pup.
It's sure to keep them entertained and engaged for long periods of time! It's also great for mental stimulation, as they'll have to work to figure out how to get to the treats inside.
Puzzle Toys for Labradoodles
Investing in high-quality puzzle toys for your active Labradoodle is worth considering. These toys are not just for playing; they also improve your pet's problem-solving abilities and mental agility. This brings them a happy and healthy life.
Rewarding your Labradoodle with treats while teaching them to follow directions and think strategically can be a delightful experience.
LumoLeaf IQ Dog Treat Ball Toy
If you're looking for a fun and challenging way to mentally and physically stimulate your pup, the LumoLeaf IQ Dog Treat Ball Toy is a great option!
We've had this toy for several years and has been used by multiple dogs and they all love it.
It can be filled with treats or kibble, and the difficulty level can be adjusted by using the sliding door.
Not only will this help slow down your Labradoodle's eating pace, it will also help prevent digestive issues like vomiting and bloat.
The toy is made of non-toxic thermoplastic rubber, making it safe and durable for your Labradoodle.
It can provide up to 30 minutes of distraction, and because of its shape, it can easily be picked up and thrown.
The only downside is that it can be a bit tricky to fill, but I use a funnel which helps. The rubber exterior also tends to collect dog hair but it's easy to clean, so that's not really a downside in my opinion.
Knitly Dog Puzzles
Knitly Dog Puzzles are the perfect choice to keep your pup busy and engaged.
This level-2 puzzle has 16 holes and is made of high-quality food-grade PP material, making it safe and durable enough to last for many years of use.
It has a built-in squeaker under the middle button that will increase interactivity and engagement, and the puzzle can be used as a slow feeder to promote healthy digestion.
The Knitly Dog Puzzle is designed to reduce pet boredom and encourage a Labradoodle's natural hunting instincts and can help prevent destructive behaviors.
Plus, it's a great way to reward dogs with healthy snacks while giving them a fun mental challenge.
Nina Ottosson Hide N' Slide
This toy is great for keeping your Labradoodle's brain sharp, as it requires sequential steps to release the final reward.
It helps reduce boredom and destructive behavior, and it has a non-slip base. Plus, it's easy to clean with just warm water and soap.
Fetch Toys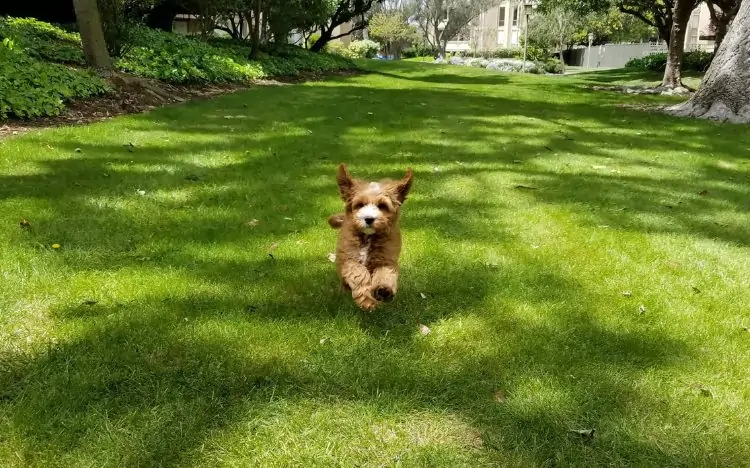 Fetch toys play into a Labradoodle's natural retrieving ability—so make sure you stock up on balls and frisbees for your Labradoodle.
Choose a toy that is easy to spot in grass or water to prevent losing it while your dog plays energetically.
ChuckIt! Ultra Balls
These ChuckIt! Ultra Balls are a great choice as they're ultra-bouncy, lightweight and durable. Made from tough and durable rubber, the textured surface and thick rubber core make these balls great for Labradoodles who are tough chewers.
They're also compatible with the ChuckIt! ball launcher, so you can get your pup running and playing in no time.
Plus, they're surprisingly light and fly out of the launcher, making them a great choice for long-distance fetching. The bright colors make them easy to spot and follow, so you won't lose track of them during a game of fetch.
ChuckIt! Thrower
This one's for you—not your dog. My Labradoodle will play fetch until my arm falls off, so to make things easier on my shoulder, I got a ChuckIt! thrower. This way, my arms don't get tired and me and my Labradoodle can play fetch for longer.
As a bonus, I can throw the ball much further with the thrower than I could without it, allowing my Labradoodle to run farther!
West Paw Zogoflex Zisc
The Zogoflex Zisc has plenty of features that make it great for Labradoodles. The lightweight construction makes it easy to carry and throw, while the durable construction ensures it can take a beating from even the most aggressive chewers.
And since Labradoodles tend to love swimming, it floats, so there's no worry of it getting lost in a lake or pond.
Plus, the Zisc doubles as a pet bowl in a pinch, making it the perfect toy for trips to the park or beach. Your labradoodle will love chasing after this frisbee, and it's soft enough not to hurt their teeth when they catch it.
Tug Toys for Labradoodles
Since Labradoodles tend to be very strong, you'll need to make sure you get a durable tug toy that can withstand the strength of a Labradoodle.
West Paw Zogoflex Tug Toy
If your Labradoodle loves to play and tug, this West Paw Zogoflex Tug Toy is an excellent choice.
It boasts a durable and non-toxic rubber construction that can last for years with proper use. Perfect for aggressive chewers, this toy is safe for your pup to play with and provides hours of excitement for both of you.
Dogs love the texture and material of this toy, and it comes in various shapes and sizes so you can find the perfect fit for your Labradoodle.
ChuckIt! Ultra Tug
If the West Paw Zogoflex Tug Toy isn't quite what you're looking for, then you might want to check out the Chuckit! Ultra Tug.
This is a highly motivating toy for Labradoodles that's perfect for use as a reward during training and walks. It's made of natural rubber and is highly durable and long lasting, making it ideal for dogs with high prey drive.
This toy is specifically designed to fit medium ball launchers and can be used for a variety of activities, such as fetching and tugging.
Feeding Toys for Labradoodles
Thanks to their Labrador parent, Labradoodles are known for being ravenous eaters.
My Labradoodle scarfs down his food, so to slow him down, we use feeding toys that prevent him from eating too quickly and make him work for his meal.
Outward Hound Fun Feeder Slo Bowl
Make mealtime more enjoyable and healthy for your Labradoodle with the Outward Hound Fun Feeder Slo Bowl, a slow feeder bowl that helps reduce overeating and comes in multiple sizes and designs.
This bowl is designed with meal-lengthening ridges to slow down eating up to 10X, promoting proper digestion and preventing obesity. The non-slip base keeps food in place, while its food-safe materials make it suitable for dry, wet, or raw food diets.
Ulmpp Lick Mats
The Ulmpp Lick Mat is a great way to reduce anxiety and boredom. It has plenty of powerful suction cups to secure the mat and is made of high-quality silicone.
It can be used as an alternative to a dog bowl, encouraging endorphin release through licking.
This helps to reduce stress during vet visits and thunderstorms. Slowing down eating also improves digestibility, and the raised edges prevent food from spreading.
I put things like mashed up sardines and peanut butter on my lip mats. Sounds gross—but the dogs love it!
Plush Toys for Labradoodles
Squeaky plush toys are a great addition to add to your Labradoodle's toy box.
Just try to avoid buying toys with actual stuffing—I prefer stuffing-free toys. This way, if my Labradoodle accidentally tears a hole in the toy, he won't eat the stuffing from inside.
SHARLOVY Dog Plush Toys
These Sharlovy plush squeaky toys are stuffing-free and come in a pack of five making them a great deal.
Although they're durable, I don't recommend letting your dog knaw on these. While they don't have stuffing, they aren't meant for chewing.
Which Toy Will You Get Your Labradoodle?
Labradoodles are brilliant and active dogs, so investing in top-notch toys is important.
I love having a mix of different toys on hand to keep my Labradoodle entertained and enriched all day long.
Which toys does your Labradoodle like playing with? Drop a comment below!