Welcome to the amazing world of hiking with your little furry friends!
Hiking with your dog is a great way to enjoy the outdoors together. Here are some tips to make it even better.
I can help you plan a safe and successful outing with your pet. Just let me know what information you need.
Proper preparation is key to ensuring that your hike is an unforgettable and truly enjoyable experience.
What's better than making great memories with your pet outdoors, providing them with exercise, and enjoying the breathtaking views?
Let's start our hiking journey together by reviewing some important tips for preparing for a fun day trip with small dogs.
Choosing The Right Gear
Hiking with small dogs can be an incredibly rewarding bonding experience for both the owner and their furry companion. To have a great time outside, make sure you have the right equipment and prepare well.
When choosing gear for a hike with a small dog, keep these factors in mind:
Choose lightweight, yet durable gear that can endure several outdoor adventures. This will make the hike easier for you and your pet.
Choose adjustable gear such as backpacks or leashes that can fit pets of different sizes and adjust to different weather conditions throughout the year. This versatility allows for a more comfortable and secure hiking experience.
Choose durable materials that can withstand rough terrain to keep your gear in good condition and working properly during your journey. By doing so, you can steer clear of the hassle of having to replace any gear while out on the trail.
It's a good idea to take training classes with your dog before going for a hike to ensure safety for both of you. This will give you the skills and confidence you need to enjoy your adventure while staying safe. You both will learn outdoor skills to stay safe and confident.
Selecting The Perfect Trail
When it comes to picking the perfect trail for you and your small pup, there are a few things to consider.
To choose the right trail for you and your small pup, keep these things in mind:
Make sure the hiking trail is suitable for your dog's age, experience, size, and endurance level before you take your furry friend on a hike. Adjust the trails according to their abilities; some may be too difficult or lengthy for them.
Be aware of any obstacles or hazards on your path, like steep hills or slippery ground. Smaller dogs with delicate paws are particularly susceptible to the dangers posed by these items.
Make sure to check beforehand if dogs are allowed on the trail. Be aware that some hiking trails have specific regulations that forbid the entry of dogs or other four-legged furry companions.
When selecting a hiking trail, choose wider paths that can accommodate multiple hikers walking side by side, ensuring everyone can maintain a safe distance.
By taking into account each of these points when planning a hiking trip with your small pooch, you can create memories together in safety and comfort!
Note: We have expert guides on dog-friendly hikes in Cincinnati, hiking at Cloudland Canyon State Park, and hiking on Poo Poo Trail with your dog. Check them out if you're in the area!
Preparing Your Dog
Be sure to prepare your furry friend before hitting the trail by ensuring they are vaccinated and recently groomed. This will allow them to enjoy their time on the trail without any unwanted visitors.
For those who are new to hiking with a dog, it's best to take it slow and allow them to adjust to walking on various types of ground. Over time, hikes can be lengthened as necessary.
Don't forget to bring enough water and snacks, such as freeze-dried treats, for you and your dog. Staying hydrated and well-fed is important for a successful hike!
Make sure to pack plenty of water and snacks (like freeze-dried treats) for both you and your pup. Staying hydrated and fed are key components of any successful hike!
Make sure you have a backup plan in case something happens while hiking. Know where the closest animal hospitals or other emergency resources are located.
By considering these safety measures and selecting the right trail, you and your small dog can embark on a memorable hiking experience that strengthens your bond and deepens your appreciation for the great outdoors.
Ensuring Safety
Small dogs should always be kept safe while hiking. Before and during your hike, it's important to take basic precautions to minimize the risk of injury or mishap.
Ensure each puppy has a good harness that fits properly. Put tags on the harness with your contact details in case the puppies get lost. Always have your puppies on a leash when taking them outside. To make the most out of your adventure, I highly suggest packing extra resources such as water, snacks, first aid essentials, and tick-repellant products.
Be careful of dangers to your dog like wild animals or things that could hurt them. It's crucial to monitor their actions carefully and regularly examine them for indications of dehydration or heat exhaustion. You should give your pet some booties, so they can walk on rough terrain and avoid getting hurt by sharp objects.
When choosing a hiking trail, opt for wider paths that can accommodate multiple hikers walking side by side. Doing so will ensure that all hikers can maintain a safe distance from each other.
Packing The Necessary Supplies
To keep small dogs safe on hikes, they must be properly prepared. Make sure to pack all the essential items before hitting the trail.
Besides food and water, there are useful items to bring when hiking with your dog.
It's essential to have a first aid kit for hikers, whether they have two legs or four. Accidents can happen unexpectedly in the great outdoors, so it's always better to be prepared.
Durable leashes and harnesses help keep small dogs safe.
Also, giving them protective items such as boots or coats can give extra safety based on the place they are exploring. 
Maintaining Hydration
Hiking with small dogs can be an incredibly enjoyable activity, but it's essential to ensure that both you and your furry friend stay hydrated. Keep the following tips in mind to promote optimal hydration:
Carry extra water: Regardless of the hike's duration, it's crucial to pack more than enough water for both you and your dog.
Stay cool: In high temperatures or humidity, seek shaded spots along the route for breaks from the heat. Use a collapsible bowl for easy access to fresh water during these stops.
Plan ahead: Research before embarking on any hike; identify sources of clean drinking water along the path and plan accordingly. This minimizes strain on both you and your pet, helping to prevent dehydration throughout the journey.
Making The Most Of Your Hike
Before embarking on a hiking adventure with your four-legged companion, familiarize yourself with the destination, trail difficulty, and estimated duration of the hike.
This knowledge will allow you to prepare both mentally and physically for the journey ahead.
Properly packing essential items is paramount to guarantee a pleasant and stress-free adventure for both you and your furry companion.
Don't forget to bring a collapsible water bowl, healthy snacks, a first aid kit for your pet, and biodegradable poop bags when hiking. You may also want to bring extra gear just to be sure.
It's important to keep your pet on a leash while outdoors to keep them safe and protect the local wildlife. By taking this measure, you can protect your pet from getting lost or injured.
By doing so, you are demonstrating your respect for the natural environment and safeguarding the habitat of the indigenous flora and fauna. This method allows your pet to move around freely without causing harm to the environment.
Building Your Dog's Stamina for Hiking and Camping: Gradual Conditioning and Essential Commands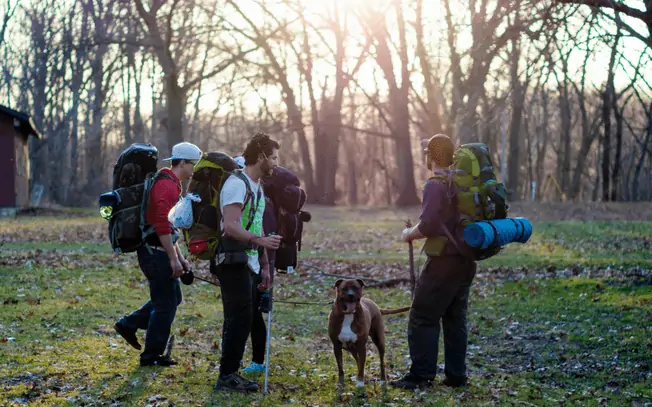 Get your dog used to longer walks and different types of surfaces by taking them on walks regularly. This will boost their confidence and resilience over time. This training will help your pet get used to hiking and camping.
It's crucial to keep in mind that having a rewarding and successful outdoor experience while camping with dogs requires careful planning and preparation.
To have a great camping trip with your dog, start by selecting a dog-friendly campsite, checking their leash rules, and assessing the chances of running into wild animals. Ensuring a delightful and secure camping experience for all is crucial.
Make sure your dog's personality and physical abilities match the type of camping trip you have planned before bringing them along.
To keep you and your dog safe and have a good time outdoors, teach them essential commands such as "leave it" and recall, and keep them in good physical shape. Training your dog properly can improve communication and cooperation between you and your furry friend.
Remember to bring everything your dog needs, such as food, water, dishes, a backpack, and a personalized first aid kit.
Having a laminated card with your dog's information and contact details can be extremely helpful in case of an emergency.
To ensure your furry friend's health and happiness, it's important to routinely check them for any signs of ticks or injuries following their outdoor adventures. Don't overlook this simple step in caring for your beloved pup.
Understanding Your Dog's Body Language
Understand your dog's body language to identify signs of being tired, stressed, or uncomfortable. Knowing when to take breaks or turn back will help you make better decisions and ensure a positive experience for both of you.
Trail Etiquette and Responsible Dog Ownership
Make sure to follow trail etiquette: yield to other hikers, keep your dog on a leash, and clean up after your pet. Being a responsible dog owner will help create a positive environment for everyone on the trail.
Adapting to Weather Conditions and Seasonal Changes
Understand how weather conditions and seasonal changes can impact your hike, and adjust your plans accordingly. For example, avoid hiking during the hottest part of the day or on icy trails that can be dangerous for your small dog.
Conclusion
In short, if you have the right gear, pick a good route, and bring enough supplies, hiking with your dog can be a really enjoyable experience.
I highly recommend that you take a leash and venture out into the splendid outdoors with your furry friend, as this is sure to bring joy and satisfaction to both of you!
Preparing your dog for a hike, keeping them hydrated, and prioritizing their safety can make exploring nature together an enjoyable experience.
It's my hope that this article has inspired you to embark on many more exciting adventures with your beloved pet.
---
Amazon Associates Program
This article may include affiliate links. www.travellingwithadog.com is a participant of Amazon.com Services LLC Associates Program. As an Amazon Associate, I earn a commission from qualifying purchase. www.travellingwithadog.com participates in other affiliate programs, and recieves commissions when purchases are made through the links. The cost is not inflated to account for the commission earned.
---
Veterinary Disclaimer: travellingwithadog.com is not a substitute for veterinary advice and does not intend to provide any type of veterinary advice for your animals. Please consult your vet for any questions you have regarding your pets health.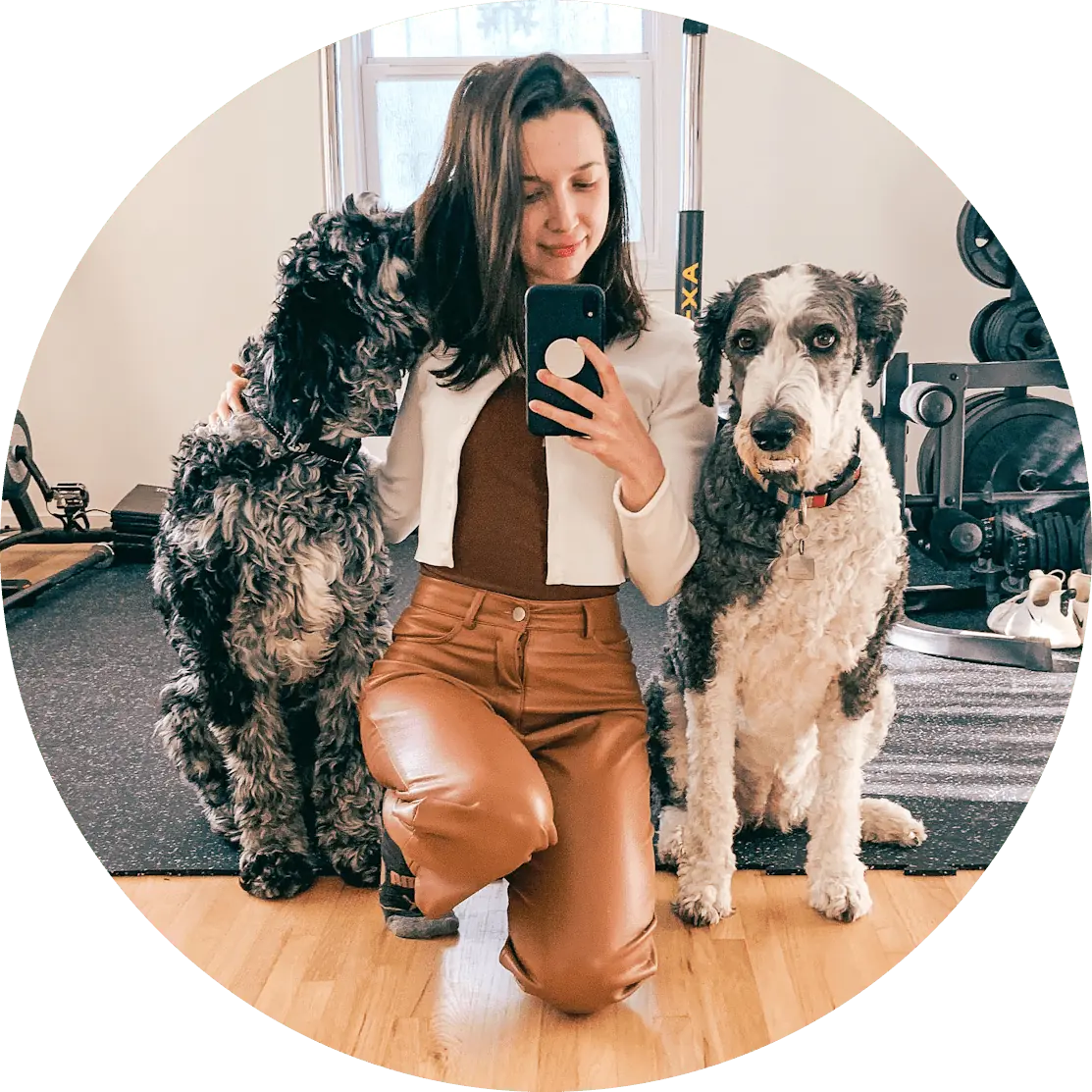 About the Author:
Dana owns a Sheepadoodle and a rescue merle Labradoodle. Her first dog growing up was a white Toy Poodle and she's loved dogs ever since. She has years of experience fostering dogs and has helped find homes for a variety of different breeds, both large and small! After seeing so many dogs end up unwanted and in shelters, she began blogging about different dog breeds (specifically Doodle dogs, since that's what she knows best) to help people make informed choices when adding a new member to their family.
When Dana's not brushing her Doodles' hair (it takes a lot of time for two!) you can find her playing nose work games and fetch with her two amazing pups.
Learn more about her here.