Last Updated on
If you love to spend your summers camping with your dog, or fishing on the lake, you may be wondering how you can bring your dog on the boat with you!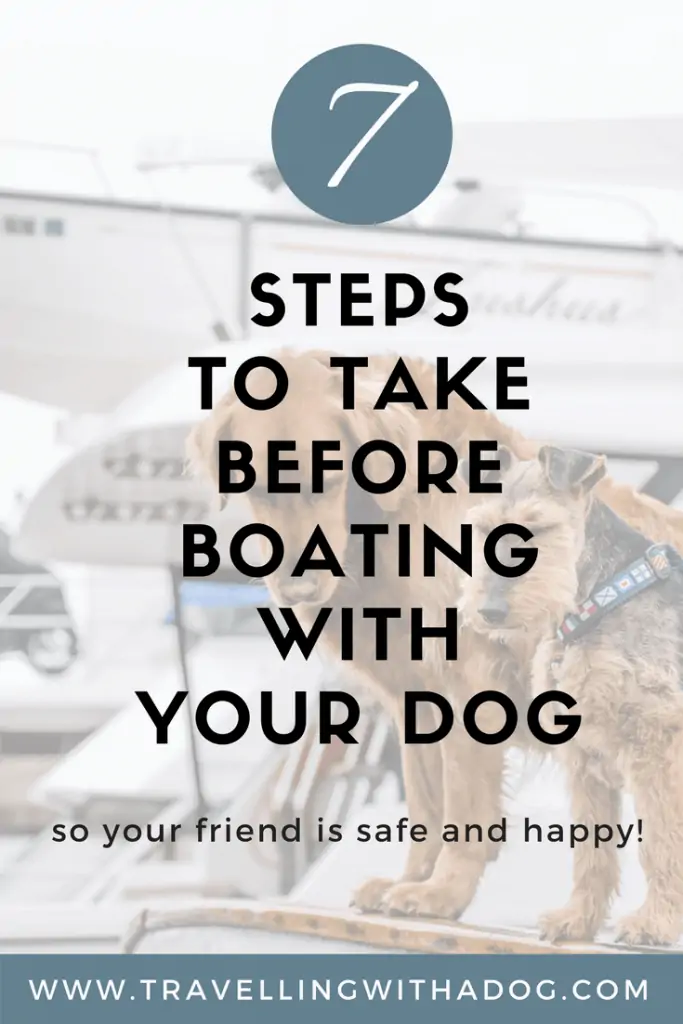 We love to take our dog boating with us. She absolutely loves the water and is thrilled when once of us catches a fish! If you want to take your dog boating, there are a few steps you should follow in order to ensure your pup (and everyone else on board) is safe on the water.
Step 1: Recognize Your Dog's Swimming Ability
If your dog were to somehow fall off board or jump in, are they going to be able to keep afloat while you work to get them back? If you aren't sure of your dog's swimming ability, you might want to consider purchasing them a life jacket specifically made for dogs.
Life jackets can help your dog keep their head above water while you reach to grab them. The one listed above also has a handle that you can grab onto to pull your dog back in the boat (you never want to grab their collars)!
Your dog's life jacket should be a bright color to help you spot them, and should contain reflective strips.
You also may thing you have a strong swimming on hand, but you'll need to assess various things like the weather and currents on the day you plan to go boating. If the water isn't nice and calm and if the visibility is poor, a life jacket will help you and your dog if anything were to happen.
If you choose to get a life jacket for your dog, get them used to it by putting it on leading up to the day you plan to boat. Make sure you give your dog lots of treats and praise while the life jacket is on so they associate it with positive and happy memories!
Step 2: Have A Safety Plan In Place
If your dog were to jump or fall overboard, what would be your next step of action? You should talk this over with everyone on your boat. One person should be in charge of turning the boat off so the motor is stopped. If it is safe to jump in, will someone be jumping in to grab your dog or will you coax them back to the boat with treats?
Have a plan and make sure everyone is aware of what to do in case of such a situation!
Step 3: Put Together A First Aid Kit
Having a first aid kit on-hand for your dog is always a good idea.
Emergency doggy first-aid kit:
gauze
a long pair of socks or protective shoes for paw injuries. (We use booties but a pair of long socks and tape will work as well.)
eyewash
Benedryl (please contact your vet to discuss dosage before administering)
Mylar emergency blanket* (to help your dog maintain body heat in case of an emergency, can work for humans too)
tweezers/pliers
The mylar blanket is an especially good item to have while boating in case the water is frigid. If your dog were to fall in cold water, you will want to make sure you can retain their body heat while you rush them back to shore. Some of these items can also double as fishing supplies and first aid supplies for your family!
Step 4: Let Your Dog Sniff The Boat Before Going Boating
It's a good idea to let your dog get familiar with this new experience before your actual trip boating. The sounds of the motor, the new scenery and a giant foreign object can be overwhelming for a dog. Introduce your dog to the boat and let them walk around it while it's turned off, so they can feel comfortable.
Eventually, they will begin to love the boat and won't want to get off!
Step 5: Double Check Rules And Regulations
There are no laws that say you can't take your dog on a boat with you, but there might be specific rules and regulations for certain areas and bodies of water that you will need to follow. For example, is your dog allowed to hop in and go for a swim (if they are a strong swimming), or is that against the regulation of the lake your are on?
It's always best to know what's allowed and what isn't to avoid any tickets or fines!
Step 6: Keep The Outing To A Suitable Length
When boating with your dog, they might have a hard time spending long periods of time outside (depending on the weather).
If it's very hot, you will need to ensure your dog has lots of water available, food, shade and somewhere to cool off. Alternatively, it's cold, you will want to make sure your dog can keep warm.
Watch out for the following symptoms of heatstroke in dogs:
rapid breathing
panting
shock
vomitting
diarrhea
pale gums
bright red tongue
sticky salivia
weakness
coma
Step 7: Have Fun!
And of course, have fun and enjoy this experience with your dog! They will love that you have thought to bring them along for a new adventure!
*this post contains affiliate links, meaning I make a small commission if you decide to purchase. The prices are not inflated and I only link to reputable products!
Have you ever brought your dog boating and did they like it? Let me know in the comments below!
---
Amazon Associates Program
This article may include affiliate links. www.travellingwithadog.com is a participant of Amazon.com Services LLC Associates Program. As an Amazon Associate, I earn a commission from qualifying purchase. www.travellingwithadog.com participates in other affiliate programs, and recieves commissions when purchases are made through the links. The cost is not inflated to account for the commission earned.
---
Veterinary Disclaimer: travellingwithadog.com is not a substitute for veterinary advice and does not intend to provide any type of veterinary advice for your animals. Please consult your vet for any questions you have regarding your pets health.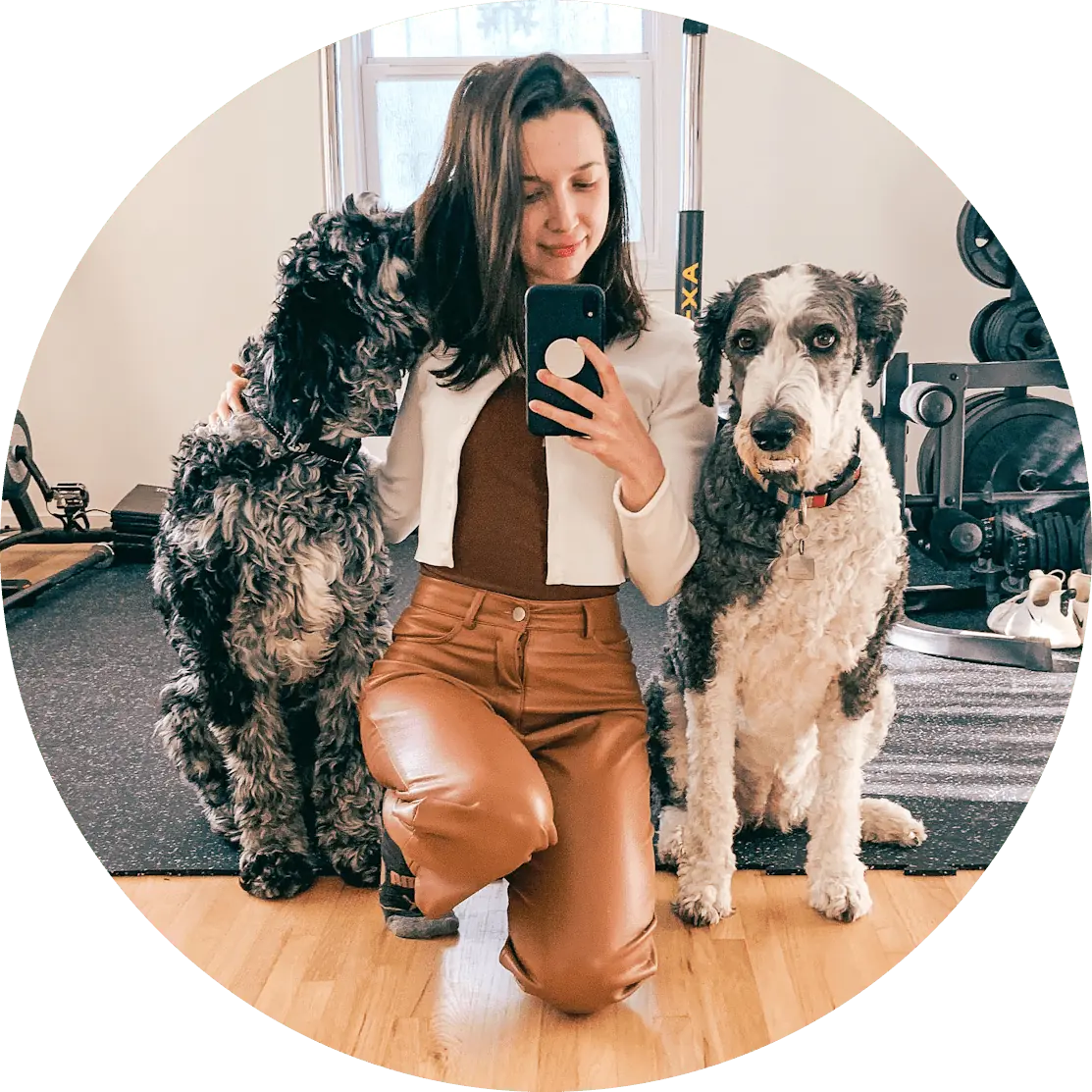 About the Author:
Dana owns a Sheepadoodle and a rescue merle Labradoodle. Her first dog growing up was a white Toy Poodle and she's loved dogs ever since. She has years of experience fostering dogs and has helped find homes for a variety of different breeds, both large and small! After seeing so many dogs end up unwanted and in shelters, she began blogging about different dog breeds (specifically Doodle dogs, since that's what she knows best) to help people make informed choices when adding a new member to their family.
When Dana's not brushing her Doodles' hair (it takes a lot of time for two!) you can find her playing nose work games and fetch with her two amazing pups.
Learn more about her here.