Last Updated on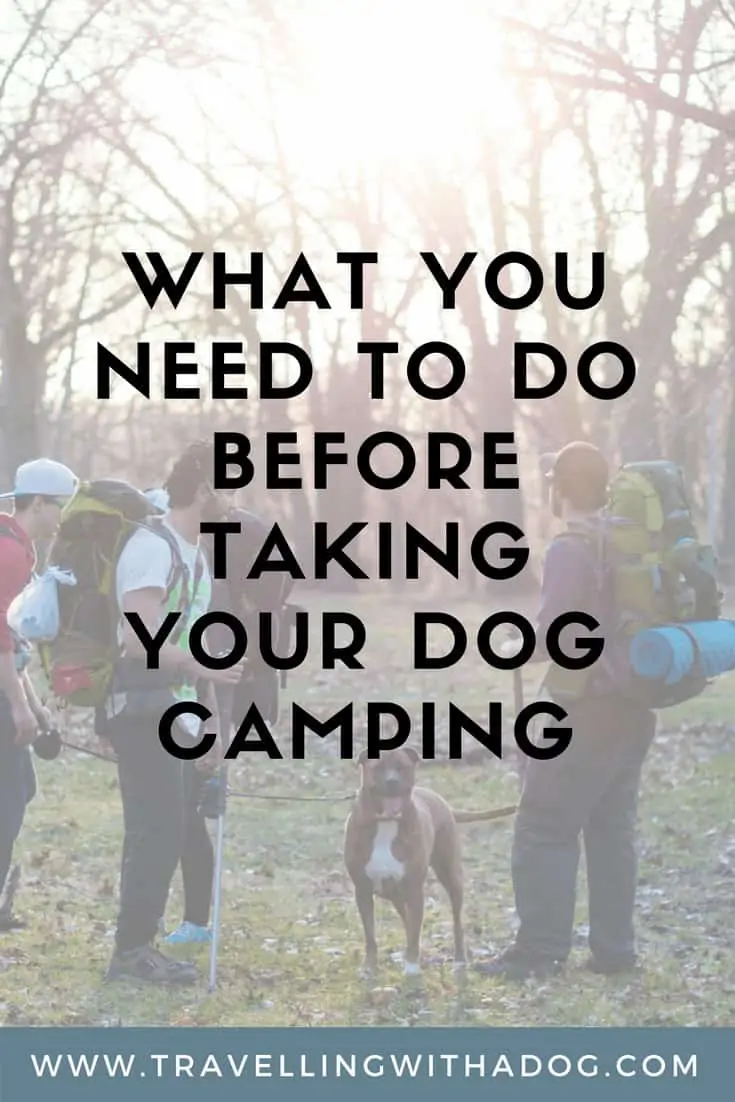 Nothing beats getting to enjoy the great outdoors with your family and your four-legged friend! Whether you plan to camp with your dog in the summer under the stars or embark on an RV trip with your dog, you will always want to make sure you have done enough preparation.
If you're planning to go camping with your dog, follow the tips below!
Pick Your Type Of Camping Trip
Depending on your dog's age, health and physical ability, you will want to plan a camping trip where your pooch feels as happy and comfortable as you do!
Perhaps your dog is young, energetic and loves a good challenge. In this case, a camping trip with lots of dog-friendly hikes would be a great idea!
If your dog is mellow and prefers to hang out, you wouldn't want to take them along a hiking trip.
Research Campsites and Areas
Unfortunately, dogs aren't allowed in every campsite, so you will want to know before booking a site whether you can camp with your dog.
Call before you book anything, and check whether or not dogs are allowed. If they are allowed, see what types of restrictions there are (are there any breed restrictions, off-limit areas, leash rules?). If you plan to hike a lot, plan a few routes which are dog-friendly!
Not all hiking trails are suitable for dogs and not all dogs should be taken off-leash on hiking trails (i.e. dogs with poor recall training).
Depending on what time of year you are going, you will also want to know what other critters and animals will be out in their natural habitat (such as bears, cougars or poisonous snakes).
You view this list of dog-friendly campsites in the United States to help start your research!
Be Aware Of Diseases
If you plan to bring your dog camping, you will want to research the area and determine what types of diseases, illnesses or bugs your dog could encounter (such as ticks and fleas), so you can protect your dog against them.
Ticks can infect your dog with Lyme disease so you should speak with your vet about the preventative measures you can take to prevent ticks.
Doing a thorough tick-check after every time your dog has been out on a walk is also very.
Work On Dog Training
There are certain commands which are handy for dogs especially in the outdoors and while camping.
Your dog should have good recall if you plan to let them off-leash, and you should work on commands such as "leave it" so you can avoid your dog getting into some food/items they shouldn't be.
Your dog should also have good behaviour around others – your fellow campers don't want to hear your dog barking all day (even if it's the cutest bark). They still want to enjoy their time as well!
Emergency Vet Location
Before hitting the open road, know where the closest emergency vet is and how to get there from your campsite. If your dog were to get seriously injured you may only have a short window of time to get them into see the vet.
Get Your Supplies And First Aid Kit
For camping, there are a few things you may want to bring with you so your dog can enjoy their time as much as you!
A dog backpack* for those who want to hike (packed appropriately for their weight)
Food and water (plus dishes)
Emergency First Aid Kit:

gauze
a long pair of socks or protective shoes for paw injuries. (We use booties but a pair of long socks and tape will work as well.)
eyewash
Benedryl (please contact your vet to discuss dosage before administering)
Mylar emergency blanket* (to help your dog maintain body heat in case of an emergency, can work for humans too)
tweezers/pliers (tweezers for ticks and pliers for porcupine needles)
leash/collar/tags
updated copy of vet records and microchip
Many dogs love to carry a backpack around as it gives them a "job"! You can always put some of these items in a well-fitted and properly-weighted backpack!
Have Fun!
Your last step when camping with your dog is to have a great time! Doing the above steps will ensure you are well prepared for any emergency that may arrive during your camping trip!
*Please note this post contains affiliate links. I make a small commission if you choose to purchase an item through the link which helps keep this site up and running. Thank you!
---
Amazon Associates Program
This article may include affiliate links. www.travellingwithadog.com is a participant of Amazon.com Services LLC Associates Program. As an Amazon Associate, I earn a commission from qualifying purchase. www.travellingwithadog.com participates in other affiliate programs, and recieves commissions when purchases are made through the links. The cost is not inflated to account for the commission earned.
---
Veterinary Disclaimer: travellingwithadog.com is not a substitute for veterinary advice and does not intend to provide any type of veterinary advice for your animals. Please consult your vet for any questions you have regarding your pets health.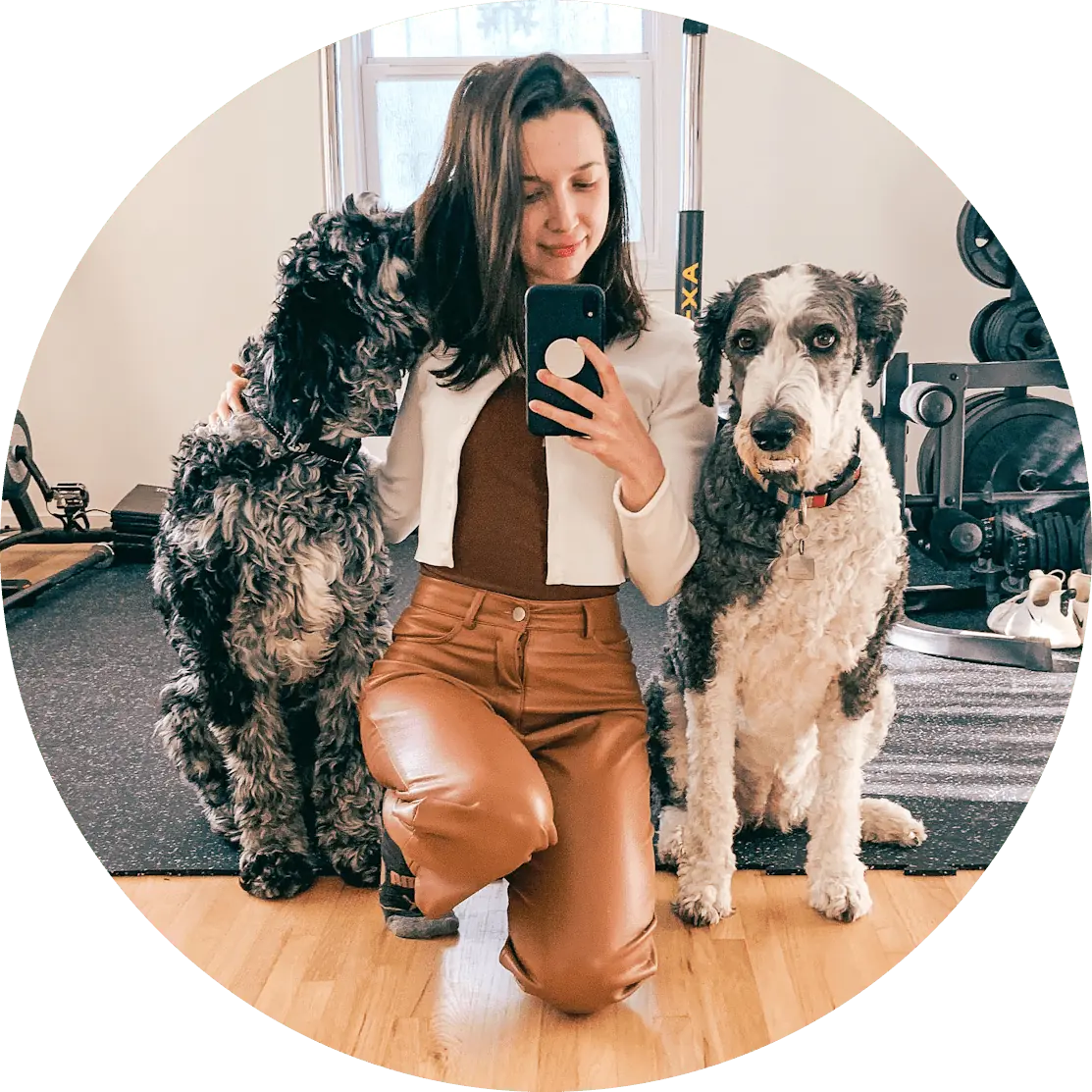 About the Author:
Dana owns a Sheepadoodle and a rescue merle Labradoodle. Her first dog growing up was a white Toy Poodle and she's loved dogs ever since. She has years of experience fostering dogs and has helped find homes for a variety of different breeds, both large and small! After seeing so many dogs end up unwanted and in shelters, she began blogging about different dog breeds (specifically Doodle dogs, since that's what she knows best) to help people make informed choices when adding a new member to their family.
When Dana's not brushing her Doodles' hair (it takes a lot of time for two!) you can find her playing nose work games and fetch with her two amazing pups.
Learn more about her here.