Last Updated on
Halloween is such a fun time of the year for us humans, and if your dog enjoys dressing up, they will also love to be part of the Halloween fun!
Now first let me say, not all dogs love being dressed up. If that's the case, you might want to reconsider getting a dog costume for Halloween and keep the dressing up for yourself.
However, if your dog is easy-breasy, then I have 17 adorable dog costumes that will be a hit this Halloween season!
Lion
Who can resist a cuddly-looking lion? This dog costume might work for dogs who don't like putting clothes on!


Check the price here
Delivery-Man
Does your dog wait every morning for the post to be delivered? Dress them up as their favorite morning guest!


Check the price here
Teddy-Bear
It doesn't get much cuter than this dog costume, does it?!
Business Person
All business, no play..er..possibly lots of play, actually.
Darth Vader
I'm not into Star Wars but doggy-Darth Vader almost makes me want to start watching it!

Bantha
More Starwars themed costumes! You and your dog(s) could play the whole cast.

Star Wars
Last but not least in our Star Wars theme section…I personally think this dog costume suits the dog below! If you've got a white dog (and you're a big Star Wars fan) then this is the costume for you!
Butterfly
The prettiest butterfly I've ever seen! For pooches who might be resistant to their dog costumes, you can do without the headpiece and just keep the wings. They might feel slightly like a harness and might be ok for your dog, but again, if your dog doesn't seem to like it, take it off.
Bee
Shark
This is one shark that your guests won't be terrified to see.
Shark
Here is another variation of the beloved shark costume.

Patriotic
Maybe your dog doesn't want to wear a full-on costume. In that case, jazz up their collar a bit! This dog costume is perfect for those dogs who are too cool to wear a costume.
Superhero (Female)
You and your dog could easily have matching costumes with this one. This is the ultimate couples costume.
Superhero (Male)
You can also match your furry-friend with this costume as well!
Cowboy
Transform your dog into a wild stallion for the day!
Hula Girl
Transport yourself somewhere tropical and warm with this dog costume.
Pirate
Arrrr matey (just make sure your dog doesn't get into the rum).
---
We are in love with all these cute and affordable costumes! There is certainly no shortage in selection! Before dressing your dog for extended periods of time, please make sure they are comfortable in their costume and happy!
---
Amazon Associates Program
This article may include affiliate links. www.travellingwithadog.com is a participant of Amazon.com Services LLC Associates Program. As an Amazon Associate, I earn a commission from qualifying purchase. www.travellingwithadog.com participates in other affiliate programs, and recieves commissions when purchases are made through the links. The cost is not inflated to account for the commission earned.
---
Veterinary Disclaimer: travellingwithadog.com is not a substitute for veterinary advice and does not intend to provide any type of veterinary advice for your animals. Please consult your vet for any questions you have regarding your pets health.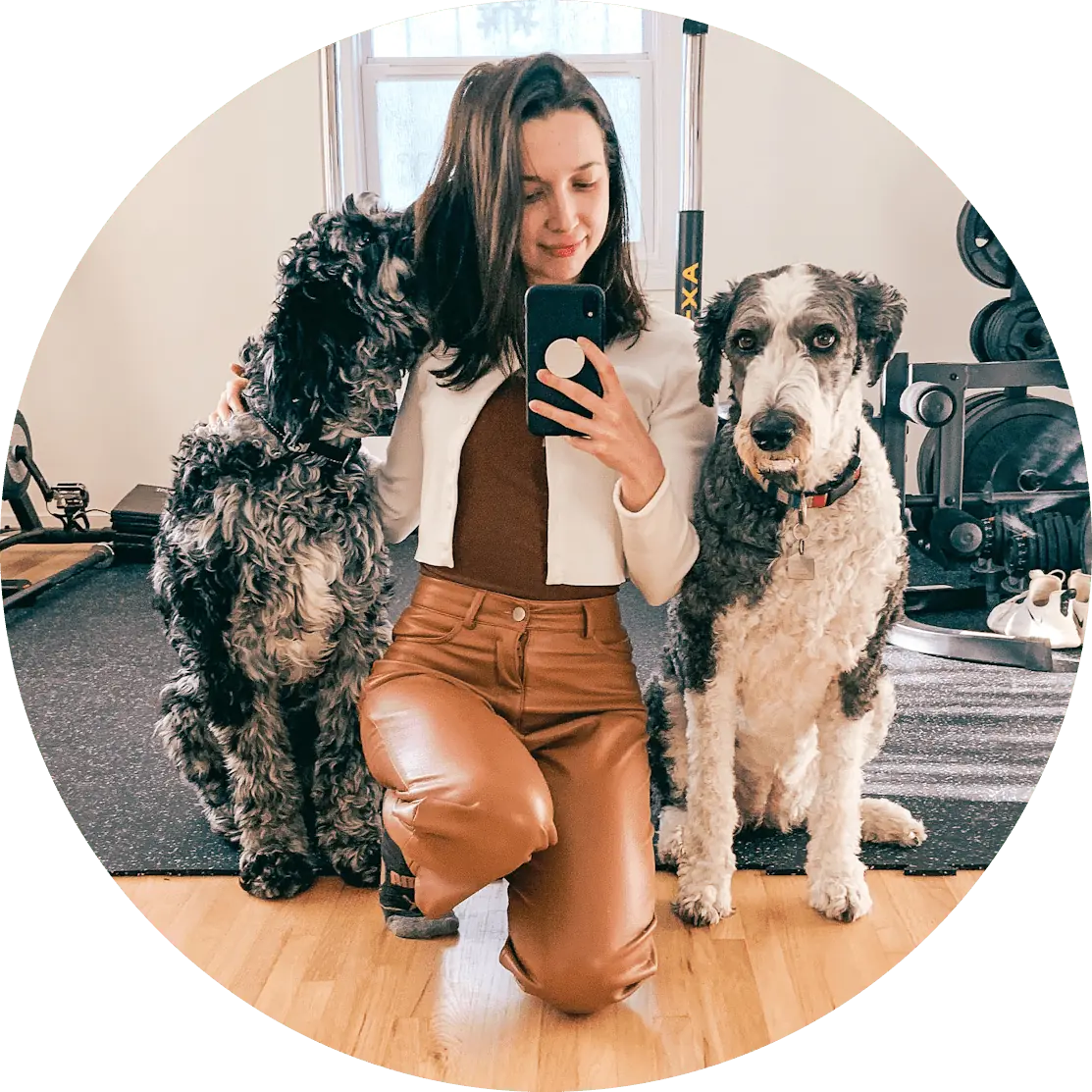 About the Author:
Dana owns a Sheepadoodle and a rescue merle Labradoodle. Her first dog growing up was a white Toy Poodle and she's loved dogs ever since. She has years of experience fostering dogs and has helped find homes for a variety of different breeds, both large and small! After seeing so many dogs end up unwanted and in shelters, she began blogging about different dog breeds (specifically Doodle dogs, since that's what she knows best) to help people make informed choices when adding a new member to their family.
When Dana's not brushing her Doodles' hair (it takes a lot of time for two!) you can find her playing nose work games and fetch with her two amazing pups.
Learn more about her here.