Last Updated on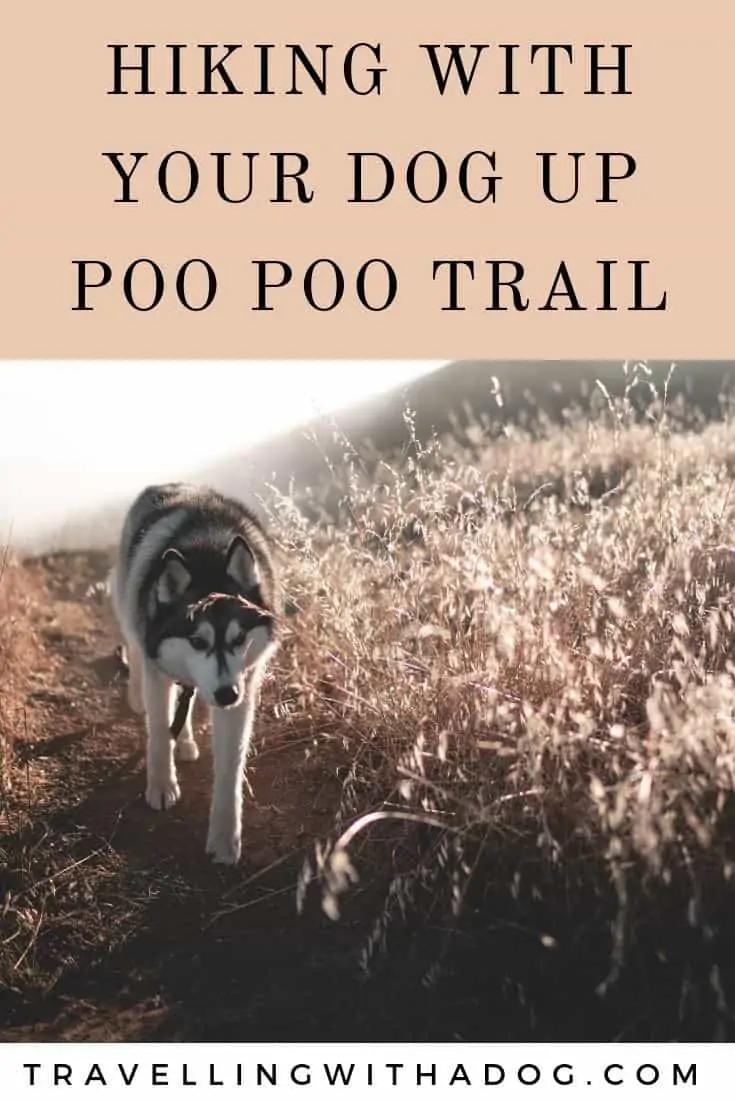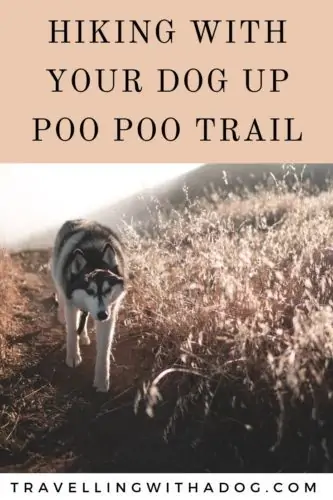 Seattle is known for a lot of things—coffee, Nirvana, and rain… but it's the general dog-friendliness of the place that blows the city out of the water.
Dogs in Seattle are very fortunate beings. Some of them get to follow their owners into their work offices and restaurants. But for an adventure dog, Seattle is absolute heaven.
The abundance of hiking trails which are just a short road trip away from Seattle is an excellent place to find repose with your furry friend.
In this adventure, Yuna and I trekked out to the Poo Poo Trail, a beautiful, ~6.5 mile roundtrip hike in Issaquah, WA which is dog-friendly, as long as you have them on leash. Having only adopted Yuna for a month, and both of us being relative beginners at hiking, I thought I'd start with something more moderate.
Moreover, I was unfamiliar with the upper bounds of Yuna's stamina, and unsure how she'd react in the great wilderness. In the end, both of us had a blast hiking this trail. We're excited to share with you a glimpse of this journey!
The Poo Poo Trail Hike Itself
Poo Poo Trail is rated between easy to moderate—I'd say it was closer to moderate as a beginner hiker. After an initial greeting by the stone guard, who Yuna barked at multiple times before consenting to this photo, we were on our way.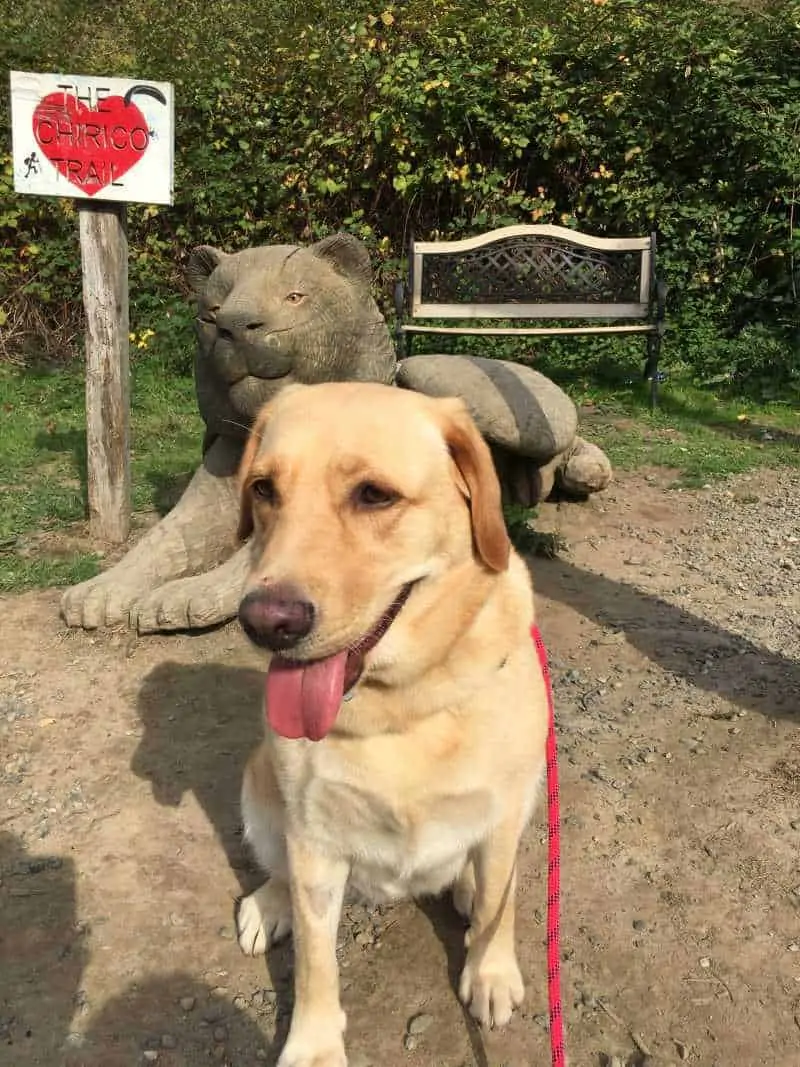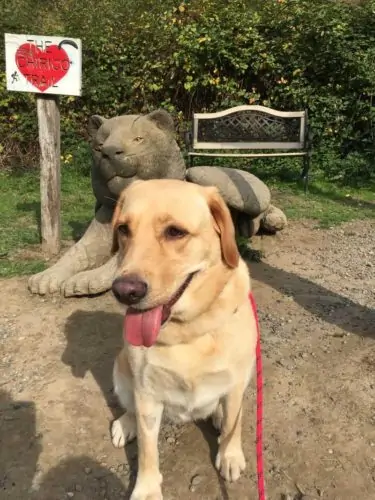 The trail picks up in intensity quickly. Almost immediately after stepping onto the main trail, you are facing a pretty steep incline. Though both you and your dog were probably really energetic to start the hike, it's easy to lose your breath in a bit!
Take a few breaks like Yuna and I did. It's also a good chance to snap some nice pics of your dog!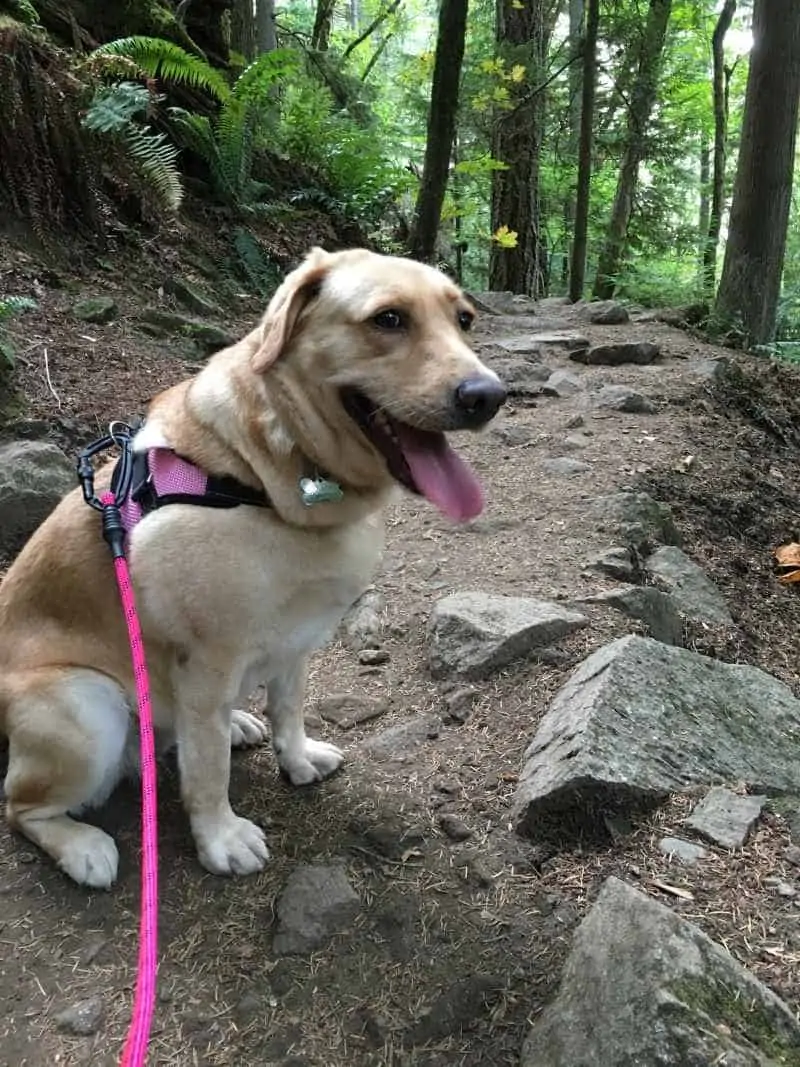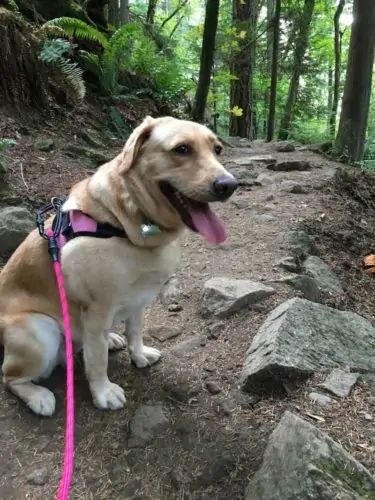 On the way up, I could feel Yuna a little more winded than usual. She didn't want to drink as much water as I thought though, so we just slowed the pace. Her tongue was sticking out further and further, a sure sign she was getting tired, but enjoying every minute of it.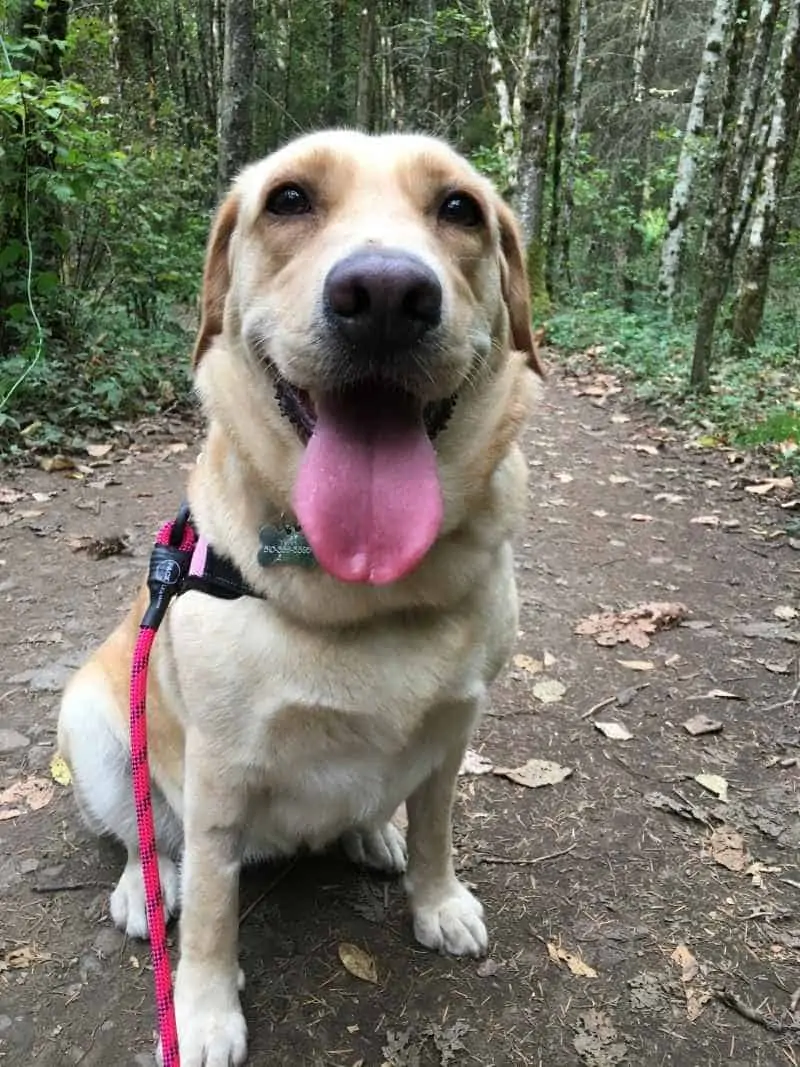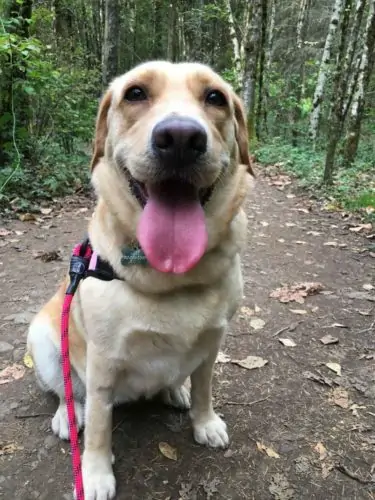 As this is a dog-friendly hike, you'll meet many hikers and their dogs along the way. Be sure to practice proper etiquette and allow others to pass, as the Poo Poo Trail does get narrow at places.
Don't forget to hold your pup back if they get too hyped up at the sight of another dog! From the stone guard to the first "checkpoint," it took about one hour for Yuna and me (with pretty frequent breaks).
It's pretty cold at this point—if you were sweating on the way up here, you'll need a jacket if you're stopping to enjoy the view. We stopped here for a good 30 minutes for photos, and to watch others take off paragliding.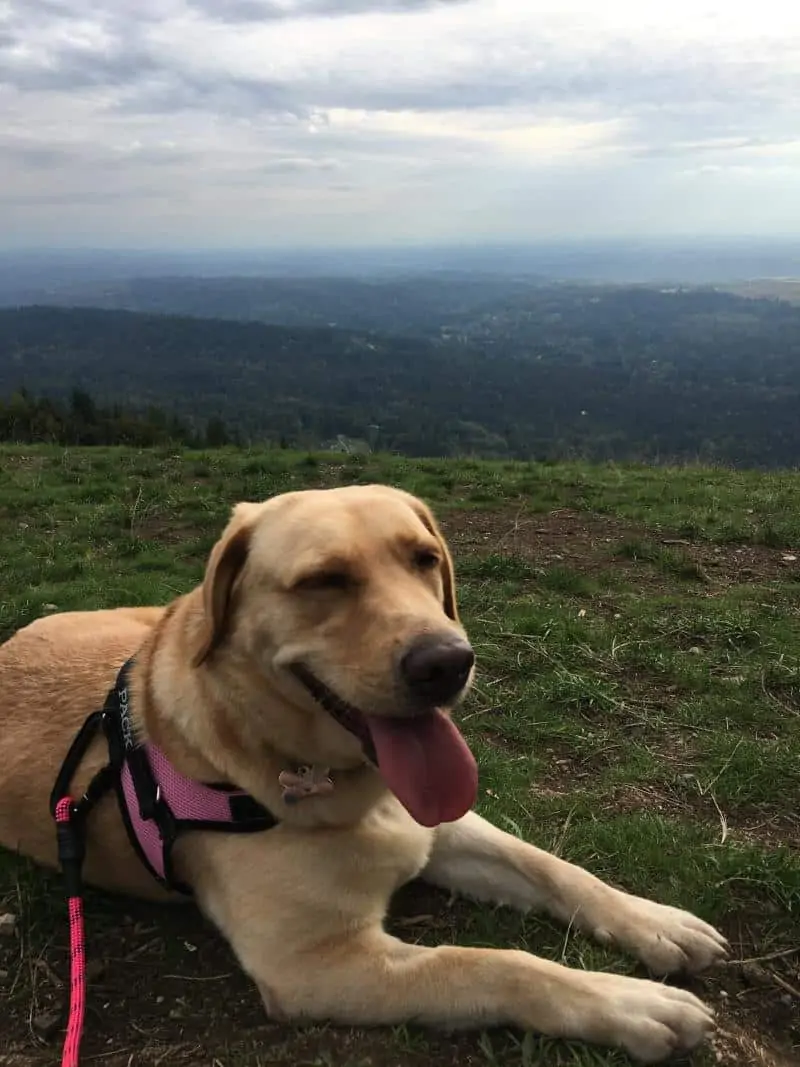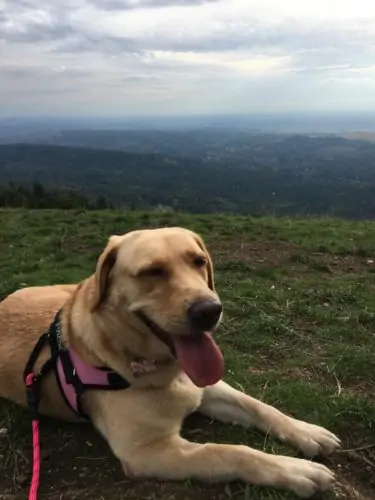 From that point on, you can continue hiking upwards to the true top—Poo Poo Point. It took us about another 40 minutes to reach. Up here is an area designed for picnics while you look over the entirety of Seattle.
Yuna was a little tired so we let her lay down for a while.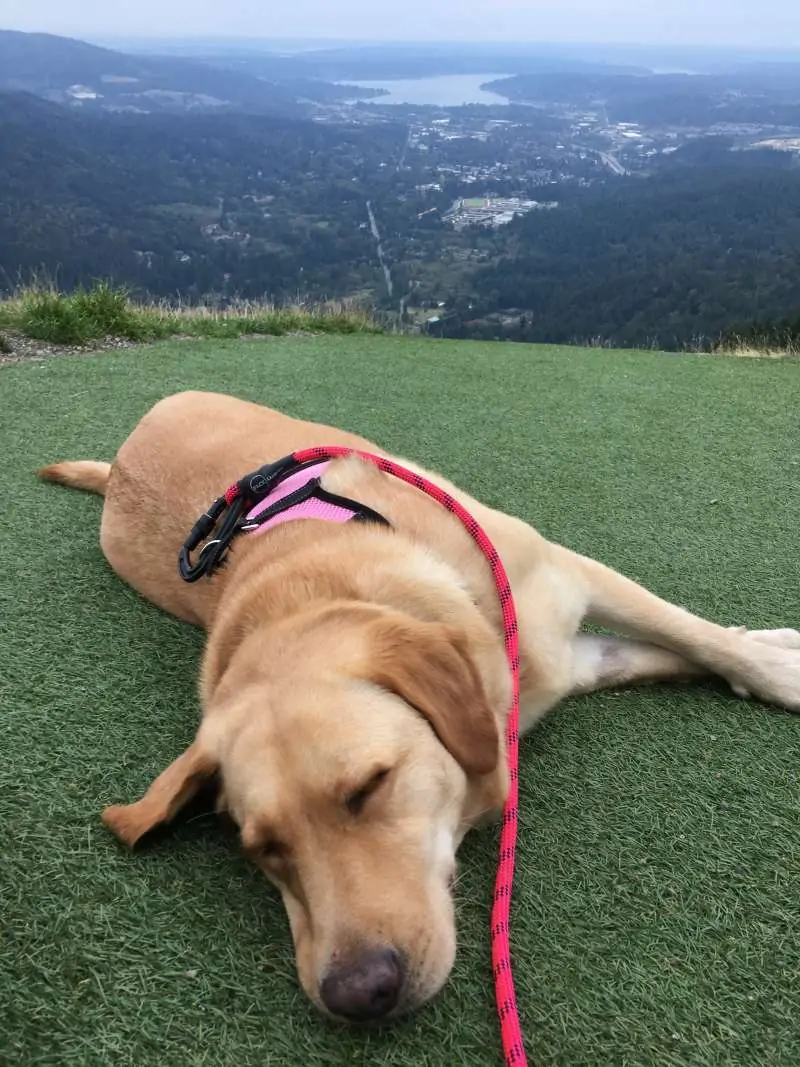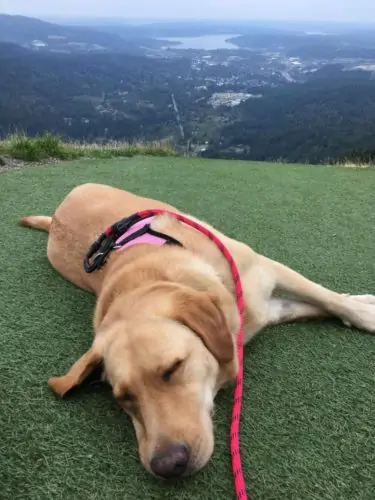 Yuna probably got sick of the photos at one point, but it's her fault for being so photogenic…
Remember that after you hit the top, that's still only half the hike! Don't let the fact that the second half is downhill trick you into thinking it's easy. With a dog, you'll still have some work ahead of you. I slipped twice on the way down because Yuna decided to summon some of her doggy energy out of nowhere and rushed too far out, pulling on the leash. She was probably thinking why her human was so bad at walking.
In any case, we both made it down in one piece without resting, just as the sun was beginning to set.
General Tips For This Hike
Before heading out, be sure you know what weather will be like during your hike. In all likelihood, you'll perspire a lot on the way up, but the moment you stop moving, you'll start to feel the chills at higher altitudes.
I'd recommend a t-shirt and shorts most times of the year, but bring layers! As for any dog-friendly hike, you'll only want to bring your dog if you can keep them under control. You are going to meet a lot of other dogs and humans on your way to the top. If your dog is really bad at walking on a leash and loves to pull, it could be dangerous for everyone, especially on a narrow trail. You may want to invest in teaching your dog proper walking etiquette before embarking on a hike.
We began this hike mid-afternoon, around 3 PM. We ran into some light traffic along the way. If you're looking for a more personal route with your pup, you'll want to head out in the morning. Aiming to arrive at the top within 30 minutes of sunrise is sure to guarantee you some award-winning photos.
And as with any other hike, bring water and snacks! Or a full meal if you want to enjoy a picnic at the top. More on what to bring…
Recommended Equipment (For Your Dog!)
If you're looking to hike this trail and you're a first-timer, be sure your dog is ready too! Many first-timers underestimate what they need to bring when a few simple preparations could make your hike a lot easier! First off, your leash!
You'll need a strong, sturdy leash—I recommend a fixed-length one so your dog doesn't wander too far. Yuna is still learning the ropes when it comes to greeting other dogs and humans. For this reason, I chose to bring along a shorter leash (4 feet) which we use for daily walking. Our leash comes with a locking carabiner and is all-around very well-suited for any outdoor activities.
I've done a full review of this leash on my blog, and it comes with a special discount code just for you!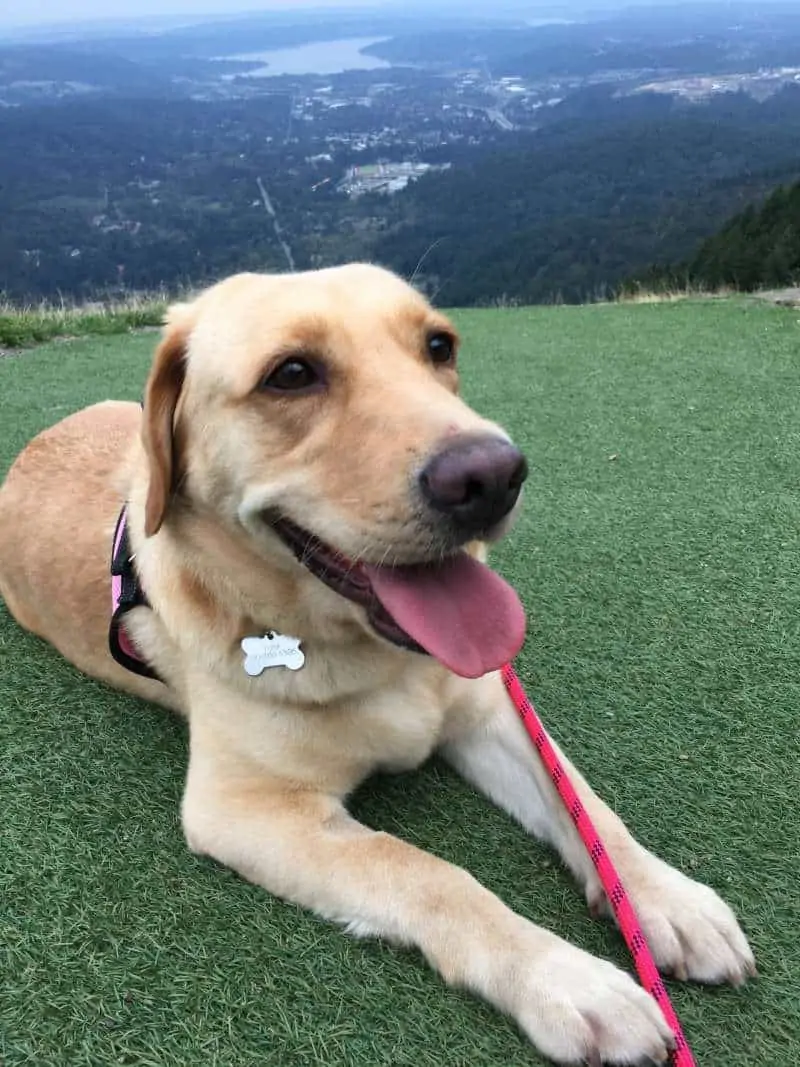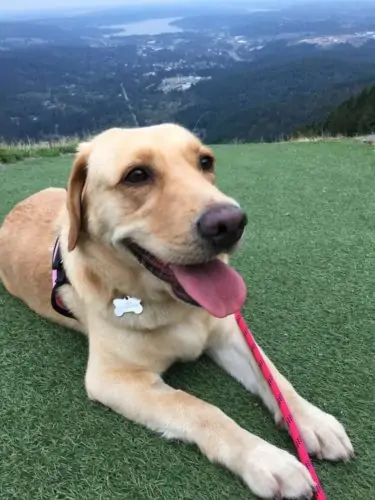 I would recommend a leash longer than 4 feet—the 7 foot or 10-foot length models by Pack Leashes would be perfect, depending on how well-trained your dog is. 4 feet may be a bit too tight, and the slightest of pulls could send you slipping like me. Next, you'll need water and a dog bowl! Your dog will pant a LOT during the hike, and not supplying enough water for them could cause them to overheat.
Always a good rule of thumb to bring more water than you think you'll need. This collapsible dog bowl makes it easy to store in a bag or pouch during a hike. It's also good to be prepared for the worst. Ensure that your dog is on flea medication before a long hike.
I also bring some wound and skin care medication in case of a cut during the hike. If you like taking photos of your dog (or yourself), consider bringing a camera along! I brought along my Go Pro Hero 5 for a few shots. Finally, you'll want treats too! For many high-energy dogs, being tired is one sure prerequisite that makes them more receptive to learning new concepts.
This means that the moment you reach the top is actually a good opportunity to solidify some of your training goals with your dog!
In Conclusion
Poo Poo Trail is a great hike for intermediate hikers and a nice challenge for beginners!
As long as you come prepared, both you and your dog should be able to have lots of fun hiking this trail. For Yuna and me, it was our first real hike together. Yuna surprised me with her stamina—I don't think she had ever walked 6.8 miles in one sitting in her life, much less with inclines. The amazing talents of a Labrador! We hope you enjoy the hike as much as we did!
Related: RVing With a Dog
---
Amazon Associates Program
This article may include affiliate links. www.travellingwithadog.com is a participant of Amazon.com Services LLC Associates Program. As an Amazon Associate, I earn a commission from qualifying purchase. www.travellingwithadog.com participates in other affiliate programs, and recieves commissions when purchases are made through the links. The cost is not inflated to account for the commission earned.
---
Veterinary Disclaimer: travellingwithadog.com is not a substitute for veterinary advice and does not intend to provide any type of veterinary advice for your animals. Please consult your vet for any questions you have regarding your pets health.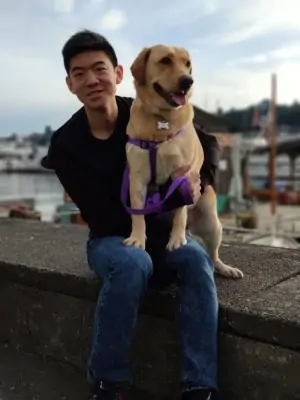 About the Author
Alexander is a full-time software engineer who happens to like dogs. Also, he lives in Seattle, which happens to be very dog-friendly. Since adopting Yuna the Lab in September of 2018, he has learned so much about the unique bond between humans and dogs. He's been having the time of his life exploring Seattle and the surrounding areas with Yuna, but his clothes will never be pet-hair free again.
Check out his blog here!