Last Updated on
Are you looking into embarking the trip of your lifetime by RVing with your dog? Perhaps you've thought about taking an RV trip, but you began to worry about whether or not your pet will be able to join along.
Travelling with your dog is an exciting journey the two of you can take together. And while it is indeed a great idea, there are still things that you will need to be mindful of to ensure that the entire trip is safe and fun for you and your dog!
Disclaimer: This article contains affiliate links. If you make a purchase from one of the links, we will make a small commission at no extra cost to you.
How to Prepare Your Dog for RVing
Dogs are creatures of habit. Just like us, they get into routines and settle into their homes. You might think your dog will be fine if you hop into your RV, however, animals can become incredibly stressed out in new environments.
But don't let this stop you from RVing with your dog! A little preparation before you leave will go a long way.
So how do you prepare your dog for RVing, exactly?
1. Crate Train Your Dog
The number one thing you can do to ensure your dog will be happy in your RV is to crate train them.
Crate training your dog has many benefits:
a crate provides your dog with a familiar "den" they can retreat to when they need something familiar or some alone time
crates can prevent accidents
crates will keep your pet safe when you can't keep your eye on them
2. Work on Recall
If you're going to be RVing with your dog, chances are, you'll also be exploring the great outdoors.
Here are some dog-friendly hikes/walks you can incorporate into your RV trip:
Recall is a necessary and lifesaving skills your dog should have. In the wilderness, there is lots of wild you can encounter, other people and other pets. Your dog should know how to come back to you when called (and if not, make sure you keep a leash on at all times).
Is it Safe to Leave Dogs in an RV?
Unfortunately, not all places are dog-friendly, which means you can't always take your dog with you.
So should you leave your dog in the RV when you go somewhere?
You should always ensure that there is someone with the dog, even if you have to do a grocery run.
While you might think that by leaving the air conditioning on, it can be safe for your dogs, think again.
What happens if there is a sudden outage of electricity in the RV? As a general rule of thumb, you should not leave your dog alone in the RV at all.
If you plan to travel solo, this presents a few problems. However, many grocery stores offer free pick-up or delivery, and don't require you to go into the store so you can stay with your pet, even to get groceries!
Safety Tips
Ok, so now you are ready to embark on the RVing trip with your dog. Here are some of the additional RV dog safety tips that you will want to know:
Buckle in your dog while travelling or get a crate that is secured to the floor. Your dog should not be able to roam free while you are driving.
Find local listing of vets at every checkpoint that you have. Write down there address, phone number and hours of operation.
Exercise regularly with your dog.
Be wary of wildlife as your dog might take off after them (which is why recall is an important skill for your dog to have)!
Bring along your dog's medical records, if any, as it may be useful if you need to do a trip to the local vet.
Monitor your dog's temperature as the temperature during summer can be pretty high in the RV.
Essentials and Accessories for RVing With Dogs
Preparing your dog is more than just prepping them mentally for this trip. While it is important to condition your dog so that the journey can be manageable for them, what will be important is to put together the right travel accessories for your dog so that you have everything that is necessary for them while RVing.
Here are the essentials for your dog for RVing.
Food and Water
Always ensure that you have more than enough food for your dogs while RVing with them. Water supplies is a must too.
Leash and Collar
Some owners will omit this, not knowing that there are laws in place that requires the dog to be on a leash when out in certain areas.
First Aid Kit for Dogs
As the entire RV trip might take a while, it will be important for you to bring along a pet first aid kit for the dog. Also, if your dog is under medication, bring them along too.
Here's what I recommend:
a long pair of socks or protective shoes for paw injuries. (We use booties but a pair of long socks and tape will work as well)
eyewash
Benedryl (please contact your vet to discuss dosage before administering)
Mylar emergency blanket (to help your dog maintain body heat in case of an emergency, can work for humans too)
tweezers/pliers (tweezers for ticks and pliers for porcupine needles)
a list of important numbers such as your vets, emergency contacts and the phone number of the nearest emergency vet by where you will be traveling.
Sleeping Accessories
As the weather can be unpredictable while travelling, ensure that you bring adequate bedding essentials for your dog. If need be, bring along a cooling mat or elevated dog bed too.
Now You Can Safely RV with Your Dog
As you can see, RVing with dogs does require some preparatory work on your end. But so long as you heed our advice and do the necessary, RVing with your dog can be a worthwhile one to embark on.
Pin me: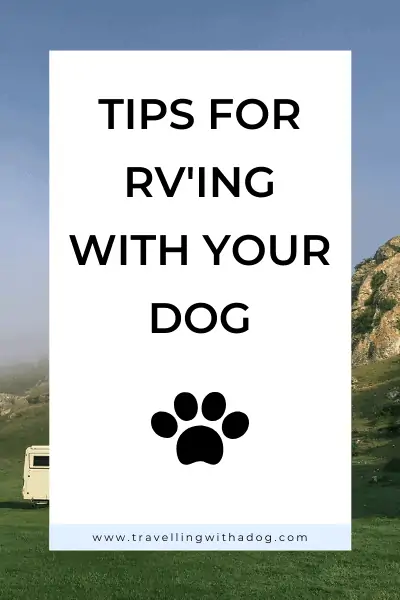 ---
Amazon Associates Program
This article may include affiliate links. www.travellingwithadog.com is a participant of Amazon.com Services LLC Associates Program. As an Amazon Associate, I earn a commission from qualifying purchase. www.travellingwithadog.com participates in other affiliate programs, and recieves commissions when purchases are made through the links. The cost is not inflated to account for the commission earned.
---
Veterinary Disclaimer: travellingwithadog.com is not a substitute for veterinary advice and does not intend to provide any type of veterinary advice for your animals. Please consult your vet for any questions you have regarding your pets health.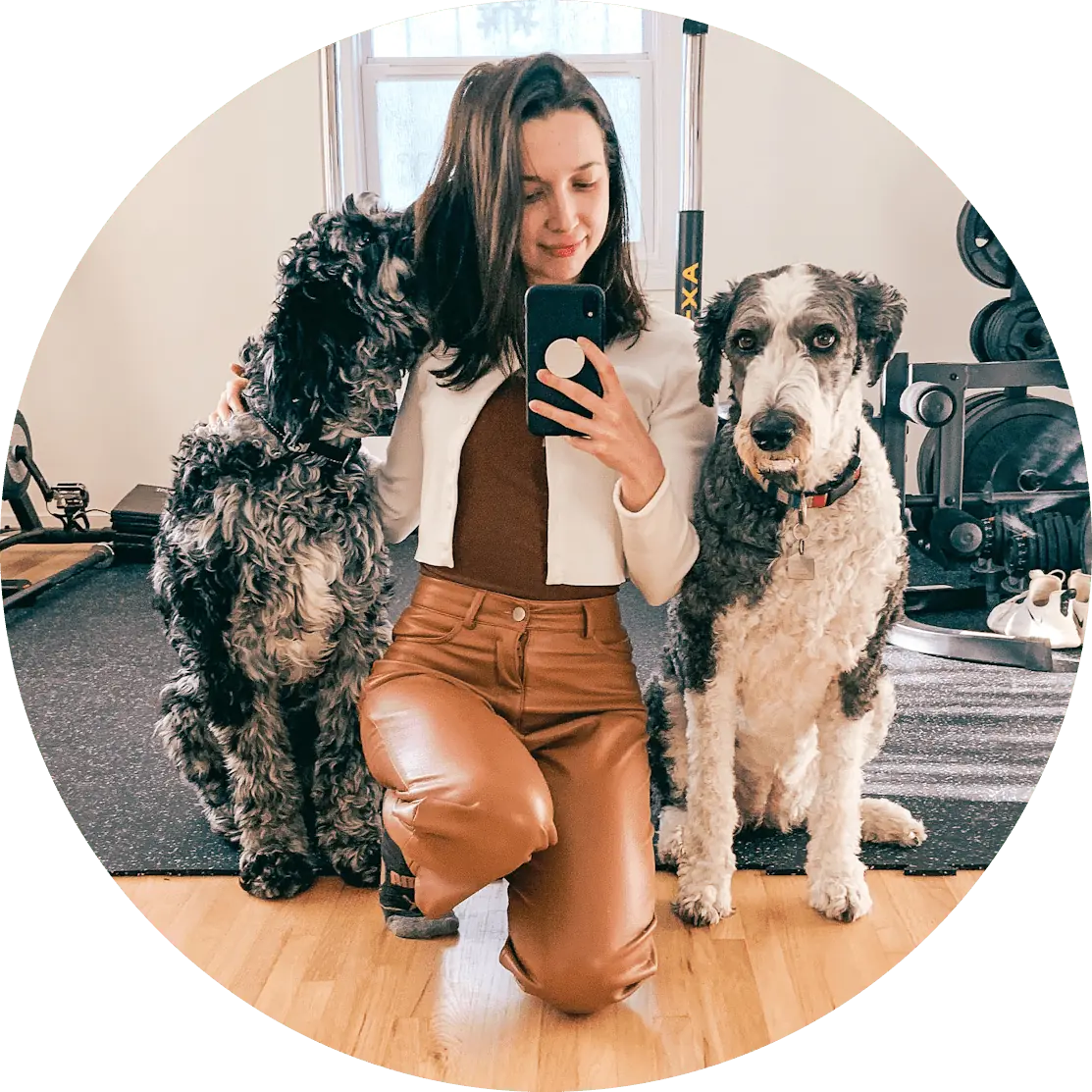 About the Author:
Dana owns a Sheepadoodle and a rescue merle Labradoodle. Her first dog growing up was a white Toy Poodle and she's loved dogs ever since. She has years of experience fostering dogs and has helped find homes for a variety of different breeds, both large and small! After seeing so many dogs end up unwanted and in shelters, she began blogging about different dog breeds (specifically Doodle dogs, since that's what she knows best) to help people make informed choices when adding a new member to their family.
When Dana's not brushing her Doodles' hair (it takes a lot of time for two!) you can find her playing nose work games and fetch with her two amazing pups.
Learn more about her here.