Last Updated on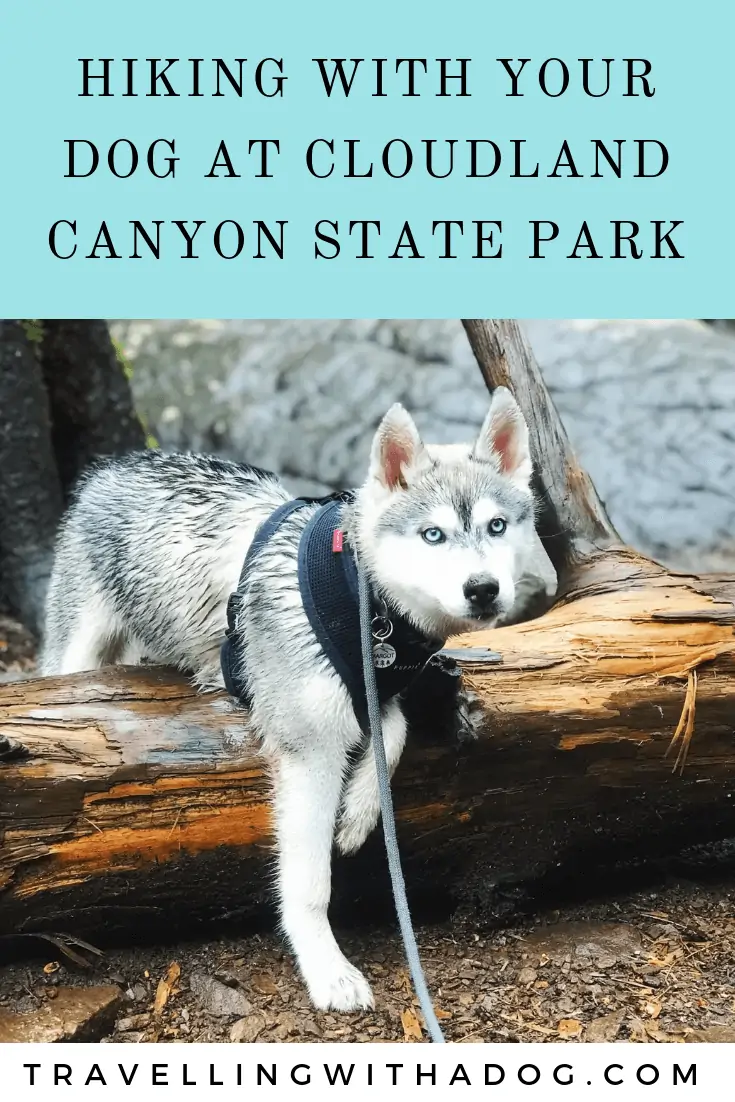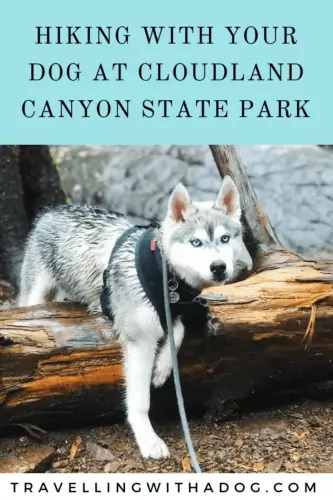 Thinking of hiking Cloudland Canyon State Park with your dog? I'm going to be telling you all about it!
I can only speak for myself, but I believe that hiking is just one of those activities that is infinitely better with a dog by your side. Now I may be biased since my dog Margot and I travel everywhere we possibly can together, but I have a feeling I am not the only one to think this.
As not only a dog owner, but self-proclaimed "dog lover", I love to see dogs out with their people on the trails enjoying nature. One of my favorite activities to do with my almost one year old Siberian husky, Margot, is to hike.
In fact, one of the many reasons I fell in love with the Siberian Husky breed is their stamina and determination; two traits that make a fantastic hiking partner.
As an avid hiker, having a partner always geared up for a hike has been such a joy for me. Currently, Margot and I are based in Atlanta, Georgia, which while urban, has given me access to many great state parks and hikes just a few hours away.
One our favorite places to hike is Cloudland Canyon State Park, which is in the upper Northwest corner of Georgia, just about 20 minutes or so outside of Chattanooga, Tennessee.
Now, traveling with a dog isn't always easy but it is always worth it! I'm here to share with you some tips and tricks I have learned along the way with my Margot.
In this article, you will read all about Cloudland Canyon State Park and traveling there with a dog. From hiking to parking to what to bring, I have you covered!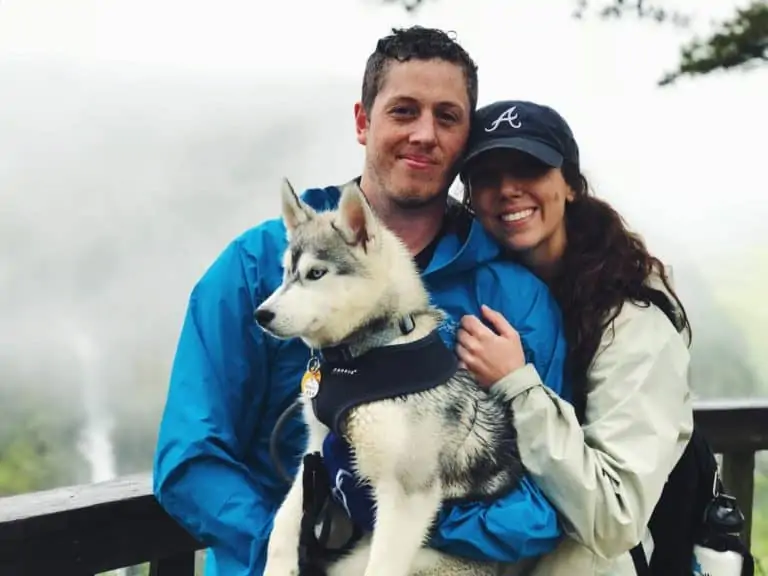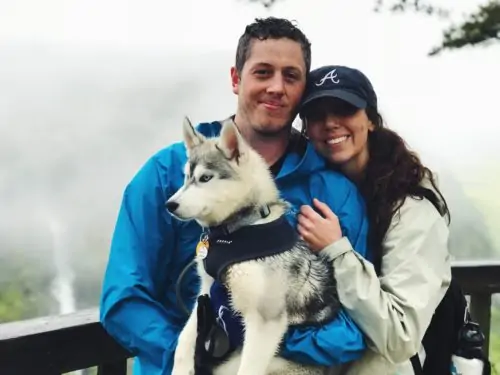 Austin (Margot's Dad), Margot, and I at the first overlook on a rainy spring day.
A Brief History of Cloudland Canyon State Park
Cloudland Canyon is located on the western edge of Lookout Mountain in Rising Fawn, Georgia and is one of the largest state parks in Georgia spanning over 3,500 acres. Prior to 1939, it was known as Sitton Gulch, hence the Sitton Gulch hike you'll see on the map below. It was purchased by the state at that time and the name was changed to reflect its mystical appearance.
It is home to deep canyons, powerful waterfalls, sandstone cliffs, caves, wildfires (seasonally), winding creeks, dense woods, and diverse wildlife which means the park has something to offer everyone.
In addition to various hiking trails, guests to the park can choose to stay in dog-friendly campsites and specific dog-friendly cabins. The state and historic buildings are not dog-friendly nor are the lodges, yurts, or group camps.
View the map and hike information of Cloudland Canyon State Park here.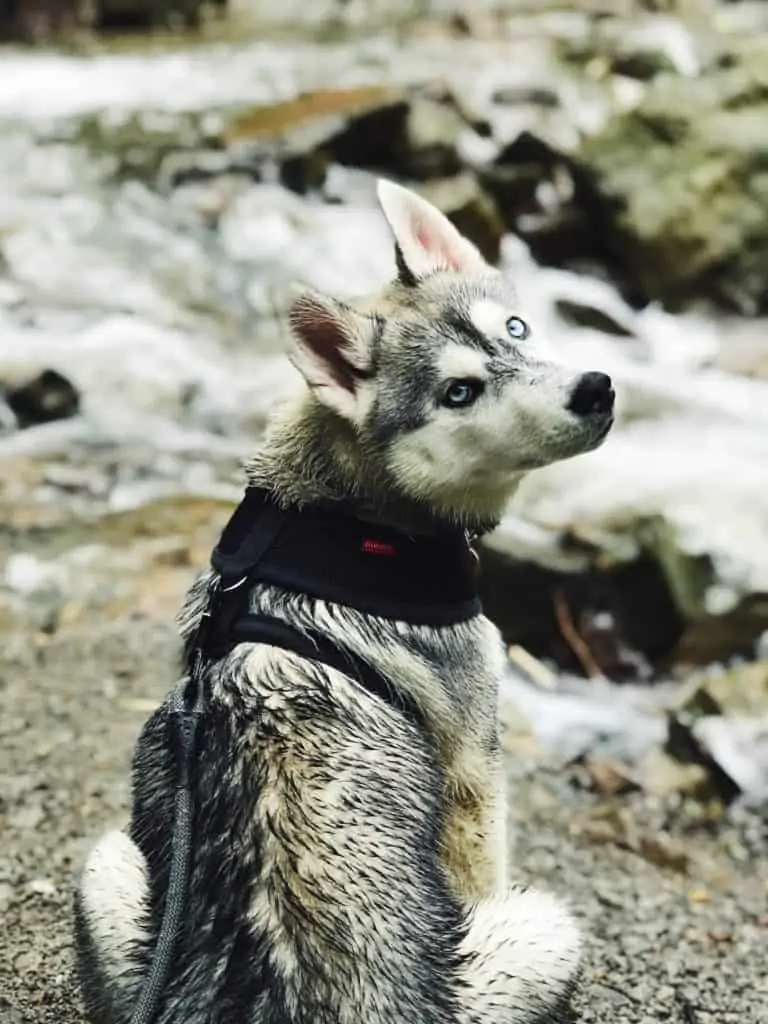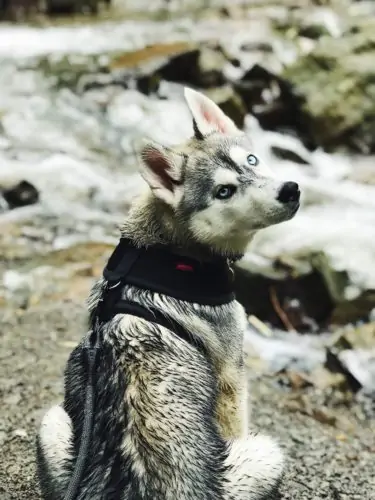 Getting to Cloudland Canyon State Park
Getting to Cloudland Canyon State Park was relatively easy. To get there from Atlanta we simply put in our GPS the address/ coordinates and it took us there no problem in about two hours. Here is the address:
122 Cloudland Canyon Park Road Rising Fawn, GA 30738
GPS Coordinates: N 34.8402630 | W -85.4828810
When you arrive simply follow signs for what you are looking to do (hiking trails, camping, etc.). This was fairly intuitive for us which I can't say about every state park the first time I have gone! Once you park, the parking fee is $5 and I recommend just having cash. If you live in the are annual passes are available and you can check out the current rates here.
It is also important to note that the park itself is open 7 am to 10 pm daily. For any questions or to receive the most current information, you can call the park at (706)-657-4050.
Hiking Cloudland State Park with your Dog
Cloudland Canyon State Park is great because the vast majority of the trails are dog-friendly. I will warn you that many of the hikes at Cloudland Canyon State Park are for athletic dogs with some hiking experience because there are a lot of stairs (up and down). I do not recommend taking a dog that you are not confident in being able to get up and down many steep stairs. Margot is only about 35-40 pounds and while she did fantastic with the stairs, we were prepared to carry her as a worst-case scenario.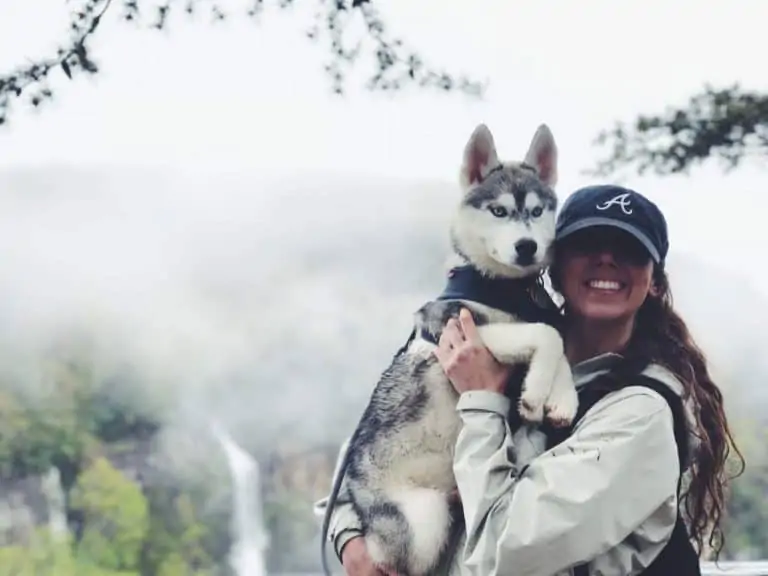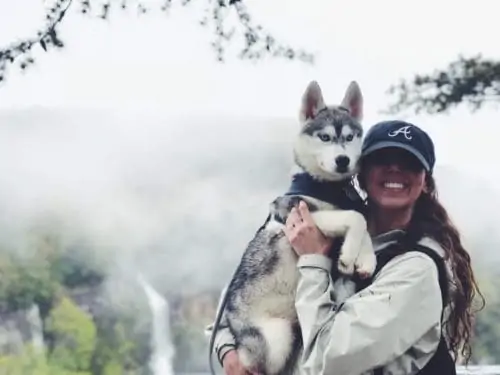 If stairs aren't for your dog, the outer rim trails are also fantastic. I have not taken Margot on these yet, but I have hiked them myself and the lookouts are wonderful. They look out over the canyon as well as out into the surrounding towns and residential areas.
What to bring for you and your dog
A lot of hikers new to bringing a dog along aren't used to packing for their dog as well as themselves. When packing for your dog you should always pack them their own equipment and stuff!
No, a leash and a collar are not all you need! First, think about the duration and difficulty of your projected hike. Shorter and easier hikes are naturally going to require less planning or packing than a longer or more difficult hike. Second, you should think about the weather forecast.
How hot is it? How cold is it? Is it going to rain? You get the picture.
Third, consider the place where you are hiking and terrain. Is it rocky? Is there a lot of mud? Finally, make sure to consider the post-hike necessities for the ride home. Here is my checklist for any average hike with Margot:
1. Water
There is a reason this is number one; Just like you would (and should) for yourself, you need to pack water for your dog.
It is SO important to remember this! You can not rely on the possibility of a clean water source. Even with Margot receiving her "hiking shots", as our vet calls them, I still ALWAYS have water for her.
When packing water it is also important to bring an appropriate amount based on the length of the hike, weather/temperature, and the specific needs of your dog. Not sure how much water to bring? I usually pack the same amount I would for myself that I do for Margot if not more.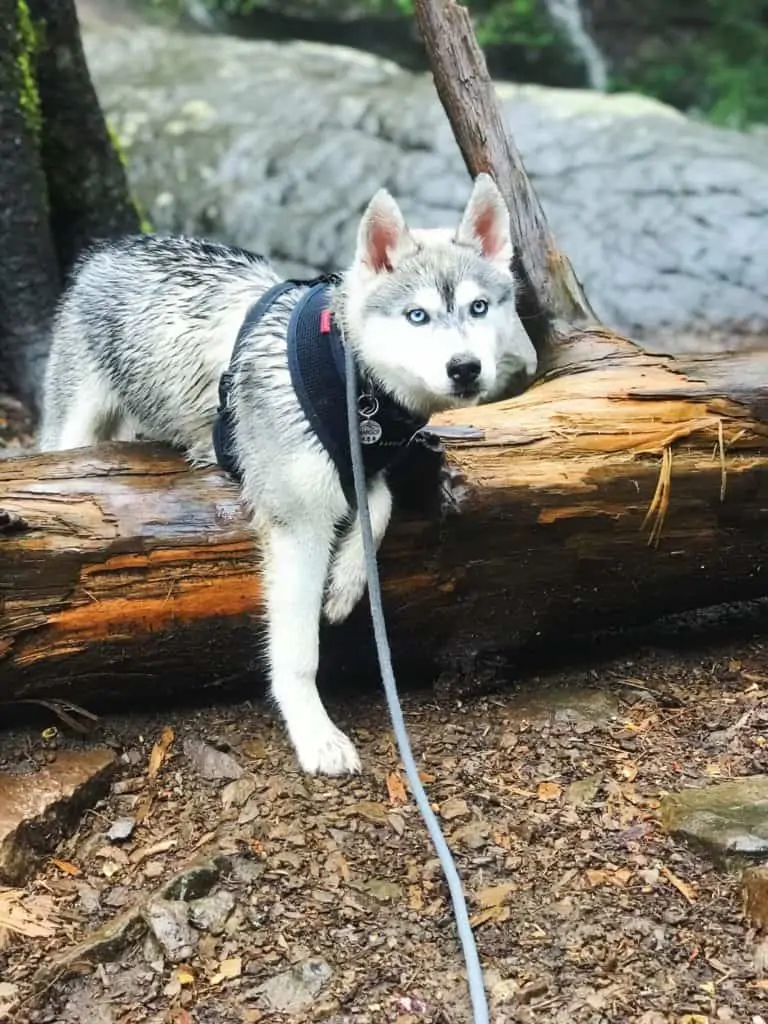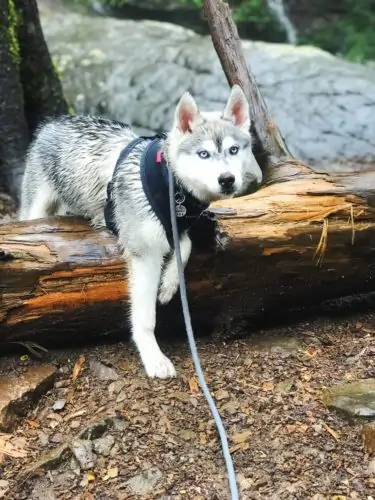 On a hot day ( 80 degrees F and above) that is about 50-80 oz for a 3-8 mile hike and on a cool day ( under 70 degrees F) that is about 20-50 oz for the same distance.
Every Dog is a little different so it is also important to cater to your dog. For instance, Margot gets hot easier than many breeds and prefers extra water when it is hot. I can not stress enough how important packing enough water is for your dog (and you!) when hiking.
2. Food
Depending on the length and specific needs of your dog you may or may not find this important for your hike. I always brink at least some treats for Margot as reinforcement throughout our adventure.
On lengthy and strenuous hikes (5-8+ miles) I will bring her some kibble. Just like you may need a mid-hike fuel up, your pooch might too.
3. Harness/ collar/ lead
I always hike with Margot in her harness as opposed to her regular collar. This puts less stress on her neck if she pulls (who am I kidding, she is a Siberian husky, she is always pulling).
Dogs, especially excited ones that are hiking, are more prone to slipping out of their collars than harnesses. This is another big reason Margot is always in a harness.
However, I do leave her collar on with her tags and licensees, in addition to her harness, but I hook her lead to her harness. Many places require your dog to be up to date on all of their immunizations, and it always smart and responsible to have your dog's ID tag on them.
If you hike with your dog I highly recommend getting a harness, especially if you have a puller or are going on a longer hike. This is a link to the harness you'll see Margot wearing in the photos from our trip here (Margot is wearing a large in the dark grey).
Also, you must have a lead or leash for your dog. This is a big one because even if you have a dog that is trained to be off leash, Cloudland Canyon (an many state parks) require your dog to be on a leash and with you at all times.
Now personally this is not a temptation I face since if Margot was off leash she would run away and never come back, but If you are tempted to let your dog off leash I urge you not to.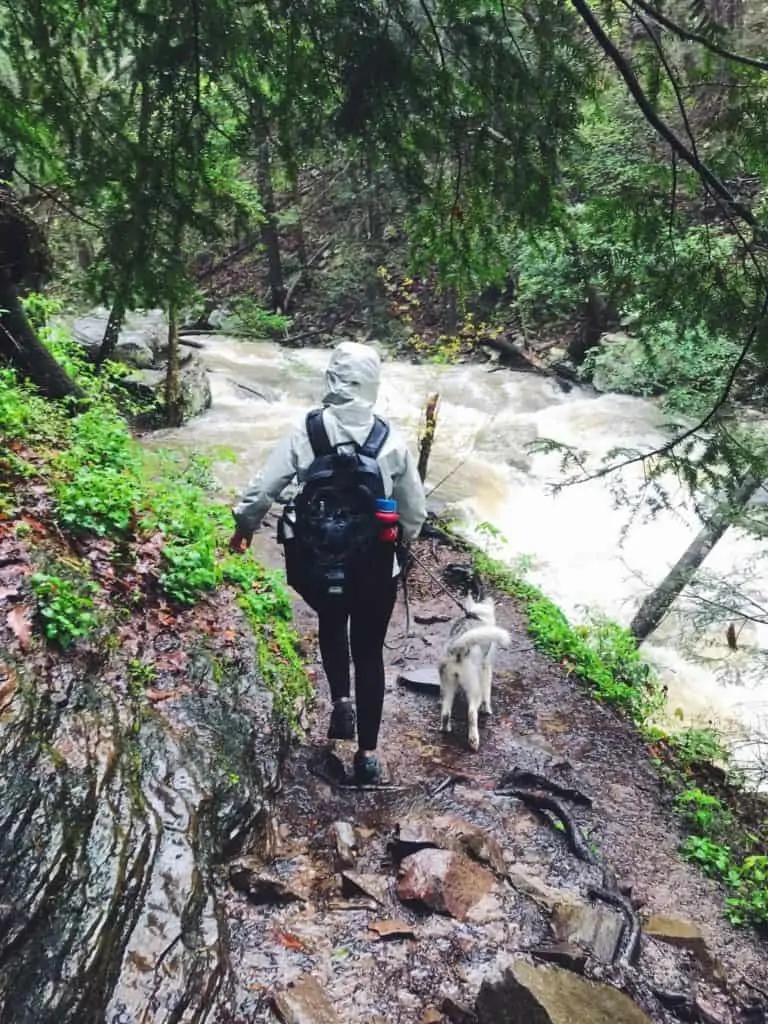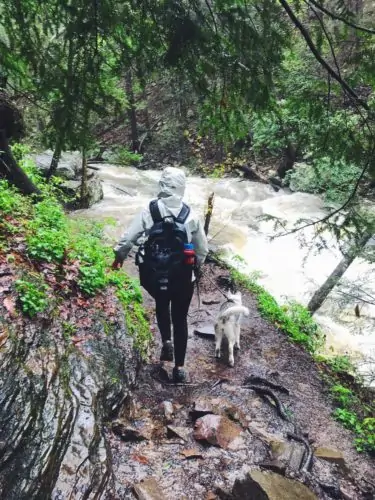 First off, it is dangerous for multiple reasons. Cloudland Canyon, for instance, is indeed a canyon, with sheer drops, that could be dangerous, if not fatal for a wandering pup.
Also, mixing dogs off leash with dogs on leash is a recipe for dog-on-dog aggression. It personally drives me up a wall when people disrespect this rule since Margot is always on a leash. Not because Margot is in any way aggressive (she is a tornado of friendly) or I am jealous that the dog is off leash and Margot can't be, but because it makes me quite nervous to have a strange dog run up to Margot and me with no owner in sight.
Finally, many places are not dog-friendly thanks to dog owners not following this simple rule, and it is the responsibility of current dog owners to respect these regulations so that the places that are dog-friendly remain dog-friendly.
Make sense?
Basically, don't ruin it for the rest of us an just put your dog on a leash.
4. Poop bags
Many places provide poop bags at the beginning of the hike but I always recommend having a few in the event that they are not adequately stocked.
Every dog is a little different so make sure to have enough for your dog. For example, Margot always goes at least twice when she goes so I usually bring at least 4 bags with me when we go for a day hike.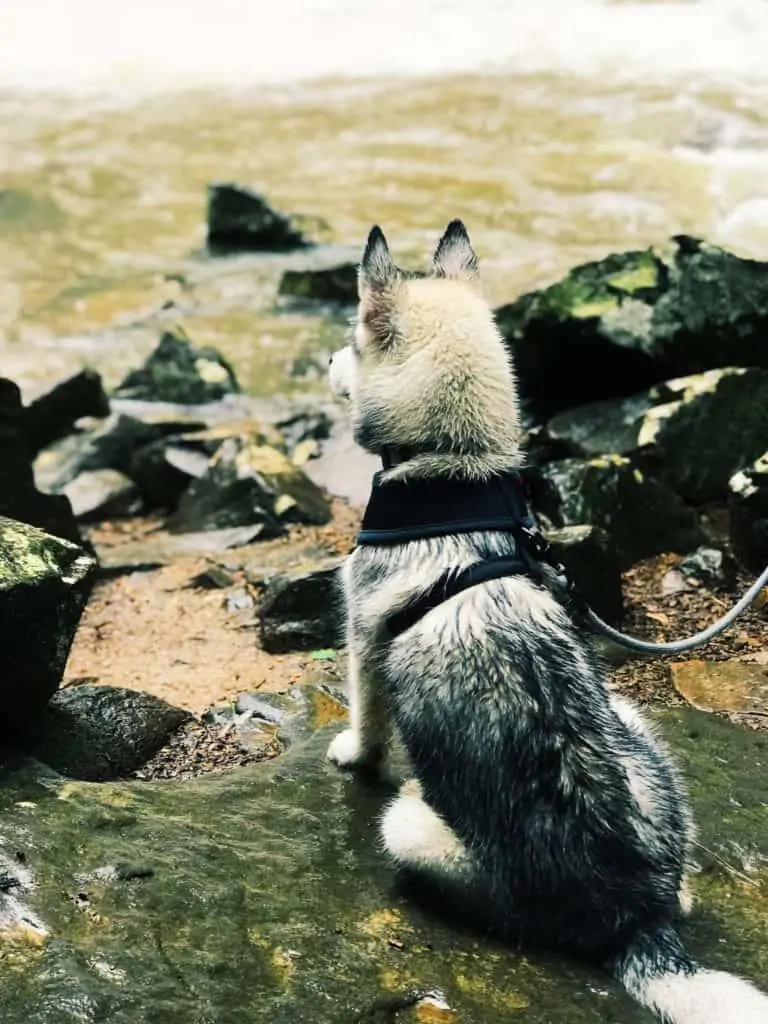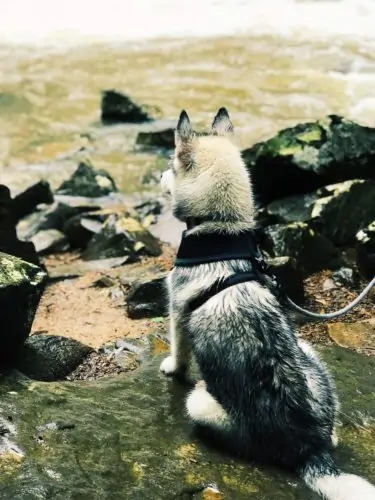 Pick up after your dog and don't leave poop on the trails.
5. Backpack for your dog
Now I have not actually started using one of these with Margot since she is still in technically in her puppy stage and her bones are still developing thus she can't carry a pack with much weight.
But if you have a healthy, adult dog I highly recommend getting them a doggie pack so that they can carry their own stuff!
Just like people, it is important to make sure the weight is appropriate for your dog. Packing too heavy could injure your dog which is obviously not what you want.
Here is a highly rated dog backpack for hiking.
Bonus: for super energetic dogs, like my Margot, this also doubles as a way to help tire them out!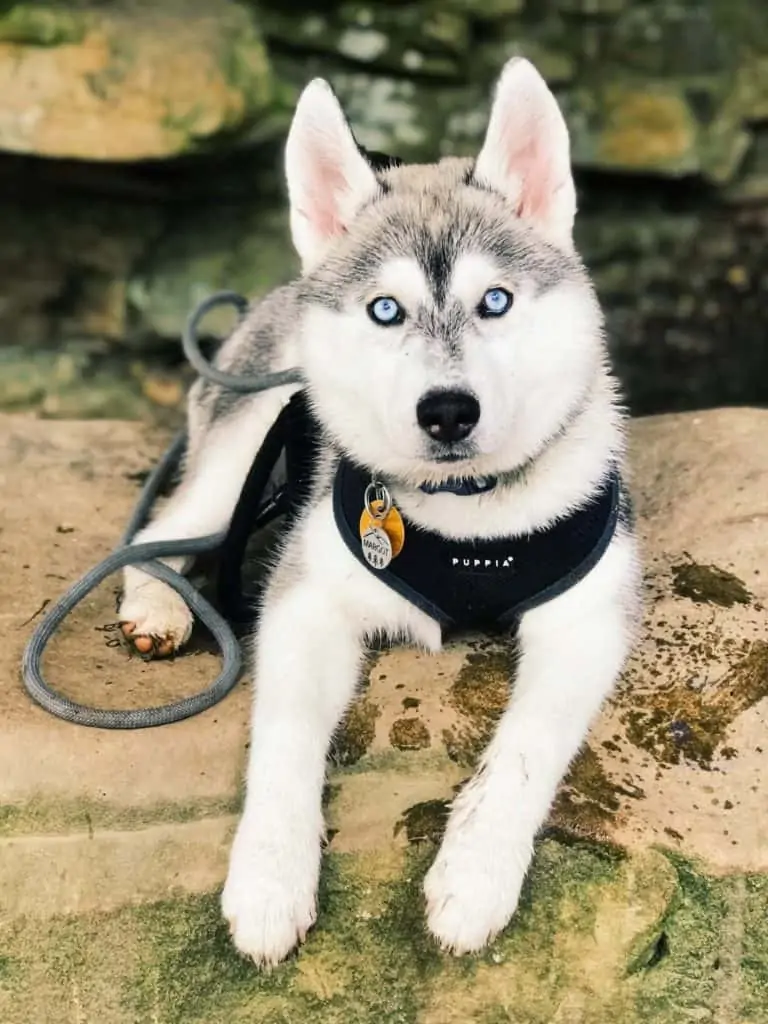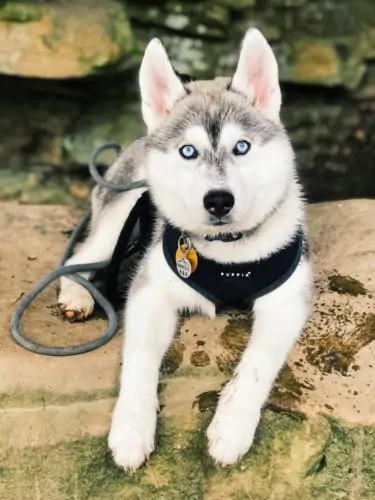 6. Protective clothing
This is where terrain and weather forecast comes into play.
This may mean a rain jacket if it is raining and your dog is sensitive to rain or booties if the terrain is rough or very cold.
Personally, Margot does not normally need any protective clothing since she is built for tough/cold terrain but know your dog and your breed and make sure to pack accordingly.
7. First aid
This is a big one that always surprises me people don't pack for themselves let alone their dogs. As a naturally clumsy person, I always end up with a few cuts and scrapes when I hike.
I'm not saying you need the works, but just like you should for yourself you should bring some basic first aid for your dog in the event they get injured.
I usually have a bandage wrap and some antibacterial ointment that can double for Margot or I if need be. I also try to carry basic pain medicines and antihistamines that are dog-friendly in the event of a bite or sting.
Make sure to do your research when composing of your doggie first aid kit. You can see what we recommend you put in your dog's first aid kit here.
8. Towels
This is mostly for post-hike. I only brought one the day of this Cloudland canyon hike and I will NEVER just bring one again. This day was very rainy and therefore very muddy.
Even if it is sunny, throw at least two towels in your car for post-hike, you'll never know if you need them.
Conservation and your dog
The reason I fell in with hiking, a reason I'm sure I share with many of you, is the beauty and serenity of nature. It is important to know that the only way that we will be able to keep nature this way is through conservation and understanding the role we play in the future of our planet.
Whenever you go on a hike, you are changing the environment you hike through. Whether you intend to or not, you are leaving your mark and it is up to you to make it a positive, or at least neutral, one.
This means taking out everything you brought in with you and staying on marked paths as to not disrupt the ecosystem you are exploring.
Something as simple as moving rocks or going off the path can cause drastic or deadly effects for the life that calls it home. When you hike with your dog, it is up to you as a responsible dog owner to make sure your pup is also leaving a positive, or at least neutral, mark on nature.
Regulations and rules exist for a reason (not just to be fun suckers!), and many of these rules and regulations exist to protect the ecosystem you are exploring.
Bottom line: be a good a human and treat the trail well so you and your dog can come back again!
Best of luck adventurers and hope to see you out on the trails!
---
Amazon Associates Program
This article may include affiliate links. www.travellingwithadog.com is a participant of Amazon.com Services LLC Associates Program. As an Amazon Associate, I earn a commission from qualifying purchase. www.travellingwithadog.com participates in other affiliate programs, and recieves commissions when purchases are made through the links. The cost is not inflated to account for the commission earned.
---
Veterinary Disclaimer: travellingwithadog.com is not a substitute for veterinary advice and does not intend to provide any type of veterinary advice for your animals. Please consult your vet for any questions you have regarding your pets health.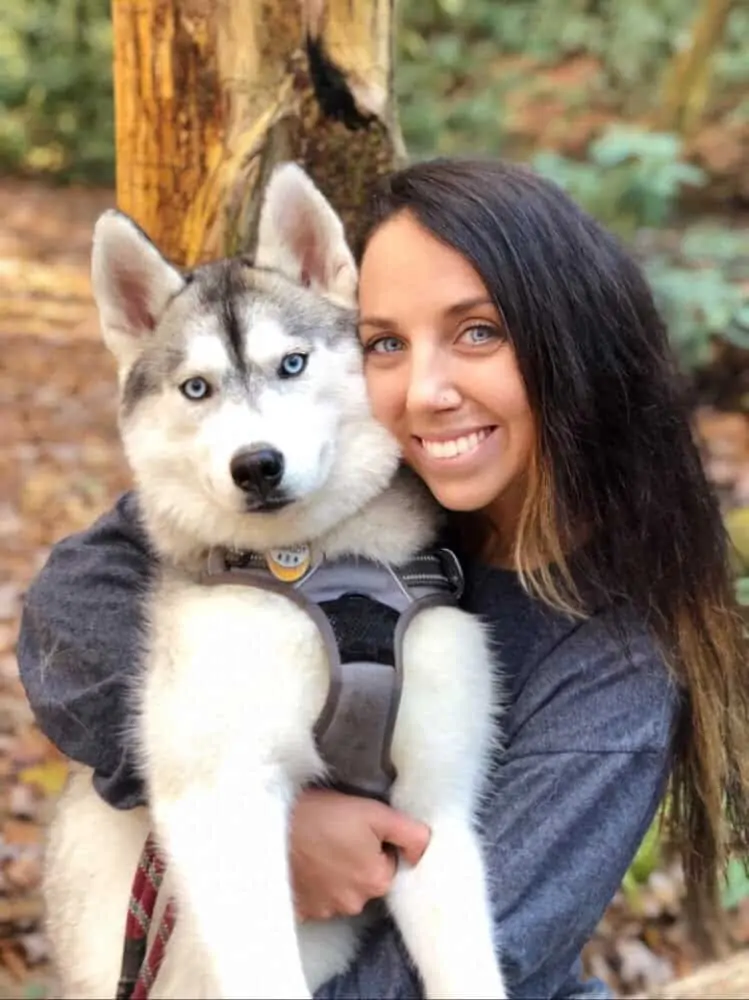 About the Author:
Ashley is a full-time animal trainer and care specialist currently living in Atlanta, Georgia. In her free time, she runs a blog and website inspired by her Siberian husky, Margot. She created Oh the places Margot can go to provide puppy parents a simple, accessible guide todog-friendlyy activities in Atlanta and beyond, as well as share all the trials a puppy parenthood. Ashley loves to travel, especially with Margot. Make sure to follow all of their adventures on her on social media below!