Picture this: you just bought your dog a nice new bed. You put their new bed on the floor and your pooch hops on and snuggles in.
All seems well!
But one morning (likely after you decided to sleep in an extra hour) you wake up and see little bits of fluff scattered around the house.
I think you know where this is going…😉
Bored dogs find ways to expel their extra energy and often if we aren't careful, they will chew their bed as a way to keep themselves entertained.
If your dog has been destroying and chewing through their bed, it's time you look into a chew resistant dog bed, or otherwise known as the indestructible dog bed.
This article contains affiliate links. If you purchase a product listed in this article, we will make a small commission at no extra cost to you!
What Are Indestructible Dog Beds
Essentially, indestructible dog beds, like what its name suggests, is a dog bed that is extremely durable and holds up under the teeth of the most aggressive chewers.
And while you'll never find any indestructible dog beds that claim to be 100% chew resistant, it's still possible to find the one that can withstand even the strongest of chewers.
There are several important factors that contribute to the hardiness of the dog bed before it can be described or regarded as an indestructible dog bed.
Fabric Choice
One of the main factors will be the fabric used for the material itself.
Dog beds made of Kevlar, D90 canvas or even ballistic nylon are considered to be indestructible dog beds.
These materials are generally for toughness. Some of them are also employed in the military in the form of bullet proof vests.
Stitching
While fabric choice is important, how said fabric is put together is equally important when trying to create indestructible dog beds.
Chew resistant dog beds are usually webbed together or double stitched to enhance as well as retain the material's toughness.
Integration
Last but not the least, how the material is integrated into the dog bed's frame will play an important role too. For most indestructible dog beds, the material is carefully inserted into the bed frame so there are no loose ends for your dog to take advantage of!
Top 5 Indestructible Dog Beds
With that, let us look into the top 5 indestructible dog beds that your furry companion will love.
Buddyrest Titan Defender
What happens when you integrate BuddyRest's technology into a dog bed?
You will get one of the toughest dog beds durable enough to withstand chews as well provide a comfortable place to snooze for your poorch.
Indeed, the Buddyrest Titan Defender uses the 1680 denier ballistic nylon that is well known for its toughness rating as well as a true cool memory foam that helps to provide extreme comfort for your dog.
This means that if you have a strong dog that requires an orthopedic dog bed, this will be the best one to get for them.
Hero Dog Dog Bed (Chew Proof Crate Pad)
Sale
Hero Dog Chew Proof Crate Pad
Dog bed medium is slip resistance & durable,the othopedic crate bed comes with durable plush fleece, not easy to broken but not for scratching or bitting,shed (pill) resistant,is low maintenance and long lasting
Soft 36 inch crate pad for small to large dogs,especially for older or disabled pets,support joints and soothes pressure points for deeper, 3cm cotton inside to make the mattress thick enough for better sleep
Dog crate mat is anti-slip,non-skid bottom prevents moving and shifting and works great on hardwood floors,will keep your dog safe when nap on the mat,super soft surface will offer a better relax
If you are looking for an orthopedic crate pad that combines comfort and durability, Hero Dog's dog bed will be one of the best choices for you.
It uses a premium PP cotton, which explains why the dog bed is so comfortable even after being washed.
The bed cover itself will be the primary resistor towards the dog chews.
It is not easy for most dogs to break into the cover --- unless your dog has powerful jaws.
What we love about this dog bed is its ability to alleviate pain for older or disabled dogs due to the 3cm PP cotton for the fillers in the bed itself.
Having the ability to contour to your dog's body, you can be assured your dog can finally have a good night's rest on the bed without feeling uncomfortable.
And if you keep your dog in their crate when you can't be home (to keep them from chewing or getting into potentially hazardous items) this chew proof crate pad will fit perfectly into their crate!
Kuranda Dog Bed
Kuranda Chew Proof Dog Bed
Patented, CHEWPROOF HIGH STRENGTH, lightweight aircraft grade aluminum frame supports up to 250lbs.
Elevated/Raised orthopedic design to keep your dog dry, cool, and comfortable indoors and outdoors.
Easy to Clean, guaranteed to stand up to repeated cleaning.
The Kuranda Dog Bed is widely touted as the best chew resistant dog bed that you can get for your dog.
This elevated dog bed also helps to keep your dog cool as more air can circulate around your resting dog.
As for the material, it uses the highly durable Corunda fabric that can withstand the strongest of chewers. Also, the fabric is built into the dog bed frame meaning no lose ends for your dog to chew on!
K9 Ballistics Tough Orthopedic Dog Bed
K9 Ballistics Nearly Indestructible & Chew Proof
VIRTUALLY INDESTRUCTIBLE DOG BED: For diggers, scratchers & dogs who are tough on their bed. (for heavy persistent chewers search for our - K9 Ballistic Chew Proof Elevated Dog Bed)
DURABLE RIPSTOP BALLISTIC COVER: Scratch resistant, waterproof, and dig proof cover. Comfy design that's removable, machine washable, and easy to clean.
ORTHOPEDIC DOG BED: We use CertiPUR-US foam which we cut ourselves in our manufacturing facility in the United States. Our orthopedic dog bed mattress won't allow your dog to sink through to the floor. Even the largest and heaviest dogs cannot flatten this orthopedic dog bed!
The K9 Ballistics dog bed uses a durable ripstop ballistic cover that is resistant to chews, scratches and is even waterproof.
What makes it stand out is it can easily be removed from the dog bed itself, which you can then toss into the machine for a good wash down.
While the dog bed is indeed indestructible, we have to look into the fillers used in the dog bed.
For the K9 Ballistics dog bed, we are not left disappointed because it uses the CertiPUR-US foam, which is guaranteed to contour to your dog's body shape, hence providing extreme support to their body.
Carharrt Dog Bed
Carharrt Durable Canvas Dog Bed
12-ounce firm-hand, cotton duck canvas exterior shell for durability and a water-repellent coating
Baffle constructed interior cushion that allows polyester fill to stay in place
Washable shell with fully removable polyester fiber filled cushion
Last but not least, we have the Carharrt chew resistant dog bed.
It uses a 12-ounce canvas cover that is resistant to chews as well as to water.
This means that you do not need to worry about slips as the cover can be easily removed for a good wash in the washing machine.
Of course, the cushion itself is also comfortable; hence it can provide comfort to your dog.
The polyester-filled cushion can absorb your dog's weight without sinking right to the floor, which is good as it can help to reduce pressure on the dog.
Conclusion: Other Tips for Heavy Chewers
While we have reviewed the top 5 indestructible dog bed, it is still essential for you to understand that there is no true 100% indestructible dog bed, as mentioned earlier.
You will still need to monitor your dog so that you can be a better judge if the dog bed is suitable for them or not.
On top of getting an indestructible dog bed, you can also train your dog not to chew on items they aren't supposed to be chewing on.
Easier said than done, right?
First, a tired dog is a happy dog.
It's a mantra we have encorporated into our lives as dog owners and it has been well worth it!
To keep your dog from chewing, make sure they are always well exercised and tired.
You may also find a chew-deterrent spray is enough to discourage your dog from chewing.
One of the best chew-deterrent spray is the Grannick's Bitter Apple® Deterrent Pet Spray.
It uses a strong taste to help deter your dog from chewing on to the surface! Simply spray the bed where your dog likes to chew. It is non-toxic; hence you can use it on your dog bed to discourage your dog from chewing it up.
Pin me: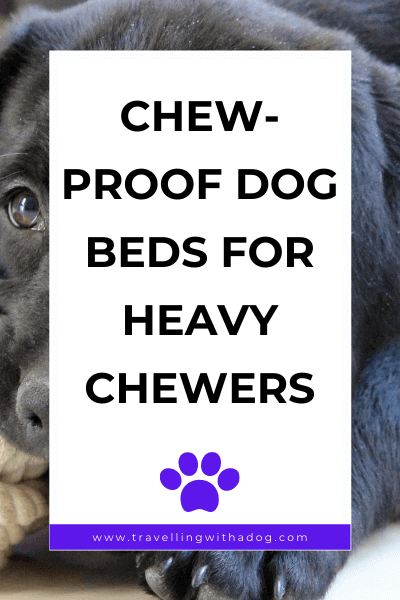 ---
Amazon Associates Program
This article may include affiliate links. www.travellingwithadog.com is a participant of Amazon.com Services LLC Associates Program. As an Amazon Associate, I earn a commission from qualifying purchase. www.travellingwithadog.com participates in other affiliate programs, and recieves commissions when purchases are made through the links. The cost is not inflated to account for the commission earned.
---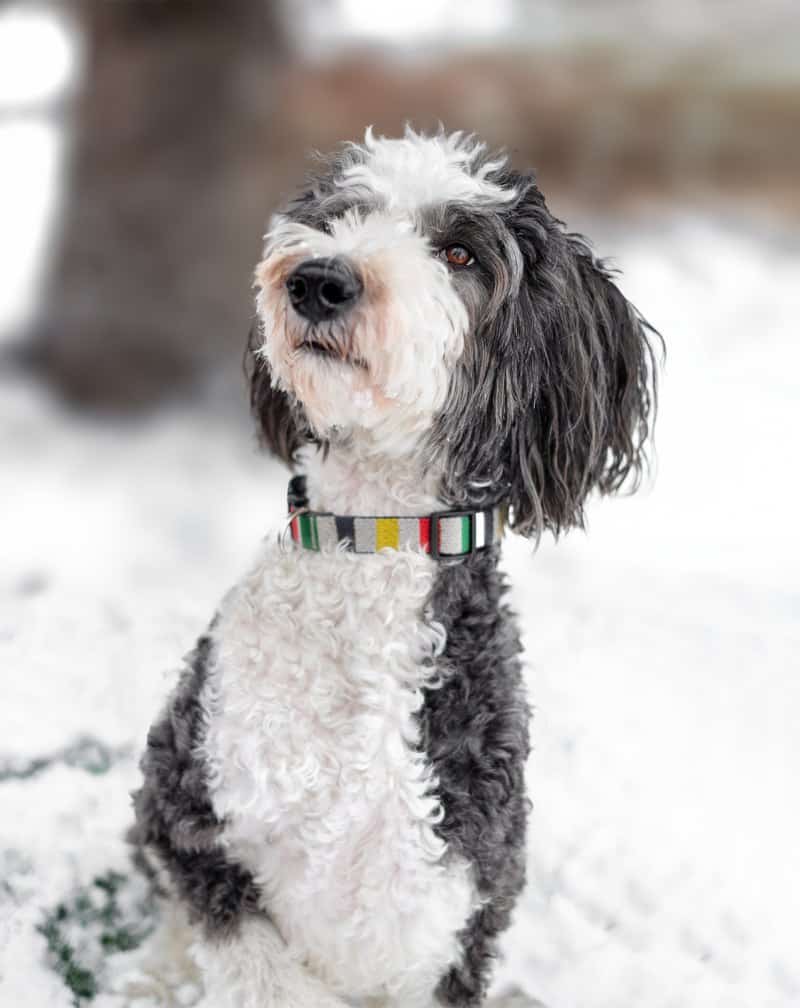 About the Author:
Dana is a Sheepadoodle owner and expat in Germany. While living in Europe, Dana and her husband always make sure that when they go on road trips, their pup Kaya gets to come along. Dana loves to highlight dog-friendly places you can travel to with your pooch so that your entire family can have fun together!