Last Updated on
While treadmills are no substitute for outdoor walks, there's a time and a place when treadmills for dogs are an excellent option. Today, I'm going to help you understand when a treadmill will make a good supplement to your dog's exercise routine and help you pick out a treadmill for your dog.
I vividly remember the first time I considered a dog treadmill.
If I'm being honest, the idea of having a treadmill specifically for my dog seemed a little too fancy-pants, even for me, especially since going for a walk outside was free.
But when my husband had to leave the country for work and I was left to juggle a 60-hour workweek plus a high-energy Sheepadoodle who needed lots of exercise, getting a dog treadmill suddenly didn't seem like a silly idea.
This article contains affiliate links. If you purchase a product listed in this article, we will make a small commission at no extra cost to you!
The Best Dog Treadmills
Many dog owners wonder, "can't I just use a human treadmill for my dog?" and the answer is…yes, dogs can use human treadmills as long as your dog fits properly on the running surface!
Usually, smaller dogs are best on human treadmills, whereas large dogs need to use a dog treadmill. To determine the treadmill length, make sure the running surface is at least 1/3 longer than your dog. This will give your dog enough room to run safely!
Here are the best treadmills for dogs to help you with your search.
PS I've included treadmills from Pet Pro Supply Co, a pet supply company located in the United States that serves police K9, groomers, vets and other dog professionals. I've also included pet treadmills from Amazon.
1. GoPet Petrun PR725 (Top Pick)
The best treadmill for dogs is the GoPet Petrun Dog Treadmill.
There are so many things we love about this dog treadmill.
First, many dog treadmills aren't suitable for really heavy dogs. GoPet's dog treadmill, however, can handle dogs up to 176 lbs (79 kilograms).
Another reason why GoPet has won the best dog treadmill is the side panels to keep your dog running straight and how quiet this treadmill is compared to others. There is also an emergency stop mechanism which is paramount to have on dog treadmills.
Pros
Incline available
Quiet as to not scare off timid dogs
Varying speed increments: 0.6-10 MPH (1-16 KMH)
Foldable for easy storage
Remote/manual control
Emergency stop
Eyelets to attach a toy at the front to keep your dog interested and engaged
Metal enclosure to act as a visual clue to remind dogs to run straight
Cons
Not for giant dog breeds over 176 lbs
Who is this Dog Treadmill Good For?
Dogs who are spooked by loud noises (if your dog doesn't like the vacuum, you will want to get a quieter treadmill, such as this one)
Apartment dwellers who need a foldable treadmill
Side panels for dogs who tend to get easily distracted
2. GoPet Petrun PR720F
If you're searching for something a bit simpler, consider checking out GoPet's Petrun PR720F --- a comparable model to GoPet's PR725 that has fewer features but doesn't skimp on quality.
The PR720F dog treadmill is for dogs up to 135 lbs but doesn't come with metal enclosures, which may not be ideal if your dog gets easily distracted.
Pros
Incline available
Quiet as to not scare off timid dogs
Varying speed settings: 0.6-10 MPH (1-16 KMH)
Foldable for easy storage
Remote/manual control
Emergency stop
Eyelets to attach a toy at the front to keep your dog interested and engaged
Cons
No enclosure
Not for dog breeds over 135 lbs
Who is this Dog Treadmill for?
This treadmill works well for someone who has a focused dog that won't need a visual enclosure to keep them on track.
3. Dogtread Small Dog Treadmill
Dogtread Small Dog Treadmill
LCD Console – Program Speed, Distance and Time for each workout. Red Safety Start and Stop is easy to identify. Included remote control provides additional training versatility.
Recessed Treat Holder – Provides a convenient way to dispense and hold treats during the initial stages of training. NOT FOR WATER, TREATS ONLY.
Sturdy, Attractive Dog-Friendly Design – The DogTread is equipped with a whisper-quiet motor and is free of any holes, meshes or seams where a dog might get small paws caught.
If your small dog gets spooked by loud sounds, you'll want to buy a quiet dog treadmill. The Dogtread dog treadmill is designed for small dogs in mind so your tiny pooch can enjoy an indoor workout.
The outside-facing LCD console on this dog treadmill gives you the ability to set the speed, distance and time for each workout. Your pooch will also appreciate the treat console built into this treadmill, which is perfect for the training stages! Just make sure you don't put water in the treat holder---it's for treats only.
Another benefit of this dog treadmill is how it tips up on its nose for storage. If you live in a small space, you don't need to worry about this treadmill taking up much space.
Pros
Quiet
LCD console
Treat holder
Manual incline options
Compact for storage
Cons
Not suitable for large dogs
Who is This Dog Treadmill For?
This dog treadmill is perfect for people with small dogs that want a quiet and compact treadmill for their dog to use.
4. GoPet Treadwheel CS6020 
Treadwheels are the perfect solution for those who are away from the home but would like to give their dogs the opportunity to exercise on their own.
Similar to a hamster wheel (except much larger) the treadwheel is a dog-powered treadmill that your dog can use on their own.
As treadwheels are not electric, it will be powered by your dog and your dog is able to go at the speed which they prefer.
Pros
your dog can use it when you aren't home
not electric
comes in three different sizes: small, medium and large (see below):
Treadwheel for small dogs
Treadwheel for medium to large dogs
Treadwheel for large dogs
Cons
Smaller living spaces might find storing the treadwheel challenging
Who is This Dog Treadwheel for?
This treadwheel is a great choice if your dog hates noises and isn't too keen on trying a treadmill.
Benefits of Dog Treadmills
Just like I used to think dog treadmills were ridiculous, you might think the same.
But once you realize how many great benefits treadmills have for our canine friends, you'll likely change your tune (as I did).
1. Exercise
The first and obvious benefit of using a pet treadmill is they provide a unique way for your dog to exercise and stay fit.
Treadmills are useful when:
unideal weather conditions; it's too cold or hot to exercise your dog for long periods of time outside
a walk isn't feasible (i.e. when my husband left, I was waking up at 4:30 a.m. to take my dog on her walks and I didn't feel safe being out at that time in the dark)
If you're a dog owner who can relate to the above points, keep reading.
2. Improved Training
High-energy dogs can have difficulties staying focused, thus, training can be challenging.
You can use dog treadmills to tire your dog out; tired dogs aren't as wound up and can often times focus better after they have some activity.
3. Controlled Environment
Some dogs absolutely love to run. But unless you have a safe space to let your dog run in, it can be a little unsetting at times.
Dog parks aren't always safe and if your dog's recall skill isn't the best, it can be nerve-wracking to let your dog off-leash.
With a treadmill, you can save the on-leash walks for outside and give your dog the chance at a nice indoor run where they can avoid potentially dangerous hazards.
4. Improved Health
Doggie treadmills can also help your dog lose weight and get into better shape. Overweight dogs can face a variety of health issues including joint pain, digestive disorders and diabetes. It's always a good idea to keep your dog at an optimal weight (you can call your vet and ask what weight is ideal for your dog).
Safety Tips For Using a Dog Treadmill
Before using treadmills for dogs, you need to be aware of some safety tips. Injuries or even death can result if you aren't taking proper precautions. While it's not illegal to put a dog on a treadmill, there are certain precautions you must take to keep your dog safe.
Get the Right Length
The length of your treadmill is highly important. A dog who can't fit comfortably on their treadmill is more likely to get injured, which is why a human treadmill isn't always the best fit (literally) for your pooch.
Most dog treadmills advise the running surface to be at least 1/3 longer than your dog.
Never Leave Your Dog Unattended
First, never leave your dog unattended on a treadmill.
Ever.
The only exception is the treadwheel on our list because it had been designed for dogs to run on their own pace, safely while unattended.
Putting your dog on a treadmill doesn't mean you get free time. You must supervise your pooch for the entire duration.
The treadwheel, on the other hand, is a bit different as the dog is able to come and go freely. If you'd like to give your pup the ability to exercise when you aren't home, a treadwheel is the best option.
Work Your Way Up
You can't expect your pooch to "get it" the moment they step on the treadmill. It may take days, weeks or even a few months before your dog understands what their role on the treadmill is.
This video explains exactly how to train your dog on a treadmill so they are confident and exciting to use their new toy!
Don't Tie Your Dog to a Treadmill
If your dog suddenly stops or something happens and they are tied to a moving treadmill they could get seriously injured (or worse). Never ever tie your dog to a treadmill.
Sprinting isn't the End Goal
Your dog may love to sprint but some may be happy getting a fast walk in on the treadmill.
Sprinting isn't necessarily the end goal for your dog. Before introducing any new rigorous activity, it's good to consult a professional trainer or a vet.
Should You Buy a Dog Treadmill?
Getting a dog treadmill is a great way to exercise and stimulate our furry best friends!
Remember: nothing can substitute outdoor walks. A dog treadmill should not replace outdoor activity but can be the perfect supplemental activity for high-energy dogs or dogs that need a low-impact way to exercise.
Pin me: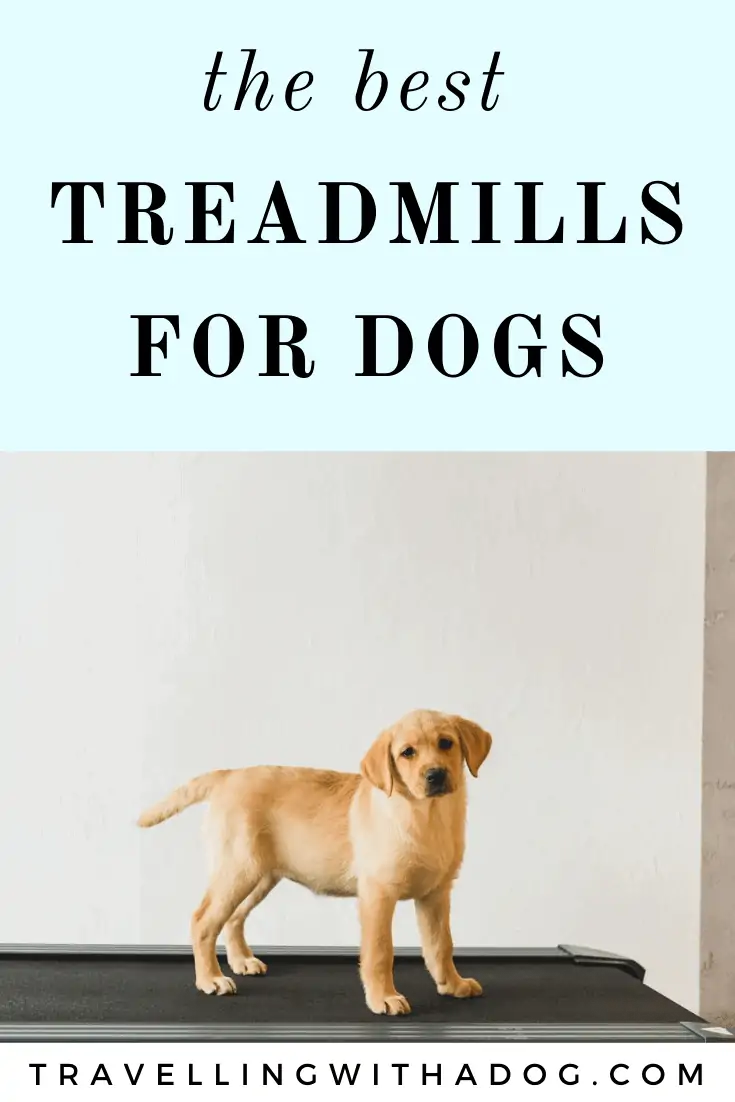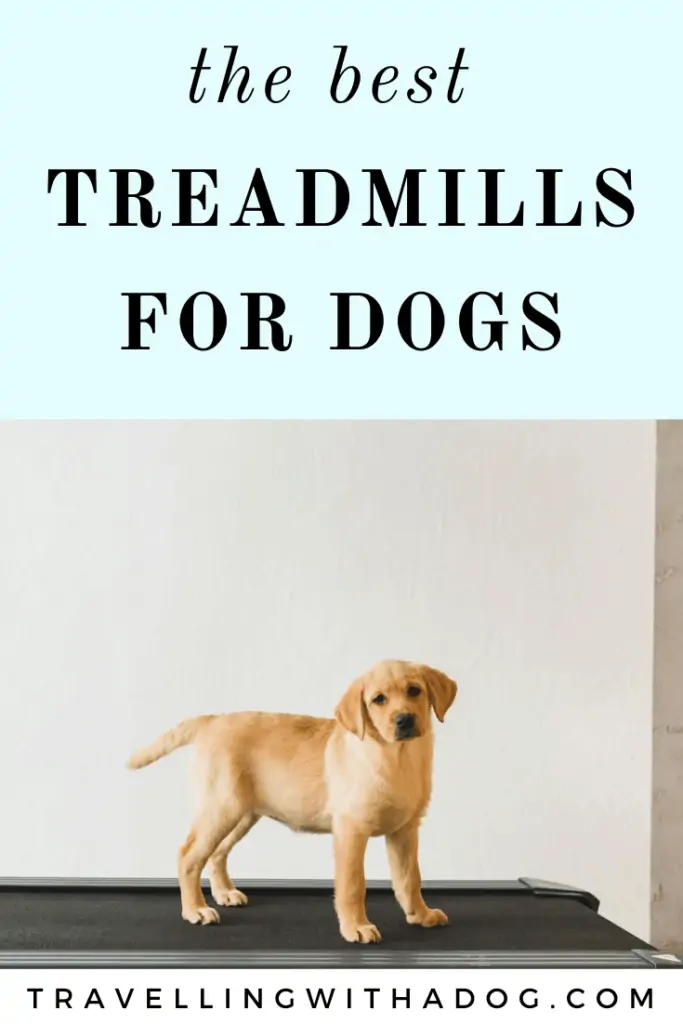 ---
Amazon Associates Program
This article may include affiliate links. www.travellingwithadog.com is a participant of Amazon.com Services LLC Associates Program. As an Amazon Associate, I earn a commission from qualifying purchase. www.travellingwithadog.com participates in other affiliate programs, and recieves commissions when purchases are made through the links. The cost is not inflated to account for the commission earned.
---
Veterinary Disclaimer: travellingwithadog.com is not a substitute for veterinary advice and does not intend to provide any type of veterinary advice for your animals. Please consult your vet for any questions you have regarding your pets health.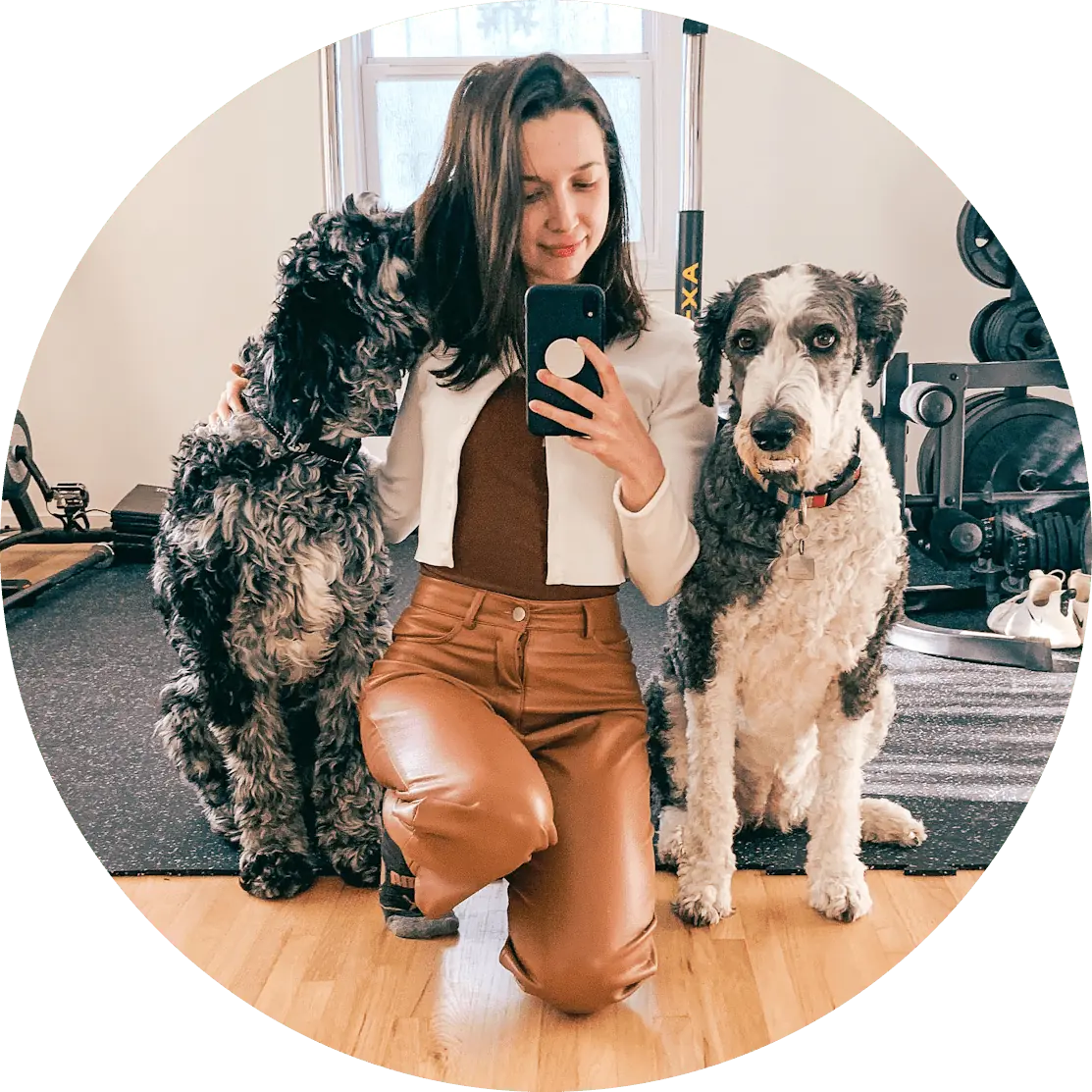 About the Author:
Dana owns a Sheepadoodle and a rescue merle Labradoodle. Her first dog growing up was a white Toy Poodle and she's loved dogs ever since. She has years of experience fostering dogs and has helped find homes for a variety of different breeds, both large and small! After seeing so many dogs end up unwanted and in shelters, she began blogging about different dog breeds (specifically Doodle dogs, since that's what she knows best) to help people make informed choices when adding a new member to their family.
When Dana's not brushing her Doodles' hair (it takes a lot of time for two!) you can find her playing nose work games and fetch with her two amazing pups.
Learn more about her here.