Last Updated on
You have your trip booked and have already started making a list on what to pack for yourself, but before you go any further, don't forget to get some travel accessories for your dog packed as well!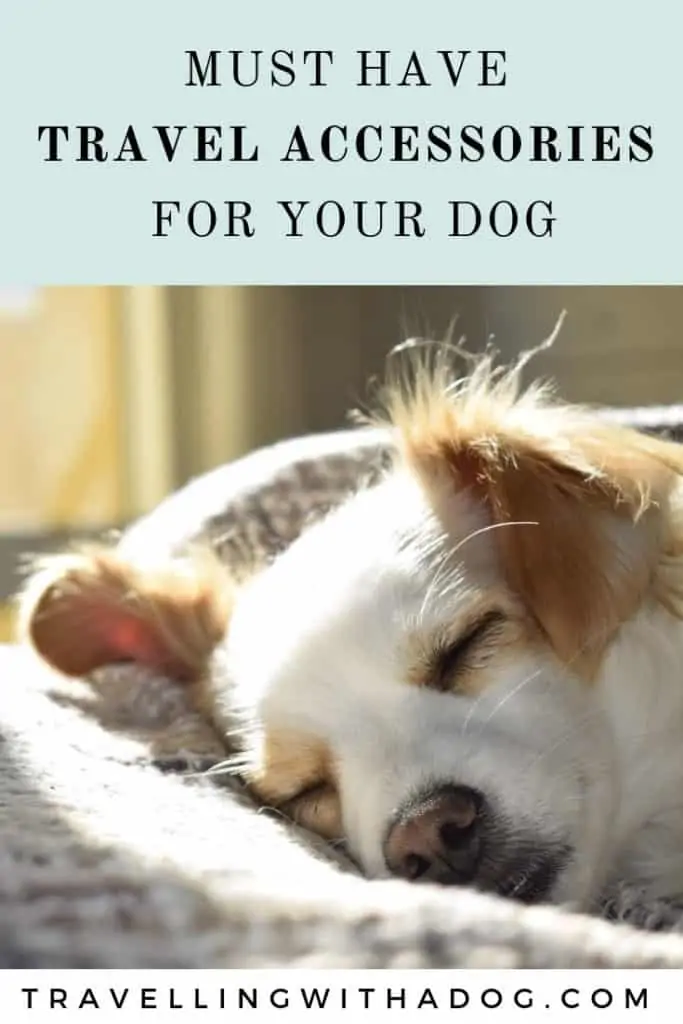 Traveling with your dog is a rewarding experience, but they need a few things to help them feel at ease and happy during your travels.
Here are our favorite must-have travel accessories for dogs.
1. Hands Free Leash

If you're a planning on touring a new city or plan on walking long hours, the hands-free leash is a must!
When traveling, you'll likely want to be taking photos of all the beautiful sights, which can be hard when you have your dogs leash in one hand and your camera in the other (especially if your pup is excited and trying to smell all the new scents)!
This hands free leash hooks up to your waist and lets you carry your camera and a coffee along with your pooch right beside you. This accessory makes traveling with your dog and touring new places much easier!
2. Harness
Does your dog love to pull on walks or gets overly excited when meeting/seeing new people? The EZ walk harness allows you to have more control with your dog, with it being much safer for your pet.
New places are exciting not just for you, but for your dog as well. They might forget not to pull and this harness will prevent them from pulling and hurting their necks!
3. Seat Cover

How many times have you decided to take your dog on a hike or to the beach, and on the car ride home you take a look back and see the mess on your back seat? I know we sure have many times!
This seat cover keep your car seat clean, which can be especially handy if you plan to rent a car or go somewhere that is muddy or sandy.
Not only that, this seat cover allows for your buckles to come through, so you can buckle up your dog while keeping your seat clean at the same time.
4. Seat Belt

When driving you buckle yourself up and the other passengers in your car; your pet should be no different!
To ensure a safe trip for all it is a must to have your pet buckled. Your pet may enjoy walking around your vehicle, but it's not safe and injuries could occur if you have to suddenly slam on your brakes or make a sharp turn.
5. Dog boots

Are you planning on travelling somewhere tropical and hot? Or planning a trip somewhere cold with lots of snow? Dog boots can allow your dog to be the most comfortable while travelling with you.
Don't allow the fear of your dog burning his paw pads on the hot concrete, or having chunks of snow stuck to the paws make you leave your furbaby behind!
Dog boots are the perfect solution to allow your dog to join you whether it is sunny or snowing. A bonus to this is your dog might take a few times to get used to having the boots on his paws, this is always good for a chuckle 🙂
6. Pet carrier

Make sure to research pet carriers and get the necessary information that will help you to get the one that best fits your needs.
Some pet carriers are not up to flying standards and this can create added stress and complications to your travel plans if you plan to fly with your dog. Check the dimensions and restrictions and be careful as this can change per airline.
Even if you don't plan on flying with your pet, we recommend buying one that is up to the flying regulations in case your plans change or in case of some unforeseen circumstances.
7. Travel Dishes

If you plan on taking long hikes and walks with your pet it is smart to travel with travel dishes so your pet can rehydrate or refuel with some food. Check out these collapsable dishes that make for the ideal travel dishes.
8. Bicycle Carrier

If you travel by bike and have a smaller dog, this bike carrier is the perfect way to allow you to bring your pet along in your travel.
Life is always better when your dog is by your side, and this is the perfect solution for bike riders.
9. Pet Backpack

This might feel like a lot of things to pack for your pet. You're probably wondering where to put it all! This dog backpack allows you to store some of the essentials in there and puts your dog to "work".
Make sure that the backpack is equally balanced on your dogs back and that there isn't to much weight that could cause uncomfortableness for your dog.
10. Dog Ramp

Do you have an older dog that has trouble getting up or down from your vehicle? Or do you have a lifted truck that your pet cannot get into? The easy solution is the dog ramp that allows your dog to effortlessly walk up or down the ramp to get in or get out of the vehicle.
No more trying to awkwardly lift your dog up into your vehicle!
11. Compact Dog Bed
After a long day of traveling and exploring, your dog would love to have a nice soft place to sleep and unless you plan to take their regular bed, they won't have a bed to crawl into like you will!
This dog bed is made specifically for packing up. It's nice and compact so you don't need to worry about losing room in your suitcase.
---
Amazon Associates Program
This article may include affiliate links. www.travellingwithadog.com is a participant of Amazon.com Services LLC Associates Program. As an Amazon Associate, I earn a commission from qualifying purchase. www.travellingwithadog.com participates in other affiliate programs, and recieves commissions when purchases are made through the links. The cost is not inflated to account for the commission earned.
---
Veterinary Disclaimer: travellingwithadog.com is not a substitute for veterinary advice and does not intend to provide any type of veterinary advice for your animals. Please consult your vet for any questions you have regarding your pets health.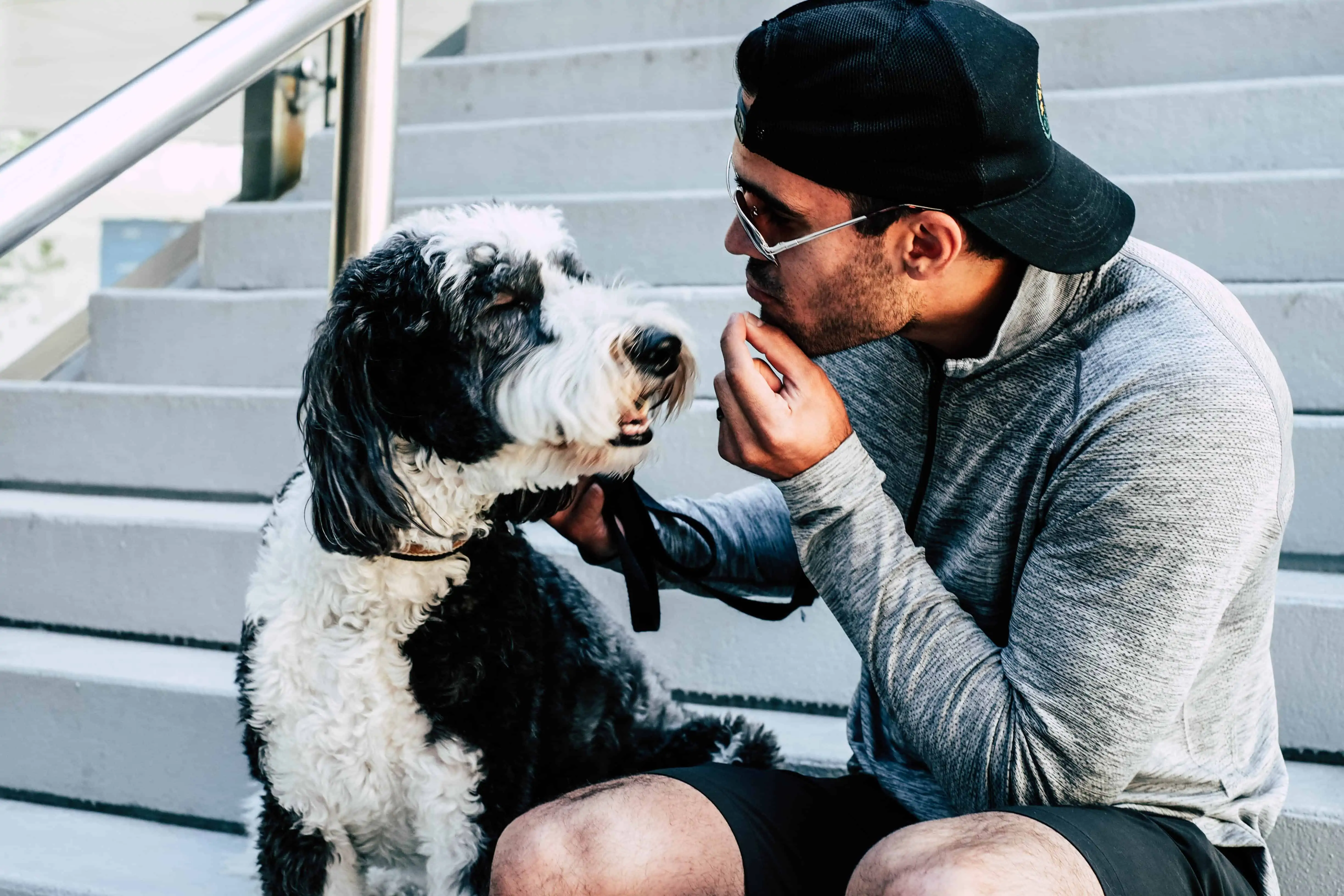 About the Author:
Tyler and his four-legged friend, Kaya, are currently traveling their way around Europe together. Tyler works throughout Europe in the fall/winter months and in Canada in the spring/summer where Kaya joins him for all his adventures.