Last Updated on
Since the year 2000, people have been able to travel with their pets alongside on overseas trips.
Traveling with a pet passport makes crossing the border into different states and countries much easier.
But what is a pet passport exactly?
Well, in the EU, pet passports are official documents given to animals just like they are given to people! A pet passport contains important essential information like:
a photo (optional)
microchip number
vaccinations and dates
potential de-worming treatments
rabies vaccination
vet contact information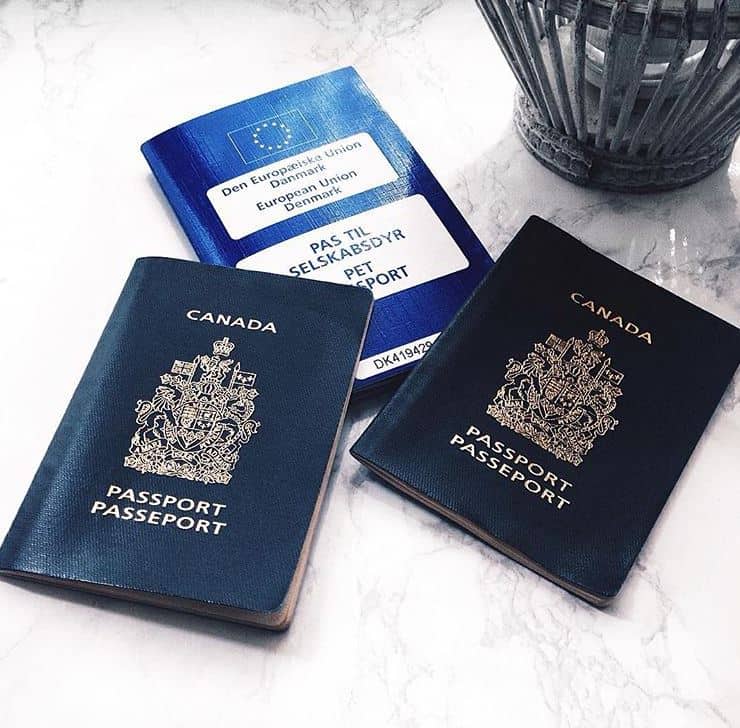 The European Union is currently the only group of countries where actual pet passports exist. A USA pet passport is just the documents you need to get into the USA with your dog, but many people purchase look-a-like passports to store their pet's documents.
Do you need a pet passport or documents to travel?
Every country requires you to have specific documents you need to provide upon entry for your dog. What those documents are depends on the country.
How you present those documents is entirely up to you.
Picture this: you just got off a long flight with your dog and border security begins to ask about your dog. As you start frantically fumbling through your papers and vet documents, you start to panic as you realize you are missing your rabies certificate. Perhaps it fell out of your bag somewhere along the way…
No instead, imagine you have all the information you need in a handy pet passport. Pet passports keep everything organized and in one place!
All countries have different requirements for bringing an animal over the border, but most countries have similar rules: you need to prove that your animal is up-to-date on vaccinations and healthy. Otherwise, your pet may face a lengthy quarantine or worse, sent back.
Applying for an EU pet passport
Pet passports can be acquired from most vets in the EU. When we got our EU pet passport, we went to the vet with our dog and simply asked the vet to get one ready for us. We brought our dog's current vet information so the vet could transfer it over (and approve it) to the pet passport.
It cost us roughly 100 euros and made traveling within the EU much easier and enjoyable with our dog.
If you are outside of the EU (perhaps in America) and would like a USA pet passport, you can find many different ones on Amazon or in pet stores. You will need to ask your vet to fill out the pet passport with updated information.
Do you need a pet passport
Pet passports are very important while traveling with your pet for some countries. Not all countries require or administer pet passports and when people refer to a "pet passport" they may just be referring to the documents required to transport your animal into a new country.
If you want something more official for your pet, you can buy pet passport folders to carry all of the information needed to cross borders.
---
Amazon Associates Program
This article may include affiliate links. www.travellingwithadog.com is a participant of Amazon.com Services LLC Associates Program. As an Amazon Associate, I earn a commission from qualifying purchase. www.travellingwithadog.com participates in other affiliate programs, and recieves commissions when purchases are made through the links. The cost is not inflated to account for the commission earned.
---
About the Author:
Mira is a dog-lover and writer. She and her two dogs (Bren and Nala) can be found hiking during all four seasons, camping and exploring new places together.