Last Updated on
Every month, we feature a select number of Sheepadoodles from our private Facebook group. If you are thinking of getting a Sheepadoodle, our spotlight will help you get a glimpse into the personalities of this breed!
December Spotlight
We have five incredibly cute Sheepies to get to know for the month of December!
Oliver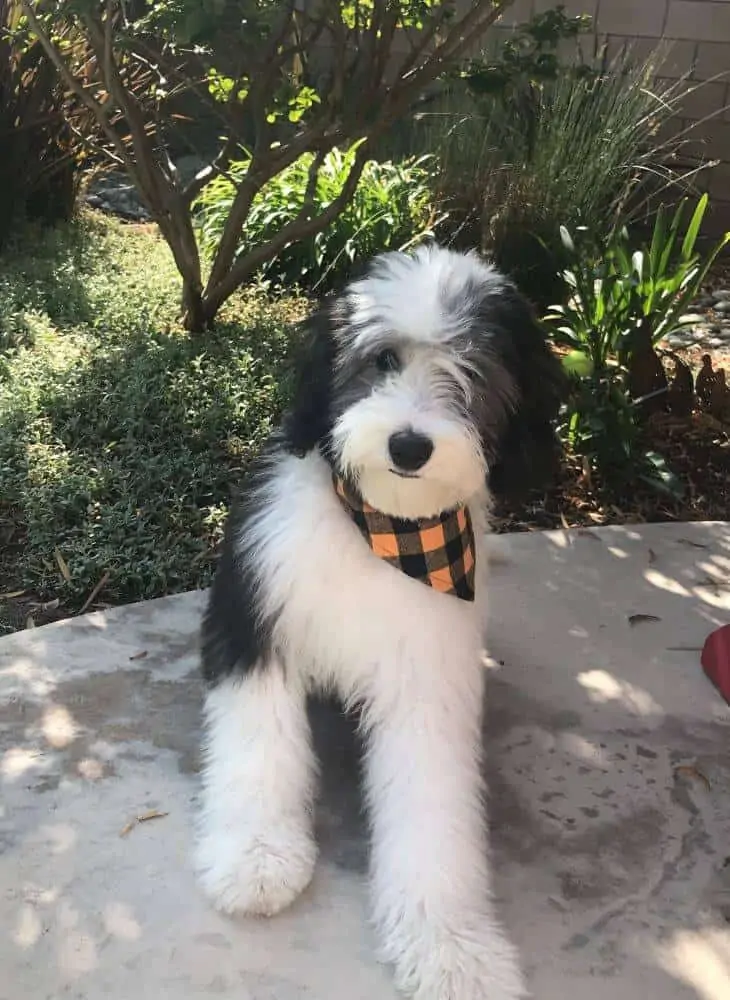 Our sweet mini sheepadoodle,Oliver, is almost 6 months old, 26 lbs, and loves his family!! He wants to be right with you, even following you into the bathroom routinely! His favorite things are sticks, toys that he can pull apart, and a large half deflated rubber ball that he loves to chase. This guy has won our hearts in just a few months time and is favorite When we take him places.
Instagram: oliver.thedude
Scooby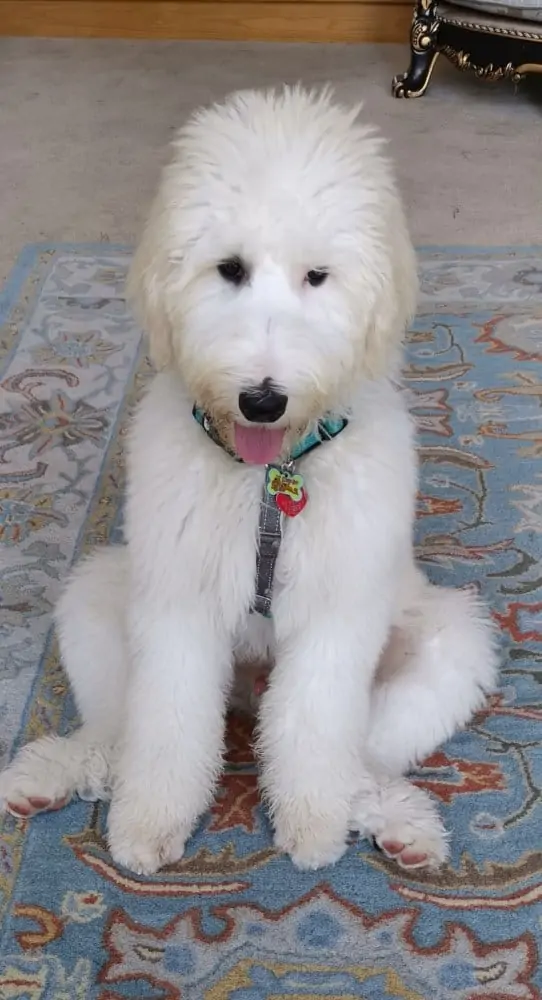 Scooby is 5 months old and his favorite treat is Cheerios and loves to play with balls.
Lucy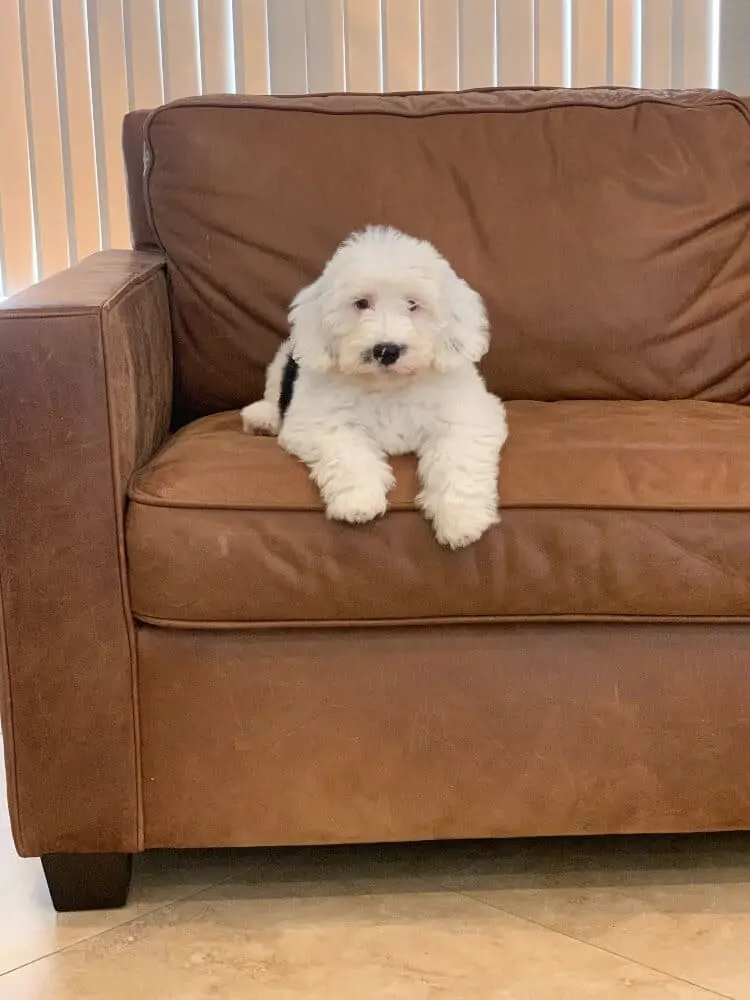 Lucy is a great puppy who is 11 weeks old. She likes to chase her big 2 legged brother and sister and is full on into nippy us all. She's a great cuddled and loves to take naps outside by the pool. She couldn't be a better addition to our family!
Maggie & George
Maggie is a 2 1/2 year old female black & white sheepadoodle. Her interested are being the cutest dog around, running fast, jumping, Barking at anything that moves, sleeping in the craziest positions, begging for treats, and going for walks.
George is a 1 year old male brown & white Sheepadoodle. His interests are looking gorgeous, chasing his sister, playing fetch, looking for treats, eating ice cubes, and going for walks.
Instagram: @Maggieandgorgeousgeorge
November Spotlight
Let's get to know our adorable November Sheepadoodles!
Stella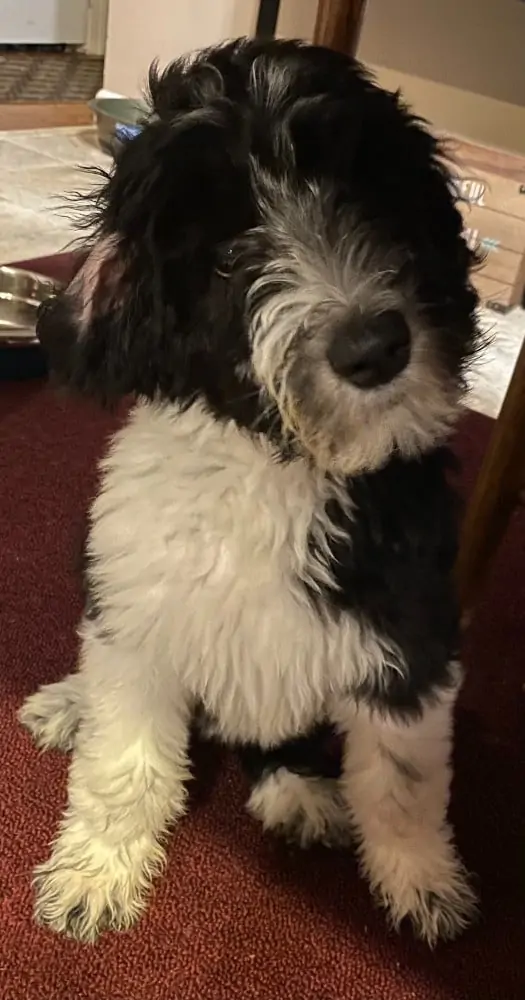 13 week old female Sheepadoodle. So sweet. Loves her sister Ginger the Goldendoodle. She learns tricks very quickly when you have treats! She loves ice cubes! Such a snuggle bug!!! We just love her so very much!
Walt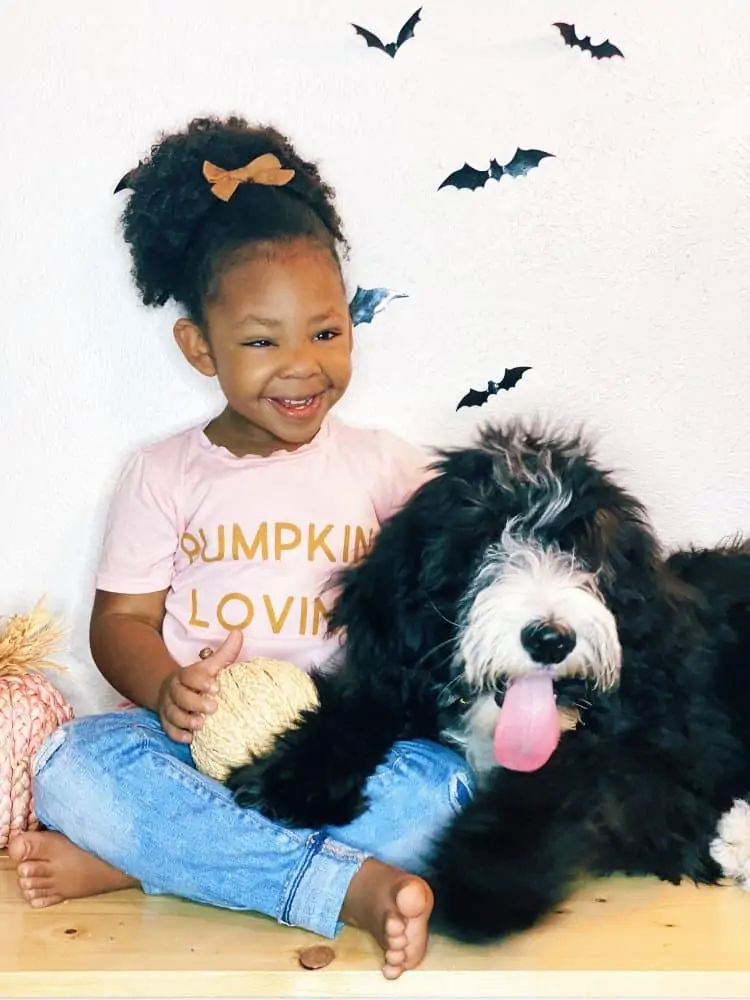 Walt, named after the great Walt Disney, was a much needed joy in our lives after our Disney 2020 trip was canceled do to Covid. Walt is 5 months old and such a sweet boy! He loves to play fetch and cuddle with his big sis Rose.
Instagram: @walterfinnthesheepadoodle
Linus Pooh Bear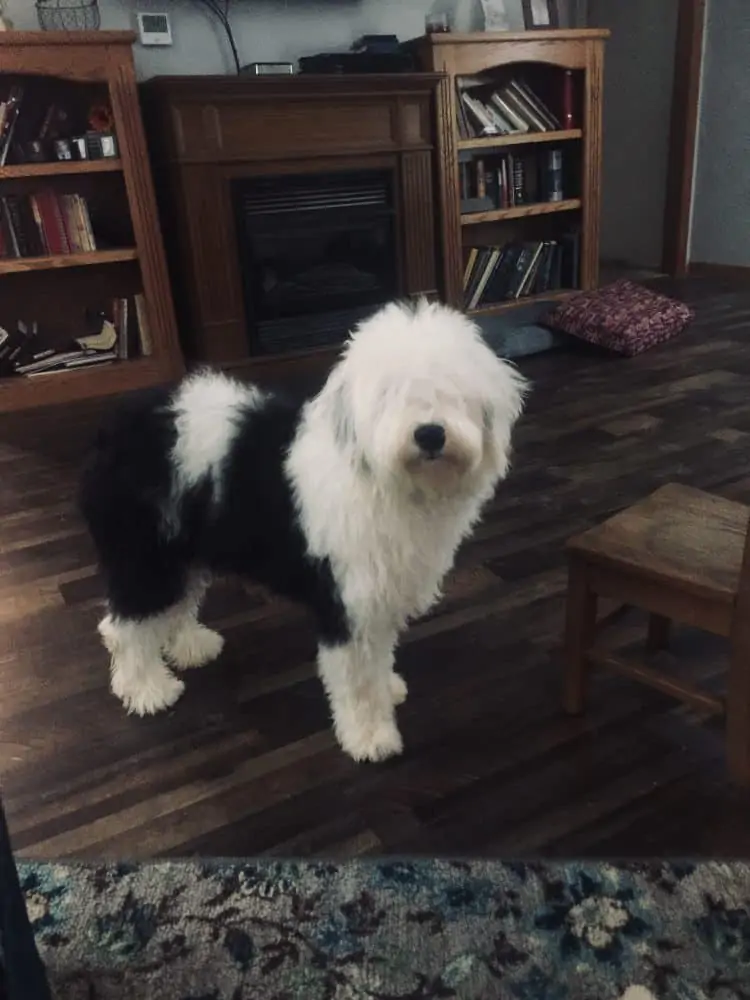 He is so nosy! Wants to get into everything!! Playful, loving & gorgeous!!
Gypsy Pearl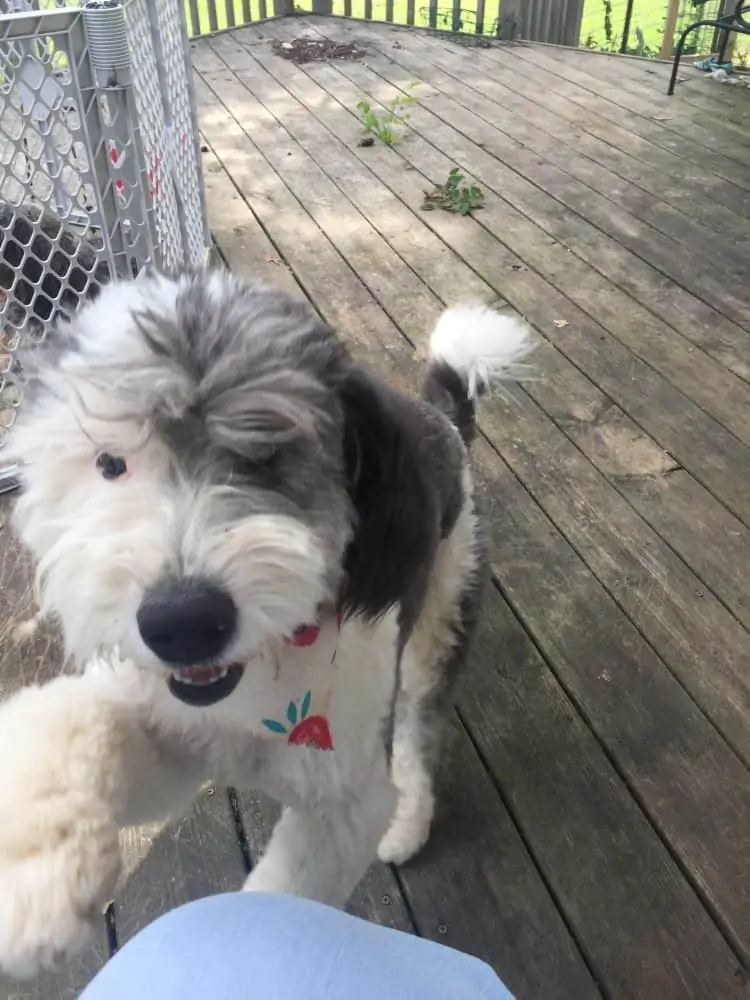 Gypsy Pearl is the most loving dog ever! There's nothing she loves more than to just sit on your lap even though she's 30 lb!
October Spotlight
Presenting our lovely October Sheepadoodles!
Moxie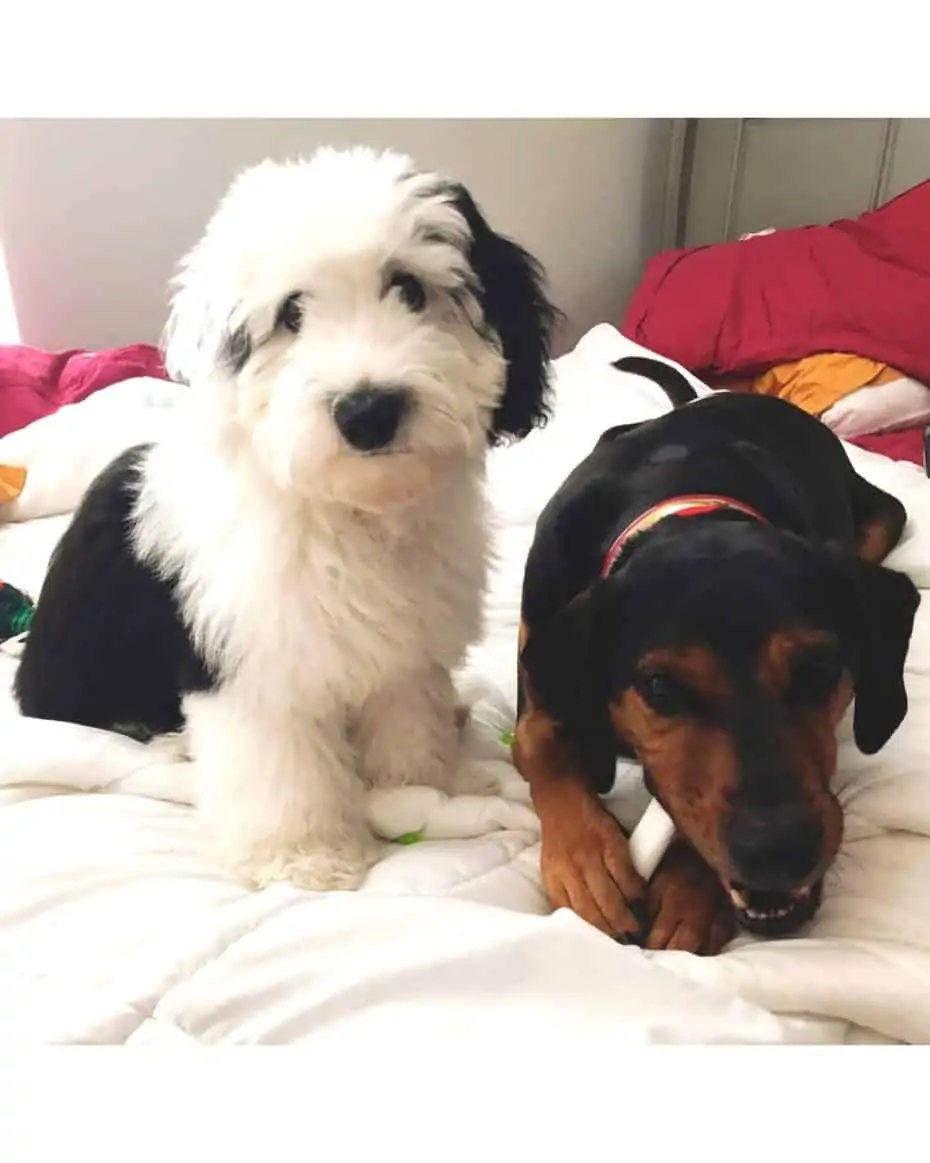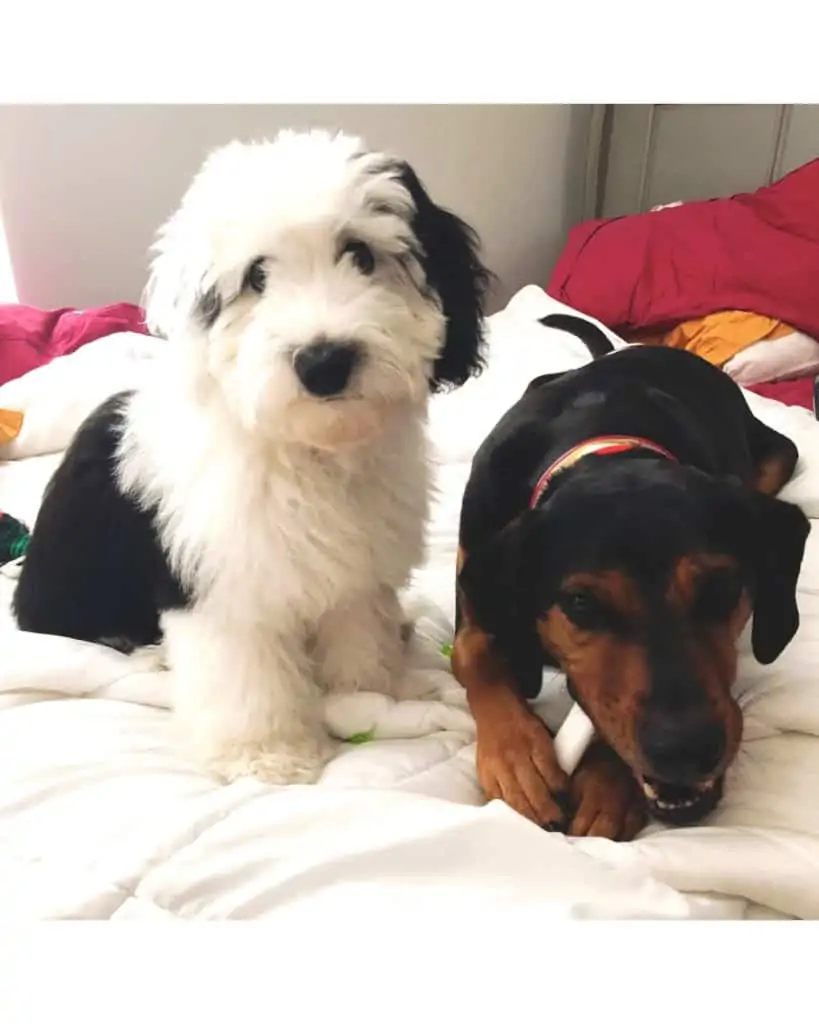 Moxie is a full-of-life, full-of-love, easy, brilliant, fun happy girl who steals hearts and makes new BFFs every time she does so much as step outside.
Favorite treats: Freeze-dried liver; jerky. Also loves and anticipates meal times. Subtly waits in the kitchen near her bowl, occasionally checking to see if we've noticed; then sprints/hops ahead of us to laundry area where food storage bin is, and barks at the door.
When she's sure we've "found" the food and put it in the bowl, she hops back to kitchen and barks beside her food bowl (while sitting), seemingly to remind us what to do next. Haha.
Favorite activities: She loves everything and has literally never had an unhappy moment, I think. She acts like she's the luckiest dog ever just to be in the presence of her family (me, my 11yo daughter, and our 5yo hound mix named Rascal), no matter what we're doing. However, she is especially obsessed with playing with her older brother, Rascal (a hound mix). She follows him everywhere, sometimes hanging from his tail or ears, often prompting games of tug of war; then when he gets tired of that and goes to couch for a nap, she lies beside him, staring at him. She also loves car rides. And she almost erupts with excitement when she meets someone…anyone…people or pets.
Instagram: @moxie.lu.sheepadoo
Ollie-oop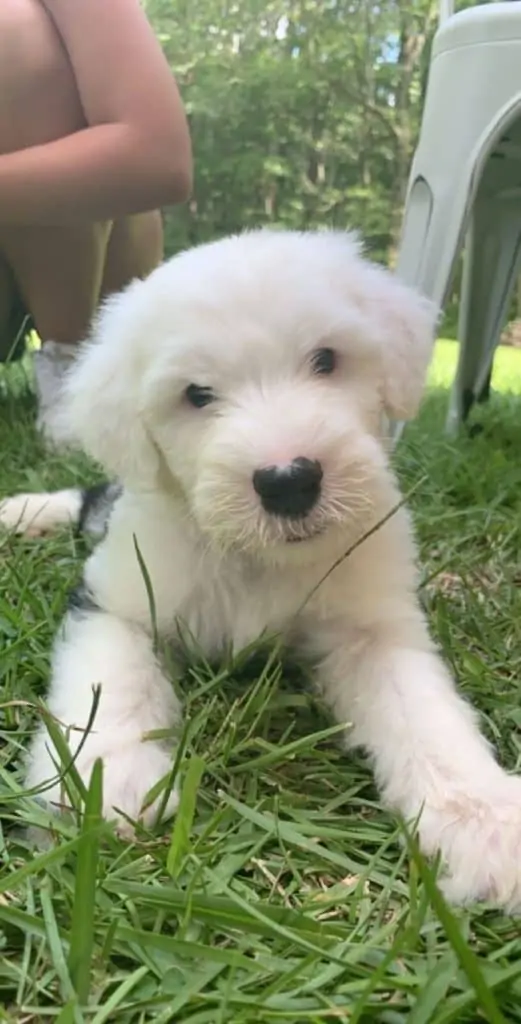 Ollie is 9 weeks old and having a GREAT life. He enjoys playing with his beach chair, playing with vines, learning how to sit and stay . . . and go UP the stairs in our home. (Down? . . .that's another story.)
Instagram: @ollieoopsheepadoodle
September Spotlight
Get to know our September Sheepadoodles!
Arlington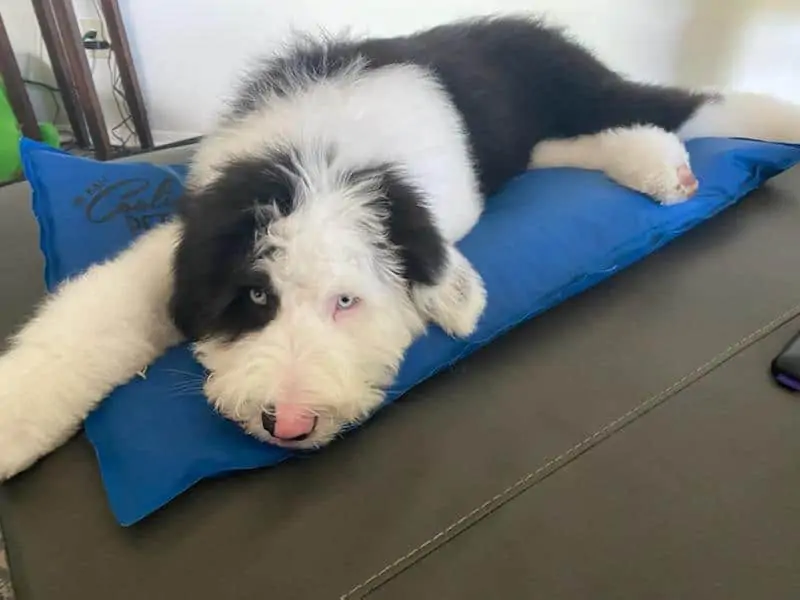 My name is Arlington. I am 5 months old and VERY handsome! I have a lot of energy and at the same time am the sweetest Sheepadoodle ever! I love all my toys, bullysticks, walks, playing ball, and playing in the water. I try to play with my kitties, but they think I'm a little big; I just give them kisses.
Zooey and Zander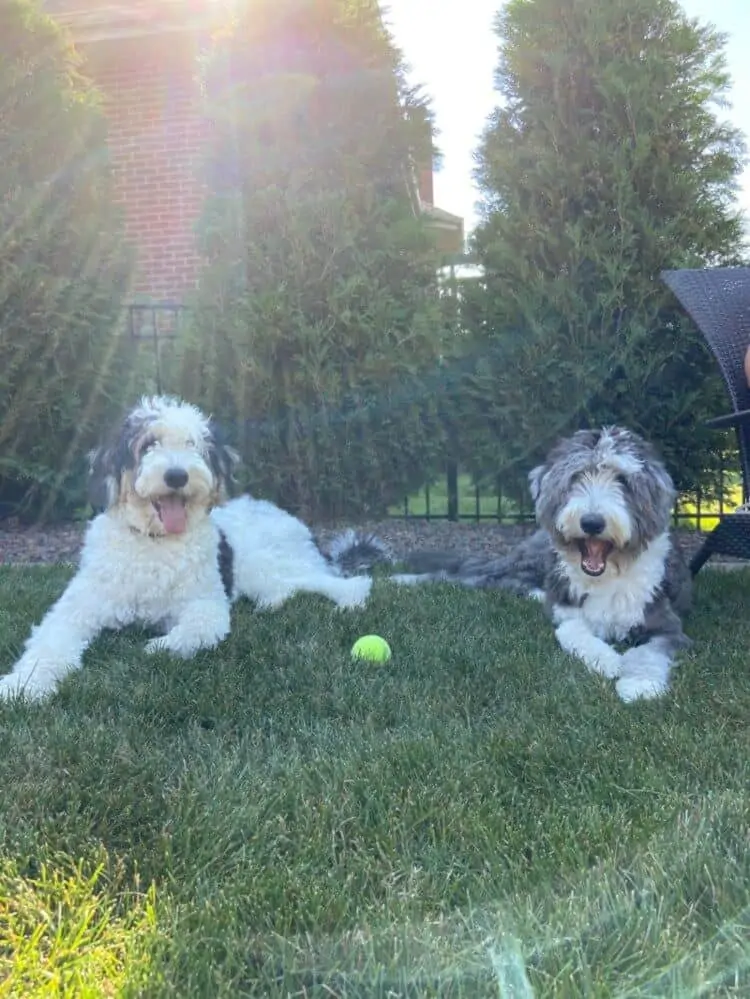 Zoey and Zander were just adopted by us. They are 11 months old. They love to wrestle and are inseparable littermates!
Instagram: @Zoey_and_Zander
Pepper Pawsworth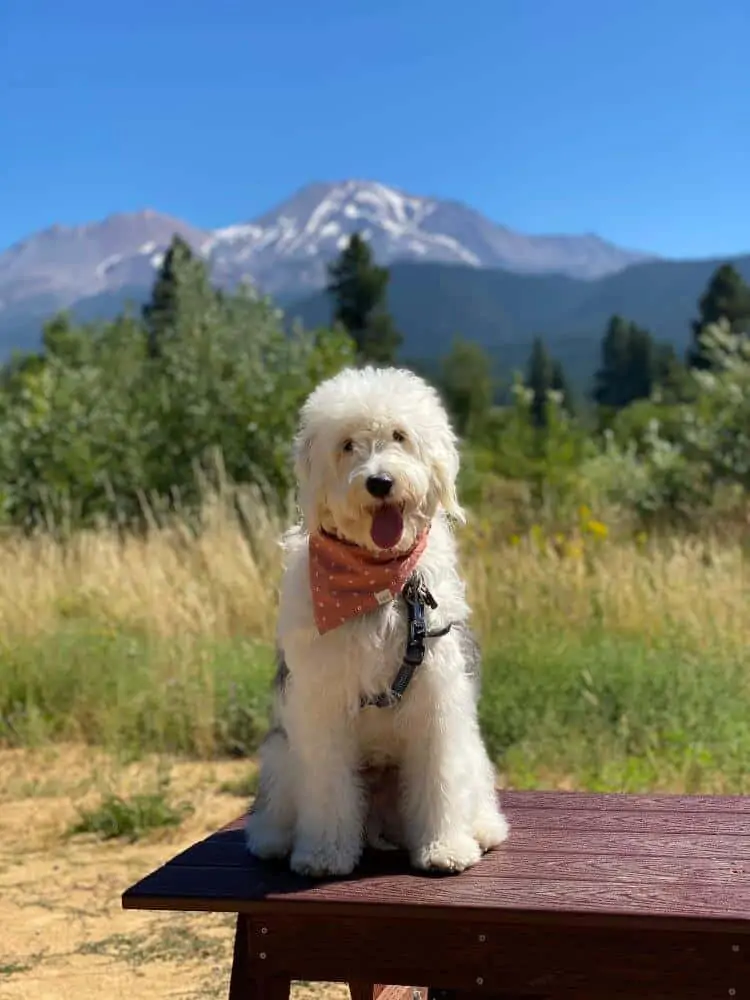 I am a goofy mini sheepadoodle. My humans think I am part bunny, part sheep, and part cow! I live in foggy San Francisco. I love playing chase with other dogs at the dog park, and love meeting new humans! My favorite human food is cheese, and favorite dog treat is anything that has salmon, whitefish, or trout in it – the stinkier the better!
Instagram: @pepper.pawsworth
Kya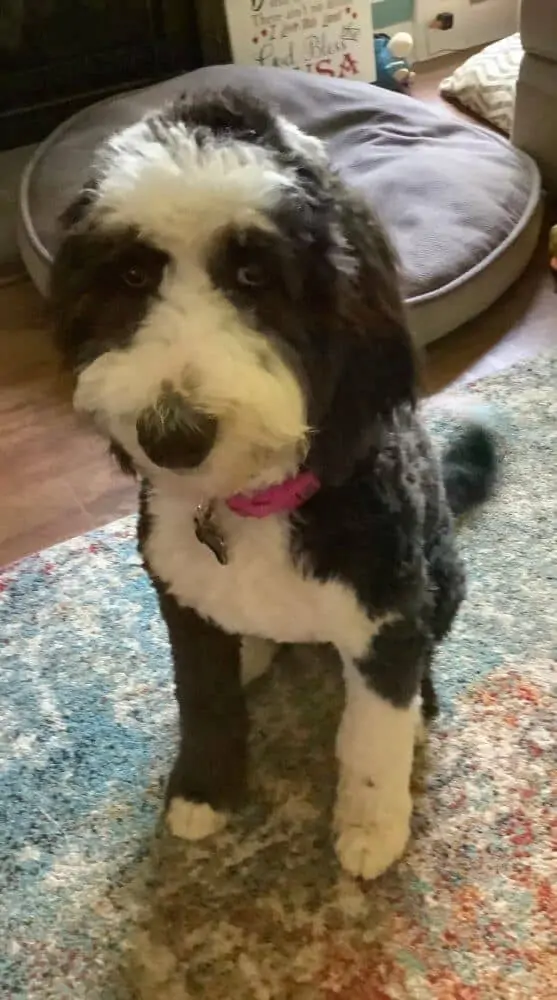 Kya is 7 months old and is quite a clown. She loves to play with her dog sister Daisy, chew on mom's shoes, and play ball. The favorite part of her day is her morning walk. Kya's favorite treats are Milk Bones and Snausages.
Zoey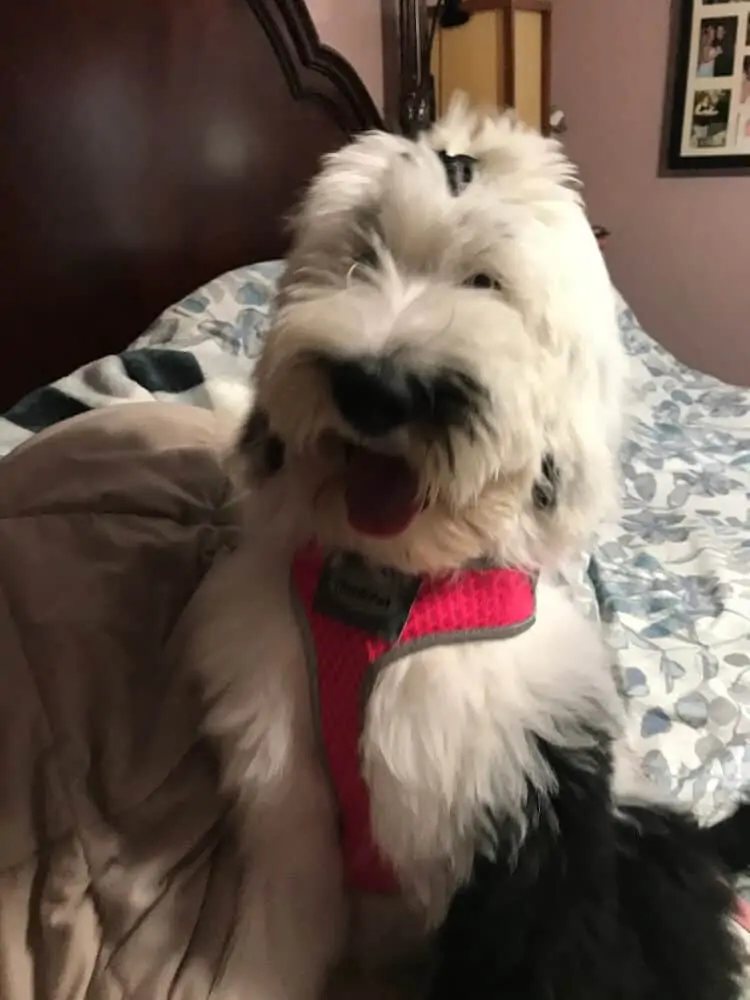 Zoey is a beautiful 4 month old Sheepie who traveled from South Dakota to Upstate NY when she was 8 weeks old to join our family. She loves to go on walks and her stunning beauty has stopped traffic to talk about her breed. She loves people and greets everyone with lots of kisses. She is so smart. Potty training was a breeze. She knows many tricks. She can get over excited and we are working on that with her now. She loves to cuddle and forgets her size. She has turned our world upside down and we wouldn't have it any other way. She is a blessing.
Instagram: @Life_of_a_sheepadoodle_zoey
---
Amazon Associates Program
This article may include affiliate links. www.travellingwithadog.com is a participant of Amazon.com Services LLC Associates Program. As an Amazon Associate, I earn a commission from qualifying purchase. www.travellingwithadog.com participates in other affiliate programs, and recieves commissions when purchases are made through the links. The cost is not inflated to account for the commission earned.
---
Veterinary Disclaimer: travellingwithadog.com is not a substitute for veterinary advice and does not intend to provide any type of veterinary advice for your animals. Please consult your vet for any questions you have regarding your pets health.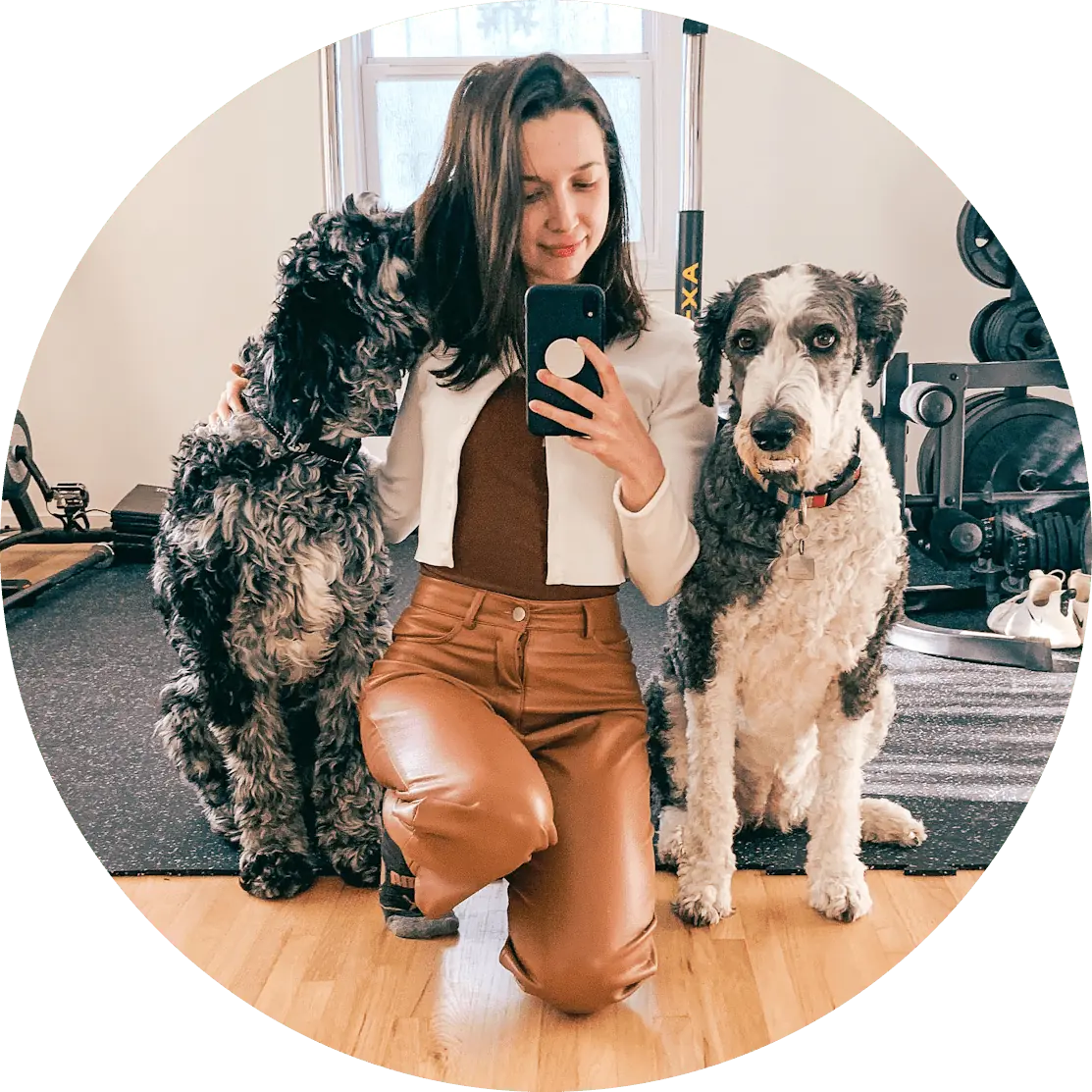 About the Author:
Dana owns a Sheepadoodle and a rescue merle Labradoodle. Her first dog growing up was a white Toy Poodle and she's loved dogs ever since. She has years of experience fostering dogs and has helped find homes for a variety of different breeds, both large and small! After seeing so many dogs end up unwanted and in shelters, she began blogging about different dog breeds (specifically Doodle dogs, since that's what she knows best) to help people make informed choices when adding a new member to their family.
When Dana's not brushing her Doodles' hair (it takes a lot of time for two!) you can find her playing nose work games and fetch with her two amazing pups.
Learn more about her here.