Last Updated on
Do you want to find Labradoodle puppies? We've put together a list of Labradoodle breeders to help you find one in your area.
But first, make sure you read our posts on Labradoodles and Mini Labradoodles to find out if these dogs are actually the right dogs for you and your family.
Here are a few essential items to note:
This list is just a directory—we do not endorse any of the Labradoodle breeders on our list and do not make any guarantees.
Please do your research and make sure you are buying from an ethical breeder.
While we've done our best to research the below Labradoodle breeders, if you come across something that seems off, please email us (hello @ travellingwithadog.com [no spaces]). Your email will remain confidential.
Tips for Finding the Best Labradoodle Breeders
Unfortunately, as Labradoodles are a highly popular dog, you will come across backyard breeders if you aren't careful. (A backyard breeder is someone with unethical breeding standards.)
Watch for any of these warning signs:
The breeder is sending puppies home before 8 weeks of age (a 6-7 week old puppy is NOT fit to leave their mama just yet)
Breeder will not show you health testing certificates
Breeder will not show you vet records
Your puppy comes with no guarantee
Don't raise the puppy with the mom and dad dogs on site (especially if the mom isn't there)
There is no lifetime return policy (usually, breeders will request you return the dog to them if you are unable to care for them, regardless of the age. They will then find an appropriate home for the dog).
The breeder doesn't ask you questions.
On top of doing research, you should ask the breeder if they have past clients you can reach out to. You can also join Labradoodle Facebook groups and ask if anyone has had experience with the Labradoodle breeders in question.
Labradoodles versus Australian Labradoodles
While searching for a Labradoodle breeder, you're going to come across both Australian Labradoodle and Labradoodle breeders; but what's the difference?
To understand, let's first discuss how breeding a Labradoodle works.
If you breed a Labrador Retriever and a Poodle, you get a first-generation Labradoodle (also known as F1 Labradoodle). Now, if you take that F1 Labradoodle and breed it with a Poodle, you will have a F1b Labradoodle (which is then 75% Poodle and 25% Labrador).
Australian Labradoodles are cross between Labradoodles, Poodles, Cocker Spaniels, Irish Water Spaniels and Curly Coat Retrievers.
Therefore, if you want a Labrador/Poodle cross, you will want a Labradoodle. If you want other breeds in the mix, you may want to look at the Australian Labradoodle. Regardless, the list of Labradoodle breeders below breed Standard Labradoodles and some have Australian Labradoodles as well.
Here is a directory of Labradoodle breeders to help narrow down your search. They are divided up by country and state/province to help you find ones near you.
Labradoodle Breeders in the United States
Labradoodle Breeders in Canada
---
Amazon Associates Program
This article may include affiliate links. www.travellingwithadog.com is a participant of Amazon.com Services LLC Associates Program. As an Amazon Associate, I earn a commission from qualifying purchase. www.travellingwithadog.com participates in other affiliate programs, and recieves commissions when purchases are made through the links. The cost is not inflated to account for the commission earned.
---
Veterinary Disclaimer: travellingwithadog.com is not a substitute for veterinary advice and does not intend to provide any type of veterinary advice for your animals. Please consult your vet for any questions you have regarding your pets health.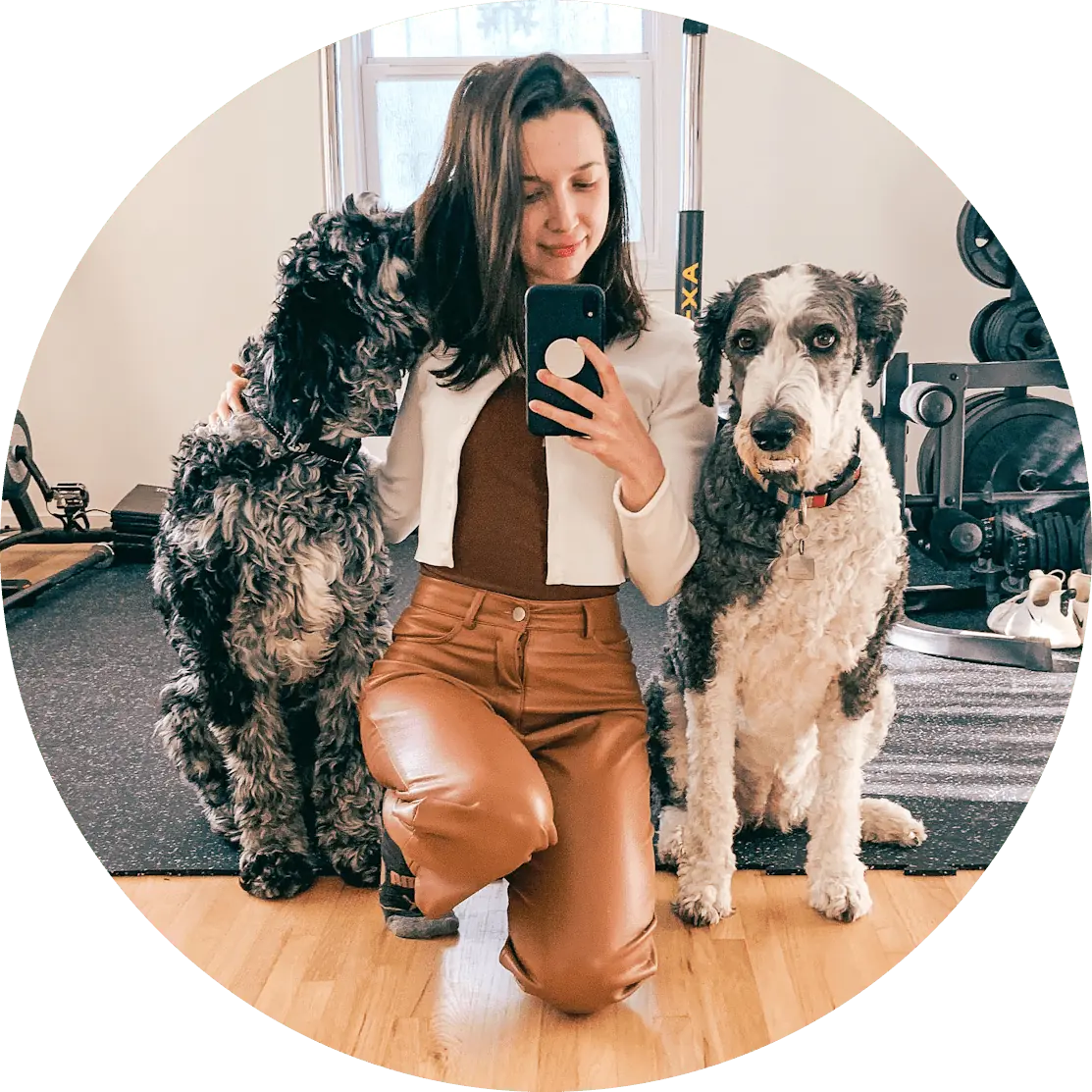 About the Author:
Dana owns a Sheepadoodle and a rescue merle Labradoodle. Her first dog growing up was a white Toy Poodle and she's loved dogs ever since. She has years of experience fostering dogs and has helped find homes for a variety of different breeds, both large and small! After seeing so many dogs end up unwanted and in shelters, she began blogging about different dog breeds (specifically Doodle dogs, since that's what she knows best) to help people make informed choices when adding a new member to their family.
When Dana's not brushing her Doodles' hair (it takes a lot of time for two!) you can find her playing nose work games and fetch with her two amazing pups.
Learn more about her here.