Last Updated on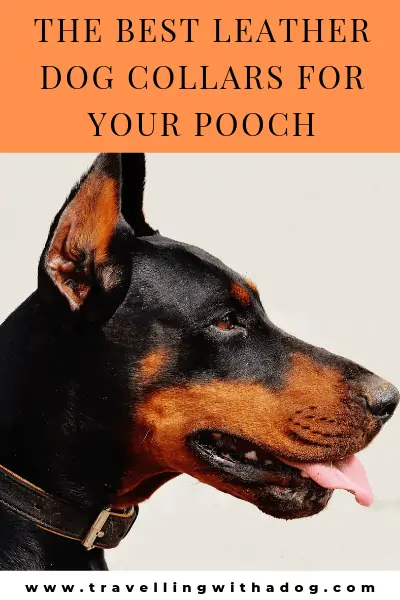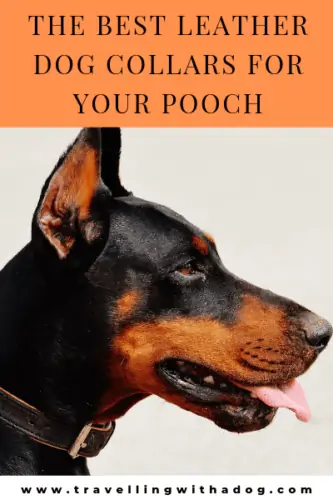 Genuine leather dog collars are stylish, durable and comfortable on your dogs. For many reasons that we will touch on in this article, dog owners prefer leather dog collars to nylon.
While there are many high-quality leather dog collars to choose from, I've gone ahead and done a lot of the work for you and narrowed it down to some of the best leather dog collars based upon research and reviews! All collars vary in size and many are good for both small dogs and large dogs!
This post contains affiliate links. When you click on a link within this post and make a purchase, I will earn a commission. This is at no additional cost to you.
If you already know what type of collar you are looking for, you can click below to view the selection:
Why Choose a Leather Dog Collar
Leather dog collars are both durable and stylish. Some dogs also have allergies to nylon collars, making a leather collar ideal.
But beware, leather collars can be higher maintenance than nylon ones. Leather has a tendency to crack and become brittle if it is not cared for properly.
Aside from cracked leather being unattractive to look at, it can also cause your dog to rash.
Leather dog collars are also a bit pricier than a typical nylon collar, however, they end up being cheaper in the long run if you care for it properly! Not to mention, your dog's coat has oils that can benefit their leather collar!
The Best Leather Dog Collars
Rolled Leather Dog Collar
Rolled leather dog collars are specifically good for shaggy dogs. The rolled leather prevents collar lines and can also help to prevent matting. The below rolled leather dog collar comes in six different colors and starts at neck sizes 7″ up to necks that are 21″.

It is made out of soft full grain genuine leather with a stainless steel buckle and ring.
Handmade Custom Leather Dog Collars
If you are looking for something specific, you might want to look for a handmade dog collar. There are many great options for handmade dog collars.
One great thing about the handmade collars is you are often able to customize them a for size and style.
Off-White Customer Leather Collar
The below handmade dog collar is probably my favorite of the three, just based on personal preference. I love the light leather color and can't get enough of the name stamped into the leather.
Not only can you get your dog's name stamped into the collar, but you also can choose the font!
These leather dog collars range in size from XS-XXL.

Name Plate Custom Leather Collar
Another close favorite is the name plate collar, Instead of dog tags, you can engrave your dog's information right on the brass name plate.
Some dog tags discolor dog's fur (our dog has white fur and it turns gray from her tags) so this could be an excellent option if your dog is the same way.
Decorative Custom Leather Collar
This last handmade leather collar features a decorative mountain pattern and a leather name badge for your dog.
View Prices Here
Wide Leather Dog Collars
Certain breeds look absolutely beautiful with wide collars! When I think of wide dog collars, my mind immediately goes to breeds such as bulldogs, german shepherds, mastiffs and the like!
The following wide leather dog collars were made with padding to ensure maximum comfort for your dog.
Studded Wide Collar
Bestia, the makers of the below collar, makes some beautiful premium collars (a few of which are featured in this article). The below collar ranges from small to XL.

View Prices Here
Plain Wide Collar
This collar comes in two colors variations: black or tan.
Studded Leather Dog Collars
Studded Pink Collar
Initially, when I think of studded dog collars I imagine hardcore collars with spikes, but this studded collar is the perfect mix between tough and soft.
This particular collar is on the smaller size and is in the sizes small and medium.
Gold Studded Dog Collar
Another elegant choice for a studded leather dog collar is this gold one, again by Bestia. This padded collar ranges in size from medium to XXL.
View Prices Here
Traditional Studded Collar
For those who are looking for a traditional looking studded leather dog collar, this one has excellent reviews. One reviewer noted that they don't use this collar when playing with other dogs as the spikes can be a bit pointy to the other dogs.
Western Leather Dog Collars
Western leather dog collars are beautifully crafted and are sure to dress up your pooch.
Colorful Leather Dog Collars
A lot of the leather collars mentioned above are neutral colors. But if you prefer something more colorful, there are still plenty of options!
Two-Toned Leather Collar
This beautiful leather dog collar comes in four different two-toned designs.
Canvas or Fur Lined Collar
This reversible collar comes in both fur-lined or canvas-lined with plenty of colorful options to choose from!
Who Should Get a Leather Dog Collar?
There are many different reasons as to why someone would want to buy a leather collar including:
If you are looking to buy a leather collar for your dog, you'll definitely be able to find many options above that will look fabulous on your dog!
---
Amazon Associates Program
This article may include affiliate links. www.travellingwithadog.com is a participant of Amazon.com Services LLC Associates Program. As an Amazon Associate, I earn a commission from qualifying purchase. www.travellingwithadog.com participates in other affiliate programs, and recieves commissions when purchases are made through the links. The cost is not inflated to account for the commission earned.
---
Veterinary Disclaimer: travellingwithadog.com is not a substitute for veterinary advice and does not intend to provide any type of veterinary advice for your animals. Please consult your vet for any questions you have regarding your pets health.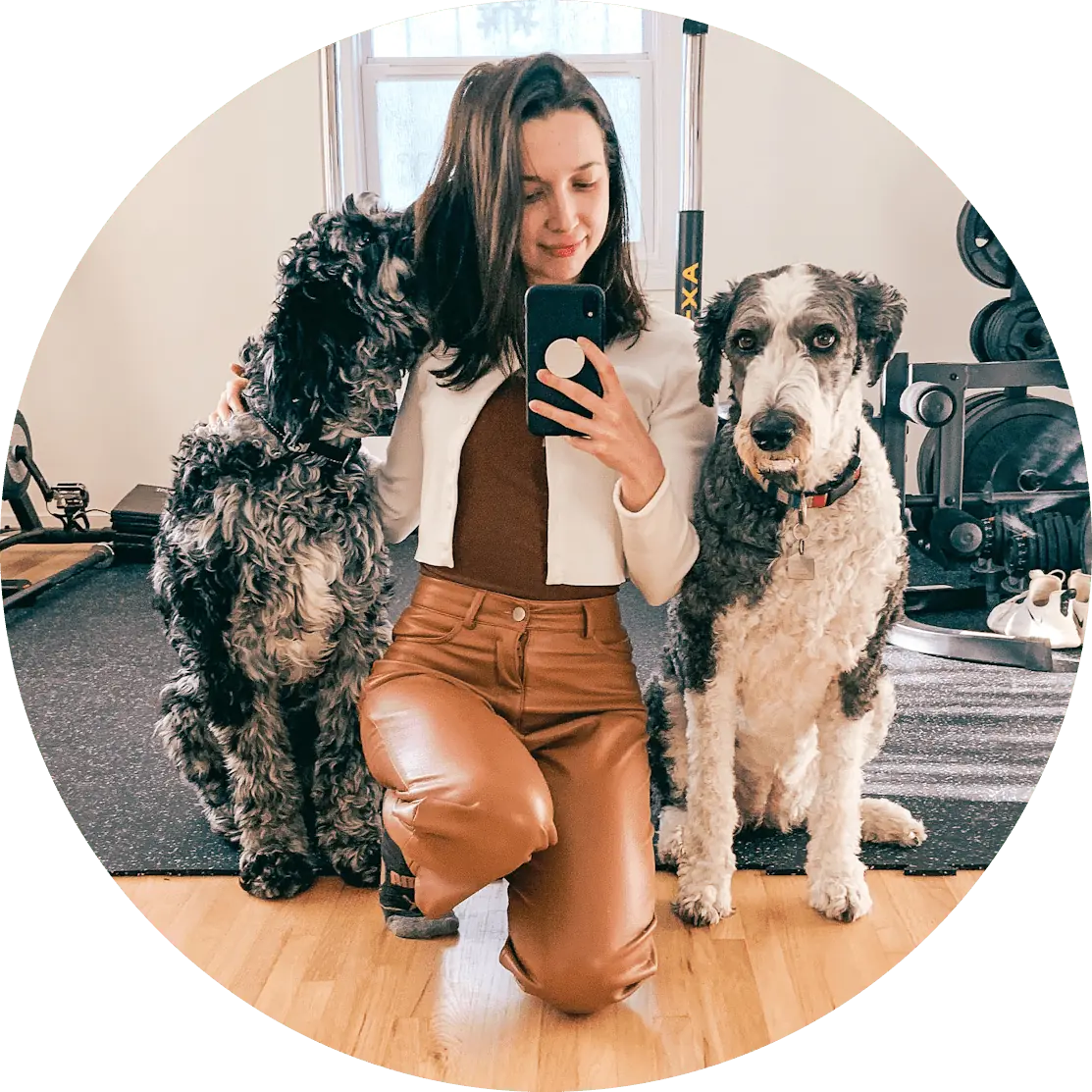 About the Author:
Dana owns a Sheepadoodle and a rescue merle Labradoodle. Her first dog growing up was a white Toy Poodle and she's loved dogs ever since. She has years of experience fostering dogs and has helped find homes for a variety of different breeds, both large and small! After seeing so many dogs end up unwanted and in shelters, she began blogging about different dog breeds (specifically Doodle dogs, since that's what she knows best) to help people make informed choices when adding a new member to their family.
When Dana's not brushing her Doodles' hair (it takes a lot of time for two!) you can find her playing nose work games and fetch with her two amazing pups.
Learn more about her here.