Last updated on February 25th, 2021
Shop Sheepadoodle T-shirts, sweaters + more!
You've done your research and now you've come to the conclusion that a Sheepadoodle (or Mini Sheepadoodle) is the right dog for you and your family! And now you're searching up "Sheepadoodle puppies for sale" or "Sheepadoodle puppies near me" to try and find the best Sheepadoodle breeder.
Sheepadoodles are growing in popularity. Their teddybear-like appearance paired with their fun-loving nature makes them an incredibly great dog for an active family. Their increasing popularity means the number of Sheepadoodle breeders is also increasing.
I'm part of a couple of private Facebook groups for Sheepadoodle owners and recently asked members for the name of their Sheepadoodle breeders if they loved them.
I wrote down all their answers and have compiled this list so that you are able to narrow down your search in the quest for finding the perfect Sheepadoodle breeder.
Please note that even though each individual may have had a good experience with the particular breeders on this list, I do not endorse these breeders myself as I have personally not worked with them. Please do not use this list of Sheepadoodle breeders as your holy grail. You must do your research.
How to Find the Best Sheepadoodle Breeder
Finding a good breeder is incredibly important.
You do not want to be supporting backyard breeders or any puppy mills, and unfortunately when you search "Sheepadoodle puppies for sale" you can't always guarantee the results will be quality breeders, making it very important to do your research.
The best way to find out more about your potential breeder is to contact them (via email and phone), visit them and ask lots of questions.
Sometimes visiting isn't an option, however. You might be purchasing your puppy from another state or province.
In this case, you should be asking lots of questions, speaking to the breeder over the phone and reading lots of reviews.
Good Sheepadoodle breeders (and breeders in general) will happily answer your questions and won't try to hide anything. They will be open about anything and everything there is to know about owning a Sheepadoodle, including the amount of work that goes into grooming a Sheepadoodle, their temperament, the level of exercise they need and tons more.
A good Sheepadoodle breeder will also be vetting you — they want to make sure their puppies are going to loving homes so if the breeder isn't asking you any questions, it can also be a red flag.
You should also make note if the breeder has terms and conditions listed on their website. Most breeders will make a point in their contracts stating that the puppy/dog will need to be returned to them if you can no longer care for it.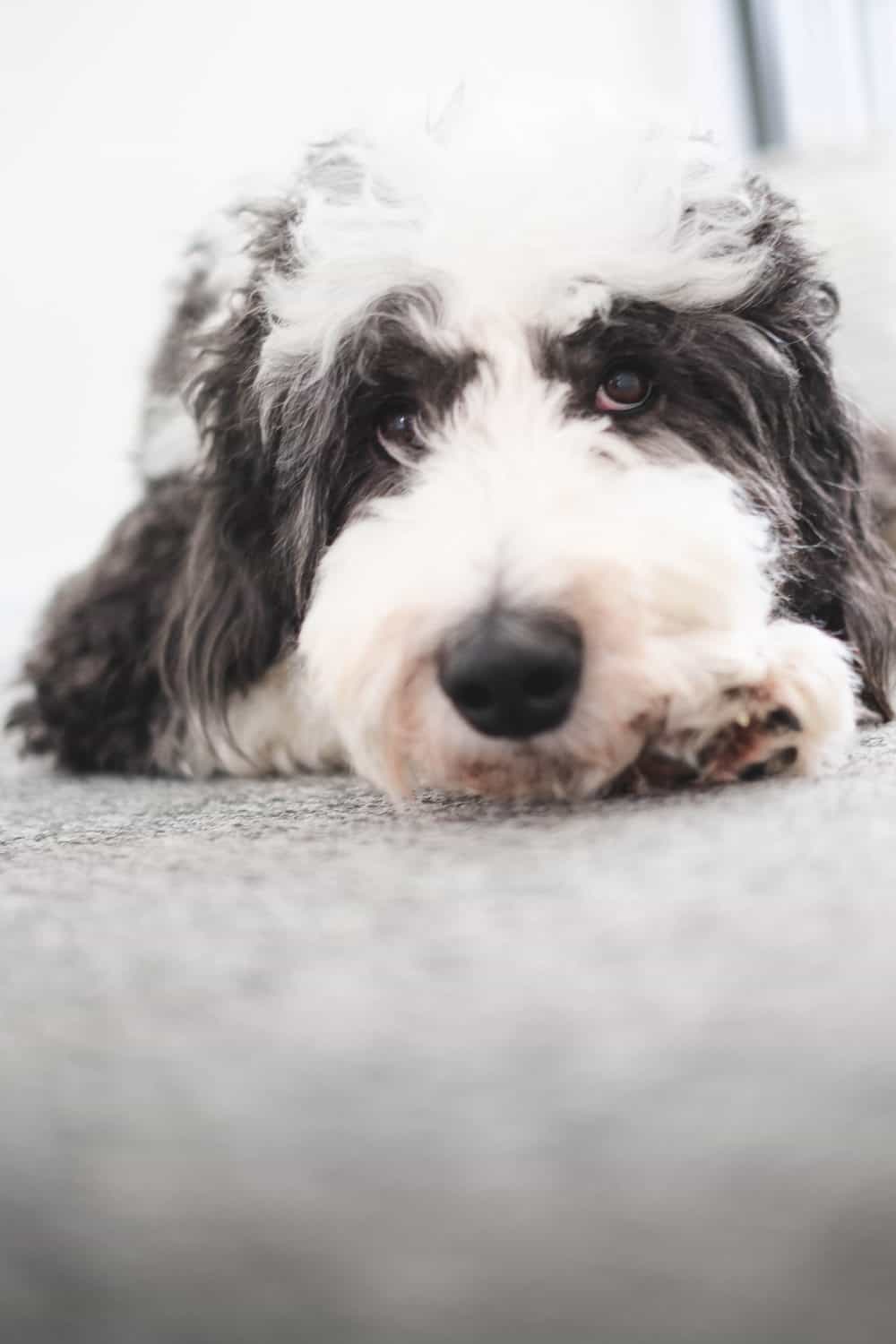 You also should ask how old the puppy will be when you are able to pick it up. A responsible breeder will not give up a puppy earlier than 8 weeks old, as this is an important developmental phase for puppies where they need their mother and siblings to learn proper socialization skills.
Sheepadoodle Breeders and Waitlists
Many Sheepadoodle breeders have long waitlists. Don't be put off by a waitlist, however! Sometimes you may need to wait for up to a year before you can get a puppy.
It's important to contact several different Sheepadoodle breeders to see what their waitlist policy is.
You can also join various Sheepadoodle groups on Facebook and ask questions.
Most of us in the Facebook groups know who the bad Sheepadoodle breeders are will be able to let you know if you have a bad feeling about the one you are speaking with.
Sheepadoodle Breeder Red Flags
If any of your potential breeders show these red flags, be very careful. I know that you are likely excited and even in some cases, desperate, to get a hold of a new puppy, but you should never support breeders who do not put the care of the dogs first.
Tread very carefully if your potential breeders:
Sends the puppies to the owners before 8 weeks (a 6-7 week old puppy is NOT fit to leave their mama just yet)
Will not show you health testing certificates
Will not show vet records
Puppy comes with no guarantee
Don't raise the puppy with the mom and dad dogs on site (especially if the mom isn't there)
Sheepadoodle Breeders in North America
Like any dog breeder, it's important to do your research.
While these breeders have come to me as recommendations, this list is meant to serve as a directory of Sheepadoodle breeders and not a personal recommendation.
Please use this list as a starting point and not your final destination. It's up to you to do proper research.
Sheepadoodle Breeders in the United States
If you are in the United States, you'll be able to find many Sheepadoodle puppies for sale. The U.S. has lots of reputable Sheepadoodle breeders.
This list of Sheepadoodle breeders is in alphabetical order by State.
2Sisters Doodles – Alabama
Sheepadoodles by Design – Arkansas
California Magnificent Mini Sheepadoodles
California Sheepadoodles – California
Open Range Pups – Colorado
Once Upon a Doodle – Colorado
The Farms Precious Doodles – Indiana
Feathers and Fleece – Indiana
Poodles2Doodles – Iowa
TLC by the Lake – Maryland
Happy Rock Doodles – Michigan
Stoneridge Doodles – Minnesota
Doubletake Doodles – Mississippi
Sandhills Kennel – Nebraska
Dogwood Doodle Bugs – North Carolina
Angel Breeze – Ohio
Fur Baby Acres – Ohio
Brewers Goldendoodles & Sheepadoodles – Ohio
Rockadoodles – Tennessee
The Gray Barn Sheepadoodle – Texas
Cardinal Creek Canines – Texas
Dood Sheepadoodles – Texas
Faith, Love and Doodles – Texas
Red Rooster Kennels – Texas
Utah Wiggle Bottoms – Utah
Perfect Paw Prints Bernedoodles and Sheepadoodles – Utah
Lawpdoodle K9 Manor – West Virginia
Sheepadoodle Breeders in Canada
Yabba Dabba Doodles – Alberta
Yabba Dabba Doodles was a recommended Sheepadoodle breeder however, they do not have Sheepadoodles currently listed on their website. It's worth looking into if you live in Western Canada and reaching out to them.
Willow Run Farm – Ontario
Red Dog Canine – Ontario
How I Met My Doodle – Ontario
I Love My Sheepadoodle – Ontario
Sheepadoodle FAQs
If you are looking for some more information on Sheepadoodles and answers to common questions, click the links below:
In Conclusion
Finding Sheepadoodle puppies for sale from the best Sheepadoodle breeder can be a daunting process, but doing the proper research will ensure you have a healthy and happy pup.
Whether you are looking to find a Sheepadoodle in Texas or a Sheepadoodle in breeder in California, I hope this list provides you with a starting point.
---
Did you absolutely love your Sheepadoodle breeder and think they should be on the list? Please contact us with your Sheepadoodle breeder's website and pictures of your pup on Instagram (photos must be on your personal Instagram so we can verify your ownership) and we will consider adding them to the list.
Shop our Sheepadoodle products here:
Shop Sheepadoodle T-shirts, sweaters + more!
---
Amazon Associates Program
This article may include affiliate links. www.travellingwithadog.com is a participant of Amazon.com Services LLC Associates Program. As an Amazon Associate, I earn a commission from qualifying purchase. www.travellingwithadog.com participates in other affiliate programs, and recieves commissions when purchases are made through the links. The cost is not inflated to account for the commission earned.
---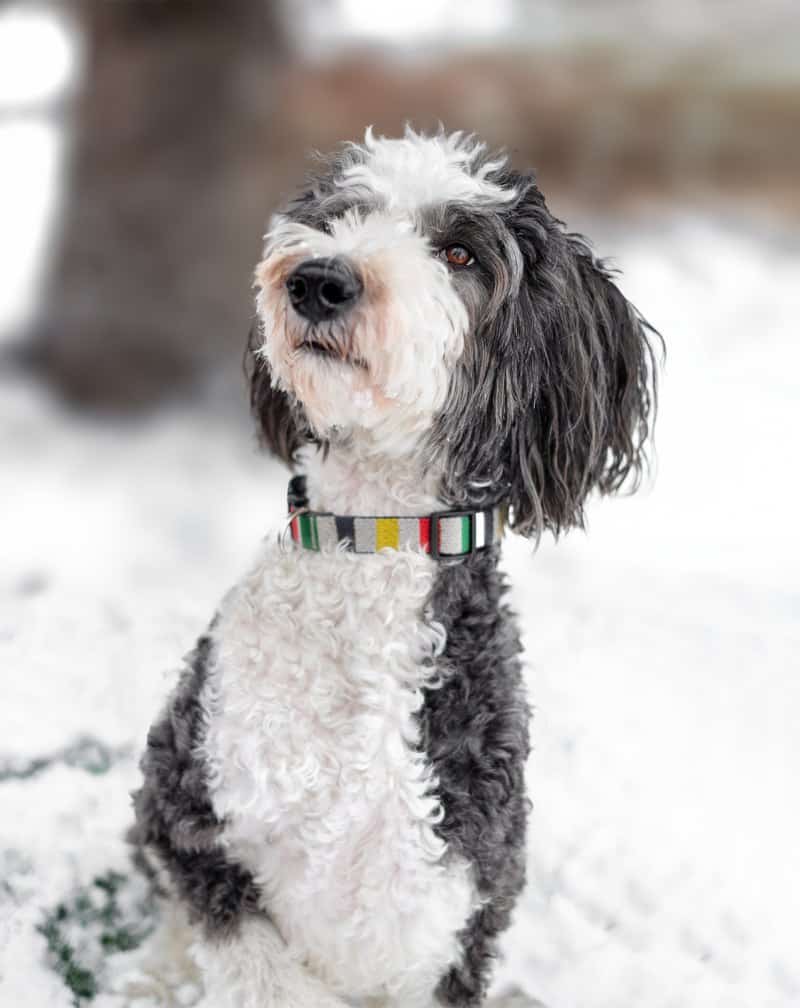 About the Author:
Dana is a Sheepadoodle owner who loves to highlight dog-friendly places you can travel to with your pooch, dog-friendly products, and provide info for dog owners.