Last Updated on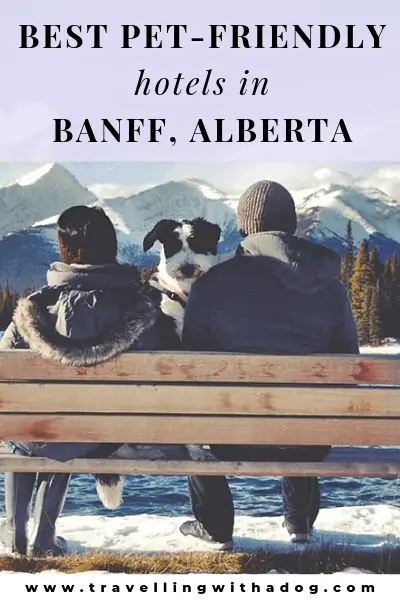 Fancy restaurants, boutique stores, humongous parks, and vibrant nightlife –welcome to Banff, a charming resort town like no other in Alberta!
There's a ton to see and do in Banff, but nothing that can beat staying in a cozy, well-equipped hotel room with your favorite pooch. Thankfully, there's never a shortage of pet-friendly hotels in Banff.
We've put together a list of the six best hotels in Banff that'll make your pet's stay as pleasant and enjoyable as your own.
#1. Fairmont Banff Springs
Nestled just 1km from the city center, Fairmont Banff Springs scores big points for pet-friendliness. One of Alberta's iconic buildings, this hotel boasts a 1920s revivalist architecture that's reminiscent of Scottish Baronial castle style.
It has a large lap pool, heated outdoor pool, and a golf course. Resort amenities include horseback riding, tennis courts, bowling alleys, beauty & spa, ski lessons, and a plethora of ski hotspots are nearby.
That's not all that makes Fairmont one of the best pet-friendly hotels in Banff. Guest are greeted by an elegant lounge, splendid lobby, restaurant, wine bar, and much more. The rooms are also magnificent. Each room comes with down duvets, feather beds, and large bathrooms with European-style spray showers, granite vanities, marble floors, and several features that'll make your pet feel at home.
A nights stay might be out of your budget, however, this UNESCO World Heritage Site is open to visitors both staying at their hotel and not.
If you do not wish to stay at the Banff Fairmont Springs Hotel, it is definitely worth visiting and walking around (and since it's pet-friendly, you can bring Fido along).
#2. Moose Hotel & Suites
Here's one of the most pet-friendly hotels in Banff that is located right in the heart of the town.
Unlike most resorts, Moose offers free parking (bonus).
They have a large pool, on-site bar, spa center, ample patios, and an Italian restaurant.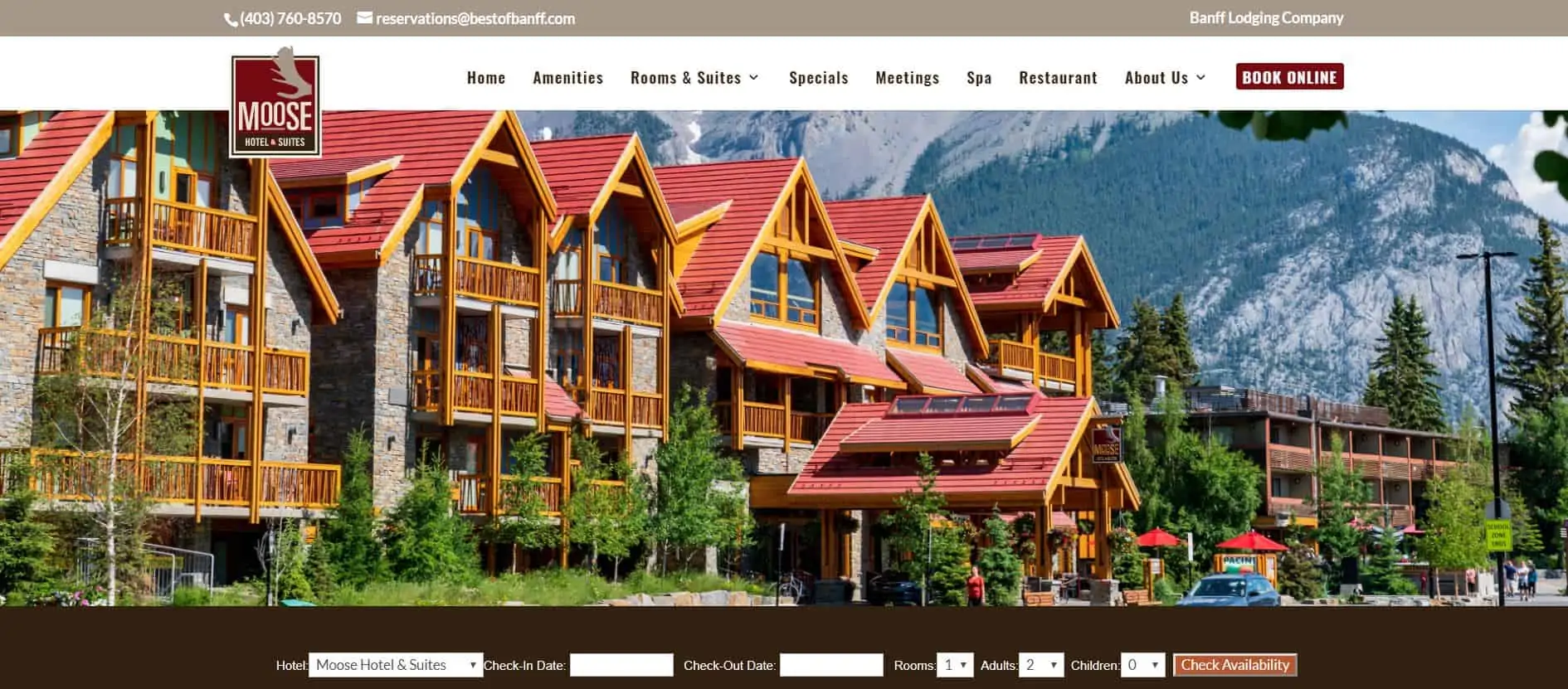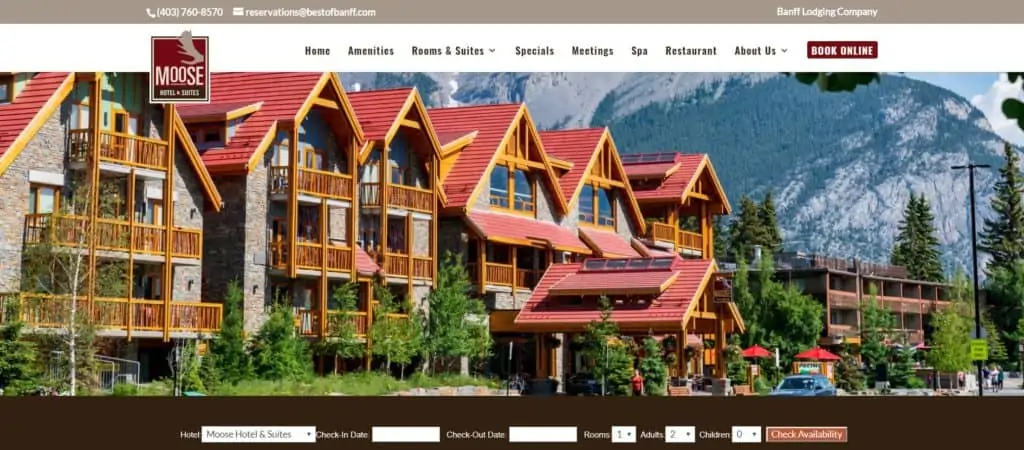 Each room at the hotel has a balcony, flat screen TV, and several amenities.
Guests can take advantage of free a la carte breakfast, heated private pools, rooftop pools with spectacular Mountain vistas, and other relaxation spots.
#3. Inns of Banff
Another pet-friendly hotel that made our list is the Inns of Banff. It is tucked slightly away from the hustle and bustle of the city center, which is very nice if you'd like to experience some quiet time.
Among the draws to the hotel include outdoor pools, indoor pools, a Japanese restaurant, free parking, 3 other on-site restaurants, sauna, jacuzzis, and free wifi. Each room has a tea kettle, coffee maker, large TV, and a private bathroom with a hairdryer.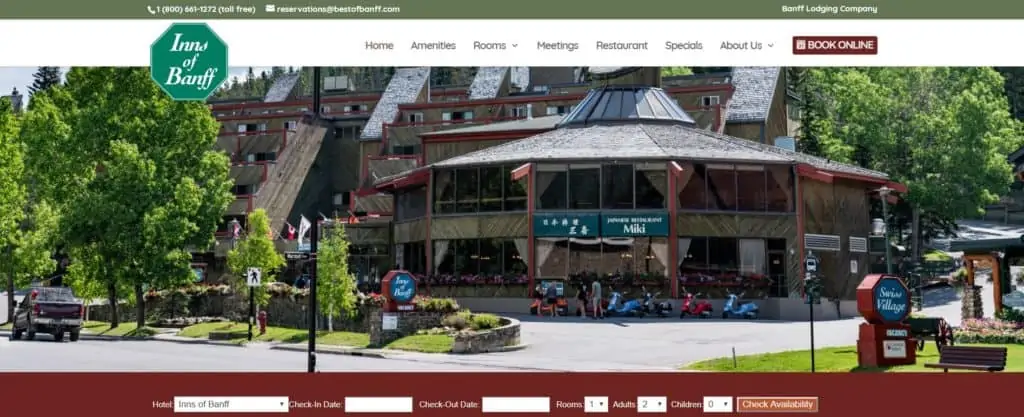 We've stayed at the Inns of Banff and thoroughly enjoyed out time! There is an outdoor hot-tub with an unbeatable view of the mountains, which is gorgeous no matter what season you visit.
#4. Bumpers Inn
This is a hotel that allows pets and offers no-frills look and feel. Each unit has free wifi, hairdryer, flatscreen TV, private bathroom, and courtyard deck.


Nearby attractions and amenities include a golf course that's located 4km away and Mount Norquay Ski Resort.
#5. Hidden Ridge Resort
If you love your independence when traveling, you'll absolutely fall in love with Hidden Ridge. It's part self-catering resort, part hotel, with A-frame chalets and stylish condos dotting the place.
The location offer mountain vistas and the area is surrounded by a lush forest. Guests enjoy amenities like jacuzzis, galley kitchens, wood-burning fireplaces, cable TV, BBQ pits, outdoor hot tubs, a balcony, and free wifi.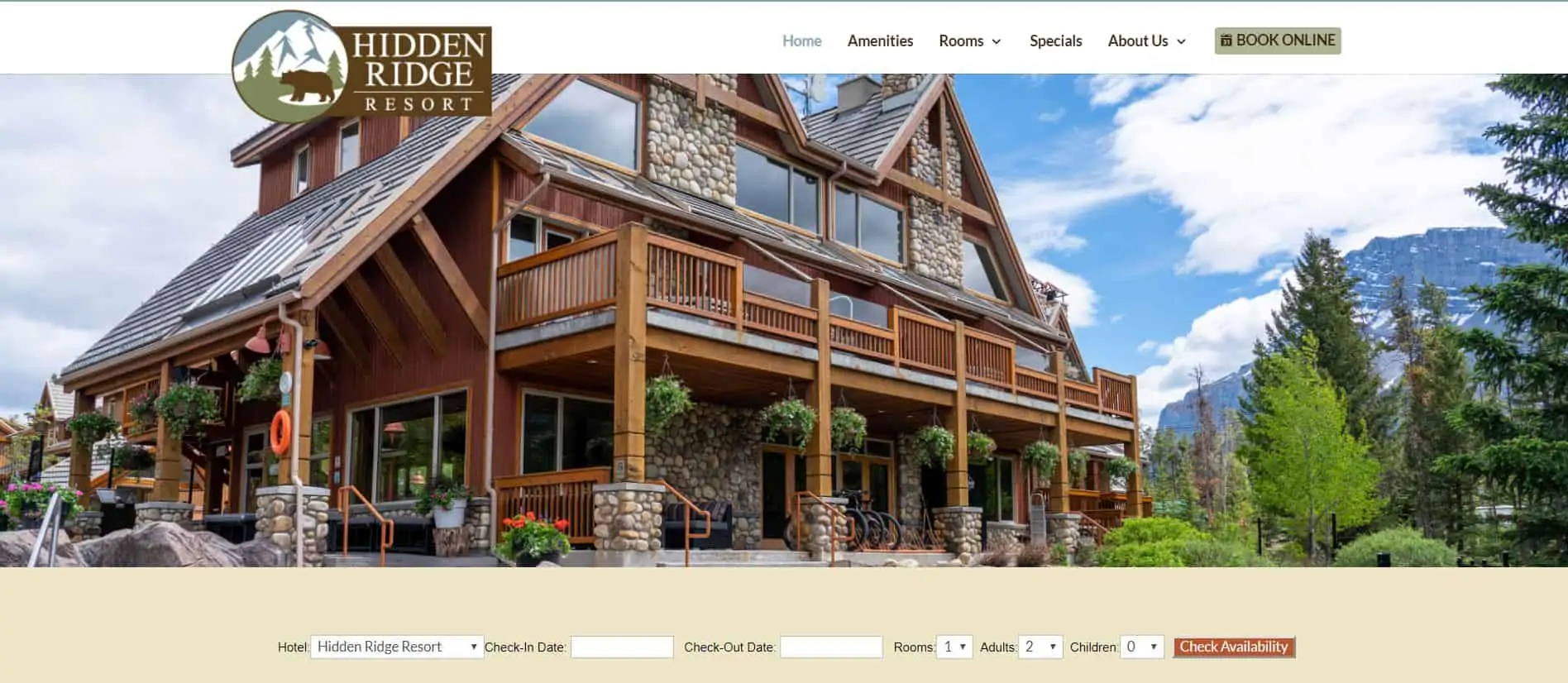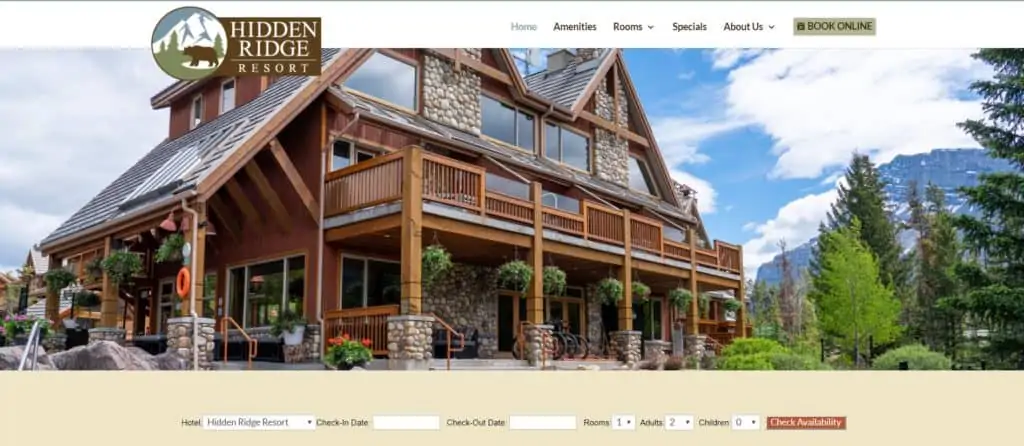 #6. Fox Hotel & Suites
When it comes to beauty and elegance, the Fox & Suites ranks above the fold. It has a beautiful courtyard, forest-esque lobby, and rooms offer the best of Canadian hospitality. The service at the hotel is also quite commendable.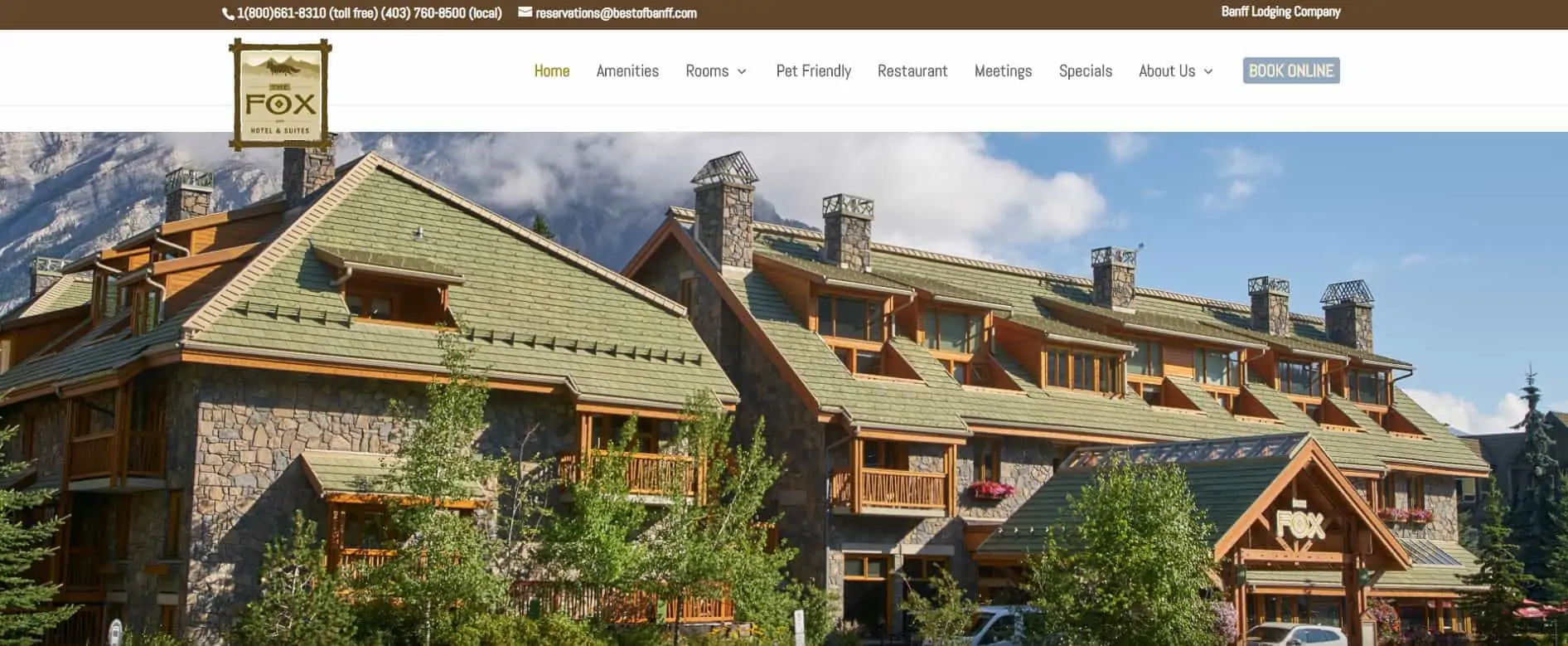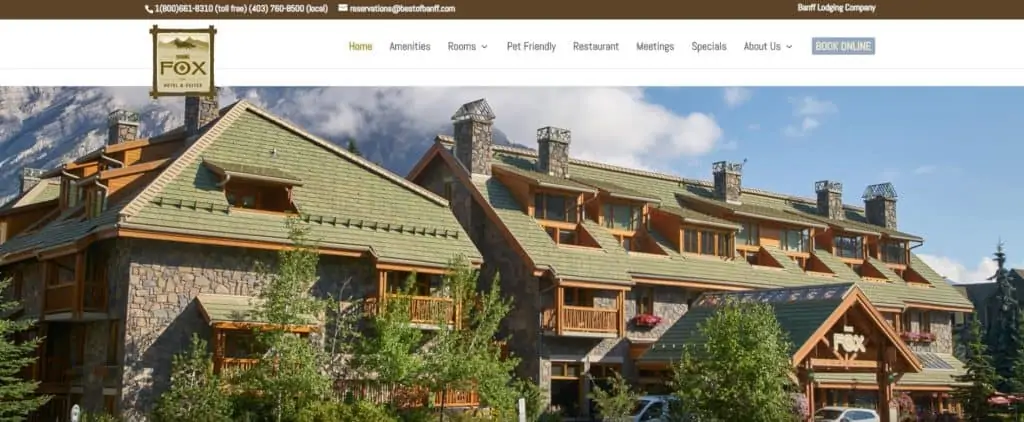 Each stay comes with free breakfast, laundry, on-site gym, free wifi, sofa bed, coffee maker, and a flat-screen TV. There's also a Chili's Restaurant.
We thoroughly enjoyed our stay at the Fox Hotel & Suites! The breakfast was very large with lots of different hot and cold items to choose from — perfect to start your family off for a full-day of exploring!
In Conclusion: Top Pet-Friendly Hotels in Banff
Whether you plan to stay for a while or just want to do an overnight trip with your family, there are lots of pet-friendly hotels in Banff for you to choose from!
---
Amazon Associates Program
This article may include affiliate links. www.travellingwithadog.com is a participant of Amazon.com Services LLC Associates Program. As an Amazon Associate, I earn a commission from qualifying purchase. www.travellingwithadog.com participates in other affiliate programs, and recieves commissions when purchases are made through the links. The cost is not inflated to account for the commission earned.
---
Veterinary Disclaimer: travellingwithadog.com is not a substitute for veterinary advice and does not intend to provide any type of veterinary advice for your animals. Please consult your vet for any questions you have regarding your pets health.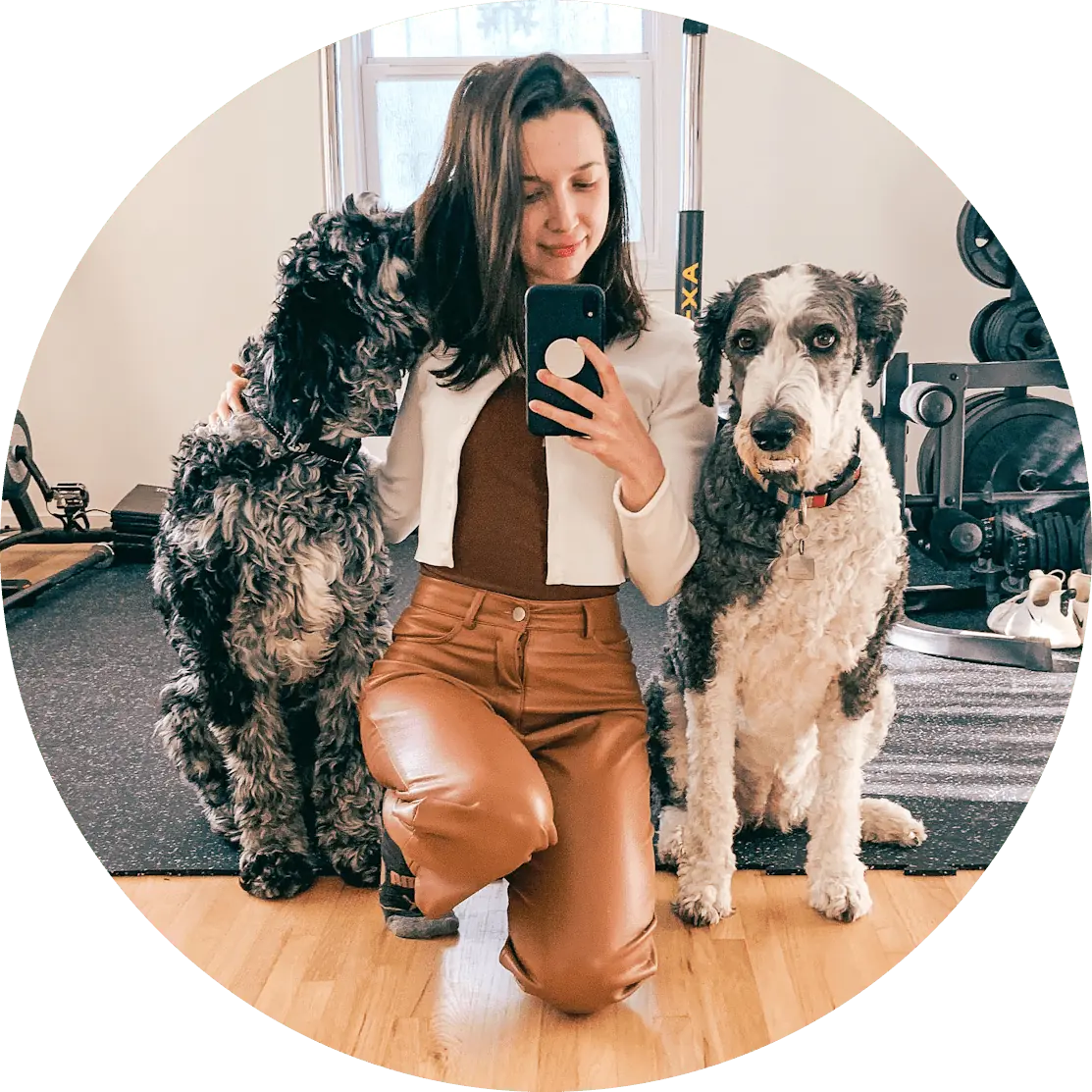 About the Author:
Dana owns a Sheepadoodle and a rescue merle Labradoodle. Her first dog growing up was a white Toy Poodle and she's loved dogs ever since. She has years of experience fostering dogs and has helped find homes for a variety of different breeds, both large and small! After seeing so many dogs end up unwanted and in shelters, she began blogging about different dog breeds (specifically Doodle dogs, since that's what she knows best) to help people make informed choices when adding a new member to their family.
When Dana's not brushing her Doodles' hair (it takes a lot of time for two!) you can find her playing nose work games and fetch with her two amazing pups.
Learn more about her here.