Last Updated on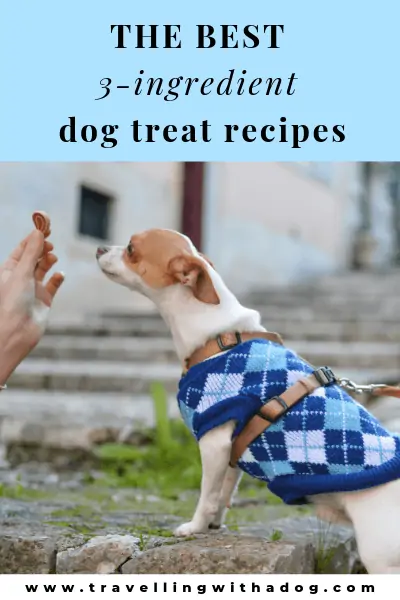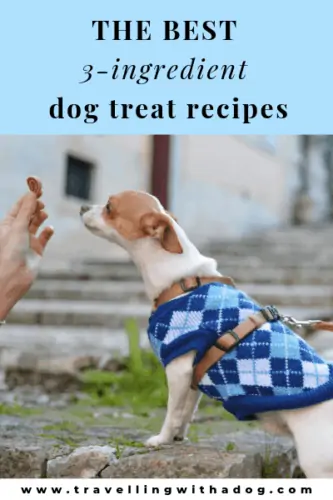 You don't need to be a world-class chef to bake up some delicious dog treats for Fido. I can guarantee they will love anything you make for them (and if that's not a confidence boost in the kitchen, I don't know what is ?).
While our families might expect something fancy to come out of the oven, your dog will be excited with whichever one of these tasty treats you whip up.
Oh, and did I mention these are all 3 ingredient dog treats? Not only are they simple to put together, but you also won't need to break the bank shopping for groceries either!
When making treats for your dog, it's important to use ingredients that are healthy for our dogs. There are many foods you should avoid feeding your dogs, but these recipes only include safe ingredients. Making your own dog treats is a great idea because instead of feeding your dog treats packed with fillers and who-knows-what, you'll be feeding them quality, real ingredients.
Benefits of Making 3 Ingredient Dog Treats
Many dog treats have additives and things you probably don't want to be feeding your dog on a regular basis. If you are looking for a healthier alternative to treats that have ingredients you can't pronounce, these 3 ingredient dog treats are the perfect starting point to begin making your own!
A lot of these recipes are also no-bake dog treats, so on a hot summer day you don't even need to start up the oven!
And lastly, if your dog doesn't hang out at your feet in the kitchen while you currently cook (seriously, it's a bit of a hazard) they certainly will once they realize what you putting together is completely for them! So without anymore, here are some pup-approved 3 ingredient dog treats!
3 Ingredient Dog Treat Recipes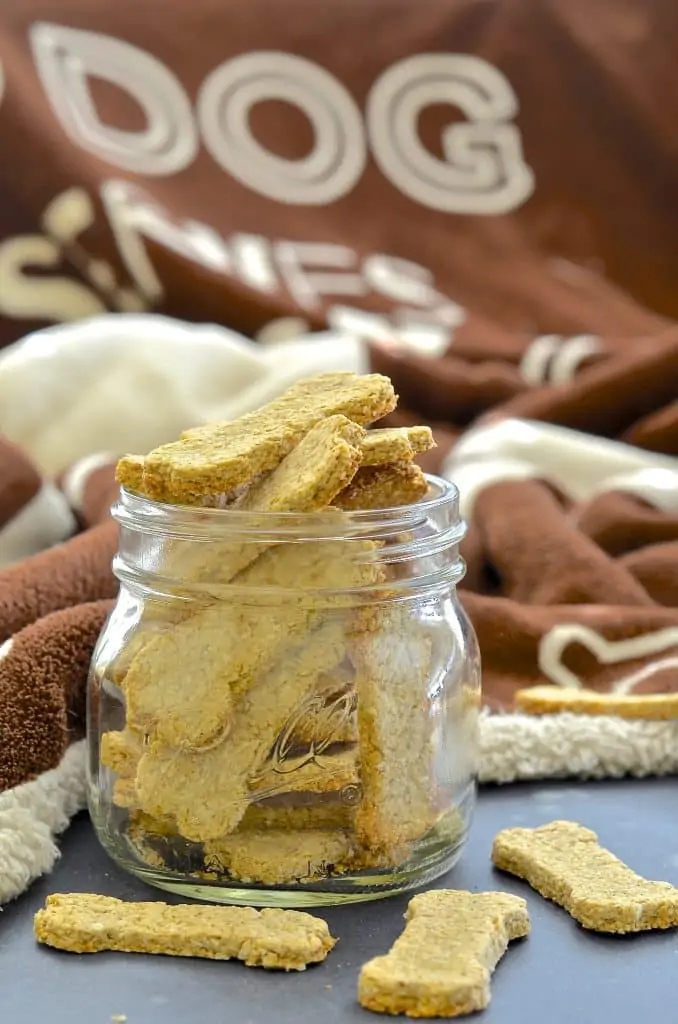 The sweet potato is the star of the show in this dog treat from A Virtual Vegan. There is no dairy or wheat! Sweet potato is a good vegetable for your dog to snack on. It's full of great nutrients and has cancer-fighting properties. It's also a high source of fiber to aid with your dog's digestion.
Our dog needs a little help with her digestion and we tried to get her to eat plain sweet potato. She was not having anything to do with it! These treats were the perfect way to sneak some sweet potato into her diet without her knowing.
Ingredients:
Sweet potato
Oats
Coconut Flour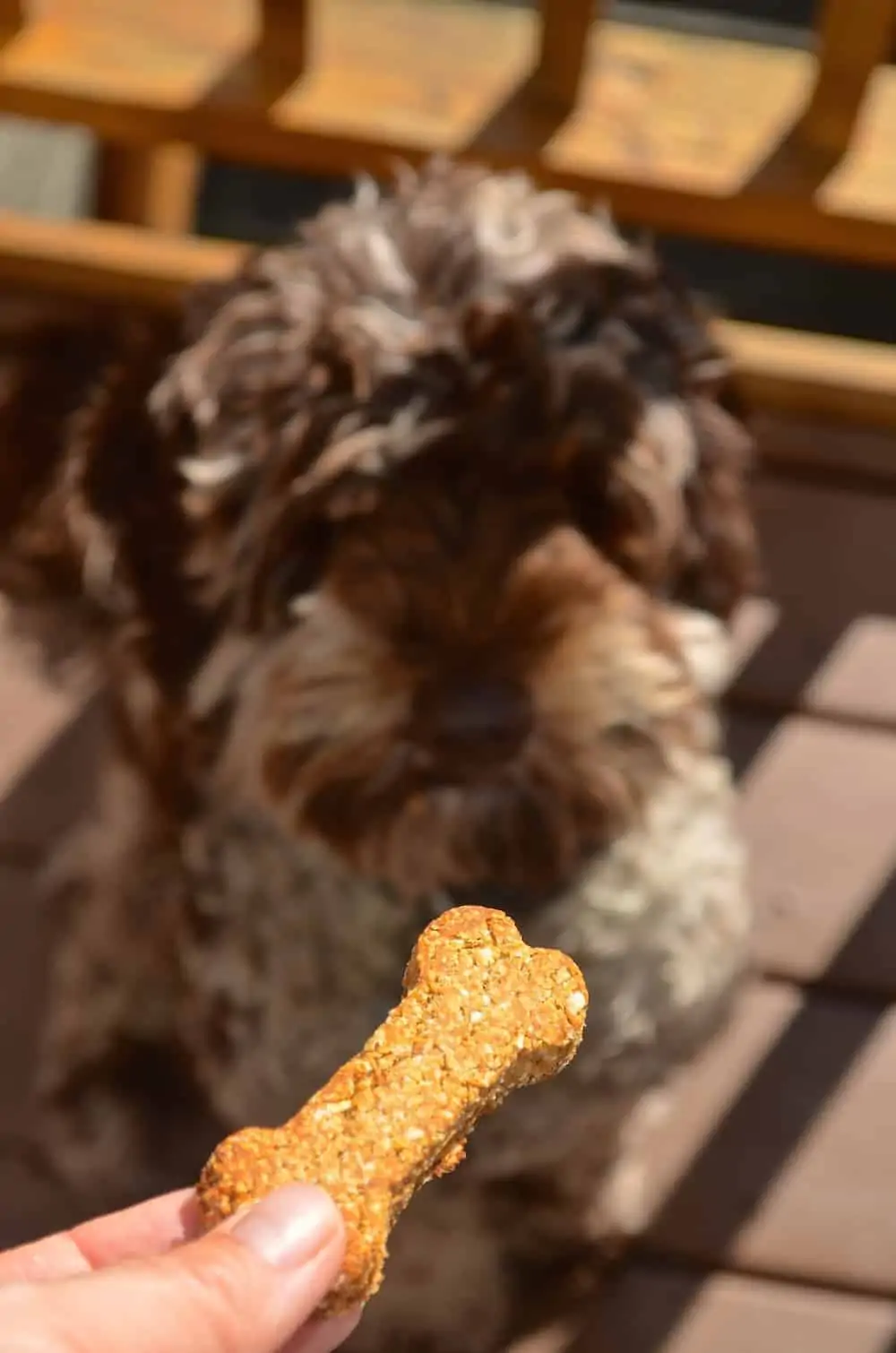 Peanut butter has always been a staple dog treat (as long as it doesn't contain Xylitol). For as long as I can remember, if you need to get your dog to take a pill or want to give them a special treat, you give them peanut butter!
When we lived in Denmark, we had to take our dog to the vet to get some medication. Afterward, we were talking with our vet about different ways to get her to take her pills. We mentioned that we put it in a little bit of peanut butter and our vet found that hilarious! Peanut butter is definitely a North American thing, and our dog-friends overseas don't know what they are missing!
Ingredients:
Peanut butter (no xylitol)
Banana
Rolled oats
I'm guilty of getting my dog a tiny bit of vanilla soft serve if we all go out to enjoy some ice cream. It doesn't happen often, but as humans, we love to spoil our dogs once in a while.
There are many different ice creams that aren't healthy for dogs, however, so instead of giving your pup something that could be potentially harmful (not to mention full of sugar), this dog ice cream is the perfect dog treat so that your dog is included next time your family sits down to enjoy some ice cream together!
This simple 3 ingredient dog treat recipe is so tasty that you might just want to eat it yourself!
Ingredients
Bananas
Plain yogurt
Peanut butter (no xylitol)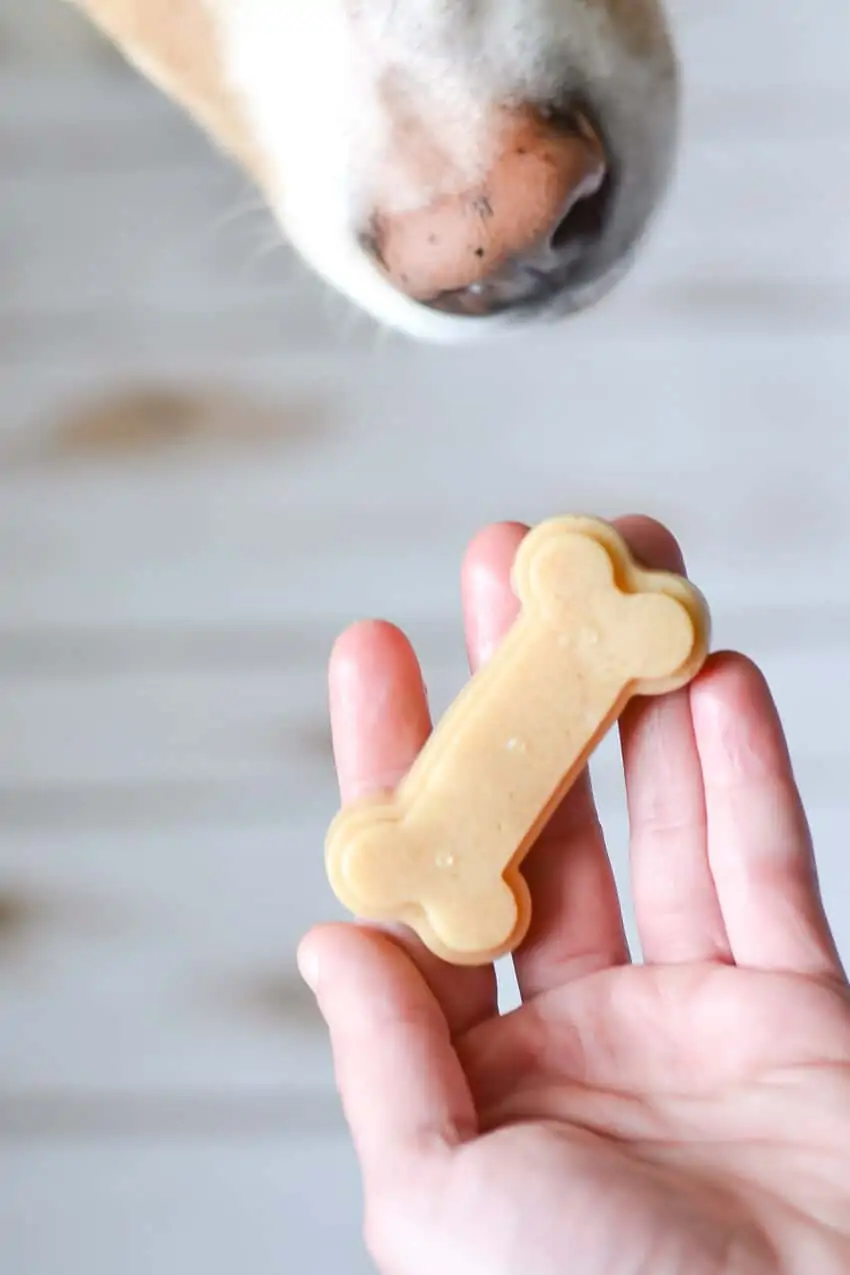 Gelatin has many benefits for dogs (and humans) and can help reduce joint pain, improves skin, fur (or hair, if we are talking about humans) and nails. If you have an older dog, these treats will be helpful in reducing pain for arthritis and other joint ailments.
On the other hand, if your dog is younger, it is said that gelatin can help prevent joint problems from starting. So no matter the age of your pooch, gelatin is a great ingredient to incorporate into their diet!
This 3 ingredient dog treat is the perfect way to get your dog to eat gelatin!
Ingredients:
Chicken broth (no onion or garlic)
Unflavored gelatin
Peanut butter (no xylitol)
Ok, I know this is supposed to be a post for 3 ingredient dog treats, but I couldn't resist sharing this two-ingredient dog treat recipe because what's easier than making a 3 ingredient dog treat? That's right; making a 2 ingredient dog treat!
This recipe is easy to adapt depending on what you have available to use and you can pick and choose different flavors based upon your dog's preferences.
Ingredients:
Organic whole wheat flour (or oats)
Baby food (any flavor as long as it doesn't contain onions are any other types of ingredients harmful to dogs)
It really doesn't get any simpler than that to make homemade dog treats!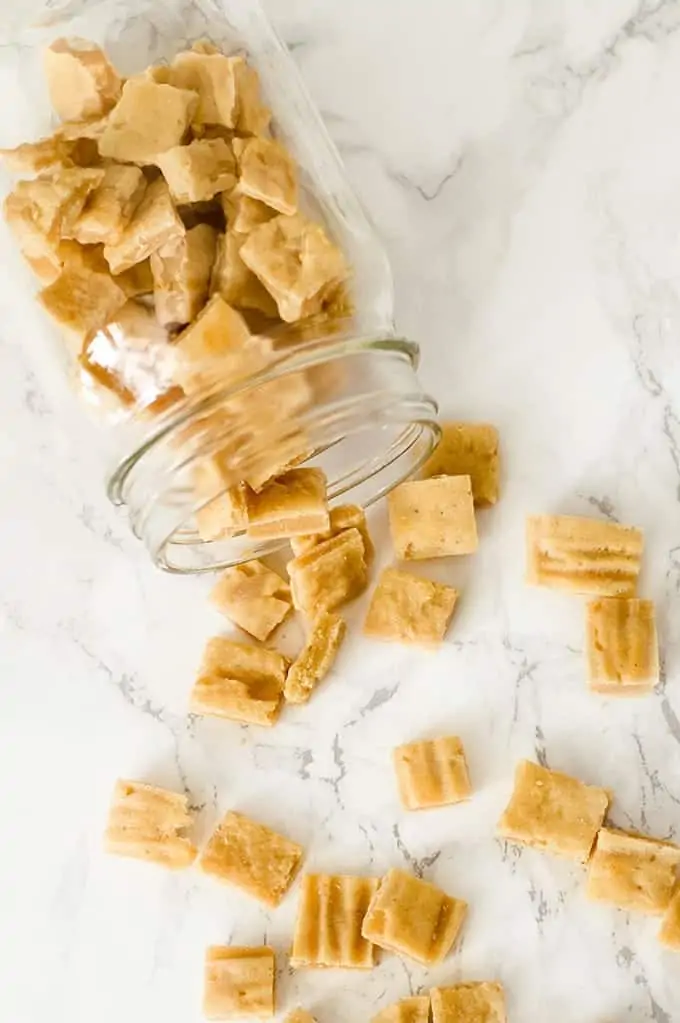 When you are working on training with your dog, it's very important to have a high-value treat (something that your dog will go crazy for). Otherwise, your dog may not care to do what you are asking them to do since the reward isn't worth the action.
Things like hot dogs and meat slices can be great for training, but if you are training regularly, you don't want to be feeding your dog hot dogs and processed meat all the time, which is why I love this recipe!
This recipe uses tuna but it isn't incredibly smelly like some of those fishy dog treats you can buy at the store. It's just potent enough to get your pup's attention!
Ingredients: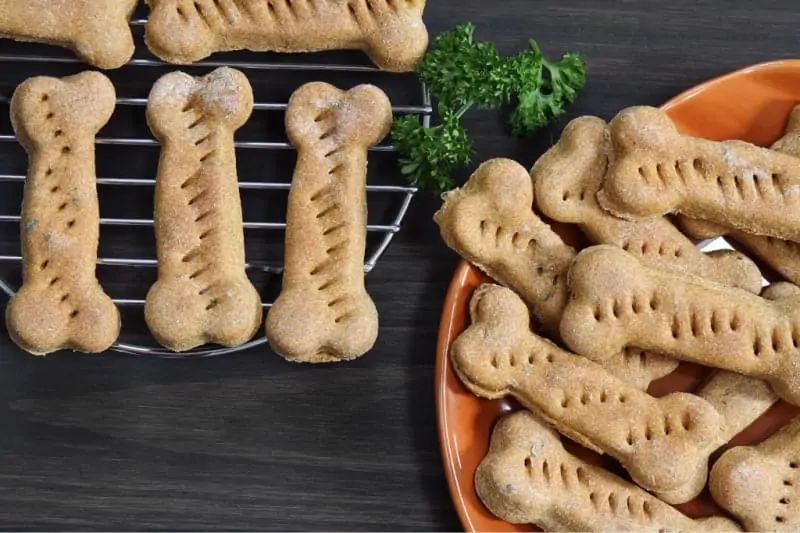 This three-ingredient dog treat uses ingredients you probably already have on hand (especially during the holiday season: pumpkin pie, anyone?)
Ingredients:
Whole wheat flour
Peanut butter (xylitol free_
Pumpkin purée
Making Your Own 3 Ingredient Dog Treats
The above 3 ingredient dog treat recipes are a great place to start to give you some experience making your own dog treats! As you make them, you might find that your dog prefers one ingredient to another. Feel free to swap things up and create your own dog treat creations for your pooch!
Pin me: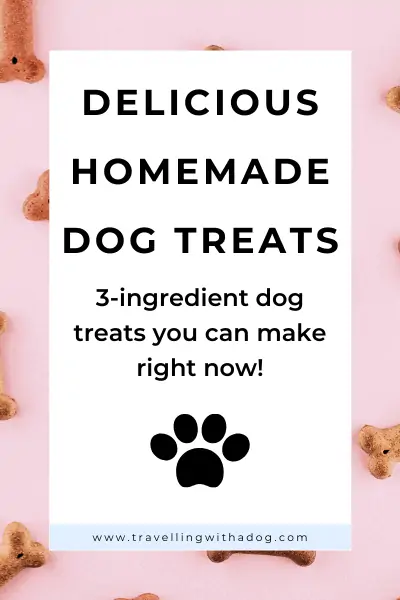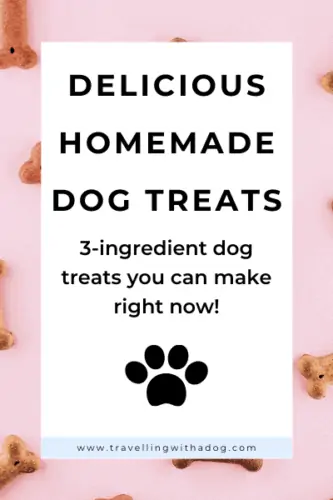 ---
Amazon Associates Program
This article may include affiliate links. www.travellingwithadog.com is a participant of Amazon.com Services LLC Associates Program. As an Amazon Associate, I earn a commission from qualifying purchase. www.travellingwithadog.com participates in other affiliate programs, and recieves commissions when purchases are made through the links. The cost is not inflated to account for the commission earned.
---
Veterinary Disclaimer: travellingwithadog.com is not a substitute for veterinary advice and does not intend to provide any type of veterinary advice for your animals. Please consult your vet for any questions you have regarding your pets health.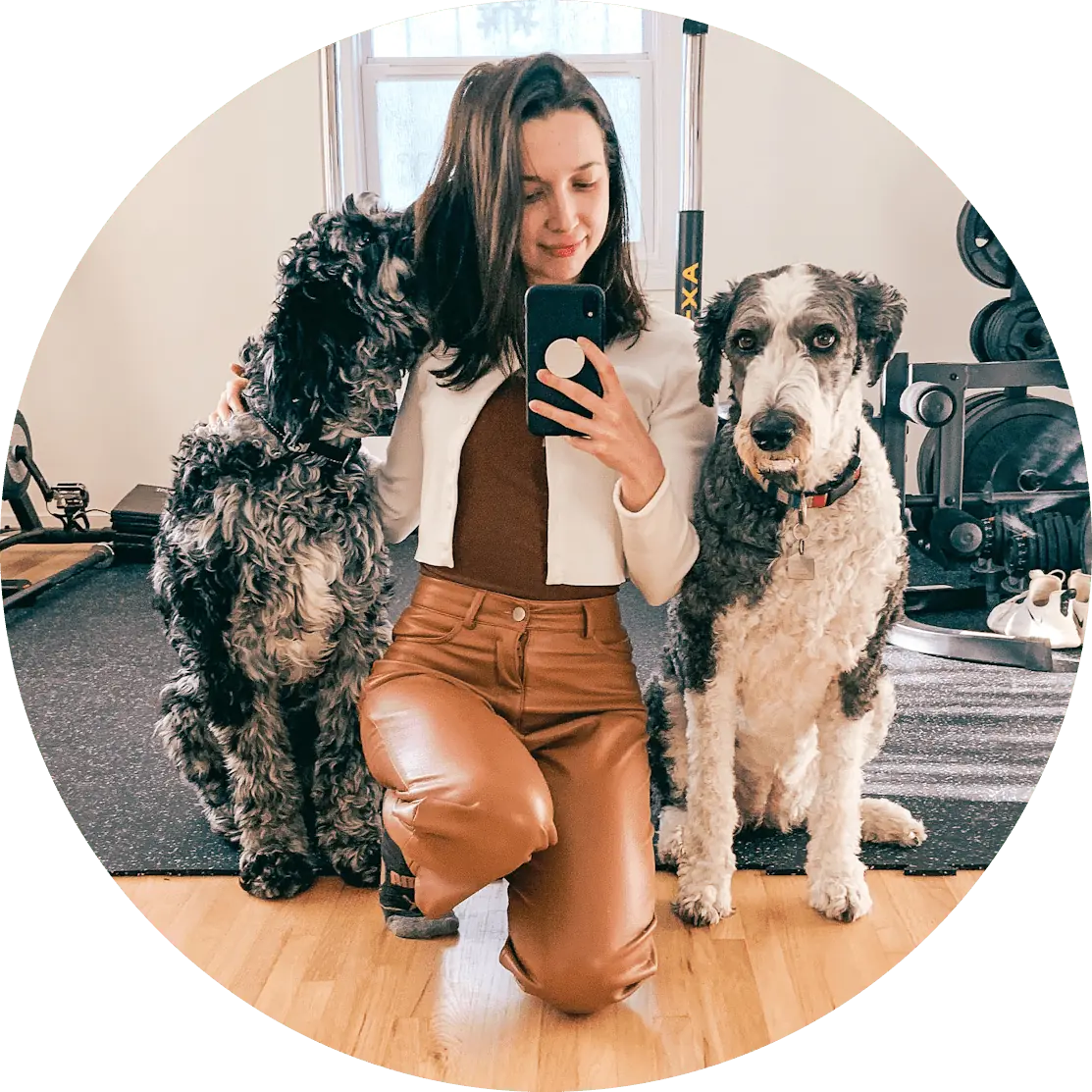 About the Author:
Dana owns a Sheepadoodle and a rescue merle Labradoodle. Her first dog growing up was a white Toy Poodle and she's loved dogs ever since. She has years of experience fostering dogs and has helped find homes for a variety of different breeds, both large and small! After seeing so many dogs end up unwanted and in shelters, she began blogging about different dog breeds (specifically Doodle dogs, since that's what she knows best) to help people make informed choices when adding a new member to their family.
When Dana's not brushing her Doodles' hair (it takes a lot of time for two!) you can find her playing nose work games and fetch with her two amazing pups.
Learn more about her here.