Last Updated on
A week ago today, last Thursday, I was having a cold glass of prosecco, celebrating the hockey season with my husband, his teammates and the other wives. Grey skies had parted for the warm sun and yellow daffodils were starting to bloom in Germany.
My husband, Tyler, is a professional hockey player and we spend the hockey seasons in Europe and the offseason in Canada. This year, we made the decision that we weren't going to be flying home to Canada in the offseason.
In four years, we have done eight overseas moves and if I'm being honest, they are exhausting. Especially with a dog. So we made the decision to spend our summer in Europe.
But exactly one week later, as I began to write this, I'm sitting on an emergency flight back to Canada donning an N95 respiratory mask and a messy bun.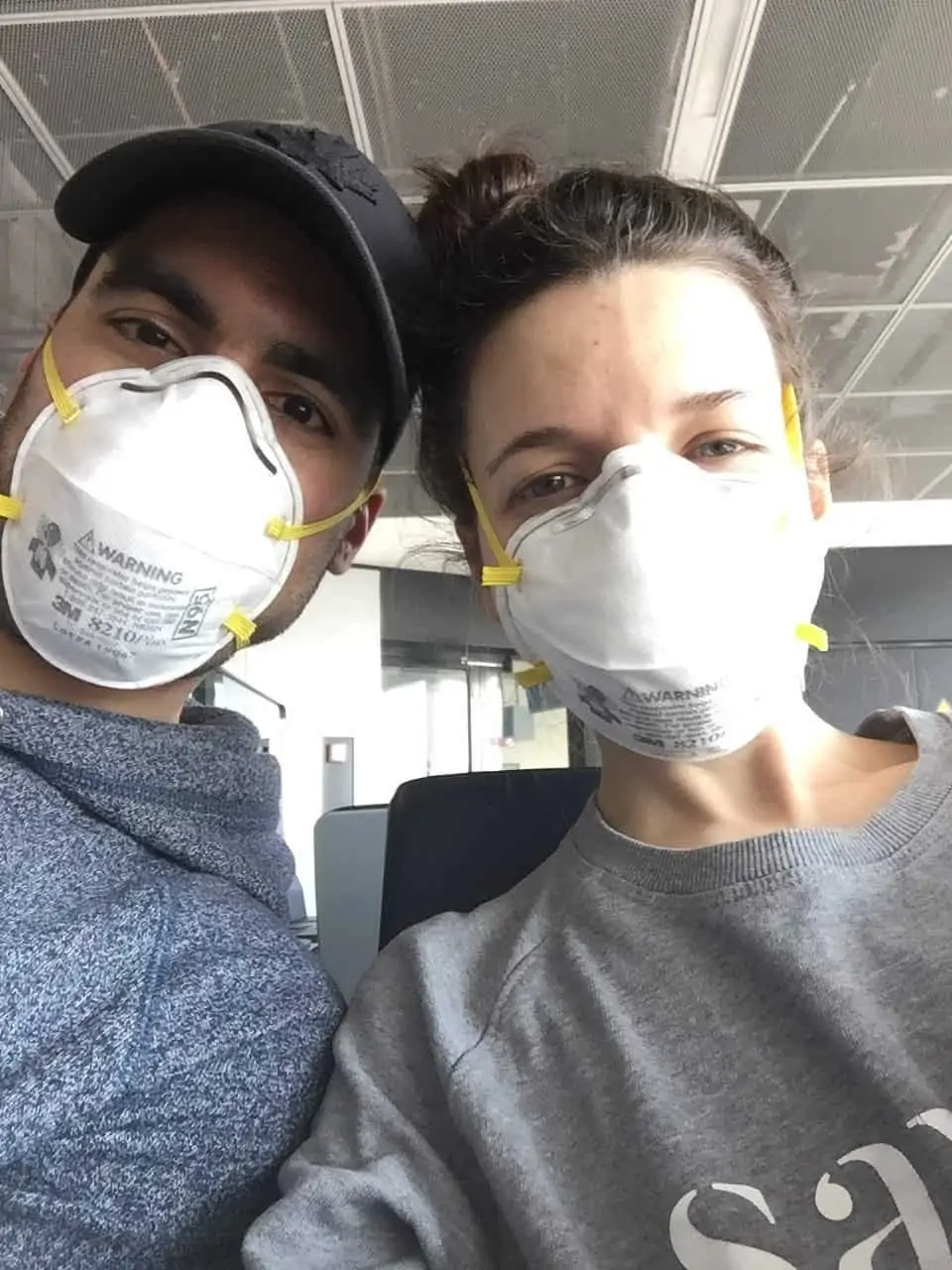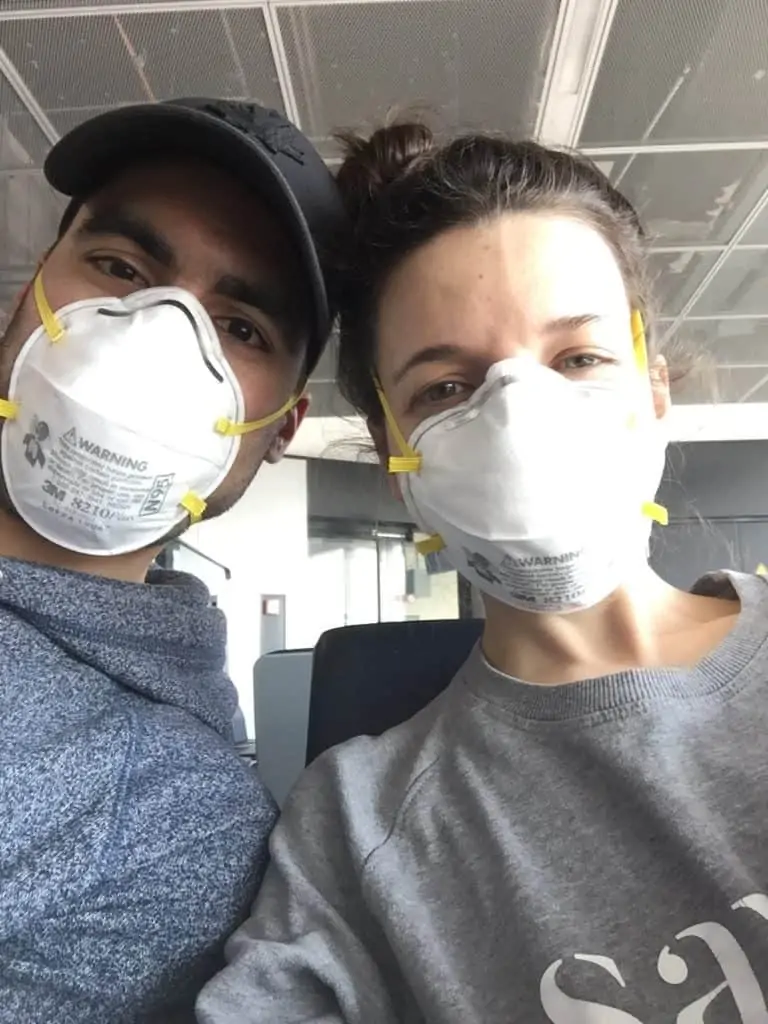 But let's go back to last week.
Like I mentioned, things were normal only 7 days ago. Germany had less than 1,000 cases of Coronavirus, and while it was hard to find toilet paper or pasta on the supermarket shelves, life was still normal.
At this time, the term "social distancing" hadn't appeared too much in mainstream media. Tyler and I had agreed that we wouldn't go near big crowds, and seeing that all of the hockey leagues in Europe had just canceled their seasons, it would be easy for us to lay low and keep to ourselves.
If anything, we figured we would just stay inside a bit more and be extra cautious with washing our hands when out.
And since we are big homebodies, staying indoors is nothing new for us.
In other words, we were confident everything would be ok. And as someone with health anxiety, saying that I was confident in this situation says a lot.
Things seemed totally fine in our little German town.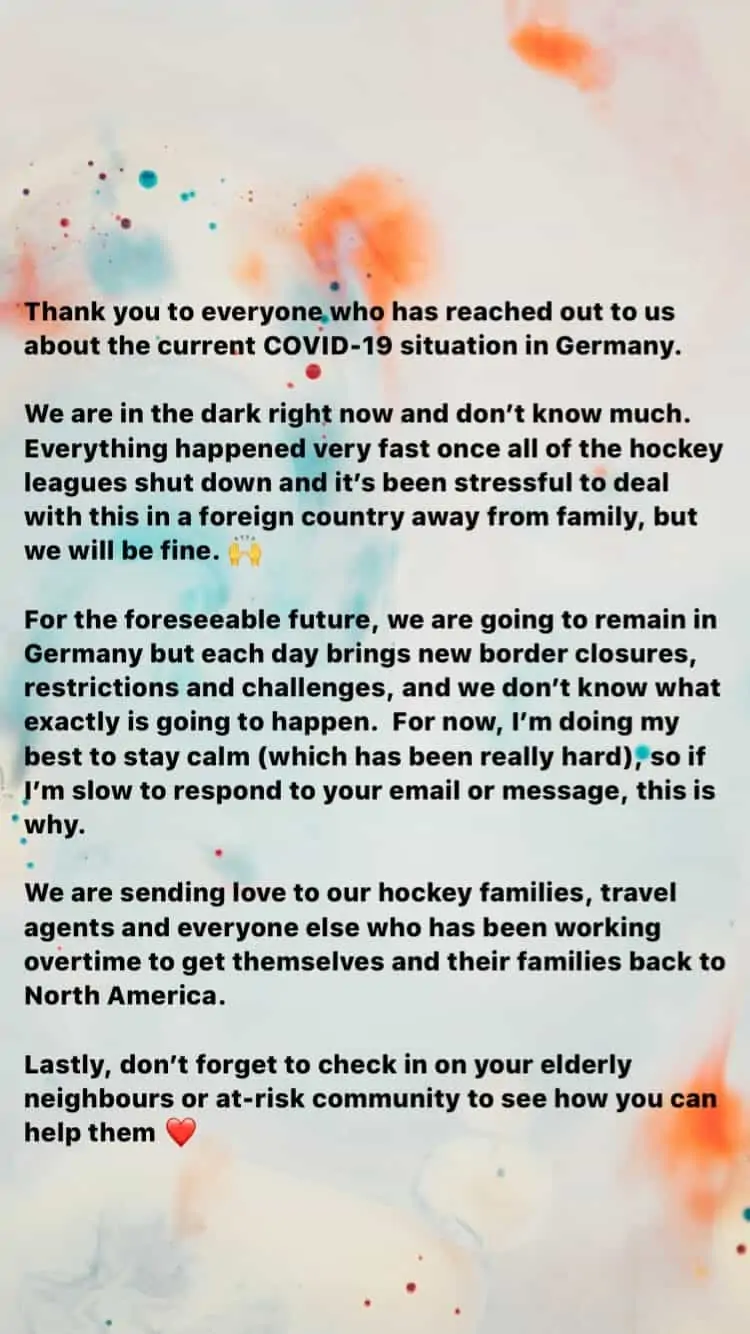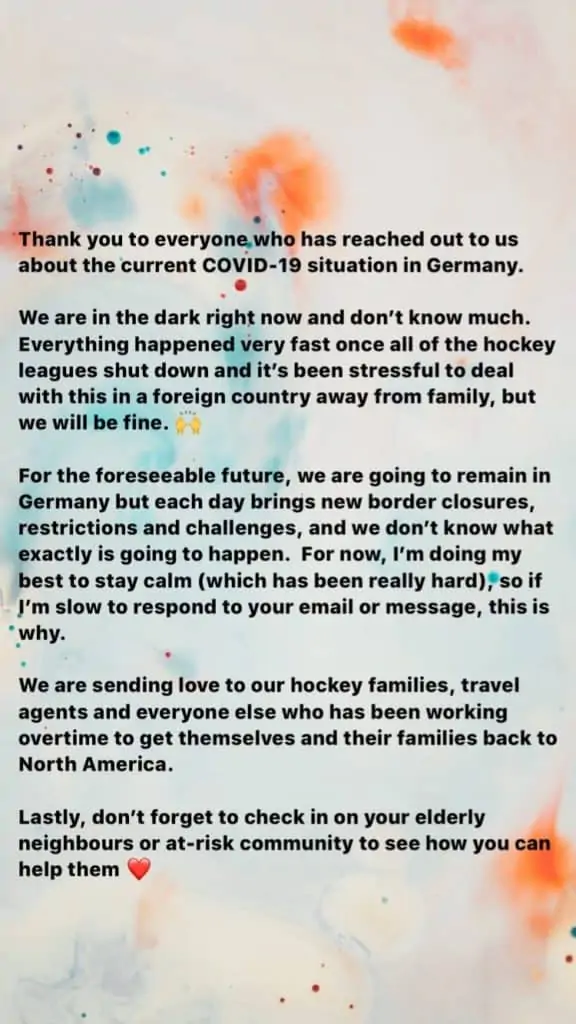 This was a Facebook post I wrote 6 days ago to let our loved ones know that we were going to be ok.
But with each passing day, I watched worryingly as the number of cases rose quickly and as borders around us began shutting down.
Airlines were canceling their flights and after speaking with our friends who had already made the journey home, we knew it was near impossible to even find a flight to begin with.
It was becoming difficult to sleep and the thought of being trapped in Germany away from our families gave me an endless amount of panic attacks.
So on Monday morning, when I woke up to the news that our city from back in Canada had declared a state of emergency, I woke up Tyler and told him we needed to fly home.
Something inside of me told me that waiting to see what happens wasn't a good decision. Countries around us were becoming overburdened with the sick. We needed to be with our families during this time. End of story.
Monday was a blur. We weren't ready to move. Tyler needed surgery and an MRI. We needed flights. We needed to pack. We needed to get a quote on our vehicle to fix it after someone hit it without leaving a note.
It felt like we had an impossible hill to climb in front of us, but at times we stopped and looked at each other and asked, "are we overreacting?"
Because during this time, it DID feel like we were overreacting.
I'm sure many of you are asking yourself the same thing. But after seeing the chaos that is taking over Europe, I can ensure you that you are not overreacting.
Our first task was to get Tyler an MRI and in for some minor surgery.
As I'm sitting here typing this, it feels like a lifetime ago that we were planning for all of this.
After Tyler's appointments were all scheduled, we drove to our nearest airport to book our flights.
Booking flights has become a luxury for those who have an airport nearby. Our travel agent sat on the phone all morning to try and get us something booked but she eventually told us that it would be best if we drove to the airport and booked our flights right there.
We were so nervous while driving to the airport.
Will they have flights for us? Will they have room for our dog? Flying with a dog isn't always easy and not all airlines accept dogs, so we had millions of questions running through our minds as we raced to the airport to book our flights.
And still, we asked each other once again, "are we overreacting?"
Getting our flights booked was a huge relief, but it was only Monday and our flights weren't until Thursday.
After speaking with our friends, we knew that many flights were being canceled within 12 hours of departure. We knew that was a possibility but we had no time to worry about that as we needed to pack, clean and get everything else ready to go.
The next day, the Prime Minister of Canada announced he would be making a major COVID-19 announcement. We waited anxiously to hear what he would have to say. I felt numb at this point and sick to my stomach wondering whether or not he was going to close the borders off to high-risk countries (such as Germany) or lockdown Canada altogether (such as countries like Italy and Spain).
We started reading reports of Canadians who were stranded abroad. While we have resident permits, healthcare and a small network of friends in Germany, I was simply too overwhelmed to be dealing with this situation abroad and wanted to get home as soon as possible.
The following days came fast, with changes, border closures and restrictions happening every few hours.
We had no choice but to be glued to the news so we could see what was happening. We prayed that our airline wouldn't shut down operations and that Germany would keep their borders open long enough for us to get out.
And finally, the morning of our flight rolled around. We had friends who were denied access to their flights and friends who's flights were recently canceled. We knew we still weren't in the clear, but we remained hopeful that we could still get home.
As we rolled up to the airline's check-in desk, the lady behind the desk started waving to get my attention.
"Excuse me! Is that your dog? Is that your kennel? Your kennel is too small for your dog. We won't fly her in that kennel".
Let me take you back a couple of years in order to explain what happened next.
Our first year in Europe, we flew our dog out in a large kennel. It was the second-largest size the pet store carried and fit our dog perfectly. On our way home, the airline refused to let us on the flight unless we bought a new kennel for her.
I asked them why, 8 months prior, her kennel was the right size and that she was allowed to fly then, but not now?
They didn't give me a reason other than her kennel was too small and if we didn't buy her a new one, we wouldn't be getting on the flight.
We had no option but to spend $500 on a kennel that was made for Great Danes.
So, when we arrived at the counter and they told us, yet again, her kennel was too small, I nearly lost my mind…
I tried explaining that another airline had already put us through this and measured this current kennel out for her. She hadn't grown in years. Nothing had changed and her current kennel was the perfect size for her.
I tried my best to reason with the lady at the front desk, but she just kept telling me that the kennel was too small.
I'm incredibly familiar with the IATA's travel regulations and rules surrounding dogs and I know the current kennel we had for our dog is big enough for her.
Our dog is our priority. She's our baby. We would never try to fly with her in a kennel that was too small. But when you're at the airport and desperate for a flight, you are powerless and have to do as they say.
I asked the airline's representative if they had any larger kennels available to which she said, "I don't know…"
At that point, I couldn't help it. I cried. I told her we needed to get home. My mind was swimming and I couldn't believe that the airline was about to tell us we couldn't fly if they weren't able to provide our dog with a bigger kennel. She was jumping on me to try and calm me down. It was a scene.
A piece of me felt bad for the lady because I know she's probably had a lot to deal with the last few days.
She looked at me and said, "we will work something out. If we can't find anything, she can stay in her current kennel". It still didn't ease my fears, but off they went to find an even bigger kennel for her.
After waiting, she finally is back with an even larger kennel for her. At this point, I didn't care and all I wanted was to be let on our flight with our dog.
The next couple who arrived with their dog was told the same thing…buy a new kennel or else you might not be able to fly. Honestly, at this point, I'm just happy that we all were allowed on the flight.
The last hurdle we had to get through was the German border security to leave the country. Tyler's team lost his resident permit card, which was something we didn't have time to get before flying out.
It's not a huge deal because legally, we have the paperwork complete and we are both legal residents, however, the man at the border was not impressed that Tyler didn't have his actual card on him and he thought Tyler was living in Germany illegally this whole time, and threatened us with fines.
After I showed them my card, we explained that Tyler just didn't have his card on him but he would be in the system. After looking Tyler up, they realized that we were in fact here legally.
From there, we were good to go. We got on our flight and tried to sleep for the next 9 and a half hours.
Arriving in Canada
Many people have asked us what the airports are doing to screen travelers.
When we checked into our flights, we were asked if we had any symptoms. I was hoping travelers would have their temperatures taken, but that didn't happen.
After arriving in Canada, there was an additional question on the customs card that asked if you had any symptoms or were feeling sick.
And again, when we spoke with the border agent we were asked if we had any symptoms and were told that we would need to self-quarantine. We were given a piece of paper with more information.
After that, Alberta Health Services had workers greeting people in the luggage area and handing out more information about self-quarantine.
And past luggage, there was a table set up with more workers from Alberta Health Services providing information on self-quarantine.
Self-Quarantine
My family dropped a van off for Tyler and me at the airport. We waved to them from across the distance but didn't hug them or go see them face-to-face. We loaded our luggage into the van and drove off to my parent's place.
Since we originally planned to live in Germany over the summer, Tyler and I don't have a place of our own, but instead will be self-quarantining with my family.
Because we are not supposed to have contact with anyone, Alberta Health Services has recommended that Tyler and I have our own room, bathroom and stay away from everyone else in the house (at least 6 feet).
My parents have been delivering our meals to us and calling us when the food is ready for us to come grab it. Because we shouldn't be touching the same surfaces, preparing meals and getting food for ourselves is more of a nuisance than anything, but we've been managing.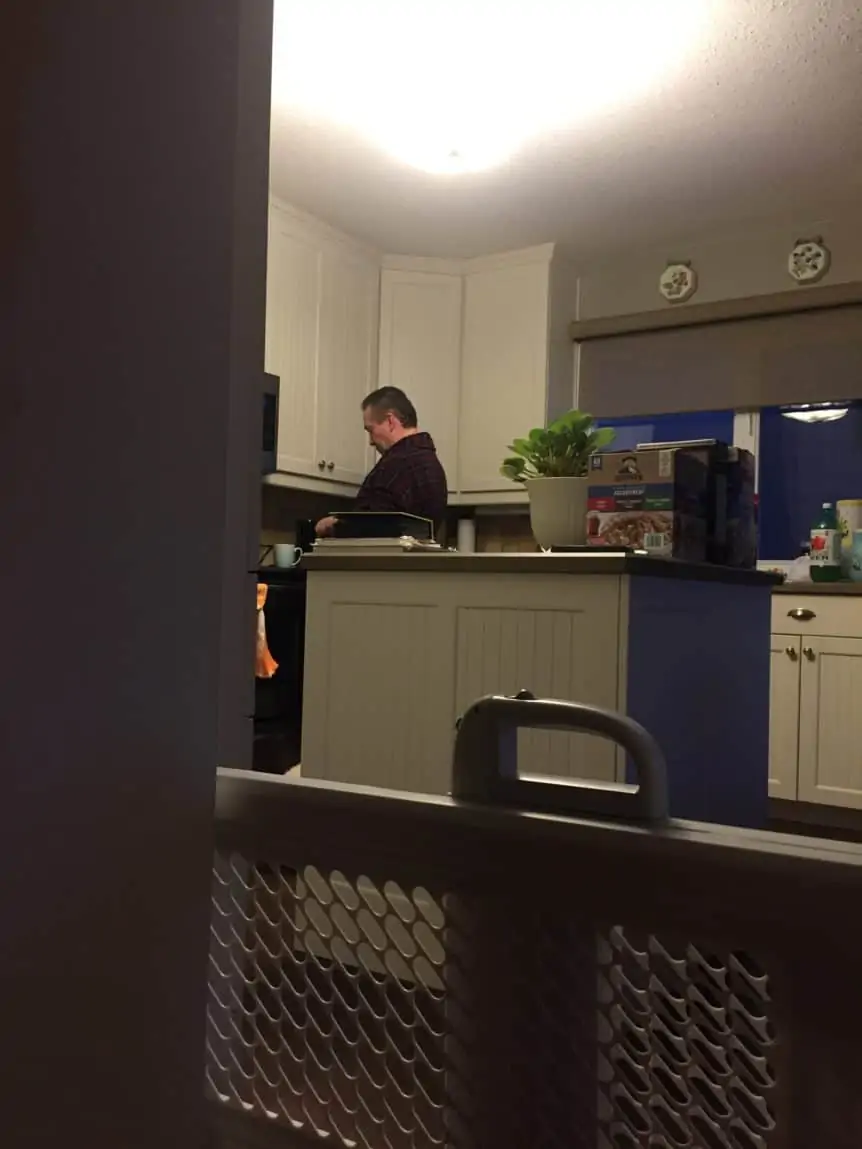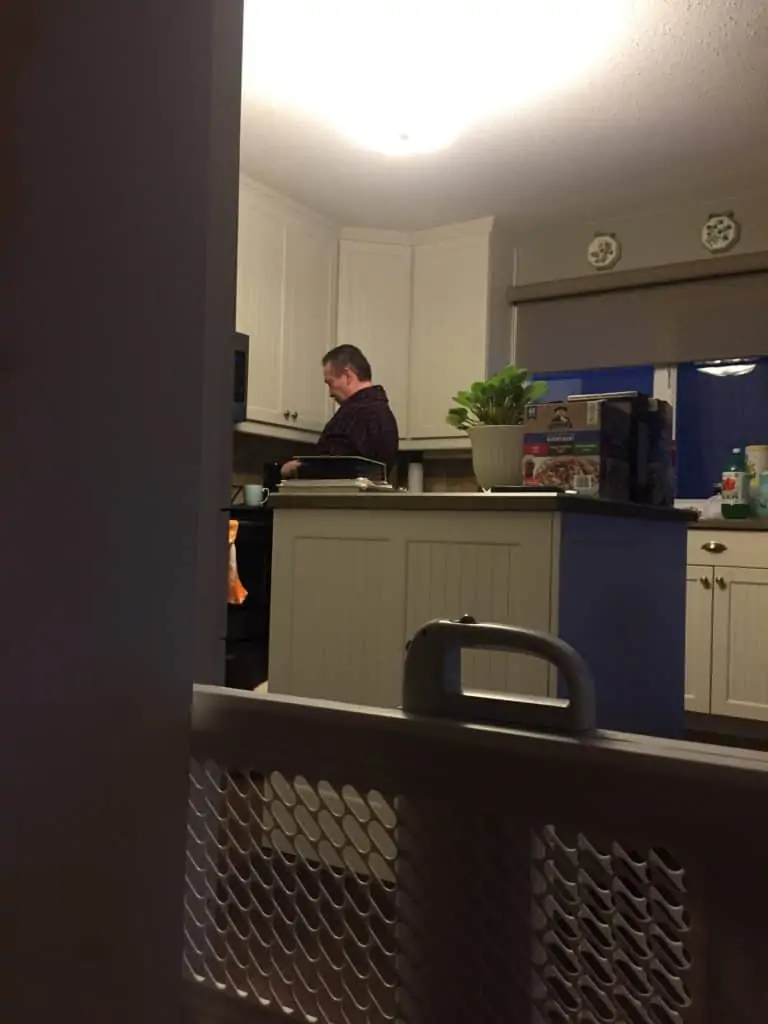 It's quite an experience, but we are doing our best to make sure we keep our distance from anyone until our quarantine is over.
For now, I am super thankful we were able to make it home in good health. Please keep practicing social distancing and know that you are not overreacting if you are scared to see friends or go out in public.
We are forever grateful for our friends and family, who have offered us so much support. Stay healthy, everyone!
---
Amazon Associates Program
This article may include affiliate links. www.travellingwithadog.com is a participant of Amazon.com Services LLC Associates Program. As an Amazon Associate, I earn a commission from qualifying purchase. www.travellingwithadog.com participates in other affiliate programs, and recieves commissions when purchases are made through the links. The cost is not inflated to account for the commission earned.
---
Veterinary Disclaimer: travellingwithadog.com is not a substitute for veterinary advice and does not intend to provide any type of veterinary advice for your animals. Please consult your vet for any questions you have regarding your pets health.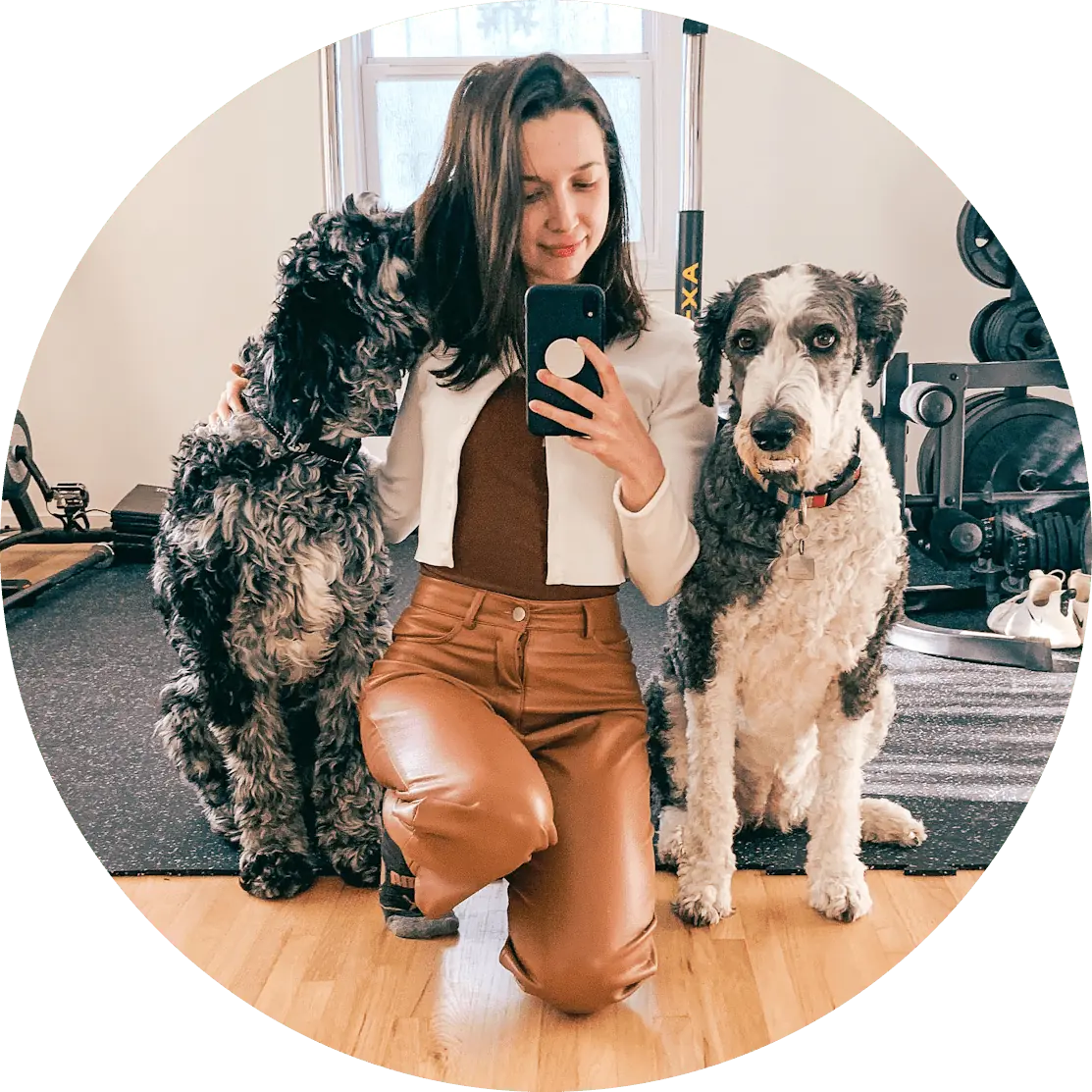 About the Author:
Dana owns a Sheepadoodle and a rescue merle Labradoodle. Her first dog growing up was a white Toy Poodle and she's loved dogs ever since. She has years of experience fostering dogs and has helped find homes for a variety of different breeds, both large and small! After seeing so many dogs end up unwanted and in shelters, she began blogging about different dog breeds (specifically Doodle dogs, since that's what she knows best) to help people make informed choices when adding a new member to their family.
When Dana's not brushing her Doodles' hair (it takes a lot of time for two!) you can find her playing nose work games and fetch with her two amazing pups.
Learn more about her here.