Last Updated on
Being a Sheepadoodle owner is a lot of work. Between grooming, training, and keeping our Sheepadoodle well-exercised, we often wonder what we did with all of our time prior to having her in our family!
And if you landed on this article, it's likely because you, too, love your Sheepadoodle to the moon and back and want to find out what the best toys for Sheepadoodles are.
Finding toys for Sheepadoodles isn't hard, but there are definitely certain types of toys that work well for this Doodle breed.
These toys can also be applied to other dog breeds and aren't limited strictly to Sheepadoodles. If you own a doodle or other poodle-cross dog, these toys can work equally as well!
Lastly, please make sure to supervise your dog around any toys!
This post contains affiliate links. If you make a purchase from the links in this post, we will receive a small commission at no extra cost to you.
Best Toys for Sheepadoodle Puppies
Chew Toys for Sheepadoodle Puppies
Kongs are great toys for dogs in general, but these Kongs are specifically made for your puppy! You can fill your Kong with lots of different fillings (xylitol-free peanut butter, meat, cheese, etc.) so that your pup has a tasty treat.
When your puppy begins teething, pop a treat-filled Kong into the freezer so that they have something cold to take the pain away!
Puppy Kongs are recommended because they are smaller and are more suitable for puppies.
Our Sheepadoodle loves these bones. For a puppy, make sure you get ones specifically made for small puppy mouths.
These bones are great toys for Sheepadoodles to help them begin to understand what they can chew on (bones given to them by you) and what they can't chew on (your baseboards when you aren't looking)!
Stuffed Toys for Sheepadoodle Puppies
For stuffed toys, it's a good idea to look for toys that don't contain stuffing (especially for your puppy) as it can cause serious (and sometimes fatal) damage if ingested.
These plush-free toys are great for puppy and adult Sheepadoodles! The stuffing inside toys can be fatal if ingested, so if your pooch likes to chew and rip things apart, this can be a good alternative to a stuffed animal.
Best Toys for Sheepadoodle Adults
Chew Toys for Sheepadoodles
Chewing is a great way for dogs to clean their teeth. Because Poodles require extra attention to keeping their teeth clean, encouraging healthy chewing and gnawing behaviour is important.
But before you reach for the rawhide or bones, consider some of these other options as rawhide is a dangerous and unhealthy chew for your furry-friend, and bones can splinter and get stuck inside your dog causing sometimes fatal injuries.
Here are some healthy and safe chew toys for your Sheepadoodle.
All the above chews are durable and a better option than bones (which can splinter off) and bleached rawhides.
Plus, they last a long time!
Puzzle Toys for Sheepadoodles
Being part poodle, Sheepadoodles are very smart. Puzzle games can help keep your Sheepadoodle occupied on days when you might not have time to take your Sheepadoodle out on many walks.
Sheepadoodles love the challenge of puzzle toys, and here are some of the best puzzle toys for dogs!
The above puzzle toy is perfect for dogs who aren't familiar with puzzle toys. When you introduce a puzzle toy to your Sheepadoodle, they might not know what to do and can easily get frustrated. It's best to start with something easy, such as the one above to help them understand how these toys work!
If you're looking for more advanced puzzles, try some of the following:
Training Toys for Sheepadoodles
Sheepadoodle owners have had great success in training their Sheepadoodles to "talk to them" via these recordable buttons!
Here's how it works:
Record your voice saying different things on each button such as "treat, please", "potty", "I love you", "I'm tired" etc. You can record whatever phrases you'd like, and you can record as many as you'd like (but it's best to start small).
Teach your puppy to press the button with their paws
Reward them for pressing each button with the action. For example, if you're puppy presses the "treat, please" button, reward them with a treat.
Now you'll have a Sheepadoodle who can talk to you!
And even if your Sheepadoodle might not actually understand what they are "saying", this training is undoubtedly fun for everyone!
Flirt Pole
The flirt pole is perfect for those who have smaller backyards but still want to tire their dogs out in a game similar to fetch.
Balls
Sheepadoodles love to run and play! You will want to make sure you get some durable balls to withstand hours of fetch and possible chewing.
Ropes
Playing tug is a great way for dogs to get a mental and physical workout while working on their impulse control! It's a fun way to train and play at the same time.
This rope is durable and will last through many rounds of tug-o-war.
Summary of the best toys for Sheepadoodles
There you have it! A list of the best toys for Sheepadoodles:
Puppy Binky Kong
Nylabone Puppy Chew
Stuffing-Free Plush Toy
BarkBone
BeneBone
Nylabone Durachew
Beginner Puzzle Toy
Nina Ottosson Puzzles
Outward Hound Puzzle Toy
Outward Hound Plush Puzzle Toy
Talking Buttons
Dibbatu Dog Flirt Pole
Chuckit! Balls
Wobble Wag Giggle Ball
Lechong Dog Rope
---
Amazon Associates Program
This article may include affiliate links. www.travellingwithadog.com is a participant of Amazon.com Services LLC Associates Program. As an Amazon Associate, I earn a commission from qualifying purchase. www.travellingwithadog.com participates in other affiliate programs, and recieves commissions when purchases are made through the links. The cost is not inflated to account for the commission earned.
---
Veterinary Disclaimer: travellingwithadog.com is not a substitute for veterinary advice and does not intend to provide any type of veterinary advice for your animals. Please consult your vet for any questions you have regarding your pets health.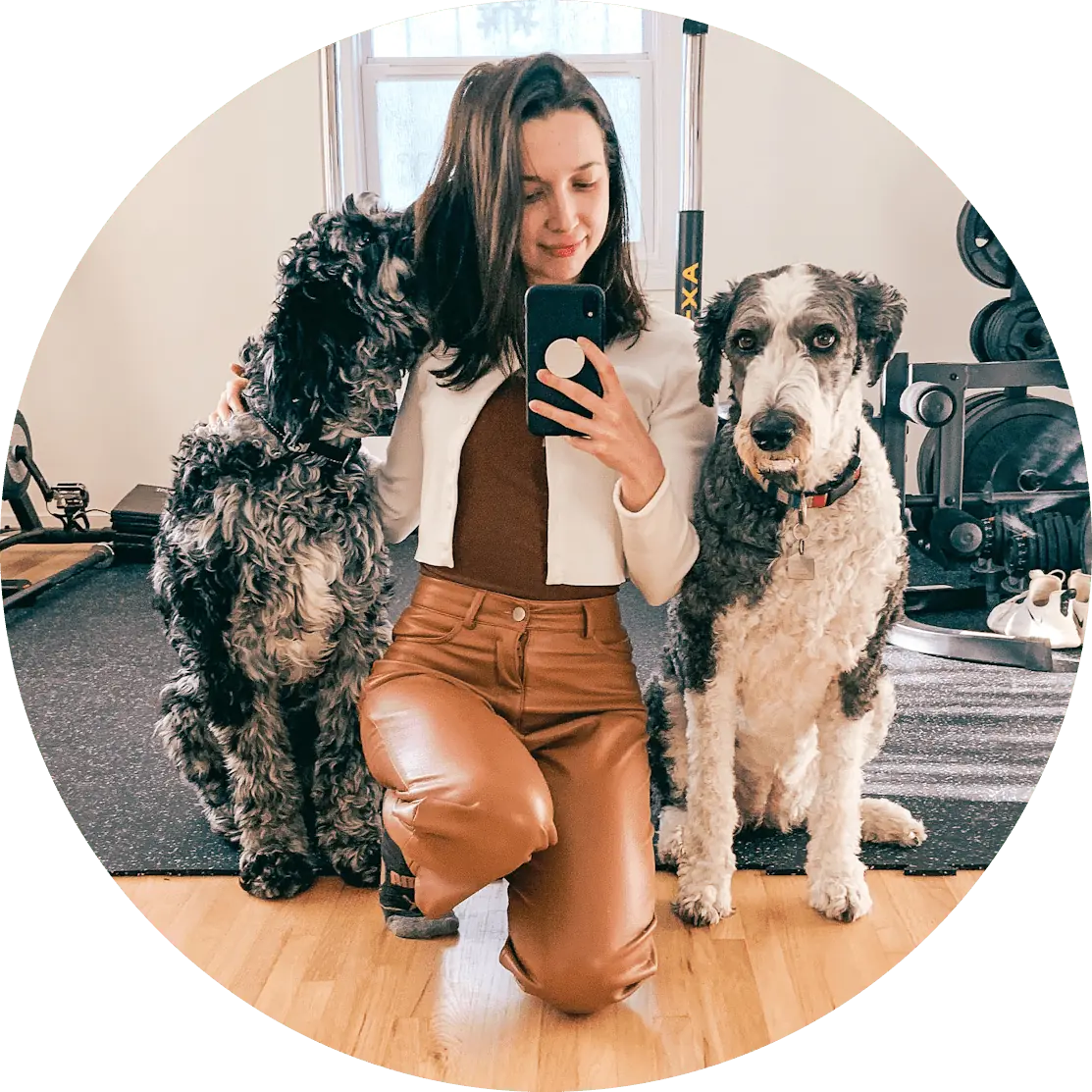 About the Author:
Dana owns a Sheepadoodle and a rescue merle Labradoodle. Her first dog growing up was a white Toy Poodle and she's loved dogs ever since. She has years of experience fostering dogs and has helped find homes for a variety of different breeds, both large and small! After seeing so many dogs end up unwanted and in shelters, she began blogging about different dog breeds (specifically Doodle dogs, since that's what she knows best) to help people make informed choices when adding a new member to their family.
When Dana's not brushing her Doodles' hair (it takes a lot of time for two!) you can find her playing nose work games and fetch with her two amazing pups.
Learn more about her here.