Last Updated on
The time has finally come where you are about to bring home your Sheepadoodle (or mini Sheepadoodle) puppy!
You made sure to research the best Sheepadoodle breeders, put your deposit down, and you are now counting down the days to pick your sweet fluffball up!
But what exactly should you have ready? In this post, I'm going to help you get your home ready for your new Sheepadoodle puppy.
This article contains affiliate links. If you purchase a product listed in this article, we will make a small commission at no extra cost to you!
1. The Basics
First things first, I highly recommend this dog training course by CPDT-KA certified dog trainer, Adrienne Farricelli.
This course uses online videos so you can learn remotely and covers everything from the basic skills to Einstein-level dog tricks (like training your dog to play the piano–amazing).
Training your dog good manners and behavior from day one will be so much more enjoyable than trying to correct bad behavior several months (or years) in. Do yourself a favor and sign up for the training.
Keep reading for product recommendations and more detailed information.
Collar, Leash and Tags
You're going to need to buy several different collars as your puppy grows over time, however, a simple collar and leash are necessary. Your puppy will need to get used to wearing a collar.
Leather dog collars are a great option for when your dog gets older (and you won't need to replace the collar every time they grow), but for now, a simple collar will work.
It's also important to get dog tags made with your:
dog's name
address
phone number
e-mail (this can be great if you move around a lot for work and change numbers frequently)
Crate
You shouldn't buy any sized crate for your puppy. A crate that is too large can encourage accidents and make house-training much more difficult. Your puppy should be in a crate that is large enough for him/her to comfortably turn around, but not much larger.
Most dogs won't go to the bathroom in their crates because they don't want to make a mess of where they need to sleep and lay down. A large crate makes it easy for your pup to go to the bathroom in the corner while still having the ability to lay down in a clean space. To discourage peeing in the crate, make sure the crate is small enough that your pup won't want to pee in it.
However, this can be a bit of a nuisance because as your puppy grows, so will the crate size they require! To solve this, you should get a crate that has a removable divider so you are able to control the side, like this one.
Dog Bed/Crate Pad
Dog beds and crate pads will help your new pup feel comfortable in their new home.
Since your new Sheepadoodle puppy won't know any better, they will likely want to chew their new bed (and did I mention that Sheepadoodle puppies have razor sharp teeth)?
I have two suggestions:
An elevated dog bed is also an option if you live in a hotter climate. Elevated dog beds tend to keep your dog cooler and as Sheepadoodles can be prone to overheat, an elevated bed will help them stay cool during those hot months.
Whatever you choose, make sure you always keep an eye on your pup and avoid getting beds with zippers, buttons or things they can chew off and potentially choke on.
High-Quality Food
I recommend speaking with your breeder to see what they have been feeding your pup in order to keep it consistent for the first couple of weeks. Switching dog foods can be very hard on a dog's stomach, and especially with the stress of leaving their mom and homes, your new puppy might already be feeling a little bit upset.
Keep the food consistent and if you'd like to switch, make sure you do it slowly over time.
Dog Dishes
You don't want to forget the dog dishes!
House Training Supplies
There are a couple of different supplies you can use for house training:
puppy/pee pads
porch training system
bell
Pee Pads
Pee pads or puppy training pads can be very helpful when trying to teach your puppy to go pee in a specific place. We had great success using pads and our Sheepadoodle caught on very quickly.
You can view puppy training pads here.
Porch System
We also installed a fake grass drainage system onto our deck because we lived on the upper floor of a condo.
Picture this: it's the middle of the night. As a good puppy owner, you know that your dog needs to be let out every few hours to avoid accidents (yes, that means in the middle of the night as well)!
You have no backyard and your only option is to go for a little walk to find the grass. That was what my husband and I were going to have to do in the dead of winter. We decided to look into getting a puppy potty for our porch and it was a HUGE help when it came to house training!
Our potty system was excellent for those middle-of-the-night bathroom breaks. You can check out a porch training system here!
Bell
Stephanie C. (@captainsheepadoodle) recommends getting a potty bell!
A bell at your door is another popular method to use when training your puppy to use the bathroom outside!
This bell training system is customizable for different doors.
Baby Gate
A baby gate will help you keep your puppy from entering areas of your home they aren't supposed to be in. We used a baby gate to keep our gal from tumbling down the stairs when she was still too young to be near them.
Grooming Tools
Even though your puppy won't be needing full grooms yet, it's very important that you get them used to being brushed and being handled so that when they do go to the groomers, they aren't scared.
I have put together an entire post about Sheepadoodle grooming at home that I recommend you bookmark and check out.
For brushes and combs, you will need the following: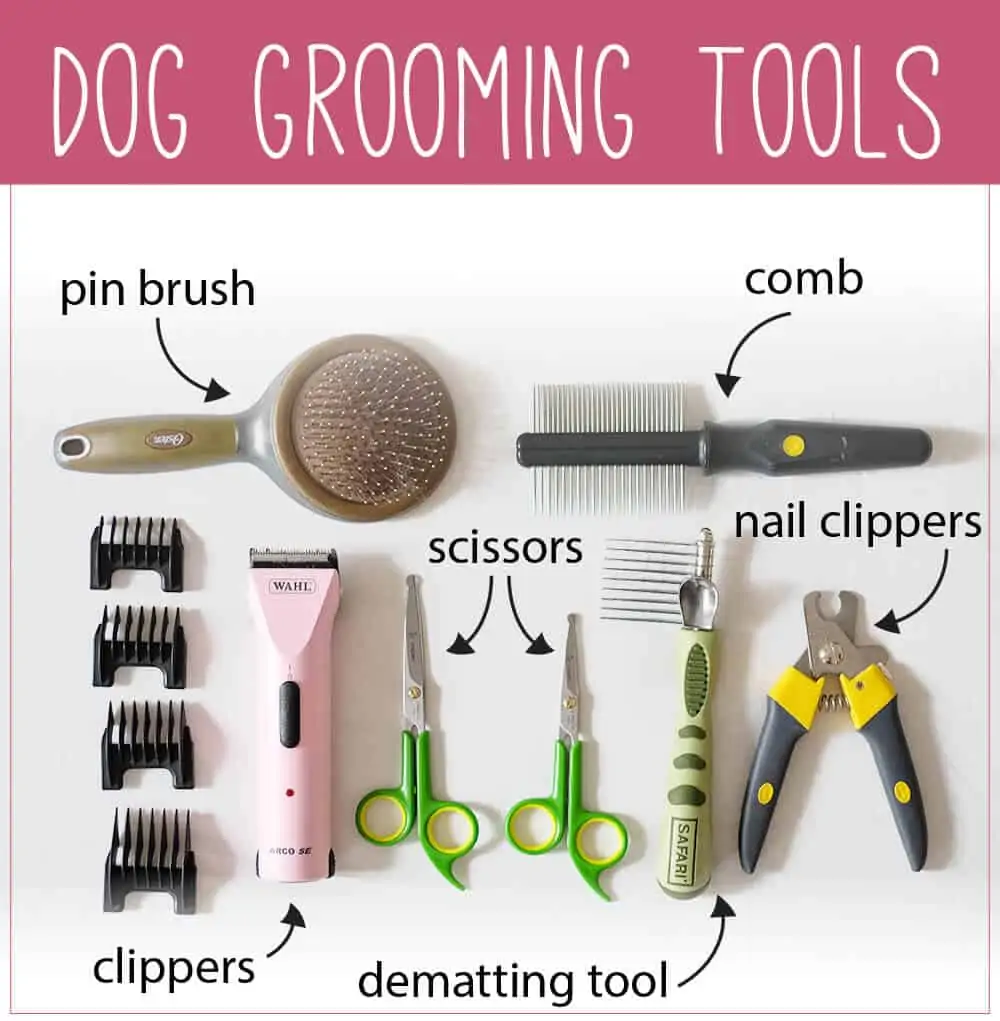 You likely won't find yourself using all of these brushes on your puppy's puppy-coat, but you will need them down the road and like I mentioned, it's good to get your pup used to these tools beforehand!
It's also a good idea to take your puppy to the groomers when they have all of their shots and ask for a tidy. This way, your pup can get a feel for what the groomers will be like.
Snuggle Puppy
Your little pup just left the comfort of their mother and everything familiar to them. They are understandably going to be confused and upset! With this confusion will come lots of crying.
Alexa got her new puppy (@doodlebodie on Instagram) a Snuggle Puppy and had this to say:
"Our biggest struggle was the whimpering/barking the first few nights in his crate. It's understandable, he went from 4 litter mates to sleeping by himself. So I bought him one of those Snuggle Puppies (the little stuffed animal that has a battery-operated "heartbeat"). It worked wonders!! He loves it, cuddles it all night and slept through the whole night the first day I gave it to him."
A Snuggle Puppy will help both your pup and you get a good night's sleep!
Cleaning Supplies
Accidents are going to happen. When they do, you'll want to make sure you have the right cleaning supplies on hand to eliminate odor and prevent future accidents from happening in the same place.
Sunny & Honey's Pet Stain and Oder cleaner is a very popular cleaning spray that will break down the enzymes, eliminate smell and remove stains effectively.
Toys
Your new puppy is going to be full of playful energy! A Kong for puppies is the perfect toy to keep your active pup entertained (just make sure you always supervise your pup around their toys). We filled ours with peanut butter and froze it. Just make sure the peanut butter is all-natural and contains no xylitol (an ingredient found in gum, peanut butter and many other common products which is fatal to dogs).
Your puppy will also enjoy playing with balls, ropes and tug toys.
As for teething, we put long carrots in the freezer and would let our pup knaw on the cold carrots! It's a healthy snack and they soothed her sore teeth. Never freeze baby carrots as they are too small and can be a choking hazard, and don't let your puppy eat more than one carrot per day as the high fiber content can cause stomach discomfort.
Training Treats
You will want to make sure you get some extra yummy training treats to begin training your puppy!
Our dog loved these treats.
Recall Lead
Recall is a very important skill for your dog to have. But to train recall safely, you must have a long lead that you can grab onto in case your pup decides to take off.
This lead ranges in length and comes in a variety of colors!
2. Puppy-Proof Your House
Puppies make messes. Puppies can be destructive. No matter how much you watch them or try to train them, accidents can happen. It's best to puppy proof house, however, by doing the following:
Move small items that your puppy can choke on or ingest
Put chemicals, cleaners and other toxins behind a closed and possibly child-proofed door. Puppies are curious (and Sheepadoodles are incredibly smart)
Secure exposed wires and cords
Remove anything poisonous to dogs from your home (plants, some essential oils)
3. Mentally Prepare Yourself
A few weeks after we got our dog, I remember crying and thinking that we were way in over our heads.
After talking to lots of other people, I know that I wasn't alone with those feelings. Puppies are a ton of work. They are exhausting during those first few months and they will test your patience.
It's important to remember that consistent training should pay off and that you aren't alone in feeling like you're losing your mind!
This book came highly recommended to me from another dog owner who felt frustrated and overwhelmed those first few weeks.
4. Talk to Your Vet About Bloating
Stomach bloating can be deadly in dogs, and unfortunately, the Sheepadoodle has a higher chance for bloat than other breeds.
Speak to your vet about this so you are prepared for it if it happens. Some Sheepadoodle owners also tack their dog's stomach down. It's a surgery that can help prevent bloat. We didn't do this as we didn't find out about it until years after we got our dog. I recommend talking to a vet about this and making a decision or plan.
5. Items for When Your Puppy Grows
These items will help you as your puppy grows. The reason I'm not including these items in the puppy-item list is that you won't need these items right away.
Easy Walk Harness
The Easy Walk Harness will become your best friend. We've fostered and trained a lot of dogs and dogs that pull on walks are very challenging! The Easy Walk Harness is a necessary training tool to prevent your dog from pulling on walks.
Loose-leash walking takes a lot of time, so be patient when working with your dog. I believe it took ours almost a year before she was fully loose-leash.
Tips from Current Sheepadoodle Owners
Now that you've got all the supplies you need, here's some further advice. I reached out to current Sheepadoodle owners to see what tips they had for new owners! Here's what they had to say.
On the Sheepadoodle breed…
"You need a huge heart, cause the sheepie's will fill it up quick!!! We just got our 2nd and after losing our standard poodle in Aug2018 I just didn't think the pain would heel. These sheepie's are absolutely the best dogs, their eyes and facial expressions are awesome. So get a big heart!!" – Tom L.
On training a Sheepadoodle…
"Be prepared and know how to manage a dog/pup with strong herding instincts." – Sarah H.
"1. Train as much as you can early on. Training is faster the younger they are. Use some really yummy treats like deli turkey in tiny pieces for the early training.

2. Loose leash training is a must. They grow so fast and before you know it, you've got an 80lb happy maniac pulling you down the sidewalk. To avoid that, do loose-leash training while they're little.

3. They're very social, so maybe join a group or find a dog park once they have all their shots to take them on playdates.

4. They're really stubborn and so playful. Don't get discouraged when they're bad or when it seems like they're forgetting their training. Take it easy on yourself. Training a puppy is hard work." – Allyson P. (@littlehenrydoodle)
"Get them used to [being brushed] from day one!" – Claudia H. (@surreysheepadoodles)
1) Get some kind of pet insurance on 1st day.

2) These dogs are sock thieves…I'd suggest hampers with lids along with training of all family members that NO socks can be lying around.

3) Be Consistent with training. Smart dogs and what is cute when they are first brought home is no longer cute when they weigh 85 lbs. Much easier to train them on WHAT is acceptable than to un-train a bad behavior.

4) Be prepared to have your heart stolen within minutes of them coming to your home ❤️

5) Be ready to socialize…No walks are sacred and you will forever be asked questions [by passerbys] and [to take pictures] – Anita W. (@Wynstonthesheepadoodle)
As Anita points out above, you're going to want to get used to people stopping you on your walks and asking about your pup! You'll certainly meet a lot of people while out with your Sheepadoodle.
Going through this list will ensure you are prepared for when your new fur-baby arrives!
Summary of what you need BEFORE you bring your Sheepadoodle home
There you have it! Everything you need before you bring your Sheepadoodle home. Here's a quick recap:
Collar
Leash
Tags
Crate
Dog bed/crate pad
High-quality food for puppies
Dog Dishes
House training supplies
Baby gate
Grooming tools (brushes, nail clippers)
Snuggle Puppy (optional)
Cleaning supplies
Toys
Training treats
Recall Lead
---
Amazon Associates Program
This article may include affiliate links. www.travellingwithadog.com is a participant of Amazon.com Services LLC Associates Program. As an Amazon Associate, I earn a commission from qualifying purchase. www.travellingwithadog.com participates in other affiliate programs, and recieves commissions when purchases are made through the links. The cost is not inflated to account for the commission earned.
---
Veterinary Disclaimer: travellingwithadog.com is not a substitute for veterinary advice and does not intend to provide any type of veterinary advice for your animals. Please consult your vet for any questions you have regarding your pets health.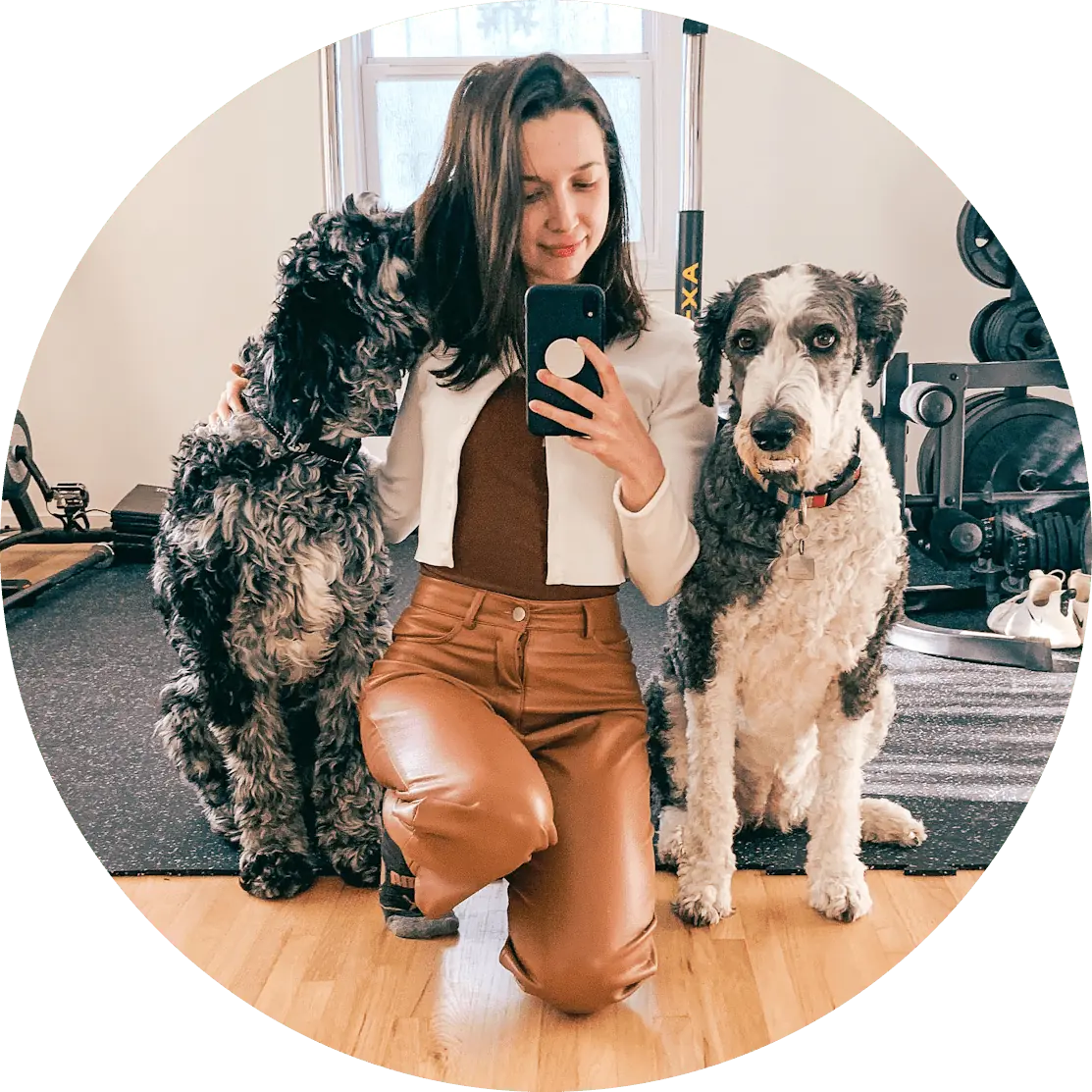 About the Author:
Dana owns a Sheepadoodle and a rescue merle Labradoodle. Her first dog growing up was a white Toy Poodle and she's loved dogs ever since. She has years of experience fostering dogs and has helped find homes for a variety of different breeds, both large and small! After seeing so many dogs end up unwanted and in shelters, she began blogging about different dog breeds (specifically Doodle dogs, since that's what she knows best) to help people make informed choices when adding a new member to their family.
When Dana's not brushing her Doodles' hair (it takes a lot of time for two!) you can find her playing nose work games and fetch with her two amazing pups.
Learn more about her here.