Last Updated on
The Sheepadoodle (sometimes known as the Sheepapoo, Sheepadoo, and Sheepoodle) is a popular dog for its intelligence and loveable nature.
But despite all the great qualities a Sheepadoodle has, this designer breed isn't for everybody…in fact, the reason I wrote this blog post was to give an honest look into the Sheepadoodle breed.
After all, I've owned one for 8 years and run a Facebook group with thousands of Sheepadoodle owners. Over the years, I've learned who Sheepadoodles are great for and who should reconsider.
In this article, you'll learn everything about Sheepadoodles, including why they make great dogs, who they're best suited for, and who should consider a different breed.
| | |
| --- | --- |
| Quick Sheepadoodle Facts | |
| Height | 13-28 inches tall |
| Weight | 45-80 lbs |
| Lifespan | 12 years |
| Temperament | Friendly, energetic, and social |
What's a Sheepadoodle?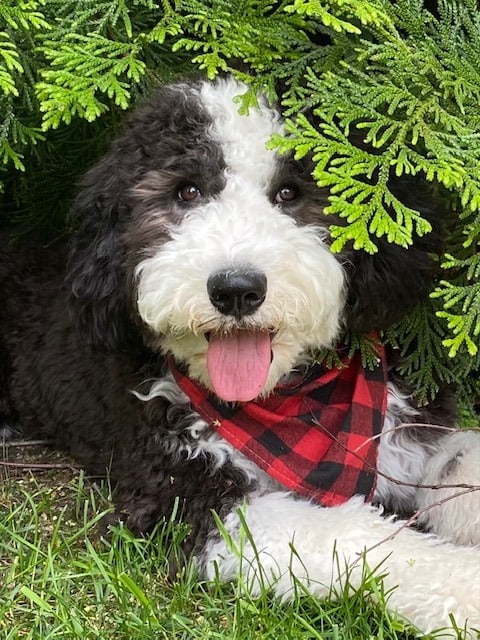 A Sheepadoodle is a cross between an Old English Sheepdog and a Standard Poodle.
Most Sheepadoodles are white and black, but Sheepadoodles come in many different colors, too, like merle, brown, cream, and blue.
They are low-shedding and deemed as hypoallergenic (although, no dog can be 100% hypoallergenic).
Temperament and personality
A dog's personality largely depends on its parents. In this case, the Standard Poodle and the Old English Sheepadog.
Lt's learn about the two parent breeds to understand a Sheepadoodle's temperament and personality fully.
Standard Poodle Temperament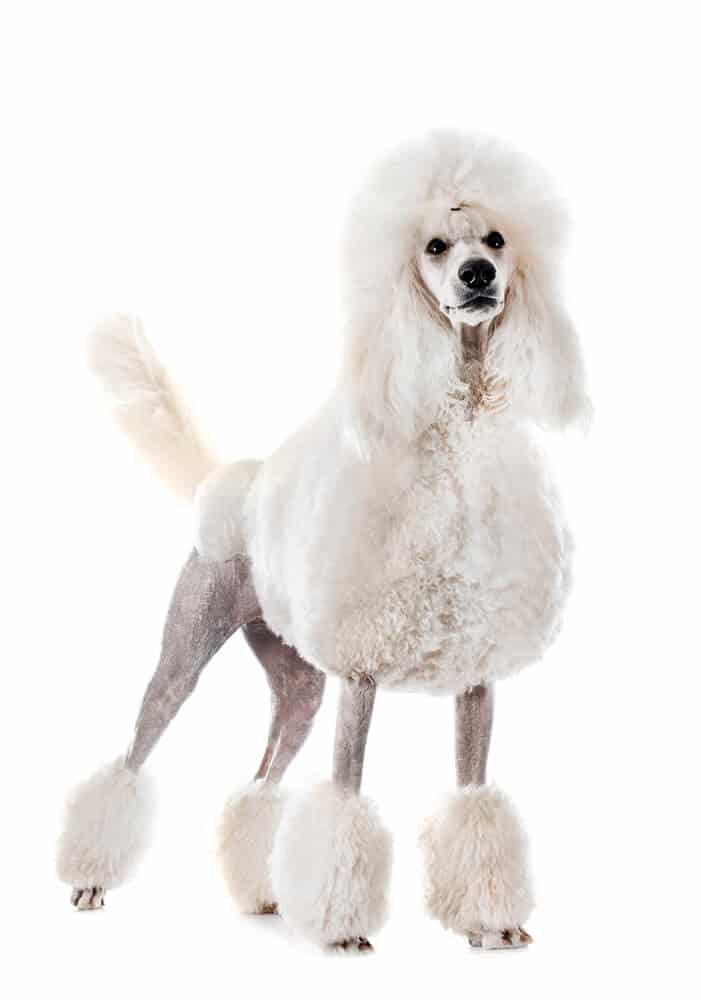 Standard Poodles are large dogs and are one of the smartest dog breeds in the world.
And many are surprised to find out that the Poodle was originally bred to be a duck hunter dog in Germany. They are working dogs with a high level of energy and therefore, need plenty of exercise and mental enrichment.
Poodles like to take part in dog sports like agility and nose work and do their best in homes where they get lots of positive training sessions. Poodles also make excellent service dogs.
Any dog with Poodle parents (like the Sheepadoodle) will take on many of the above qualities.
Old English Sheepdog Temperament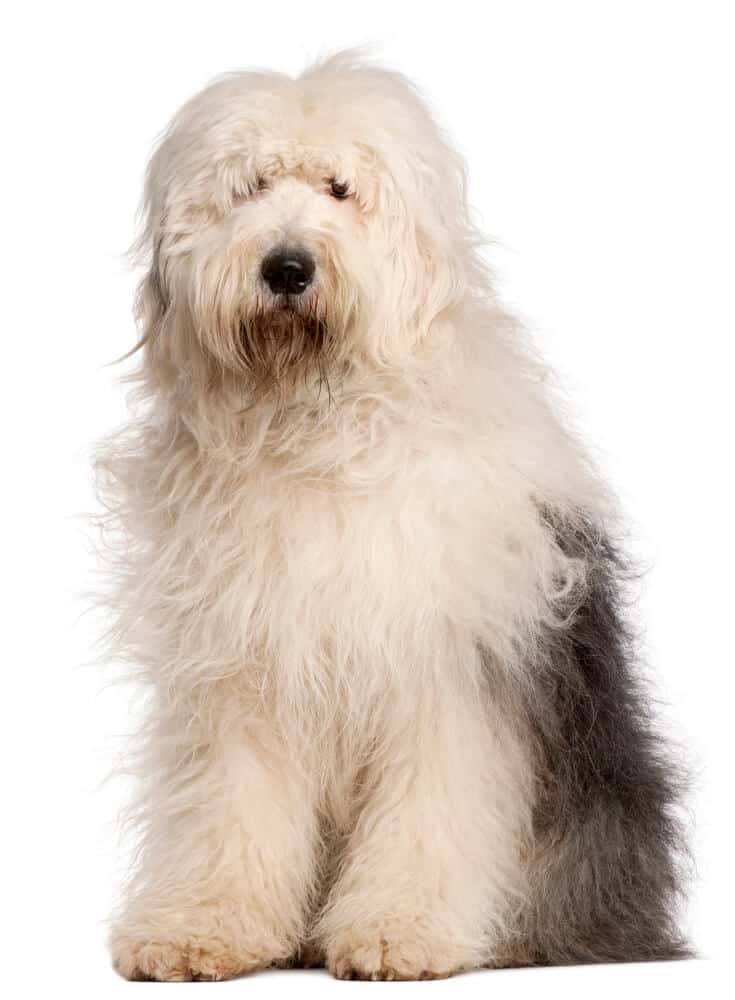 Old English Sheepdogs (OES) are goofy and lovable dogs with distinct personalities.
While they can be stubborn, they are very smart and want nothing more than to please their families.
They make great family dogs and love to play with young children. Because they are herding dogs bred to herd sheep, they might try to herd other dogs or kids—it's natural instinct for them.
Unlike the Poodle, Old English Sheepdogs are not high-energy dogs. They have medium energy levels and still require plenty of exercise, but not as much as the Poodle.
OES are protective of their homes but are generally too skittish to attack. They will "sound the alarm" when there is an intruder but can quickly retreat if confronted.
Sheepadoodle Temperament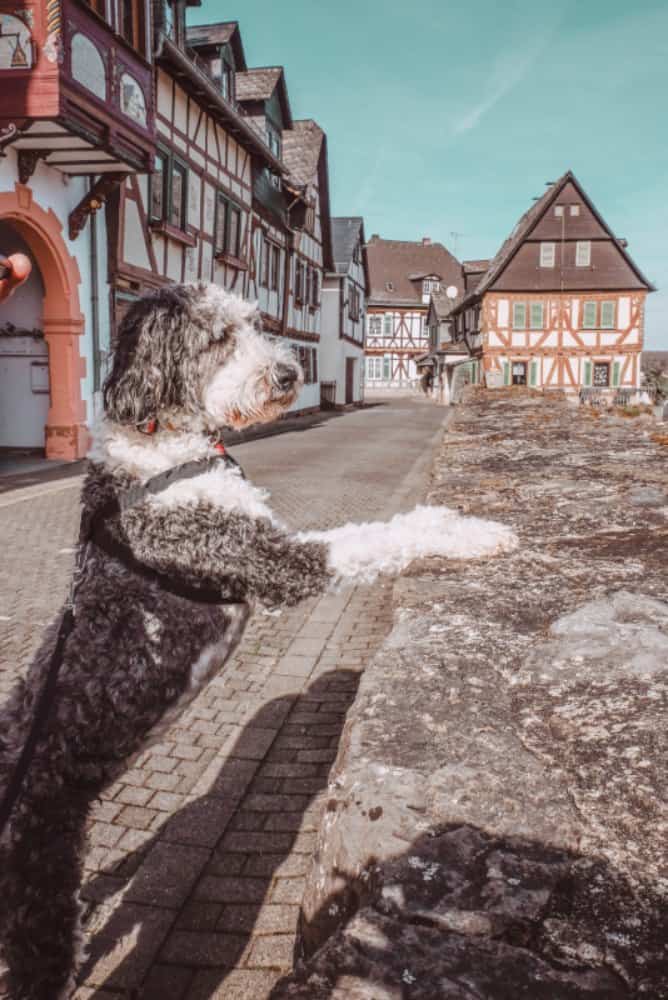 Now that we know about both parent breeds, let's learn about the Sheepadoodle's temperament:
1. Sheepadoodles Are Protective
They can make good guard dogs, but just like the Old English Sheepdog, they will usually only bark to let you know when someone shouldn't be there; they generally won't attack or bite (unless they've gone through specialized guard dog training).
2. Sheepadoodles Are Cuddly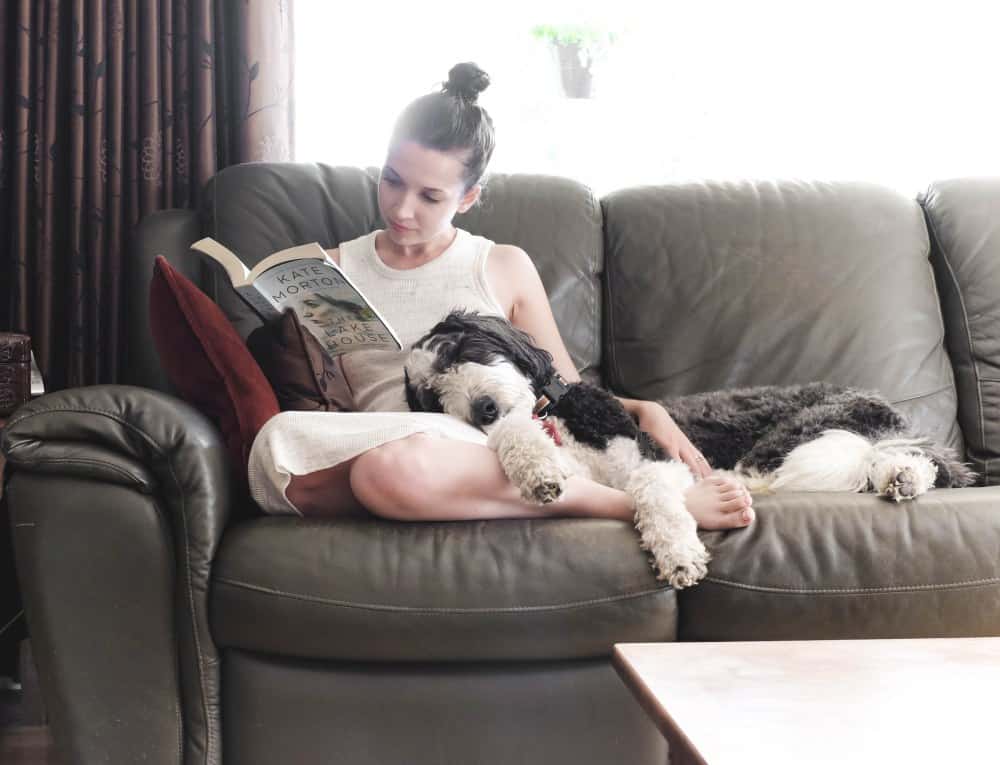 Sheepadoodles are very cuddly and want to get as close as possible to their humans, and certainly won't mind squishing themselves in between everyone!
Sheepadoodles are known to snuggle up to family members and even guests. As long as someone is giving them attention, they don't care who it's from. They are happy as long as they're near people.
Of course, this isn't true for every dog and your Sheepadoodle might not care for cuddling.
3. Sheepadoodles Are Playful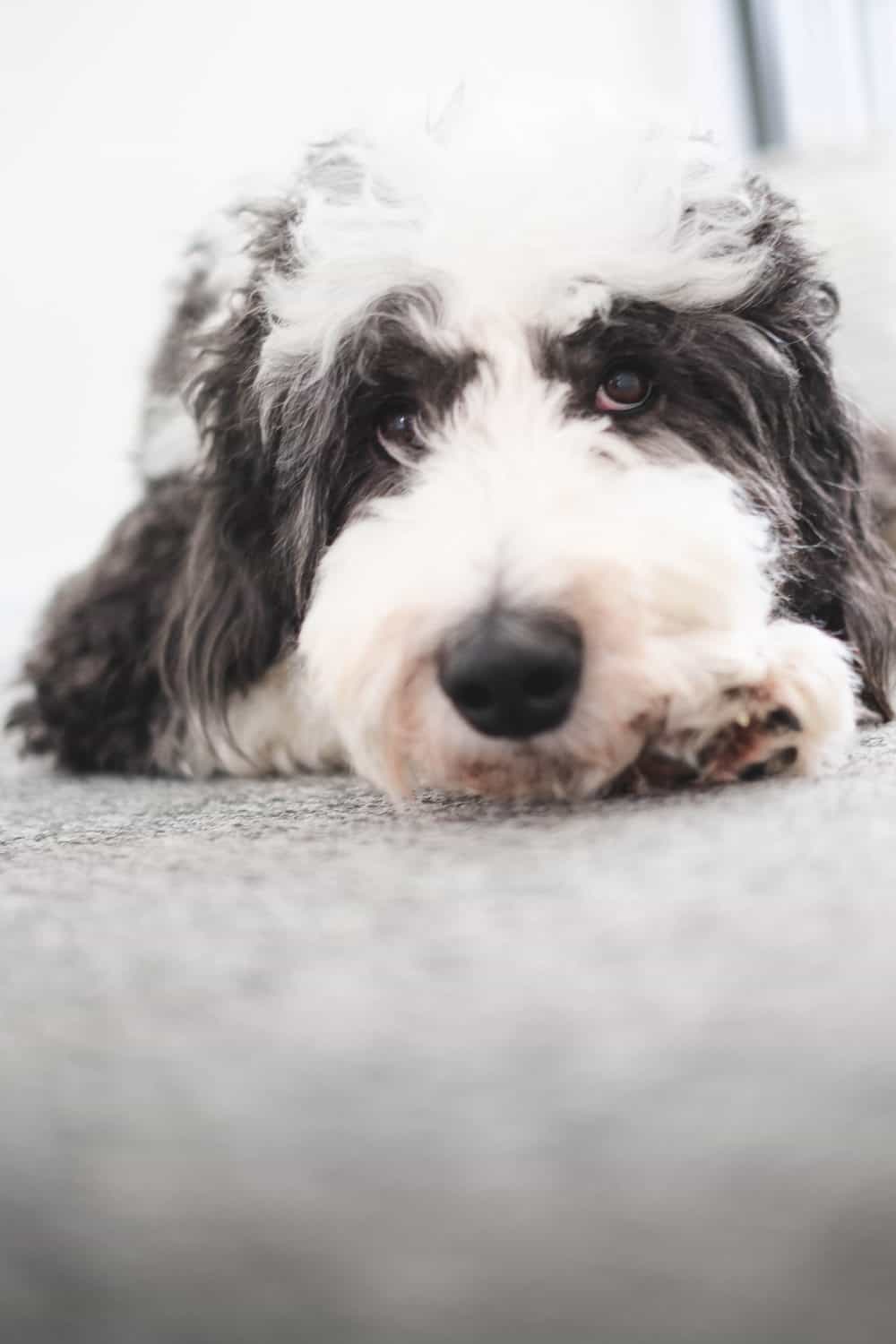 The Sheepadoodle has an endless appetite to play! They love being around kids as it often means they will get lots of attention and can play for hours. They make great babysitters, but like any dog, they should be supervised around children.
They may also inherit the OES's herding instinct. Many Sheepadoodles have been known to be quite nippy as puppies and young dogs and will try and round up small dogs and kids.
Aside: Due to their nipping with razor-sharp puppy teeth, Sheepadoodle puppies have rightfully earned the nickname Sharkadoodle and Land Shark! You will need to spend time and care to train your Sheepadoodle puppy not to nip. This exceeds normal puppy nipping and is quite painful with their sharp little teeth, so be prepared to nip that in the bud.
4. Sheepadoodles Are Energetic
Sheepadoodles are medium to high energy and need lots of exercise and running around!
They are very active dogs and love to be surrounded by their family, so they make excellent companions for running, hiking, camping, and any athletic activity.
If you feel the Sheepadoodle might not be right for you in terms of energy levels, you should consider a Bernedoodle. Bernedoodles are quite similar to Sheepadoodles but are less energetic. You can read our Sheepadoodles vs Bernedoodle comparison to compare the two breeds.
5. Intelligent
Sheepadoodles are easy to train and highly intelligent! They make great dogs for first-time dog owners as they are friendly, easygoing, and when socialized properly, are non-aggressive.
And don't be surprised if they outsmart you—Sheepadoodles are known to be funny (just like the OES) and definitely have a devious side. They can be stubborn like their OES parent and even though they want to please their owner, they will try and do things their own way.
They do best with positive reinforcement and will learn any new trick you teach them.
6. Sheepadoodles Are Friendly
This dog breed is super friendly. If you have other dogs, they will almost certainly get along with them (as long as they are properly introduced and socialized).
Different Sheepadoodle generations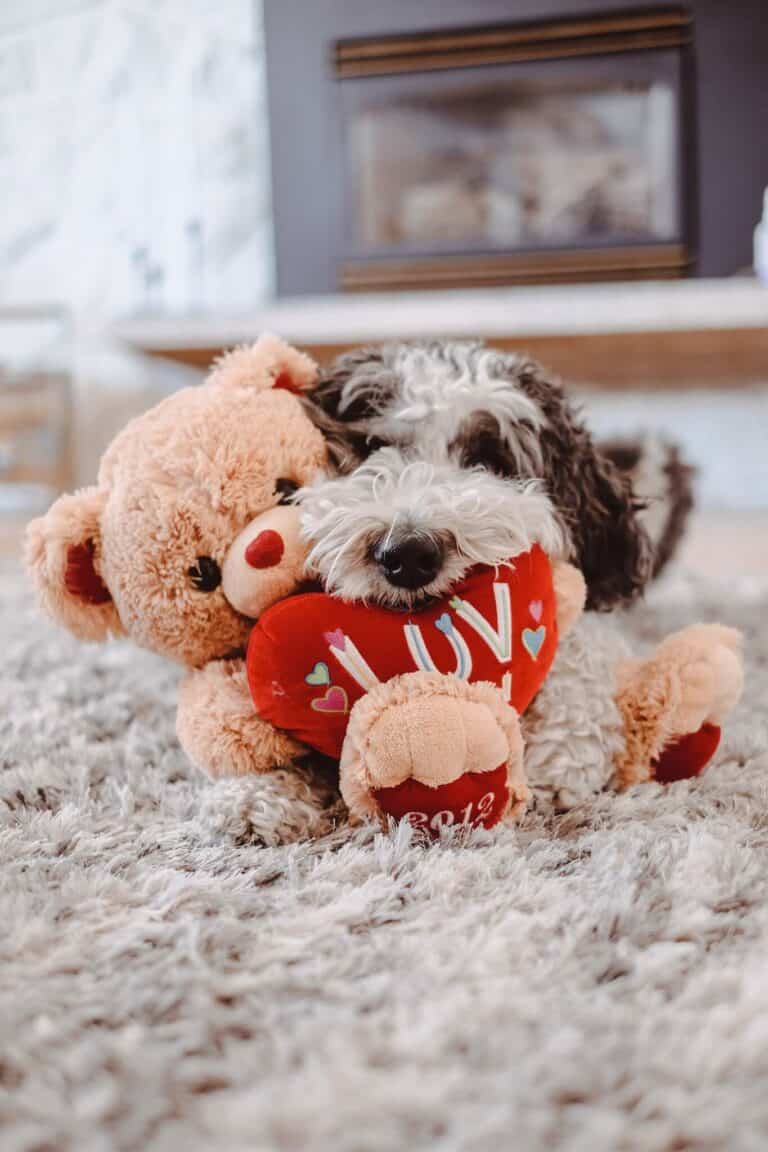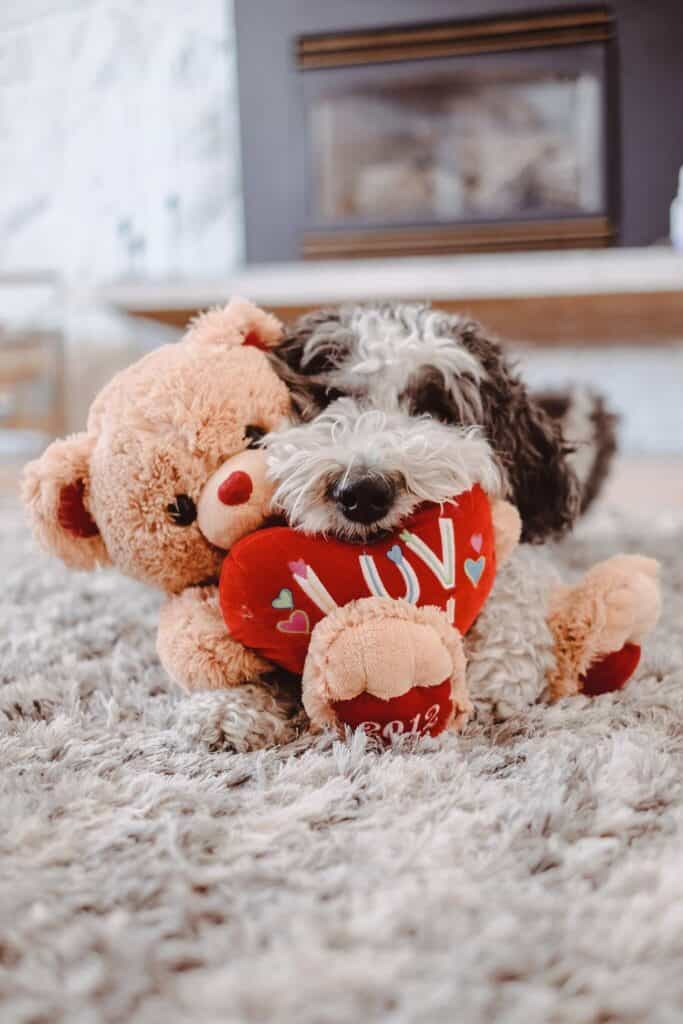 There are four different types of Sheepadoodles: F1, F1b, F2, and mini.
Let's learn about each one so you know what these terms mean when you come across them on breed websites.
1. F1 Sheepadoodles
An F1 Sheepadoodle (first generation) is when a purebred Old English Sheepdog is bred with a purebred Standard Poodle.
2. F1b Sheepadoodles
An F1b Sheepadoodle is when an F1 Sheepadoodle (half Old English Sheepdog half Standard Poodle) is bred with a purebred Standard Poodle.
F1b Sheepadoodles are 75% Poodle. F1b Sheepadoodles may shed less than F1 Sheepadoodles and are more suitable for families with allergies.
3. F2 Sheepadoodles
An F2 Sheepadoodle is when two F1 Sheepadoodles are bred. They are generally less expensive than F1s and F2s.
Size
Standard Sheepadoodle
Sheepadoodles come from two large dog breeds, and in turn, can be on the larger side.
A full-grown adult Sheepadoodle weighs around 45-80 pounds and stands 13-28 inches tall. It's very uncommon to find Sheepadoodles larger than this size, therefore, you should be wary of breeders advertising "giant" Sheepadoodles as they don't exist.
Mirco, Toy, or Mini Sheepadoodle
Mini Sheepadoodles are small hypoallergenic dogs born from an Old English Sheepdog and a Miniature, Toy, or Moyen Poodle. They are usually less than 35 pounds and stand at a height of 15-18 inches tall. The Mini Sheepadoodle tends to be more expensive but is perfect for those who would prefer a small to medium-sized dog.
The Miniature Poodle is similar personality-wise to the Standard Poodle, and the only difference between the Mini Sheepadoodle and the Standard Sheepadoodle is the size.
Sheepadoodles tend to be large dogs, whereas Mini Sheepadoodles are medium-sized dogs.
There are many Doodle mix dogs. Click here to learn about the different (and rare) kinds!
Coat and colors
Since Doodles are mixed breed dogs, they can come in a variety of colors and coat textures, like this black and white Sheepadoodle who has a wavy coat: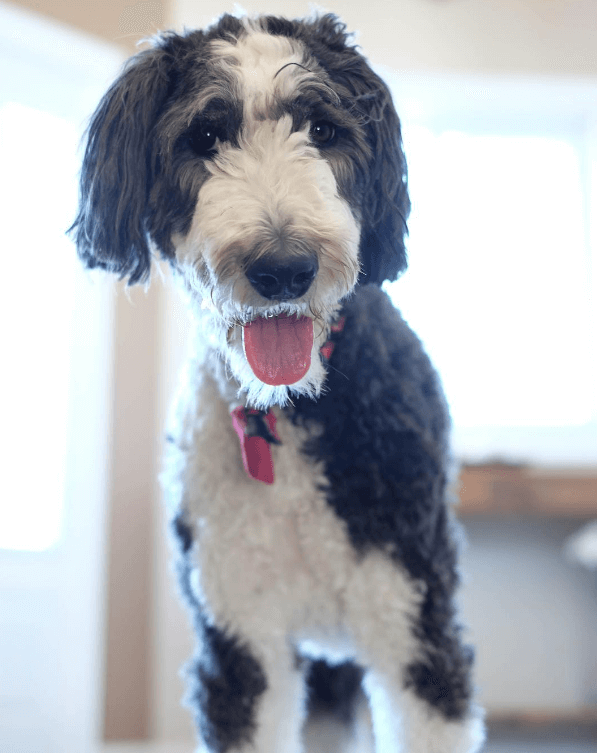 Let's learn a bit more about the different appearances each Sheepadoodle may have.
Coats
Poodles have a curly coat while Old English Sheepdogs have straight, thick hair. Because of this, your Sheepadoodle can inherit anything from straight to curly.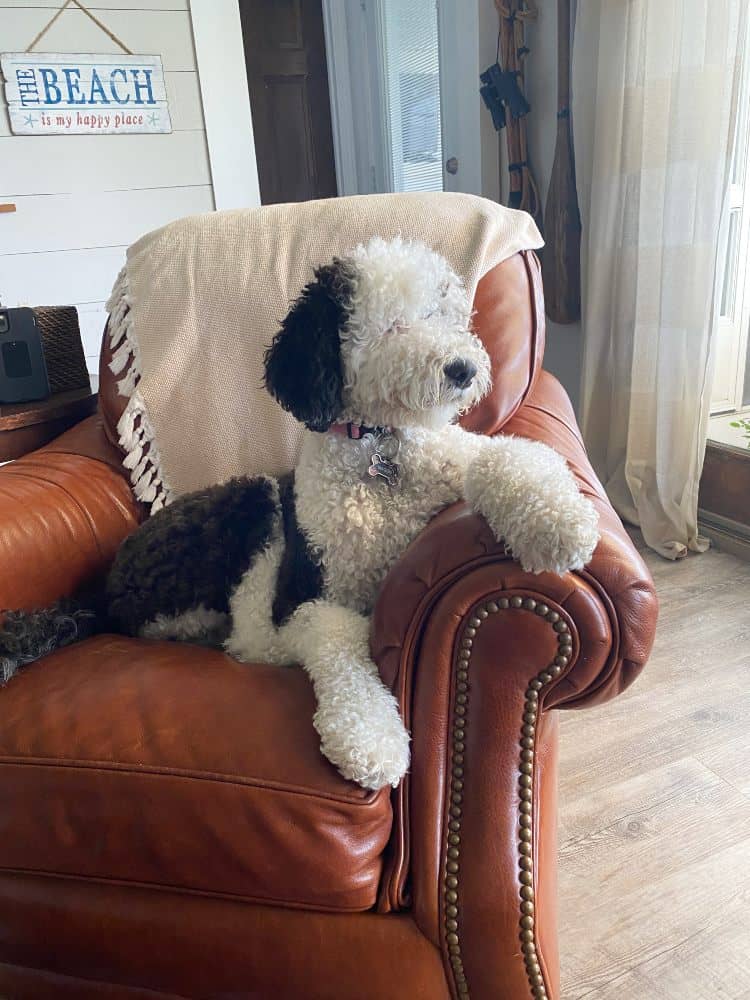 Most Sheepadoodles have a wavy coat, but it's not uncommon to see Sheepadoodles sporting a long and luxurious coat very similar to their Sheepdog parents.
If your Sheepadoodle has straight hair, then they might also shed a little bit. If their hair is more curly, they may not shed as much. Regardless of their coat type, your Sheepadoodle will need lots of grooming (which I'll discuss later on).
Colors
This designer breed comes in a few standard colors. Black and white Sheepadoodles are the most common, but you'll also see pure white, pure grey, white and grey, tri-colored (brown, black, and white), and merle.
A Sheepadoodle's color and markings depend largely on the Poodle parent. It's impossible for breeders to predict the color of their litter with 100% certainty, so it's usually a surprise! Sheepadoodle puppies with rare colors and marking will usually be higher priced.
Grooming a Sheepadoodle
Sheepadoodle grooming should be an Olympic sport.
Sheepadoodles—like all Doodle breeds—require plenty of grooming to prevent mats. As mentioned above, you must take them to a groomer every 6-8 weeks and/or brush/comb them often.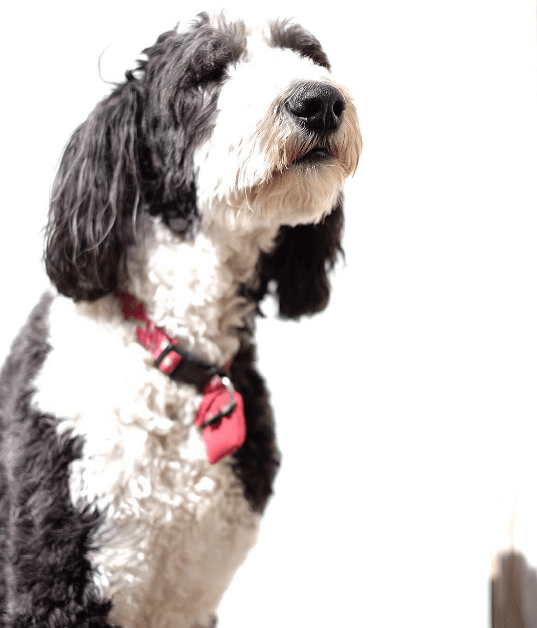 It's important to start brushing as soon as you get your Sheepadoodle puppy so they can get used to it. Our Sheepadoodle is so used to being brushed that she falls asleep as I brush her now.
On top of brushing, Sheepadoodles (being part Poodle) require regular ear cleaning. With their floppy ears, dirt, debris, moisture, and hair can get trapped and cause infection. Regular ear cleaning is a must. Some dogs also need the hair in their ears to be regularly plucked out or removed to prevent ear infections.
It's best to discuss this with your veterinarian as ear-hair-plucking differs from dog to dog.
Health Concerns
When buying a Sheepadoodle, it's essential to find a reputable Sheepadoodle breeder who tests the puppy's parents for disease to decrease the chance of any health issues in your pup. Generally, Sheepadoodles are healthy dogs when they come from a reputable breeder who has done extensive health testing, but their health also depends on the way they are taken care of.
Sheepadoodles can potentially inherit any of the health issues from either parent and can suffer from:
seizures
joint problems
allergies/sensitive stomach
and others. It's essential to speak with your breeder about your concerns in regard to health issues.
Many people opt to tack their Sheepadoodle's stomach down during the spay/neuter process to avoid bloat. Consider discussing this option with your vet (it's something I wish I had known earlier on).
Life expectancy
Old English Sheepdogs live to be around 11 years old and Standard Poodles live to be approximately 12 years old. You can expect the Sheepadoodle to have a similar lifespan.
Where to find or buy Sheepadoodle Puppies
Because Sheepadoodles have become so popular, you will find many irresponsible people who sell puppies. It's essential to do your research to find the best Sheepadoodle breeder.
To help you find Sheepadoodle puppies for sale near you, you can go through this directory of Sheepadoodle breeders. It's a good place to start, but you still need to do your own research when looking for dog breeders as the list has not been vetted.
Irresponsible breeders will not do proper health testing, resulting in sick puppies with many issues and problems.
If you don't necessarily want a puppy and are fine with an older dog, there are also Doodle rescues where you can find a Sheepadoodle who needs a loving home. Occasionally, Sheepadoodles that are up for adoption will also get posted in the following Doodle Facebook groups, like this one.
Price
You might think a mixed breed dog would be cheaper than a purebred, but this isn't the case for Sheepadoodles. Sheepadoodles are in high demand right now and come with a hefty price tag!
Standard Sheepadoodle puppies are around $2,000-$5,000, depending on where you live. Many Sheepadoodle breeders have waitlists that span over a year due to the high demand for the Sheepadoodle.
Aside from the initial cost of purchasing your Sheepadoodle puppy, you also need to allocate funds to food, toys, potential vet visits, pet insurance, and grooming visit. A visit to the groomer can cost upwards of $140 every 6 weeks, and as I'll discuss later on, Sheepadoodles have a high-maintenance coat and require lots of grooming.
Reasons you shouldn't get a Sheepadoodle
Sheepadoodles are exceptionally smart, playful and make fantastic family pets for active families.
So why then why would I suggest not getting one?
Oftentimes, people get drawn to a certain breed of dog based on its looks, but then realize that the dog they bought is not for them.
This probably isn't you (as you're here doing research into the breed) but I still feel it's important to play devil's advocate and give you a few reasons why you shouldn't get a Sheepadoodle:
Sheepadoodles are pricey: And I don't just mean their initial cost. Keeping a non-shedding dog like the Sheepadoodle mat-free requires many trips to the groomers or at-home grooming (and usually both!).
Sheepadoodles are high energy: If you have a demanding work life, you might be better suited to a dog that doesn't require as much attention. Sheepadoodles require around 1.5 to 2 hours of exercise per day, and can become destructive (like any dog) if they don't get that exercise. The alternative is hiring a dog walker or putting your dog in daycare, so they get the exercise and stimulation they need throughout the day.
Sheepadoodles require lots of grooming: Not everyone wants a dog that requires lifelong brushing and combing, and that's totally OK! If this is you, you may want to reconsider the Sheepadoodle.
Sheepadoodles can be stubborn: The stubbornness is something I love about our Sheepadoodle, but some people might not. Our Labradoodle listens to every command we give him, whereas our Sheepadoodle listens about 80% of the time. For example, if we tell our Labradoodle to get off the bed, he hops off immediately. If we tell our Sheepadoodle, she presses her body into us as if to say, "please let me stay here. I really love being up here…" We have to tell her a few times before she finally gives in. This wasn't a dealbreaker for us, and it might not be for you, but I figured it was worth mentioning.
You should also read through this eye-opening post where Sheepadoodle owners discuss what they wish they knew before getting a Sheepadoodle.
PS: My Sheepadoodle Spotlight page is full of Sheepadoodles. You can get to know different Standard Sheepadoodles around the world and see what they're like.
Overall
Dog lovers worldwide can't get enough of how sweet and lovable the Sheepadoodle is. They make wonderful family dogs, get along well with other animals (if socialized properly) and make fantastic dogs.
If you want a high-energy dog that will want to join you on daily walks and runs, the Sheepadoodle will be an excellent dog for you!
FAQs
How much do Sheepadoodles cost? 💸
Sheepadoodle puppies are around $2,000-$4,000 from a Sheepadoodle breeder. You can adopt a Sheepadoodle from a Doodle rescue for a lower price.
Do Sheepadoodles shed? 🐼
Sheepadoodles are generally a non-shedding hypoallergenic dog but there is no guarantee that your puppy will not shed.
Do all Sheepadoodles turn grey?
No, not all Sheepadoodles will turn grey. Some remain black and white.
Do Sheepadoodles bark a lot?
With the right socialization and training, your Sheepadoodle should not bark a lot.
When do Sheepadoodles calm down?
All Sheepadoodles are different, but generally, when they will calm down between the ages of 4-5.
Are Sheepadoodles registered with the American Kennel Club?
No, Sheepadoodles are not registered with the American Kennel Club because they are not purebred dogs. Only purebred dogs can be registered.
Do Sheepadoodles get along with other animals?
Sheepadoodles can get along with other animals, like cats, if trained properly when they are puppies.
---
Amazon Associates Program
This article may include affiliate links. www.travellingwithadog.com is a participant of Amazon.com Services LLC Associates Program. As an Amazon Associate, I earn a commission from qualifying purchase. www.travellingwithadog.com participates in other affiliate programs, and recieves commissions when purchases are made through the links. The cost is not inflated to account for the commission earned.
---
Veterinary Disclaimer: travellingwithadog.com is not a substitute for veterinary advice and does not intend to provide any type of veterinary advice for your animals. Please consult your vet for any questions you have regarding your pets health.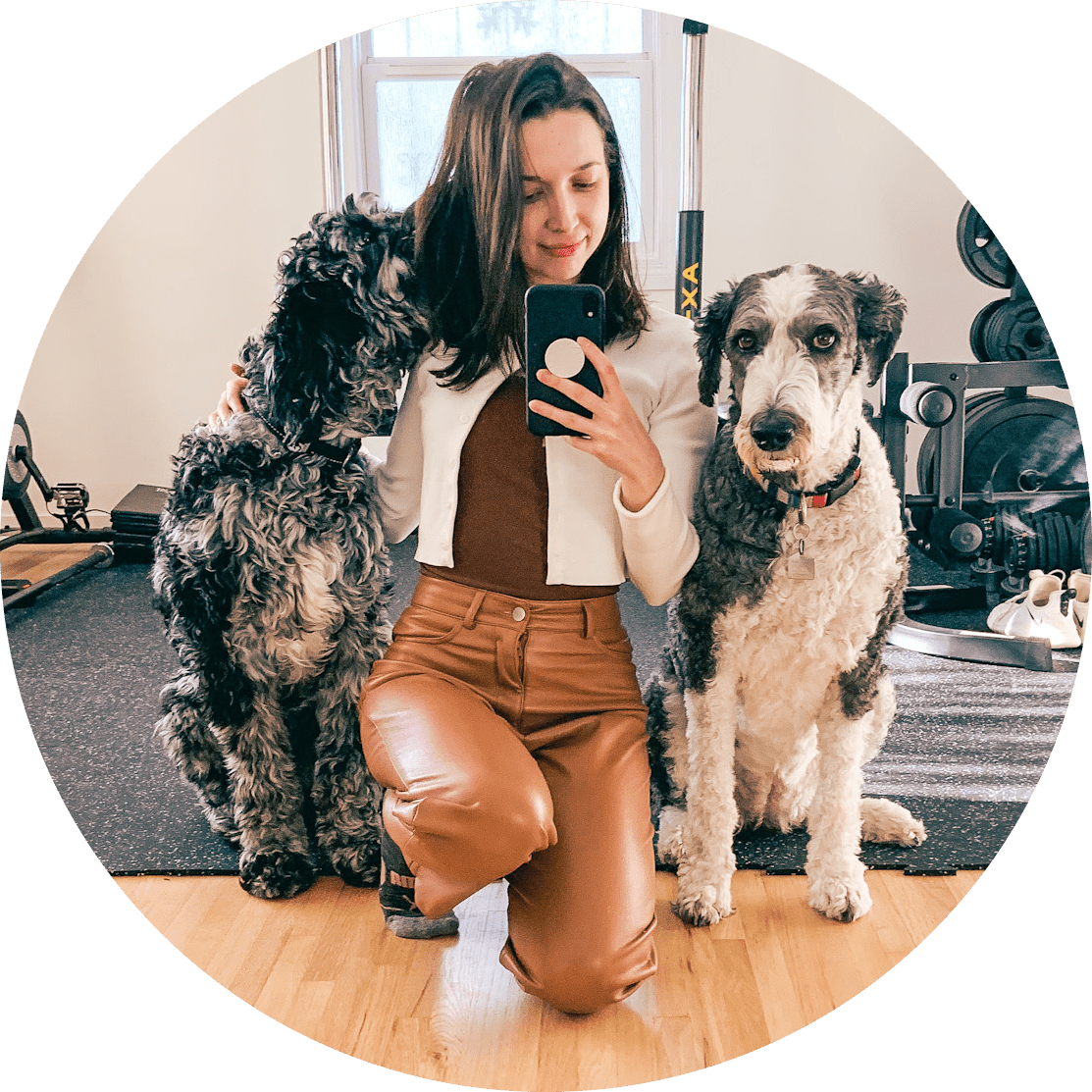 About the Author:
Dana owns a Sheepadoodle and a rescue merle Labradoodle. Her first dog growing up was a white Toy Poodle and she's loved dogs ever since. She has years of experience fostering dogs and has helped find homes for a variety of different breeds, both large and small! After seeing so many dogs end up unwanted and in shelters, she began blogging about different dog breeds (specifically Doodle dogs, since that's what she knows best) to help people make informed choices when adding a new member to their family.
When Dana's not brushing her Doodles' hair (it takes a lot of time for two!) you can find her playing nose work games and fetch with her two amazing pups.
Learn more about her here.