Last Updated on
Many brides are beginning to look to elopments versus traditional weddings.
Eloping offers a wide range of benefits:
a larger selection of destinations
less planning
less costly
no pressure for guests to attend a pricey destination wedding
Traditionally, an elopement is defined as a runaway couple secretly wedding without parental permission.
But nowadays, elopements are usually couples who wish to forgo a costly and time-consuming wedding.
And the best part? You can elope with family or best friends, ensuring your closest loved-ones are still present for your special day.
Whether you're on the fence about an elopement or are considering one, I'm going to share my experience with our elopement wedding, and why I recommend eloping with family.
Our Elopement Story
After my husband proposed to me, we began to discuss our wedding plans and we agreed on a few things right away:
we didn't want a huge guest list
neither of us wanted to plan very much
we didn't want to ask our families to give us money for our wedding
We previously discussed eloping, but once it came time to make a decision, we knew we'd be happier if we eloped!
We were set to move to Denmark in a few weeks and thought we could elope before our move, either in Banff (there are some great pet-friendly hotels in Banff we could've stayed at) or at our local courthouse, or get married while in Europe.
We had spent many months volunteering and travelling through Europe several years back, and it holds a special place in our hearts. We ultimately decided an elopement in Europe would be much more meaningful to us.
We asked our parents if they were planning to visit us while we were living abroad, and they said yes, so we told them that instead of having a traditional wedding, we wanted to elope while they were visiting.
With that decided, it was time to get my dress.
We only had a week to find my dress because I wanted to dress shop with my mom prior to moving.
Luckily, I knew exactly what I wanted and it wasn't long before we found my dress. In fact, my dress was secondhand, which is incredibly lucky, considering my size is not popular and it was the exact style of dress I had dreamed about for years.
Shortly after, we moved to Denmark and found the perfect place to elope. We scheduled a day and our parents (plus my sister) booked their flights.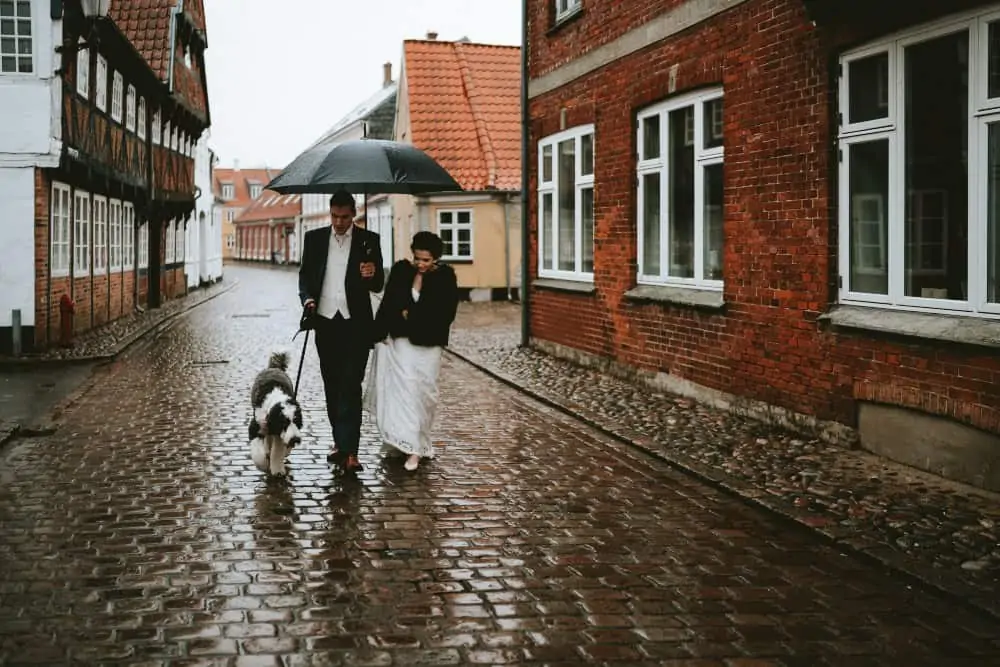 I'll save you the long story and jump straight to some of my favorite aspects of our elopement:
Our dog was the "flower girl" (and because we only had five guests, we didn't need to worry about her running around and getting into trouble)
We splurged on a luxurious five-course meal that we otherwise wouldn't have been able to include in the budget if we choose to have a big wedding
In between the "ceremony" and our dinner, we had a few hours to kill so we picked up some burgers and fries and relaxed
Our location choices were almost limitless since we weren't constrained to a budget with a large guest list
We could focus on spending time with people we enjoy being around
Some of the friends we met while abroad surprised us at our wedding after we left the town hall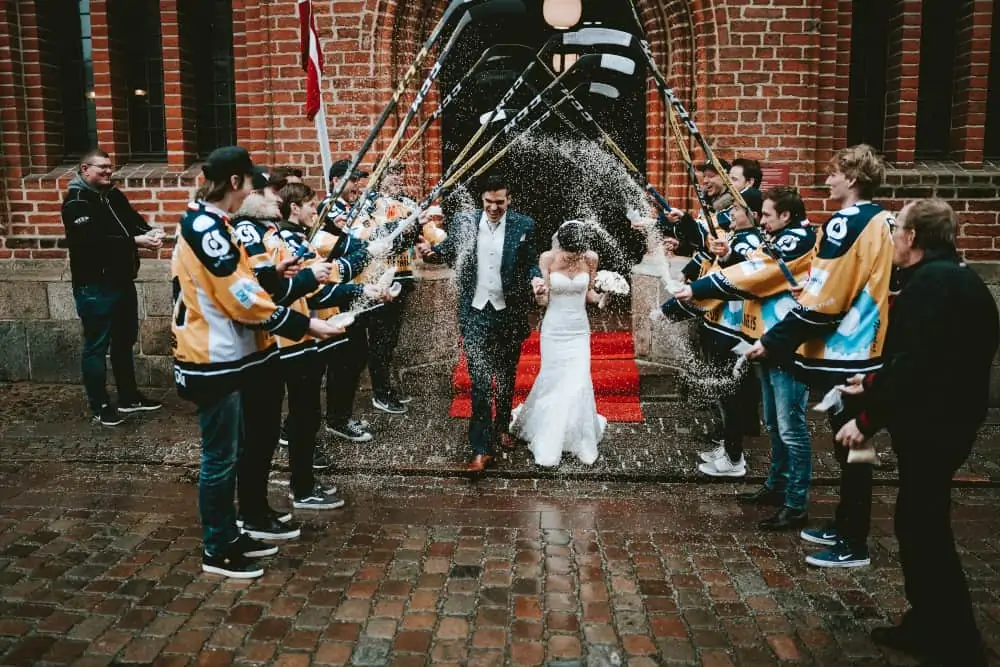 Benefits of Eloping with Family
Low Stress
Planning an elopement is generally stress-free. I can't compare planning a wedding to eloping with family (because I've never done the former) but I've spoken with friends and family who have all planned their weddings and I can imagine how stressful of an experience it would be.
As someone who doesn't handle stressful situations with grace, a traditional wedding made no sense.
Unlimited Destinations
Depending on your budget, you might be able to swing a pretty snazzy elopement location.
When my husband and I were deciding on where to elope we were looking at Scottish Castles, the Austrian Alps and the Rocky Mountains. We ended up choosing to get married in the oldest Scandinavian town in Europe — Ribe, Denmark.
And if you chose to elope with family, these destinations become must more budget-friendly.
Or you can choose to keep it within your country. There are likely some beautiful wedding-worthy city halls and unique locations within driving distance from you.
Budget-Flexible
Eloping with family offers an incredibly flexible budget.
You can choose to spend as little or as much as you'd like on your elopement. When we eloped, we wanted to enjoy a five-course meal with our family.
That was our big splurge, and as someone who appreciates food and drink, it was something I was happy to include in our budget.
But if a fine-dining experience is something you can do without, you are more than welcome to order pizza and celebrate with some cheesy 'za.
With the budget flexibility of eloping with family, you can choose exactly what you want to spend a little more money on and where you'd like to save.
Also: How to Plan a Courthouse Wedding With Your Dog
How to Enjoy Your Elopement
Here are a few tips to enjoy eloping with family.
Make a List of Non-Negotiables
Even though our elopement was pretty low-key, there were a few things that were non-negotiable for us.
For example, I didn't want to forgo the traditional dressing shopping experience so I made sure to find a dress before we moved, so that me and my mom could shop together.
I also like the idea of the groom not seeing the bride until she walks down the aisle, so we kept that tradition.
Both my husband and I wanted our dog there. She's part of our family as well so the location we chose had to be dog-friendly.
When you elope with family, make sure you incorporate any wedding traditions into your special day that you wouldn't feel happy leaving out.
Just because you are eloping doesn't mean you need to forgo the "wedding experience."
Host an Informal Celebration
Six months after we got married, my husband and I flew back to Canada for a visit. During our visit, we had a BBQ with family and friends where we celebrated our wedding with them.
It was the perfect way to celebrate with extended family members and friends without actually hosting a wedding.
After eloping, you can host an informal gathering with your family and friends to celebrate your marriage without the costs of a traditional wedding.
Hire an Elopement Wedding Planning
This absolutely is not necessary but I wanted to add it in.
Many wedding planners specialize in elopements. When we eloped, I hired a wedding planner because I wasn't sure how difficult it would be to plan an elopement in a foreign country.
I believe we spent a couple of hundred dollars for our wedding planner and it was worth every penny. He organized my bouquet, he gave us several venues to choose from, booked everything and he made sure our day ran smoothly.
How Much Does Eloping With Family Cost?
Eloping with family can cost you anywhere from $50 to as much as you'd like to spend. Elopements are easy to customize, therefore, you can spend as much or as little as you'd like.
Should You Elope?
If I had to do it again, I would choose to elope with family a thousand times.
At the end of the day, if a big wedding doesn't excite you, don't have one. This is your special time to celebrate the love you share with your other half!
Where are you thinking of eloping? Let me know in the comments below.
---
Amazon Associates Program
This article may include affiliate links. www.travellingwithadog.com is a participant of Amazon.com Services LLC Associates Program. As an Amazon Associate, I earn a commission from qualifying purchase. www.travellingwithadog.com participates in other affiliate programs, and recieves commissions when purchases are made through the links. The cost is not inflated to account for the commission earned.
---
Veterinary Disclaimer: travellingwithadog.com is not a substitute for veterinary advice and does not intend to provide any type of veterinary advice for your animals. Please consult your vet for any questions you have regarding your pets health.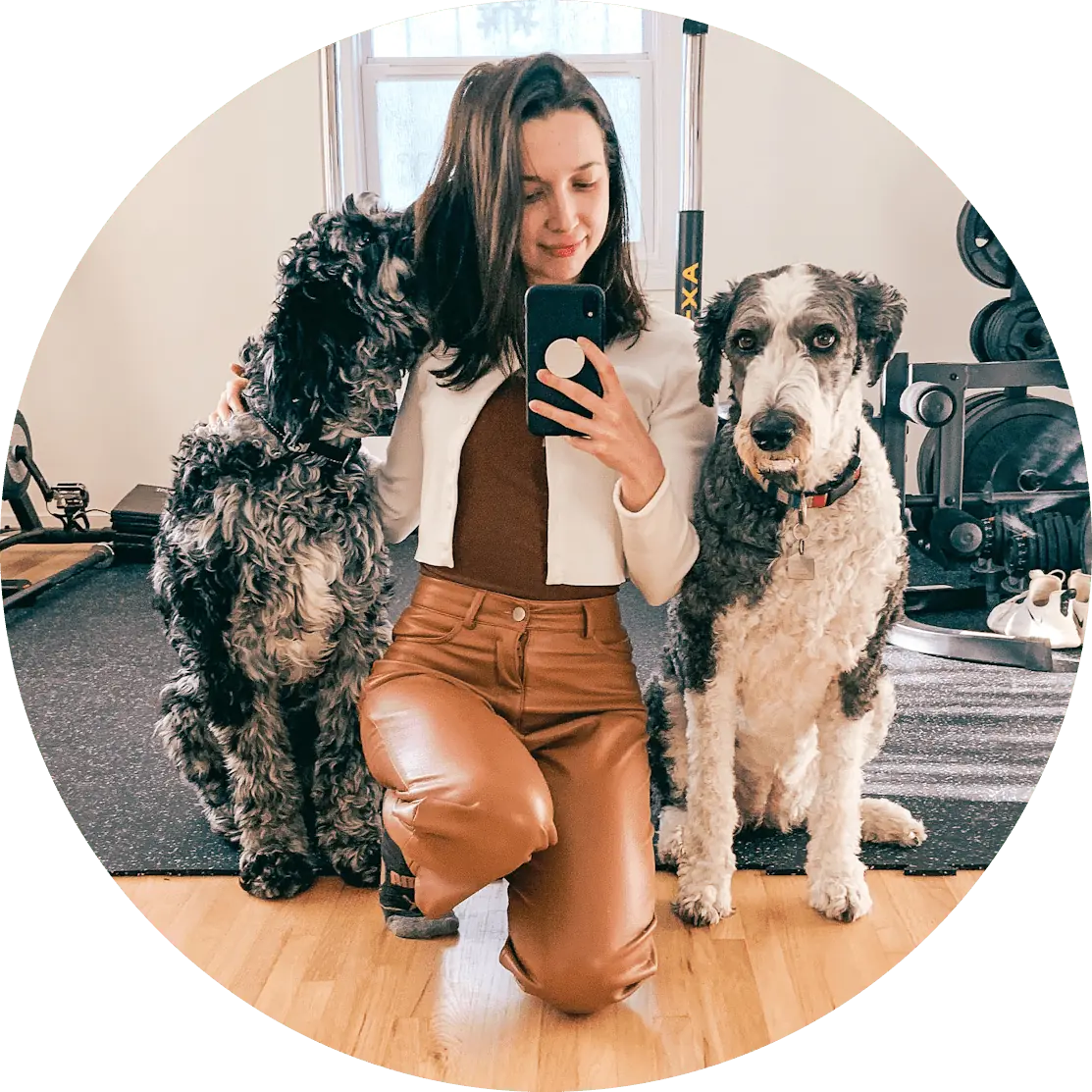 About the Author:
Dana owns a Sheepadoodle and a rescue merle Labradoodle. Her first dog growing up was a white Toy Poodle and she's loved dogs ever since. She has years of experience fostering dogs and has helped find homes for a variety of different breeds, both large and small! After seeing so many dogs end up unwanted and in shelters, she began blogging about different dog breeds (specifically Doodle dogs, since that's what she knows best) to help people make informed choices when adding a new member to their family.
When Dana's not brushing her Doodles' hair (it takes a lot of time for two!) you can find her playing nose work games and fetch with her two amazing pups.
Learn more about her here.