Last Updated on
You've done your research and now you're looking to find Goldendoodle Breeders near you!
Use this directory of Goldendoodle breeders to find one in The United States and Canada. We've listed them alphabetically by State/Province so you can quickly find the closest ones near you.
But before diving into the directory, let's go over some quick information to help you find the best Goldendoodle breeder (and I'll tell you what red flags you must look out for).
How to find Goldendoodle Breeders
A Goldendoodle is an adorable mix between a Golden Retriever and Poodle, with features and personality traits from both breeds in different proportions.
There are generally three different sizes of Goldendoodles including Standard Goldendoodles, Miniature Goldendoodles, and Teacup/Toy Goldendoodles and various generations (F1, F2, and F1b Goldendoodles). The breeders below may specialize in one or all of the different sizes.
If you are thinking about getting a Goldendoodle, it is important that you learn how to find a good dog breeder. There are a few different things that can determine how good a dog breeder is, and there are certain steps that you will need to take in order to make sure that you are choosing the right one.
If you know these tips, you will have no problems finding the perfect puppy for you and your family.
1. Check for red flags
There are some red flags that you should look for when considering a certain breeder.
First of all, if the deal is too good to be true, it probably is. While the price of a Goldendoodle may vary, an offer that is alarmingly lowered is for sure a red flag. There are a lot of resources and time invested in the breeding process and they should be compensated properly.
Another big red flag is being eager to sell.
Remember: a good breeder that cares for the puppies will want to place them in a good loving home. They will most probably ask you questions regarding how the puppy will be taken care of once they sell it to you. If it's not the case, make sure you do proper research about the breeder before you agree to take them home.
Many breeders will want you to fill out extensive questionnaires and even do interviews with you.
2. See the puppies
Before buying puppies from any Goldendoodle breeder, you should always be able to see them. But don't be surprised if you're not allowed to touch them or be around them for too long. After all, there will be many strangers interested in the puppies and the breeder has to make sure they grow in a calm environment.
You'll want to check for the conditions in which the puppies are growing, so make sure you see them in person whenever possible.
Or at least ask for videos of them, but never settle with just some pictures. In this way, you can see how the puppy moves and acts. A healthy one will move its tail vigorously and will be rather restless. Otherwise, it might be a sign of an underlying condition.
On the other hand, the ideal setting is close to their mom—at least for the first few months—in relatively spacious crates. The other puppies will be around since socialization is crucial during this period of their life. They should all look groomed and taken care of.
3. Breeder background check
This step can be a bit tricky to perform, especially taking into account how easy it is nowadays to fake some reviews online.
It is always important to do a background check on the person that you are getting your Goldendoodle from, so try to look at their references. Ideally, you would be able to talk to their older clients, so that you can learn more about what they like and dislike about getting a dog from this particular Goldendoodle breeder.
Unfortunately, this is not always possible, so another good option is to ask local vets instead. They will likely know some of the breeders and might be able to provide insight.
4. Sire and dam history
Finally, once you've narrowed down the breeders, it's time to pick the Goldendoodle puppy that you will take home.
If different options are available, a good place to start is by checking the history and pedigree of both the puppy and the sire and dam. The sire is the "dad" of the puppy (male parent), and the dam is the "mom" (female parent).
Considering all this, you will want to make sure that you are able to check out as many places as possible before deciding on where to get your new puppy from. If you know any friends or family members that own a Goldendoodle, you may want to ask them who the good dog breeders are. Alternatively, the list below can be a good place to start looking for a breeder in your area.
Please take into account that we are in no way related to any of the breeders below, have no way of personally vetting them, and do no endorse any breeders on this list. This list is only meant to serve as a directory and you must do your own research.
Goldendoodle Breeders in the United States
Goldendoodle Breeders in Canada
---
Amazon Associates Program
This article may include affiliate links. www.travellingwithadog.com is a participant of Amazon.com Services LLC Associates Program. As an Amazon Associate, I earn a commission from qualifying purchase. www.travellingwithadog.com participates in other affiliate programs, and recieves commissions when purchases are made through the links. The cost is not inflated to account for the commission earned.
---
Veterinary Disclaimer: travellingwithadog.com is not a substitute for veterinary advice and does not intend to provide any type of veterinary advice for your animals. Please consult your vet for any questions you have regarding your pets health.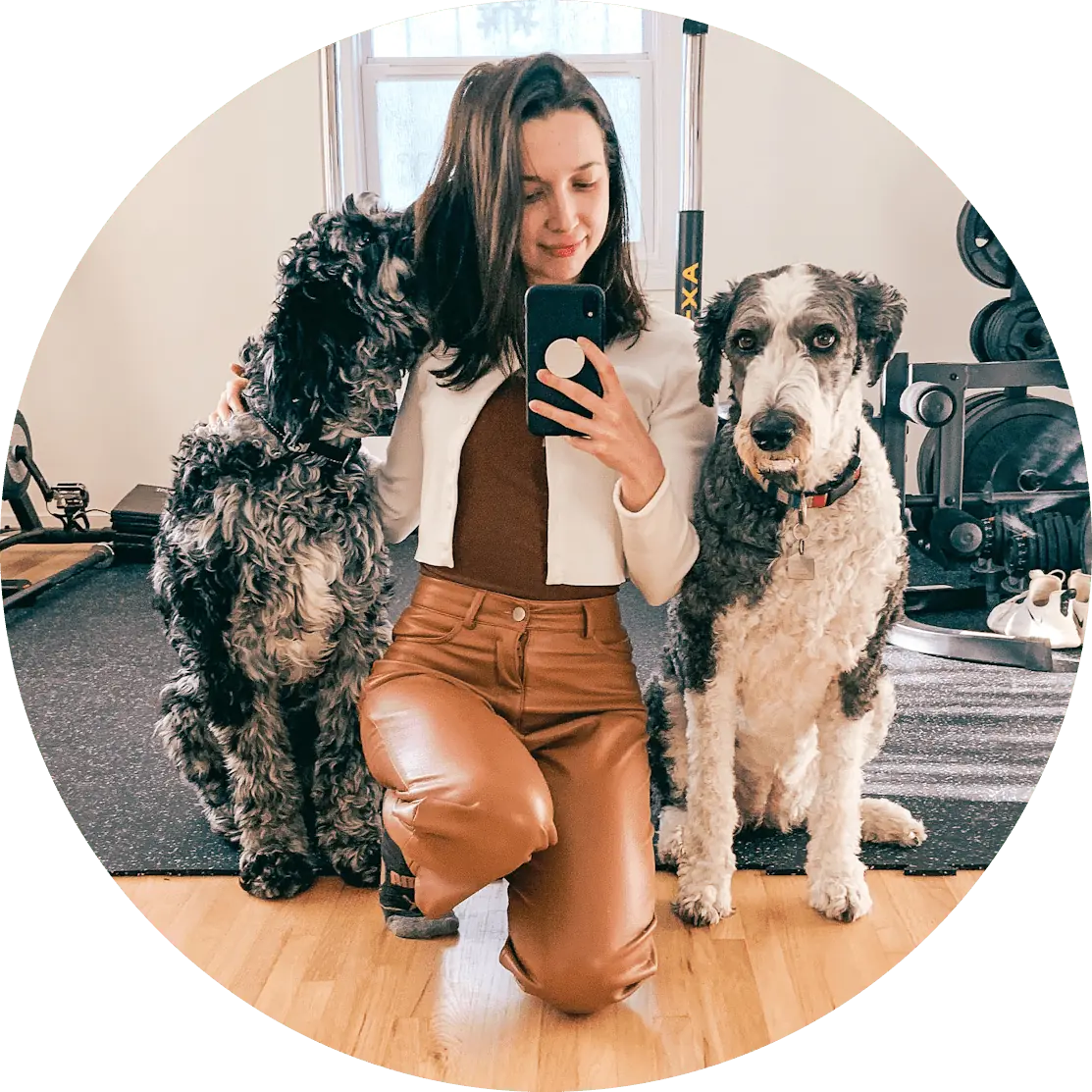 About the Author:
Dana owns a Sheepadoodle and a rescue merle Labradoodle. Her first dog growing up was a white Toy Poodle and she's loved dogs ever since. She has years of experience fostering dogs and has helped find homes for a variety of different breeds, both large and small! After seeing so many dogs end up unwanted and in shelters, she began blogging about different dog breeds (specifically Doodle dogs, since that's what she knows best) to help people make informed choices when adding a new member to their family.
When Dana's not brushing her Doodles' hair (it takes a lot of time for two!) you can find her playing nose work games and fetch with her two amazing pups.
Learn more about her here.