Last Updated on
An exquisite holiday doesn't mean you need to leave your furry friends behind. Quite the contrary, in fact! Here are 10 incredibly luxurious hotels that will pamper both you and your pooch.
The Langham Hotel, Sydney, Australia
If you want to travel in style while in Sydney, Australia, you'll want to visit one of the only luxury hotels that allow pets: The Langham Hotel.
The 5-star Langham Hotel in Sydney oozes with luxury where you can experience everything from a quaint afternoon tea to fine-dining with exclusive wine lists.
The Langham's lavish rooms will envelop you and your pooch in a sense of coziness!
Upon checking in, you can spoil your dog with a little treat from this specially curated gift-guide, specifically created by the Langham Hotel. The hotel also offers dog-walking services, which are available upon request.
Dogs must be less than 20kg in weight and an additional fee is required for those looking to bring their beloved pooches with them.
Ashford Castle, Cong, Ireland
If you really want to feel like royalty on your next vacation, staying in the award-winning Ashford Castle is a must!
Surrounded by lush greenery and perched upon Lake Corrib, both you and your dog will be dazzled with all the incredible views Ashford Castle has to offer.
Dogs of all sizes are welcome in Ashford Castle. All they ask is you let them know the size of your pooch beforehand, so they are able to prepare a room accordingly with the proper sized bed, towels, dog dishes and treats.
Both dog-sitting and dog-walking services are available, along with grooming.
Kimpton Muse Hotel, New York City, United States
Immerse yourself with all that New York City has to offer by staying at the Kimpton Muse Hotel where you'll be at the center of a bustling nightlife, mouth-watering eateries, world-class shopping, sightseeing and so much more!
Located in the heart of Times Square, you and your dog will have no shortage of fun while at the Kimpton Muse!
Two pets of any size are allowed during your stay, and welcome treats, beds and bowls are available upon request of your arrival.
Unfortunately, there isn't a pet relief area at the Kimpton Muse, but there is a dog park 15 minutes away (by foot), which just gives you an excuse to do a bit of neighborhood exploration!
The Little Nell, Aspen, United States
Whether you plan to visit Aspen during the winter when the city is an absolute winter wonderland, or you prefer to go during the warm summer months, The Little Nell is a luxurious 5-star hotel that you won't want to miss.
While you indulge in a bit of R&R, your pooch will be treated like the royalty they are.
Special epicurean treats and a dedicated dog-friendly menu await your four-legged friend during your stay at The Little Nell.
You also have options for pet sitting, walking and access to dog-friendly trails in the area!
And the cherry on top to all the doggy-amenities offered by The Little Nell is the Puppy Jet Lag Kit to help your pooch accommodate to the change in altitude!
Rosewood, London, England
Dubbed as one of London's finest luxury hotels, you'll find many unique amenities at the Rosewood, such as the Elyx Chalet, a Swedish-inspired chalet to delve into Fika and cozy up.
Upon your arrival at the Rosewood, your pooch will receive a plush bed, treats, bowls as well as a guide to London where you can find the best dog-friendly spots!
Le Bristol, Paris, France
Opened in 1925, Le Bristol is the embodiment of Parisian elegance. Whether you are dining at their Michelin-Star restaurant or treating yourself to a day at the spa, you can be sure your dog will be enjoying their stay just as much as you will.
Le Bristol also has a resident Burmese cat (named Fa-Raon) who, as we imagine, makes sure that all pets are comfortable during their stay.
Le Bristol allows two pets (of any size) per room and will provide them with bowls, a bottle of Evian mineral water, bone-shaped treats, and the best part? Your dog will be gifted with a small rug with their name embroidered!
Talk about 5-star treatment!
The Opus Hotel, Vancouver, Canada
This boutique hotel in Vancouver, Canada is for those who want to experience a quality hotel with a bit of character.
The Opus Hotel is brightly decorated and located in one of the best spots in Vancouver. You'll be able to enjoy every moment both in and outside of your hotel while at The Opus.
And so will your pooch!
Furry guests are given complimentary tents, bowls and treats.
And with a dog park a mere two blocks away, your pooch will be able to run free and meet some of the locals!
And if you have a busy day, no worries. The Opus will gladly accompany your dog for a bathroom break.
Eden Roc Cap Cana, Punta Cana, Dominican Republic
What is better than the warm sun shining down on you as a slight tropical breeze sways the palm trees above?
Not much compares, but being able to have your fur-baby by your side will certainly make the experience all the more enjoyable!
Experience the Carribean with your pooch when you stay at Eden Roc Cap Cana, with their unique V.I.P (Very Important Pets) Program.
Your pet will certainly be treated like a V.I.P and will be given fresh food, bowls, toys, towels and royal bedding.
Your dog will also be granted access to swimming in your private pool (if you choose to book a room with one) and of course, can run along the beach.
Currently, dogs weighing up to 30 pounds are allowed to participate in Eden Roc Cap Cana's V.I.P Program.
Le Meurice, Paris, France
We are circling back to Paris for yet another luxurious spot that both you and Fido can enjoy.
If you enjoy immersing yourself into remarkable nineteenth-century décor and treating yourself to meals created by award-winning chefs, then Le Meurice is the place for you and your dog.
This hotel certainly doesn't lack any views, with views of the iconic Eiffel tower right out the windows.
Le Meurice promises to spoil your dog rotten (and that's something we like to hear) by welcoming them with a complimentary basket and providing them with their own special pet menu and food options.
The Banff Springs Hotel, Banff, Canada
Banff will charm your senses no matter what season or time of year you plan to go.
While there are plenty of dog-friendly hotels in Banff, the Banff Springs Hotel is a UNESCO World Heritage site that has been serving guests for over 130 years.
Nestled in the Rocky Mountains by turquoise lakes, the Banff Springs Hotel is truly a spectacular place to lodge!
The Banff Springs Hotel allows up to two pets per guest. Your furry friends cannot be left unattended, but with so much to see and do outside of the hotel, this won't be a problem!
---
Whether you plan to drive or fly with your dog to visit these lavish spots, we want to hear all about your experience. Tag us in your photos on Instagram (@travellingwithadog)!
Pin me: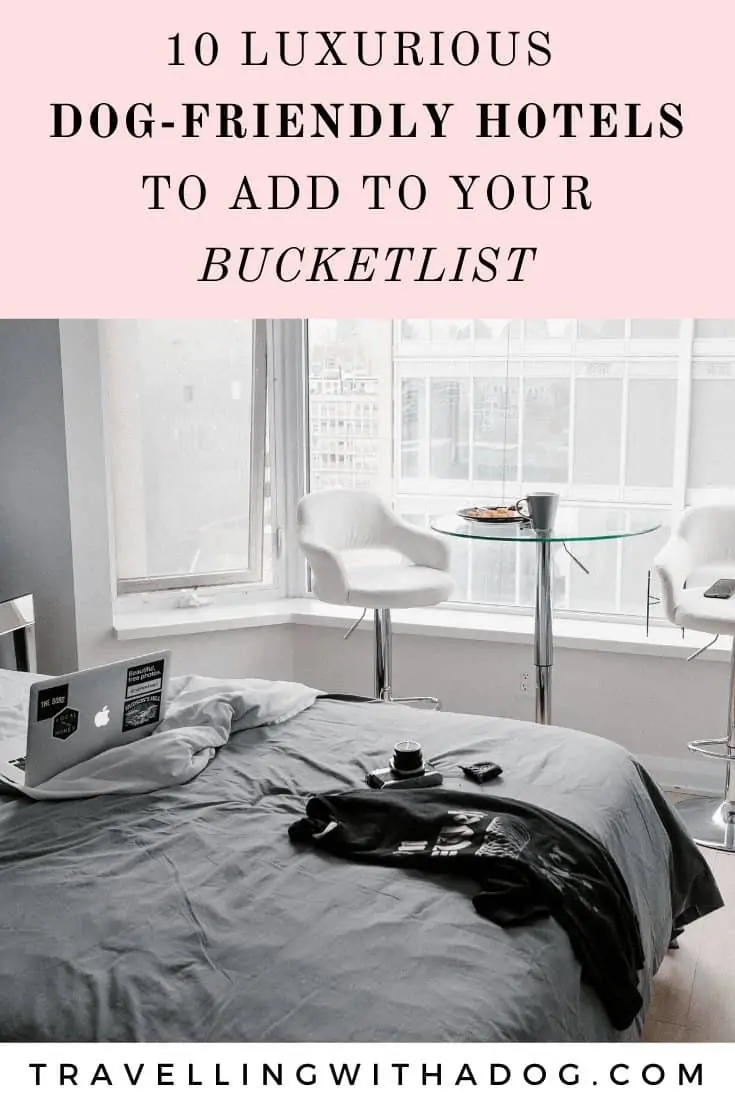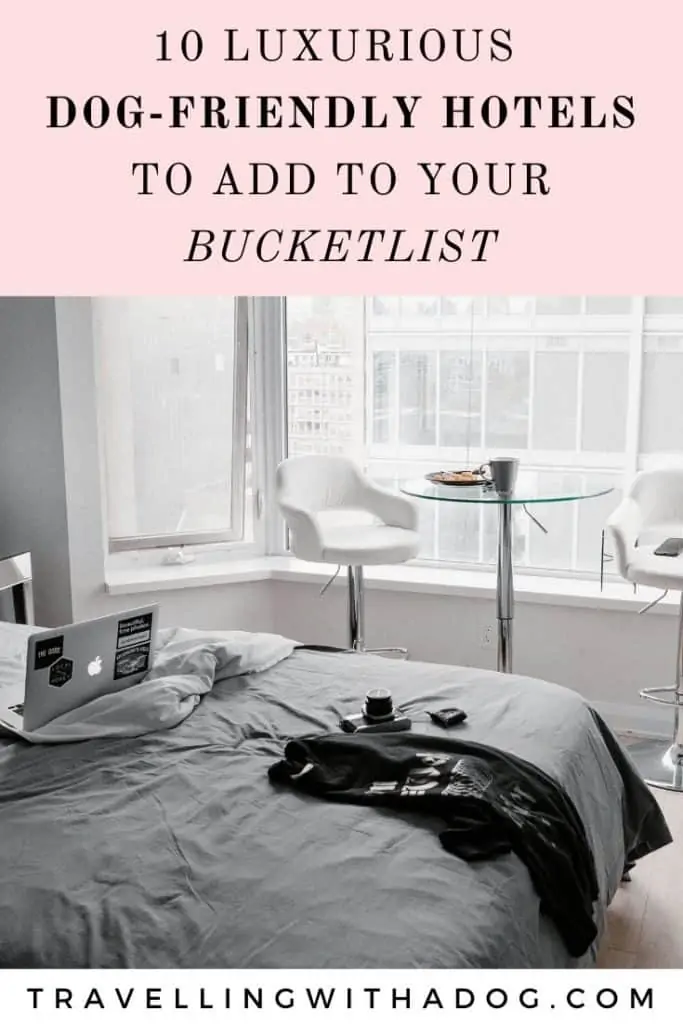 ---
Amazon Associates Program
This article may include affiliate links. www.travellingwithadog.com is a participant of Amazon.com Services LLC Associates Program. As an Amazon Associate, I earn a commission from qualifying purchase. www.travellingwithadog.com participates in other affiliate programs, and recieves commissions when purchases are made through the links. The cost is not inflated to account for the commission earned.
---
Veterinary Disclaimer: travellingwithadog.com is not a substitute for veterinary advice and does not intend to provide any type of veterinary advice for your animals. Please consult your vet for any questions you have regarding your pets health.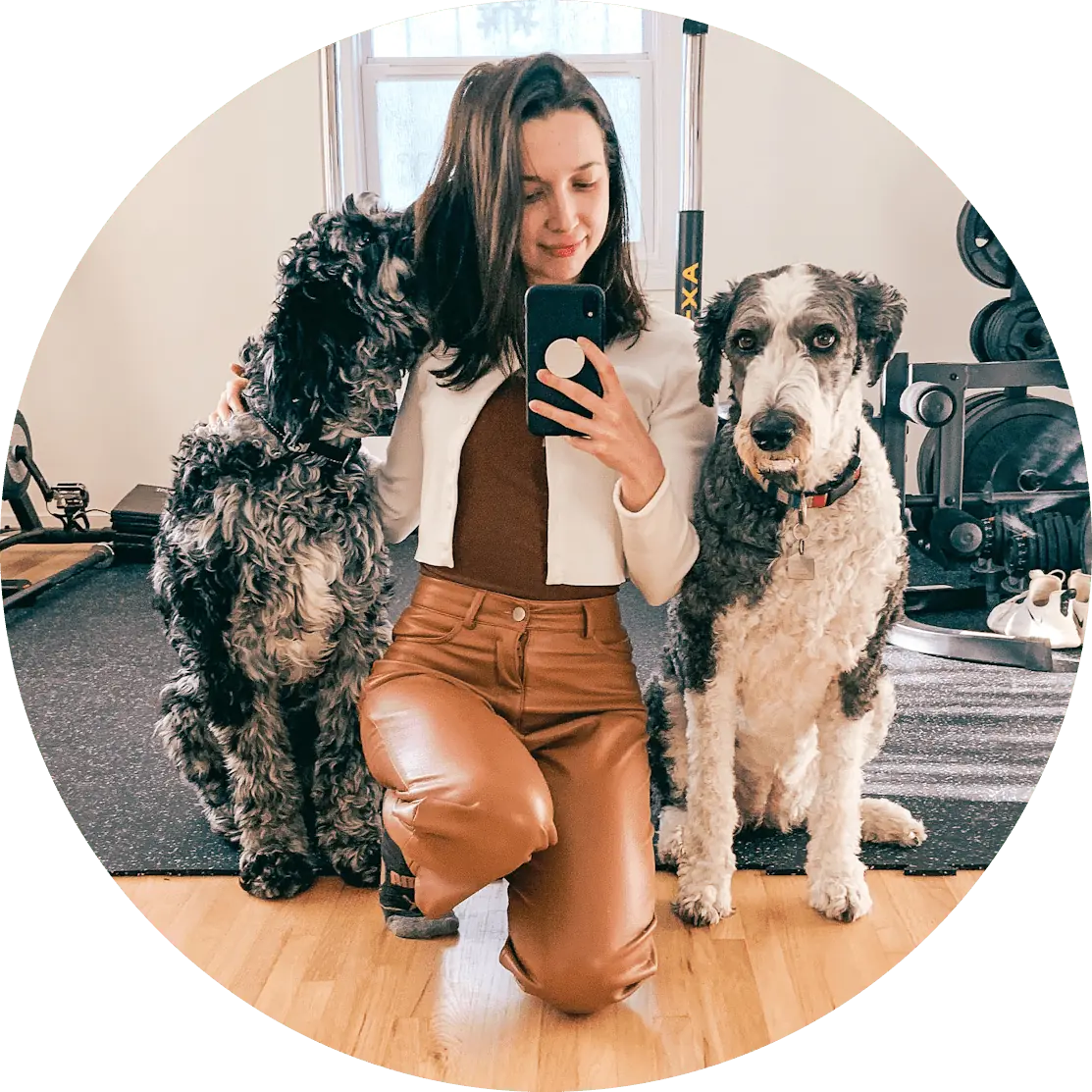 About the Author:
Dana owns a Sheepadoodle and a rescue merle Labradoodle. Her first dog growing up was a white Toy Poodle and she's loved dogs ever since. She has years of experience fostering dogs and has helped find homes for a variety of different breeds, both large and small! After seeing so many dogs end up unwanted and in shelters, she began blogging about different dog breeds (specifically Doodle dogs, since that's what she knows best) to help people make informed choices when adding a new member to their family.
When Dana's not brushing her Doodles' hair (it takes a lot of time for two!) you can find her playing nose work games and fetch with her two amazing pups.
Learn more about her here.