Last Updated on
Want to add a Doodle dog to your family but prefer to adopt? To bring home a Doodle in Texas, you'll need to contact a reliable breeder. But if you're interested in adopting abandoned Doodles, contact these Doodle Rescues in Texas.
What are Doodle Dogs?
Doodles, also known as "designer dogs" are dogs that are part Poodle. They come in different sizes, colors, and hair textures, depending on the parents of the puppy.
Some well known Doodle breeds are Bernedoodles, Goldendoodles, and Labradoodles.
Since Doodles are mixed breed dogs, it may not be easy to find a Doodle rescue easily. But you can always contact general dog rescues or Poodle rescue centers that are looking to rehome Doodle dogs. Today, we will look at some of the most popular rescue centers in and around Texas, and tell you about the things to consider before you try to give a Doodle dog its forever home.
Doodle Rescues in Texas
If you live in or near Texas, there are several trusted rescues around the state, most of which are connected with rescues, shelters, and foster homes around the country.
As a potential pet parent, you can look up these rescue centers to find the right pet. Find out about some of the best Doodle rescues that work hard to save Doodles and are dedicated to rehoming them.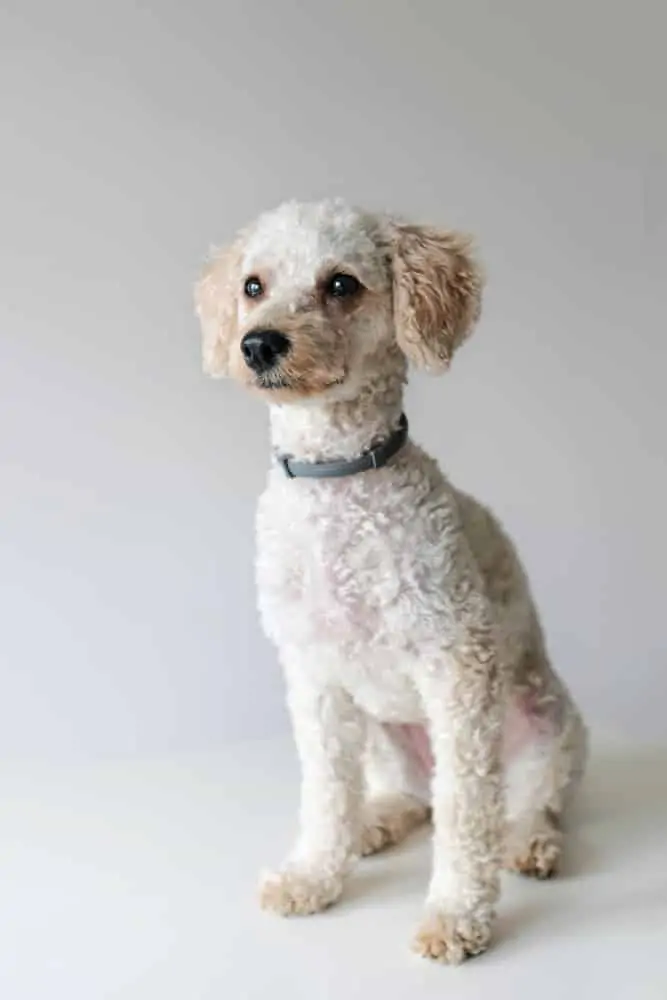 1. Doodle Dandy Rescue Texas
Doodle Dandy Rescue Texas is based in Dallas, and it works in Austin, San Antonio, and Houston. It is a rehabilitation center that takes care of abandoned dogs until they become suitable for their forever homes. It also ensures complete care while the dog is in foster facilities.
Thus, it makes sure that the dog gets a fresh chance to have a new start. It works with more than 500 volunteers associated with different shelters across Texas. The organization is dependent on donations and volunteer work.
Learn more about Doodle Dandy Rescue
2. Doodle Rock Rescue Texas
Working out of Houston, Doodle Rock Rescue Texas places Doodles in suitable adoptive families or temporary foster homes. The organization depends on adopters, foster homes, and volunteers who play an essential role by providing rehoming assistance – and help save Doodles.
This rescue center has saved Doodles from streets, shelters, and families that can't take care of dogs. It rehabilitates such dogs and makes sure that they find safe and loving homes. It works in the Dallas-Fort Worth Metropolitan Area.
Learn more about Doodle Rock Rescue
3. IDOG Rescue, Inc.
IDOG Rescue, In is primarily based in Houston, with foster care facilities in different locations across Texas. This rescue specializes in Doodles and helps a homeless Poodle mix find a new home, after an extensive application process is completed. It has rehomed thousands of dogs.
This establishment evaluates the temperament of the dog and checks the home and family of the person looking for the adoption. Then, it helps you and your new dog connect. It also works with volunteers in the US and Canada.
4. Oodles of Doodles Rescue Collective Texas
Oodles of Doodles Rescue Collective has been working for a decade to rehome Doodle dogs of all kinds. This Houston-based rescue is there for dogs all over Texas, helping the neglected and traumatized find loving families. It provides guidance regarding which dog is right for you.
This rescue, like many others in the country, asks for a non-refundable price to get a puppy from it. It mentions a list of dogs available for adoption on its website. This will allow you to find the details of the Doodle before adoption.
Learn more about Oodles of Doodles Rescue Collective
5. Poodle Rescue of Houston Texas
As the name suggests, Poodle Rescue of Houston Texas operates out of Houston and is dedicated to Poodles. But since Doodles are Poodle mixes, this rescue also works toward rescuing Doodles. It is a well-established organization operating for more than two decades!
When a Doodle arrives at this rescue, it undergoes medical assessment and proper checking. The center takes care of its adequate rehabilitation before it is put up for adoption. They are always on the lookout for new families for these dogs.
Learn more about Poodle Rescue of Houston
6. Forgotten Friends Texas
Forgotten Friends is based in Austin, and it helps rescue different mixed breeds, including Doodles. It has been operating for around 23 years and is a charity run by dog lovers. They volunteer their services for the improvement of the lives of dogs and find them homes.
The organization works with different shelters, rescues, foster parents, and adoptive families. It will help you find puppies and adult dogs that you can take home to become a part of your family and your life.
Learn more about Forgotten Friends
7. Poodle Patch Rescue
Although Poodle Patch Rescue focusses primarily on Standard Poodles, we included them on our list because they are known to take in all kind of dogs who need a loving home, and there's a good chance you might find a Poodle mix.
To adopt a Poodle from Poodle Patch Rescue, you must live within 350 miles of Texarkana, Texas.
Learn more about Poodle Patch Rescue
Things to Consider Before Adopting a Doodle Dog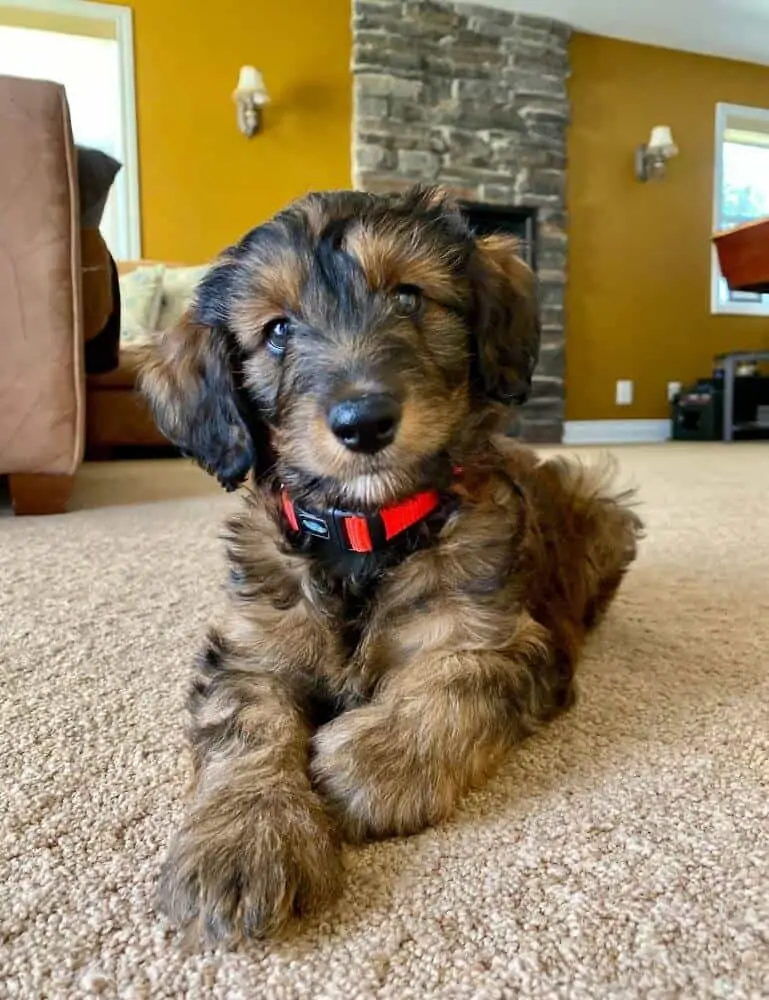 Adoption seems to have become quite popular, especially among true animal lovers. But a lot of people adopt pets but fail to manage their new pets. Many pet adopters who wanted a company during the pandemic returned the animals. So keep the following in mind before you step into a rescue center.
Adoption is a Big Decision
Adopting a Doodle dog means you will have a new furry friend. But before it becomes your friend, you may need to do some hard work. A rescue Doodle will not come with a pedigree, proof of medical history, or the trauma or abuse it has faced during its abandonment.
Since Doodles are Poodle mixes, you won't know which dog breed might be its other parent, or anything about the family's health. So you need to be willing to deal with any health issues that come your way.
Adoption is Not Free
You might think that adoption should be free, but many rescues ask for adoption fees and donations to be used for taking care of the animal's medical and food needs while it waits there at the nonprofit organization.
Adoption fees range from $50 to $500 depending where you live. Plus, there are other one-time costs you must consider, like spaying or neutering costs, vaccinations, dog licenses, etc. In addition, you must consider the costs of taking care of its training, grooming, and medical needs down the road.
Shelters are Not Lenient
Shelters don't just give away dogs to anyone. In order to ensure that the person or family taking the dog home will take care of it, they will want to ensure that your family and home are both ideal for the new pet—which is why they might also for a home visit to check your place.
They'll want to know if you live in a rented place as your landlord might not accept pets. They also check for fenced backyards for the dog's exercise needs. You'll have to answer questions regarding children and current pets, your experience with dogs, living arrangements, etc.
Rescue Doodles May Need Vaccines and Vet Care Post-Adoption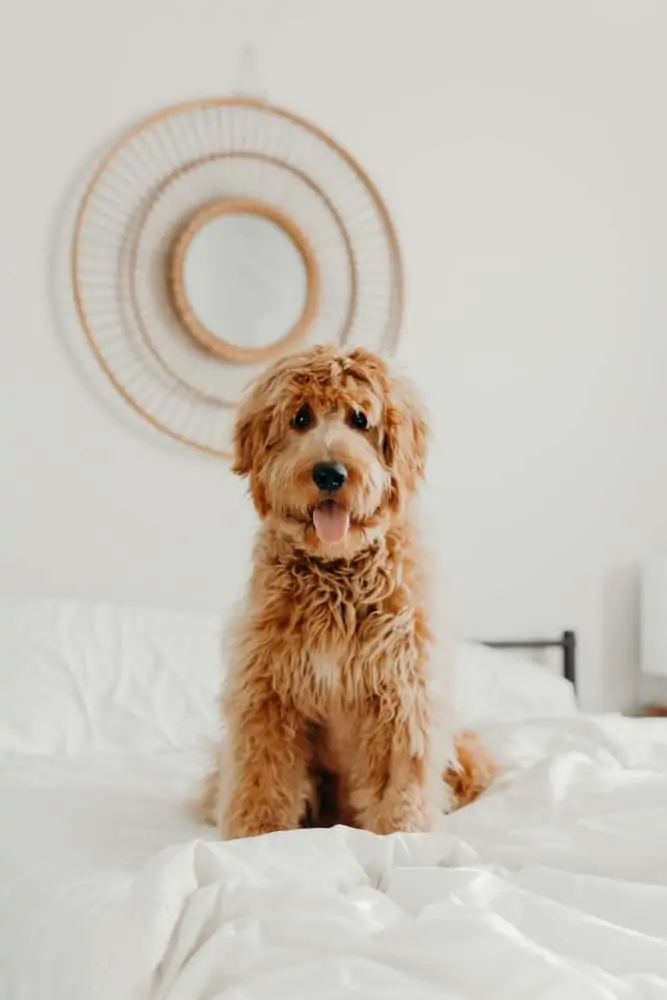 Rescue dogs often get vaccinated at the rescues, but if they are not, you will need to get it done. There are two types of vaccines: core and non-core. These vaccines will help protect your pooch from a number of diseases.
You must get the dog checked to monitor its health. It's possible that the animal has genetic conditions or was born with health problems that the shelter might not be aware of.
Plus, don't forget to get the Doodle neutered or spayed if the shelter doesn't cover this.
Rescue Doodles Still Need Training
Many people think that if they're adopting a dog they won't need to do much training as the dog is already an adult and no longer a puppy.
However that's not the case.
Rescue Doodles need to be taken out frequently for daily walks and regular exercise. But it's not just about the exercise needs. They also need frequent socialization. It's possible that before ending up in the rescue, the dog has been treated poorly and developed anxiety issues.
It is upon you now to make it a friendly dog. You can take it out to new places where it can see other dogs and animals. Keep in mind that socializing your dog does not mean having them interact with other dogs. They just need to be around different people, animals, sounds, sights, and smells to build confidence and socialization.
Final Words
Rescuing Doodle dogs is a noble but challenging job. Foster parents and permanent home providers must remain careful about the needs of the dogs, especially the adult dogs. The trusted Doodle rescues in Texas will help you find dogs that need loving homes. And with your love and care, the Doodle will soon become a part of your family.
Remember that Doodles waiting in rescues need loving homes where they will be treated with patience. Adopted dogs can be a lifetime of responsibility. So, make sure that you and your family members are entirely prepared for this significant change. Only then should you attempt to bring home a rescue Doodle, a possible friend for life.
---
Amazon Associates Program
This article may include affiliate links. www.travellingwithadog.com is a participant of Amazon.com Services LLC Associates Program. As an Amazon Associate, I earn a commission from qualifying purchase. www.travellingwithadog.com participates in other affiliate programs, and recieves commissions when purchases are made through the links. The cost is not inflated to account for the commission earned.
---
Veterinary Disclaimer: travellingwithadog.com is not a substitute for veterinary advice and does not intend to provide any type of veterinary advice for your animals. Please consult your vet for any questions you have regarding your pets health.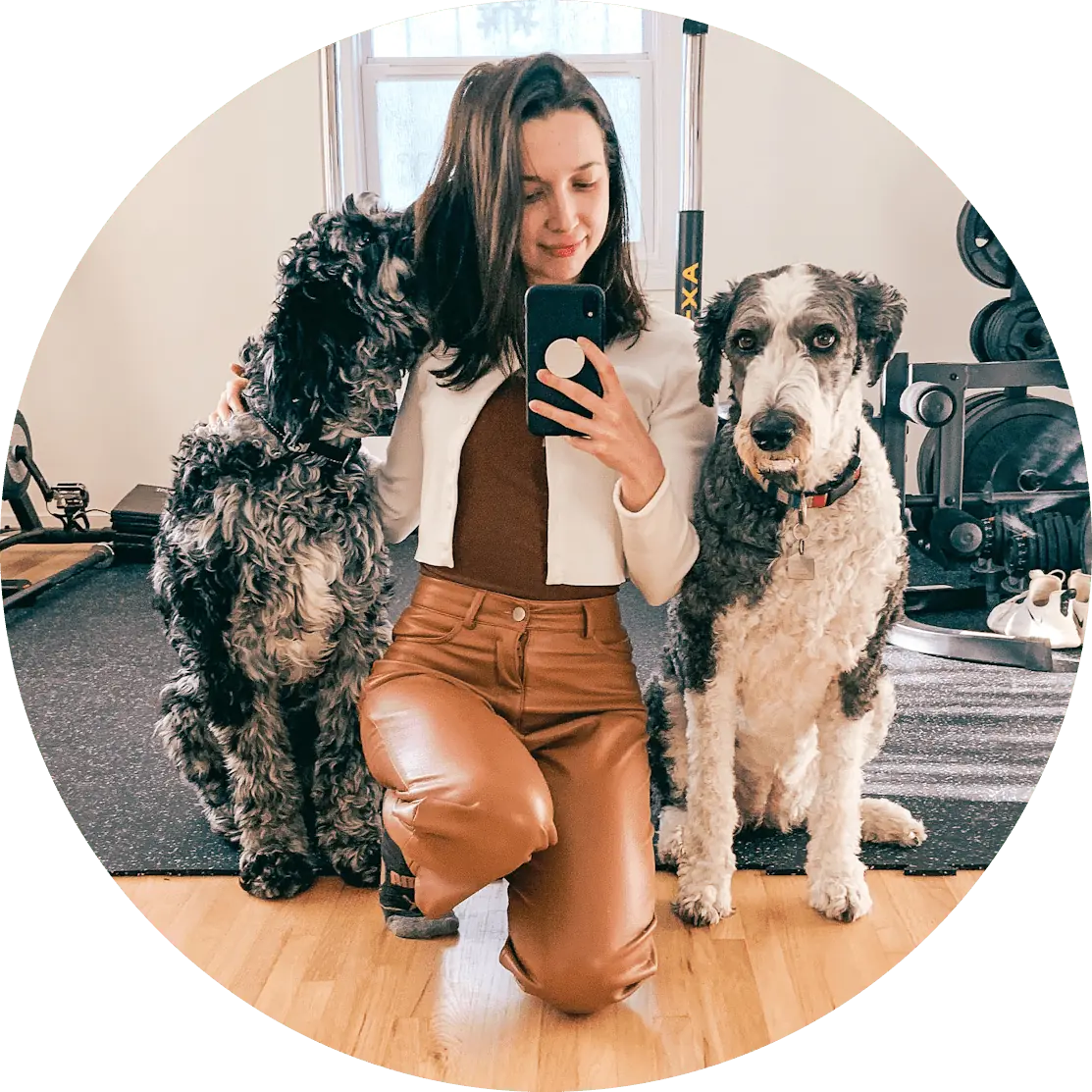 About the Author:
Dana owns a Sheepadoodle and a rescue merle Labradoodle. Her first dog growing up was a white Toy Poodle and she's loved dogs ever since. She has years of experience fostering dogs and has helped find homes for a variety of different breeds, both large and small! After seeing so many dogs end up unwanted and in shelters, she began blogging about different dog breeds (specifically Doodle dogs, since that's what she knows best) to help people make informed choices when adding a new member to their family.
When Dana's not brushing her Doodles' hair (it takes a lot of time for two!) you can find her playing nose work games and fetch with her two amazing pups.
Learn more about her here.