Last Updated on
For as long as I can remember, I've always loved animals, especially dogs. There's something so special about forming a bond with another species.
I think many of us feel the same way.
But adopting or buying a puppy (from a responsible breeder) isn't always feasible for some people. Whether you are limited financially or you have other commitments that won't allow you to keep a dog longterm, that shouldn't mean you can't have a dog.
If this sounds like you, fostering might be the perfect option!
When you foster a dog, you take care of a shelter dog until they are able to find their forever home.
Are You Ready to Foster a Dog?
Before you apply to foster a dog, it's important to ask yourself a few questions.
Do I have enough time to commit to taking care of a dog? If you work 12 hours a day, fostering a day may not be the best option. Just because you won't be taking care of the dog for the longterm doesn't mean it won't require lots of time during fostering. If you don't think you have enough time to foster a dog, you can still volunteer at your local animal shelter by taking dogs for walks!
Am I ok with accidents? Accidents happen with animals! Will you be ok if your favorite pair of shoes gets chewed up or are you overly attached to your things?
Am I patient and loving? Foster dogs come from an array of situations. Many of them are scared and stressed out and need time adjusting to their new homes. Some even require a little bit of training (although, you can definitely speak to your foster coordinator and request a dog that doesn't need much training if you aren't comfortable in that area)!
If you answered "yes" to the three questions above, you're likely ready to foster some dogs! Let's talk about some frequent questions that new foster parents have.
How Much Does it Cost to Foster a Dog?
You might be wondering what the financial implications are to foster a dog.
Most foster organizations cover the costs of everything necessary to keep their foster dogs healthy and happy, including foods, vet visits, toys, cleaning supplies and anything else you may require.
How Much Do You Get Paid to Foster a Dog?
Dog fostering is a volunteer position and foster parents do not get paid.
Any money that the organization receives goes straight to the dogs and other animals to ensure their wellbeing.
Are There Any Rules for Fostering Dogs?
Each organization has different rules for foster parents. Here are some examples of rules taken from the Seattle Animal Shelter Foster Handbook:
No off‐leash park visits.
Foster dogs must be on leash at all times when outdoors unless in your own secured fenced yard.
Any aggressive behavior must be immediately communicated to shelter staff.
All vet visits must be pre‐approved by calling the 24 hour vet hotline. Even if you speak to shelter staff and they agree to a vet visit, you must call the vet hotline for approval.
You must visit a vet listed on the Foster Care Veterinary Guide located in the foster dog packet.
Foster parents must respond within 24 hours to communications from shelter staff, Foster Dog Team members, or potential adopters.
The rules for fostering dogs are straightforward and help foster parents avoid putting their foster dog in any potentially dangerous situation.
Benefits of Fostering a Dog
Fostering a dog is an incredibly rewarding experience! Not only will you be helping a great cause, but you'll also get the opportunity to form a special bond with an animal.
Having a dog has been proven to:
decreased stress
increased happiness
provide a sense of safety
improve your health
Dogs make great companions and can help curb any loneliness you might feel. This can be especially beneficial for people living by themselves.
How Do You Find a Place to Foster Dogs?
The best place to find a foster dog is to search for foster dog programs near you by looking at your local animal shelters.
Potential foster parents will need to submit an application which can take anywhere from a couple of days to a couple of weeks to be approved.
You can also look at the following articles, which list various rescue organizations for specific breeds. These organizations may be in need of volunteers and foster homes to place dogs. (This list will be updated as we compile more rescue organizations).
Can You Pick What Dog You Foster?
You absolutely get a choice in what dog you want to foster. When I fostered, we weren't able to take in any dogs that had separation anxiety because we lived in attached housing, and we couldn't have a dog that was barking while we were away.
We also didn't feel comfortable taking in dogs with any aggression issues because at the time, we weren't experienced dog owners and didn't feel comfortable working with aggressive behaviour.
Will I Miss My Foster Dog or Will My Foster Dog Miss Me?
Many people are hesitant to foster dogs because they are worried about the heartbreak that will follow after their foster dog gets adopted.
We had our first foster dog for four months and came very close to adopting her, but because my husband and I were both students, we knew that we couldn't afford a dog at the time. Giving her away to her forever home broke my heart.
However, knowing I helped her to become a confident dog and to find a loving home was well worth the heartache of giving her up.
What If I Want to Keep my Foster Dog?
If you end up falling head-over-heels in love with your pooch, you can always apply to adopt them! This is known as a "foster fail" and is one time when failure is a good thing!
Should I Foster a Dog?
If you are able to provide a loving and patient home to a dog in need then yes! You should definitely consider fostering a dog!
Pin me: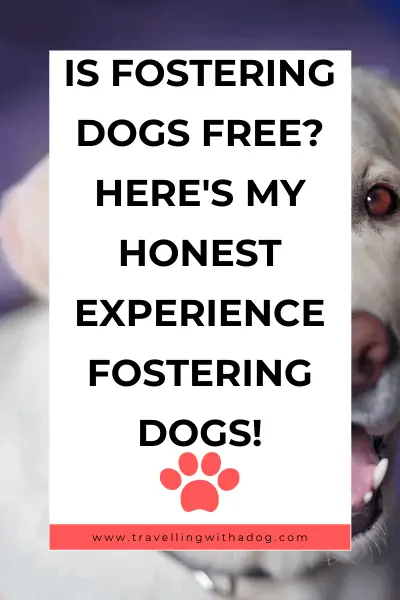 ---
Amazon Associates Program
This article may include affiliate links. www.travellingwithadog.com is a participant of Amazon.com Services LLC Associates Program. As an Amazon Associate, I earn a commission from qualifying purchase. www.travellingwithadog.com participates in other affiliate programs, and recieves commissions when purchases are made through the links. The cost is not inflated to account for the commission earned.
---
Veterinary Disclaimer: travellingwithadog.com is not a substitute for veterinary advice and does not intend to provide any type of veterinary advice for your animals. Please consult your vet for any questions you have regarding your pets health.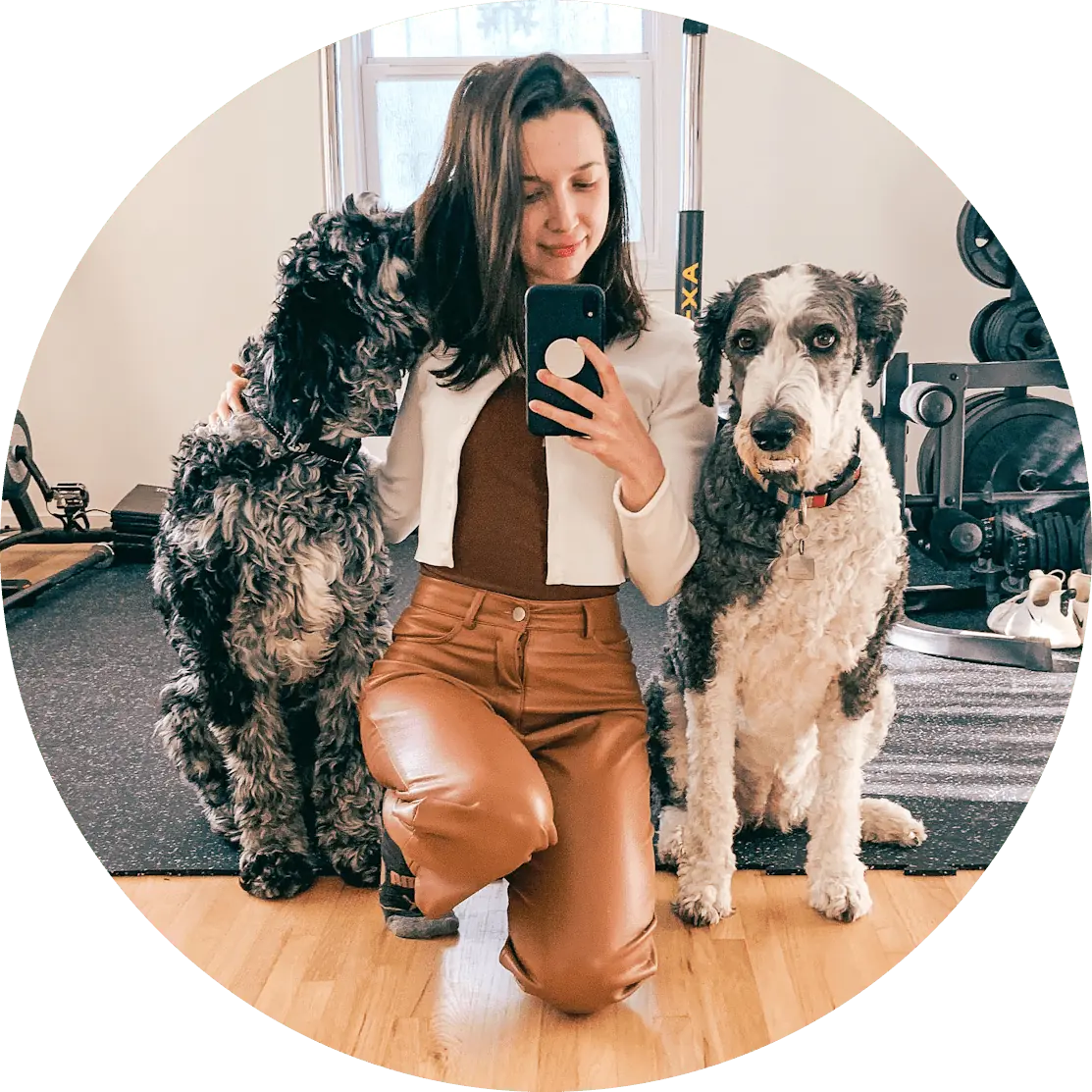 About the Author:
Dana owns a Sheepadoodle and a rescue merle Labradoodle. Her first dog growing up was a white Toy Poodle and she's loved dogs ever since. She has years of experience fostering dogs and has helped find homes for a variety of different breeds, both large and small! After seeing so many dogs end up unwanted and in shelters, she began blogging about different dog breeds (specifically Doodle dogs, since that's what she knows best) to help people make informed choices when adding a new member to their family.
When Dana's not brushing her Doodles' hair (it takes a lot of time for two!) you can find her playing nose work games and fetch with her two amazing pups.
Learn more about her here.