Limited time: Receive your FREE dog training mini ebook
Last Updated on
The mini Sheepadoodle (also known as a miniature Sheepadoodle or micro Sheepadoodle) is a pint-sized version of a Standard Sheepadoodle complete with that oh-so-adorable teddy bear face.
Are you wondering whether a mini Sheepadoodle is right for you and your family? Keep reading!
What is a Mini/Micro Sheepadoodle?
A mini Sheepadoodle is an Old English Sheepdog crossed with a Miniature Poodle. They are related to Standard Sheepadoodles, which are a mix of an Old English Sheepdog and a Standard Poodle.
Mini Sheepadoodles tend to inherit all the wonderful qualities of a standard-sized Sheepadoodle, just in miniature form.
Size of Micro and Mini Sheepadoodles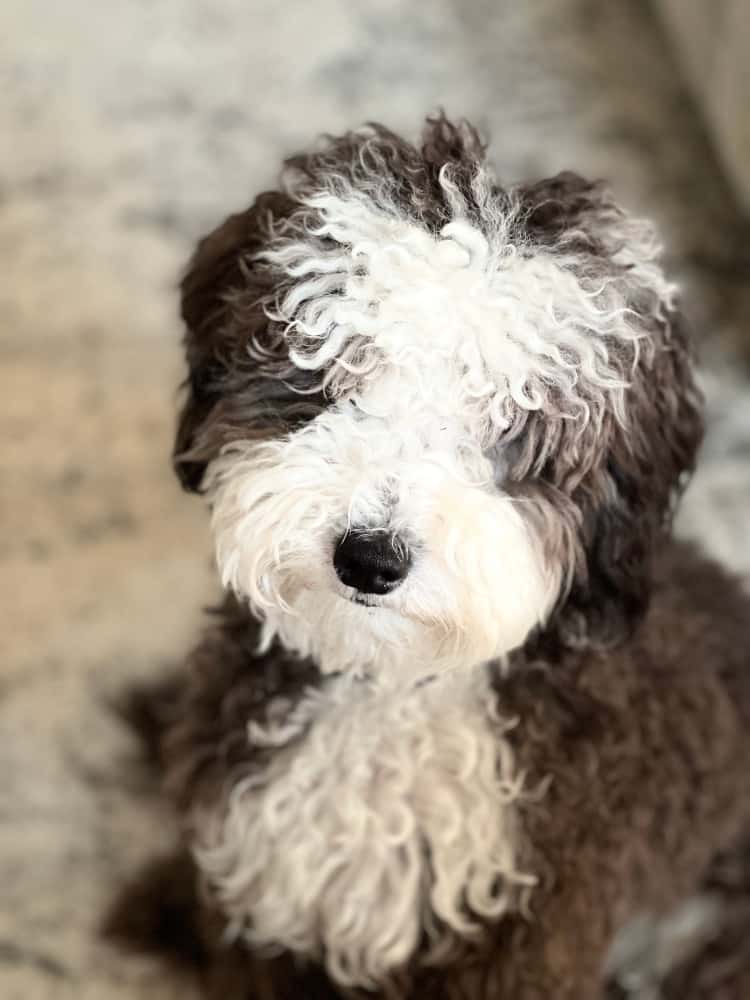 Mini Sheepadoodles and Micro Sheepadoodles are two different varieties.
You may find some breeders offering Micro Sheepadoodles, which are usually the smallest of the breed, but some breeders use the term Mini and Macro interchangeably—it's always best to check with the breeder as to what size they think the puppies will be. (Although breeders cannot confirm sizes, they can give you an educated guess based on the size of the parents.)
Mini Sheepadoodle size
Generally, Mini Sheepadoodles tend to be less than 35 pounds and stand around 15-18 inches tall. They are a cross between a Miniature Toy Poodle and an OES.
I've included some photos of some gorgeous, mini Sheepadoodles (like Posie, below) so you know what a full-grown Mini Sheepadoodle will actually look like: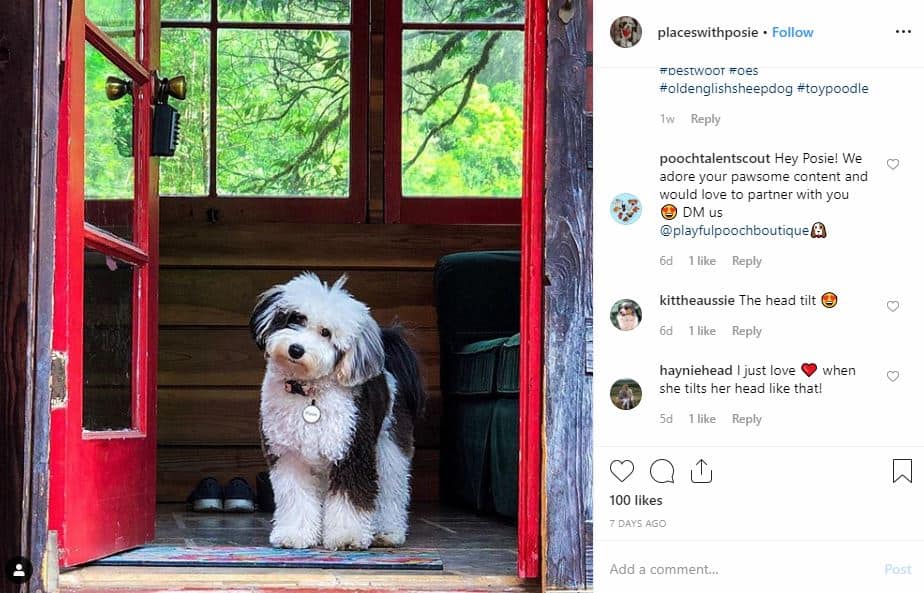 Or Bear, another gorgeous Miniature Sheepadoodle.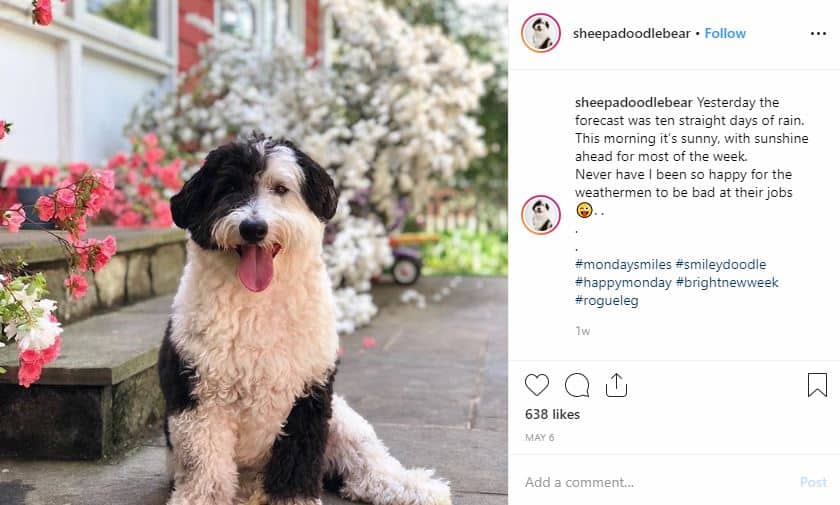 Micro Sheepadoodle Size
Micro Sheepadoodles are a cross between a Toy Poodle (rather than a Miniature Poodle) and an OES. As a result, Micro Sheepadoodles tend to be a smidgen smaller than a Mini Sheepadoodle.
Micro Sheepadoodles are usually in the ballpark of 10 to 25 pounds and stand around 12 inches tall.
Coat colors
Just like the standard sized Sheepadoodle, mini Sheepadoodle's have unique colors and markings that can vary between white, black, and brown. Their unique markings often set them apart from other Doodle-type breeds.
They can also be grey, just like their Old English Sheepdog parents. It's impossible for a breeder to predict the color of the pups, although they may be able to make an educated guess based on the color and marking of the parent breeds.
Temperament
To understand the temperament of Mini Sheepadoodles, let's quickly learn about both parent breeds.
Old English Sheepdog
Old English Sheepdogs (OES) are famously known for their roles in movies and T.V. I once heard an OES described as a long-haired clown and that couldn't be more accurate.
Old English Sheepdogs are goofy, smart, and make amazing family dogs. As a working breed, they are intelligent and enjoy training or having jobs to do.
As a member of the herding breed family, OES tend to round up small children and other animals. In doing so, they have rightfully earned a babysitter's badge of honor; they'll keep a close eye on all your kids and make sure they stay together!
Unlike Poodles, Old English Sheepdogs are laid back and have medium energy. They are protective of the home and will bark to alert you to any intruders.
Mini and Toy Poodle
Both Miniature and Toy Poodles are cute, spunky, intelligent, and loveable! Being so smart and easy-to-train makes the Poodle one of the most popular dogs around the world.
Toy Poodles are energetic dogs that require roughly 60 minutes of exercise per day. They also love training as they're incredibly smart.
Mini Sheepadoodle
Now onto the Mini Sheepadoodle. The Mini Sheepadoodle has a loving temperament. They are very smart, easy to train, and love to be around their families.
Some inherit the herding desire and may nip or bite as puppies. Luckily, with the right training, your Miniature Sheepadoodle will grow out of any biting and nipping. (Please make sure to consult a trainer if you are having trouble preventing this behavior. )
Mini Sheepadoodles can also be quite goofy—just like their OES parent!
Overall, they make wonderful family dogs and inherit all the incredible qualities from the Old English Sheepadog and Poodle.
Grooming
Grooming a Sheepadoodle is extensive. They require lots of at-home grooming and frequent trips to the groomer to avoid matting.
Since Mini Sheepadoodles are small to medium hypoallergenic dogs and do not shed, you must brush and comb their hair often.
A standard-sized Sheepadoodle requires upwards of 30 minutes per day of combing and brushing.
A Mini Sheepadoodle will still require daily brushing, but since they are medium-sized dogs, there will be less of them to brush. The coat, however, is still quite high-maintenance and will need regular brushing and trips to the groomer, which can get costly.
Energy Levels
Both a Sheepadoodle and a mini Sheepadoodle require lots of exercise and mental stimulation. They are very smart dogs and will need a lot of attention!
This is not the dog for someone who is looking for a lazy dog to lay around the house.
Where to Buy Mini/Micro Sheepadoodle Puppies
When searching for Mini Sheepadoodles to buy, you can look for two things:
Mini Sheepadoodles near you (so you can drive and pick up your puppy)
Mini Sheepadoodle breeders out-of-state/province (where you will need to have your puppy flown in or fly to pick up your puppy)
You want to make sure you are buying your mini Sheepadoodle from a reputable Sheepadoodle breeder. Many breeders will sell both standard and miniature-sized Sheepadoodles and will be able to answer any questions you may have about the breed.
You can expect to spend upwards of $3,000 for a Miniature Sheepadoodle puppy.
You also might be able to find a mini Sheepadoodle in a Doodle rescue. Rescues are always worth checking out as you can find many loving dogs needing homes!
Why Mini + Micro Sheepadoodles aren't for everybody
Mini Sheepadoodles require lots of grooming and demand lots of attention and exercise. A Mini Sheepadoodle is not for you if you would prefer a low-energy dog and do not wish to spend lots of time brushing and combing your dog.
Should you get a Mini Sheepadoodle?
Mini Sheepadoodles seem like the ultimate family dog. They're friendly, smart, and love being around their family. However, like we've mentioned, they do require lots of grooming and exercise. These reasons might steer someone away from getting a Miniature Sheepadoodle.
But if you want a medium-sized, high-energy dog that you can take on all of life's adventures, the Mini Sheepadoodle may be the right companion for you!
What are your thoughts on the Mini Sheepadoodle? Leave a comment below!
Limited time: Receive your FREE dog training mini ebook
---
Amazon Associates Program
This article may include affiliate links. www.travellingwithadog.com is a participant of Amazon.com Services LLC Associates Program. As an Amazon Associate, I earn a commission from qualifying purchase. www.travellingwithadog.com participates in other affiliate programs, and recieves commissions when purchases are made through the links. The cost is not inflated to account for the commission earned.
---
Veterinary Disclaimer: travellingwithadog.com is not a substitute for veterinary advice and does not intend to provide any type of veterinary advice for your animals. Please consult your vet for any questions you have regarding your pets health.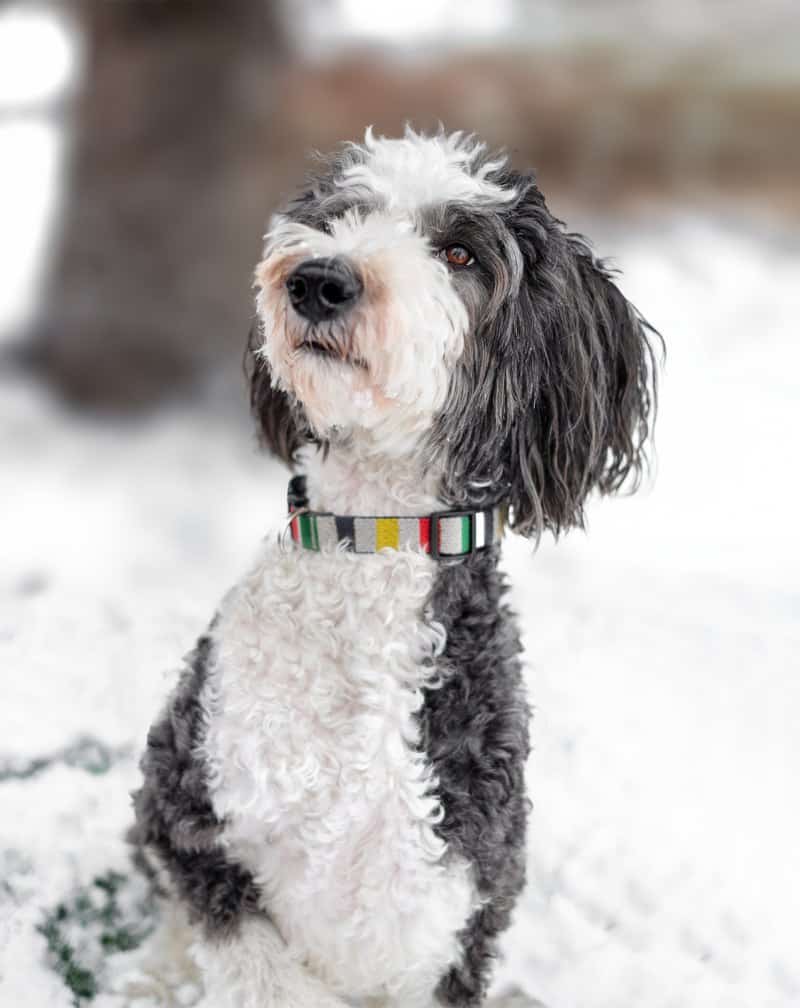 About the Author:
Dana is a Sheepadoodle owner who loves to highlight dog-friendly places you can travel to with your pooch, dog-friendly products, and provide info for dog owners.