Last Updated on
Golden Retrievers are loved and adored all around the world and has been featured in hundreds of movies as a fun-loving family dog.
One reason why Golden Retrievers are so popular is that they have an incredibly versatile skill sets! Goldens make amazing services dogs, show dogs, hunting dogs and are obedient and agile.
Not only that, Golden Retrievers are also docile, loving and make wonderful family dogs.
If you want to adopt a Golden Retriever, Goldador or other Golden Retriever mix, keep reading for our list of Golden Retriever rescues in the United States and Canada.
Why Should You Adopt a Golden Retriever?
There are many reasons why you might be searching for a Golden Retriever Rescue, but most people look to rescue for a few different reasons.
First, rescuing an older dog often means forgoing the puppy stage. While Golden Retriever puppies are simply adorable, all puppies are a lot of work! Skipping out on the puppy-phase is great for those who might not have time to train a dog.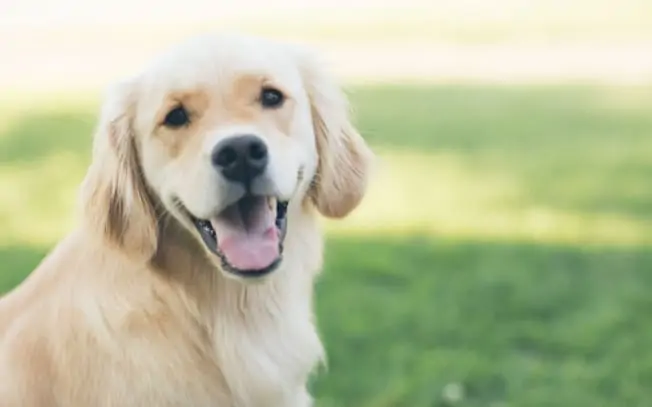 But rescuing doesn't always mean you'll get a free-pass from training. Sometimes, dogs in shelters do require training, so it's important to get to know the dog you'd like to adopt to see what level of training is required. Luckily, the adage "you can't teach an old dog new tricks" isn't true, and training an older dog is completely doable!
Another reason why you might want to rescue a Golden Retriever is to provide a loving home to a dog that otherwise doesn't have one.
Below are some Golden Retriever rescue organizations across the United States and Canada to help you find your newest furry-family member!
Should You Foster or Rescue a Golden Retriever?
Many dog rescues are in need of foster homes to take care of the dogs before they find a permanent place to live.
If you aren't ready to fully commit to owning a dog, but would still like to look after a dog, it's definitely worth fostering a dog instead of adopting!
Rescue agencies usually provide food, supplies and even cover vet and grooming bills when needed. Fostering a dog can be an excellent way to have a temporary pet without jumping into pet ownership if you aren't ready!
Golden Retriever Rescues in Canada
Search for Golden Retriever rescues by province in Canada in the table below:
Golden Retriever Rescues in the United States
There are many different options for rescues in the United States. Search Golden Retriever rescues by state in the table below:
While this is not an exhaustive list of every Golden Retriever rescue in the United States and Canada, it can serve as a great starting point to help you find your new BFF!
If you're open to other breeds to potentially rescue, take a look at some of our other breed-specific rescue lists:
Pin me: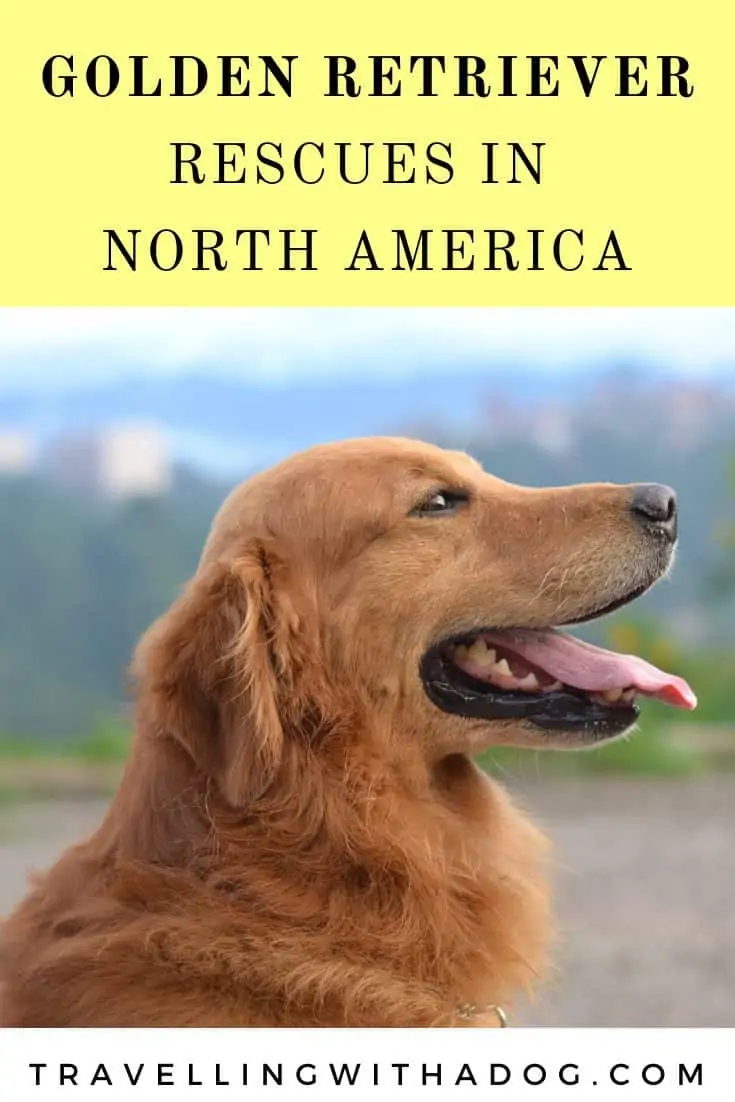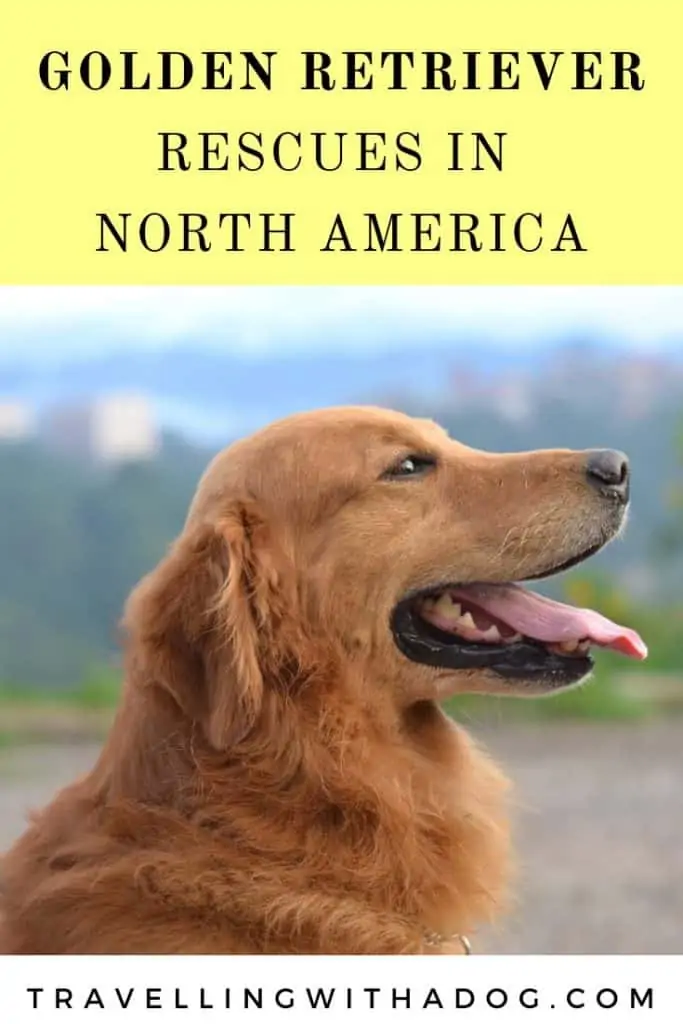 ---
Amazon Associates Program
This article may include affiliate links. www.travellingwithadog.com is a participant of Amazon.com Services LLC Associates Program. As an Amazon Associate, I earn a commission from qualifying purchase. www.travellingwithadog.com participates in other affiliate programs, and recieves commissions when purchases are made through the links. The cost is not inflated to account for the commission earned.
---
Veterinary Disclaimer: travellingwithadog.com is not a substitute for veterinary advice and does not intend to provide any type of veterinary advice for your animals. Please consult your vet for any questions you have regarding your pets health.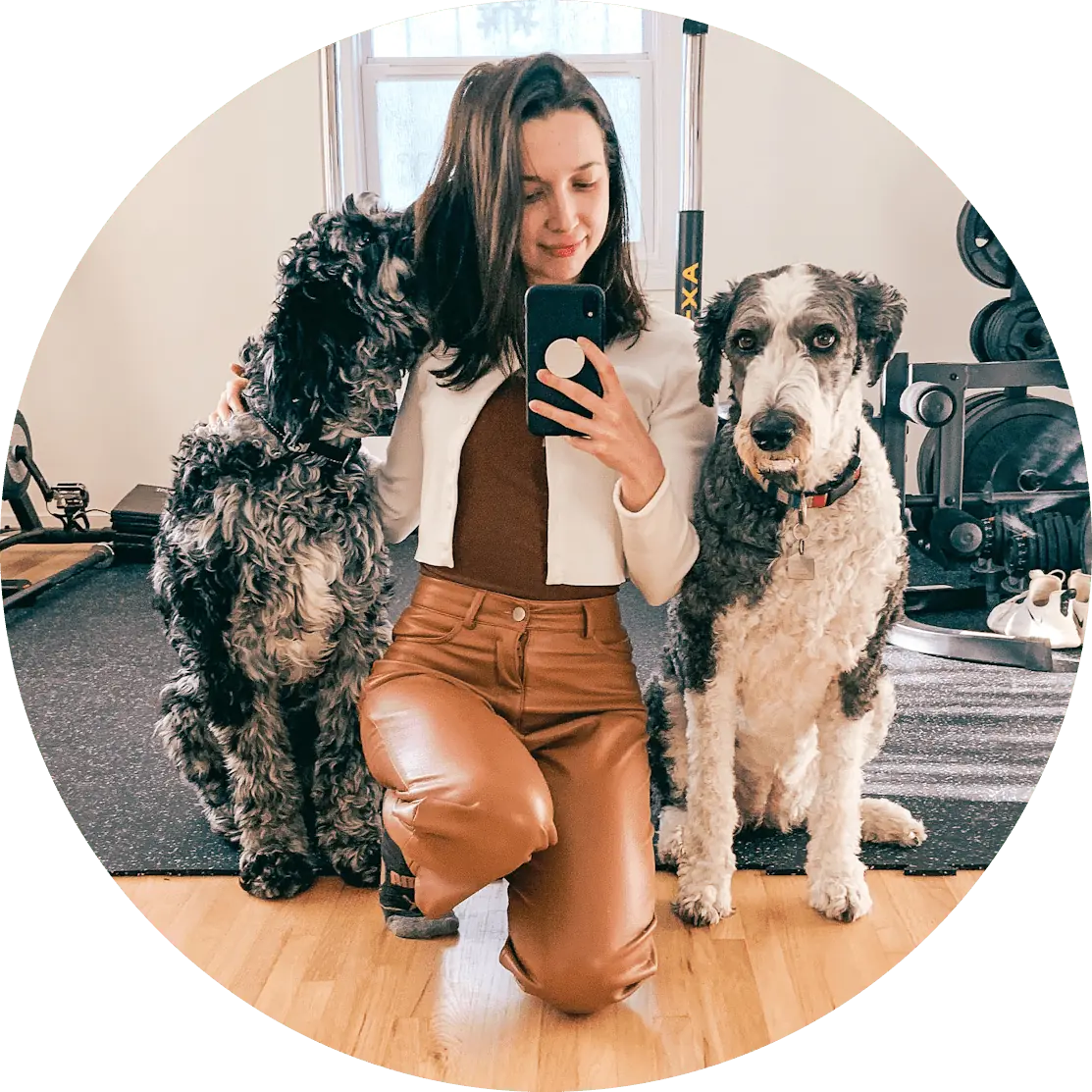 About the Author:
Dana owns a Sheepadoodle and a rescue merle Labradoodle. Her first dog growing up was a white Toy Poodle and she's loved dogs ever since. She has years of experience fostering dogs and has helped find homes for a variety of different breeds, both large and small! After seeing so many dogs end up unwanted and in shelters, she began blogging about different dog breeds (specifically Doodle dogs, since that's what she knows best) to help people make informed choices when adding a new member to their family.
When Dana's not brushing her Doodles' hair (it takes a lot of time for two!) you can find her playing nose work games and fetch with her two amazing pups.
Learn more about her here.