Last Updated on
Bulldogs (also known as the English Bulldog or British Bulldog) are a very distinct-looking breed of dogs that people all over the world simply adore.
Bulldogs make loyal and loving family pets and enjoy lazing around with their humans.
Types of Bulldogs
There are many different types of Bulldogs (just as there are different types of Shepherds).
While up until now, this article has referred to the English Bulldog, many of the rescues featured also have other types of Bulldogs up for adoption.
Since the term "Bulldog" can be broad and cover a range of breeds, let's do a quick overview of the types of dogs you may see in a Bulldog rescue. Here are 5 popular types of Bulldogs:
American Bulldog
French Bulldog
English Bulldog
Olde English Bulldoge
Australian Bulldog
Why Should You Rescue a Bulldog?
As bulldogs are a snub-nosed (brachycephalic) breed, there can often be complications from them that arise after they have fully-grown that require lots of attention and medical care.
To avoid complications, adopting can be a good option as adult dogs are fully-developed and you have a better idea of what health conditions the dog already has.
Rescuing dogs, in general, is also a great way to give an older dog a loving home. Most Bulldogs in rescues are adults and often get overlooked as people opt to get a puppy. Providing a home for an older Bulldog is a very wonderful thing to do.
Should You Foster or Rescue a Bulldog?
Rescuing (or adopting) a Bulldog means you get to keep the dog forever, whereas fostering means you will temporarily home the dog until it finds a permanent place to live.
Fostering dogs can be a good way for you to see what it's like to own a Bulldog, without jumping in feet-first.
Many Bulldog rescues need both fosters and adopters, so if you are leaning towards fostering, it's a good idea to ask!
Can You Adopt a Bulldog Out of Country?
Because Bulldogs are a brachycephalic dog, many airlines will not fly Bulldogs. If you want to adopt a Bulldog, you will need to drive to pick up your furry-friend.
Check out our travel tips for brachycephalic dog breeds for more information.
Bulldog Rescues in Canada
Some of the Bulldog rescue organizations cover multiple provinces and have been listed more than once for each province.
Bulldog Rescues in the United States
Some of the Bulldog rescue organizations cover multiple states and have been listed more than once for each state.
Where Else Can You Find Bulldog Rescues?
You don't necessarily need to search for Bulldog-specific rescues in order to find a Bulldog up for adoption.
Your local humane society is a great place to start your search. You can also search through databases of adoptable Bulldogs here and here to find one near you.
If you're open to other breeds to potentially rescue, take a look at some of our other breed-specific rescue lists:
Pin me:
---
Amazon Associates Program
This article may include affiliate links. www.travellingwithadog.com is a participant of Amazon.com Services LLC Associates Program. As an Amazon Associate, I earn a commission from qualifying purchase. www.travellingwithadog.com participates in other affiliate programs, and recieves commissions when purchases are made through the links. The cost is not inflated to account for the commission earned.
---
Veterinary Disclaimer: travellingwithadog.com is not a substitute for veterinary advice and does not intend to provide any type of veterinary advice for your animals. Please consult your vet for any questions you have regarding your pets health.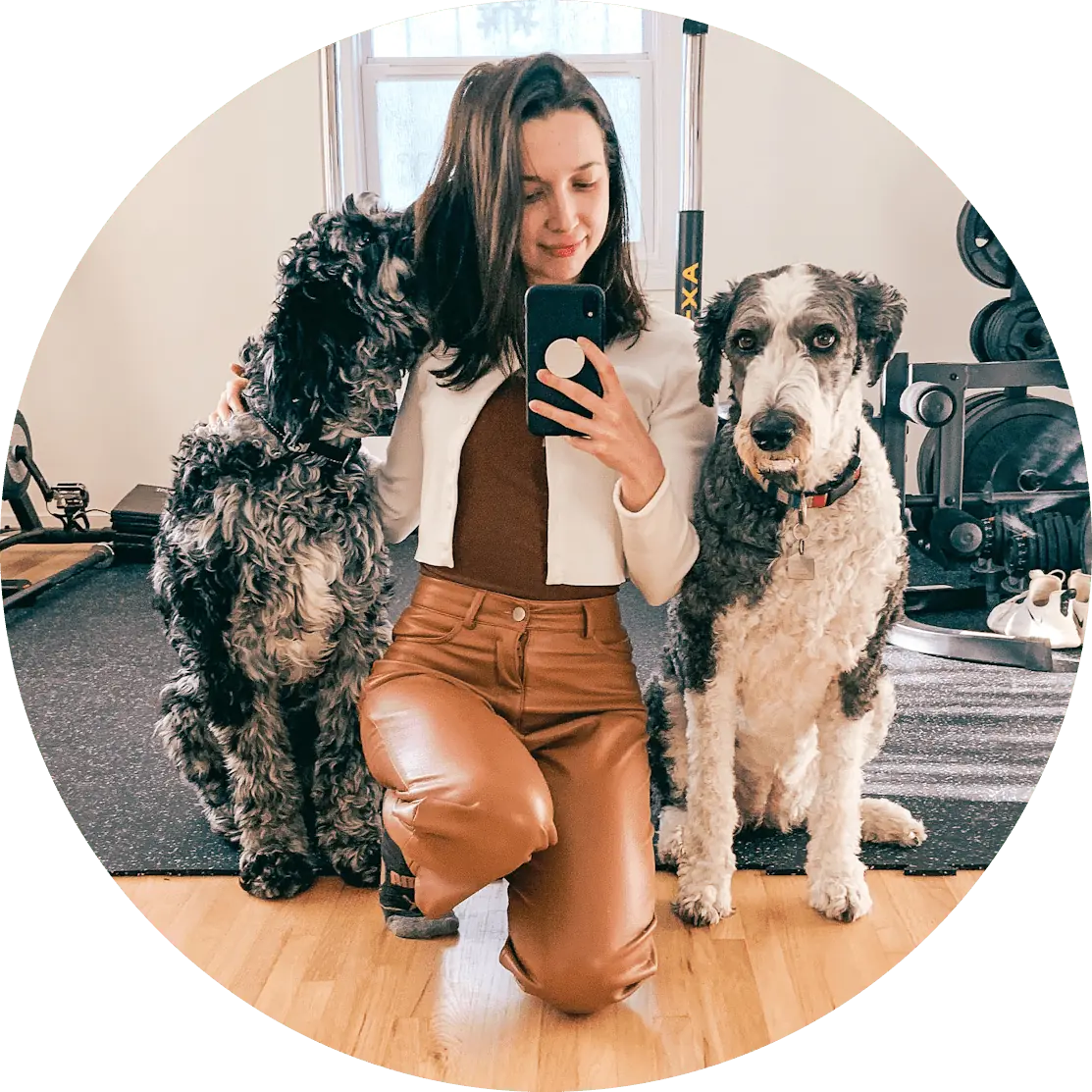 About the Author:
Dana owns a Sheepadoodle and a rescue merle Labradoodle. Her first dog growing up was a white Toy Poodle and she's loved dogs ever since. She has years of experience fostering dogs and has helped find homes for a variety of different breeds, both large and small! After seeing so many dogs end up unwanted and in shelters, she began blogging about different dog breeds (specifically Doodle dogs, since that's what she knows best) to help people make informed choices when adding a new member to their family.
When Dana's not brushing her Doodles' hair (it takes a lot of time for two!) you can find her playing nose work games and fetch with her two amazing pups.
Learn more about her here.